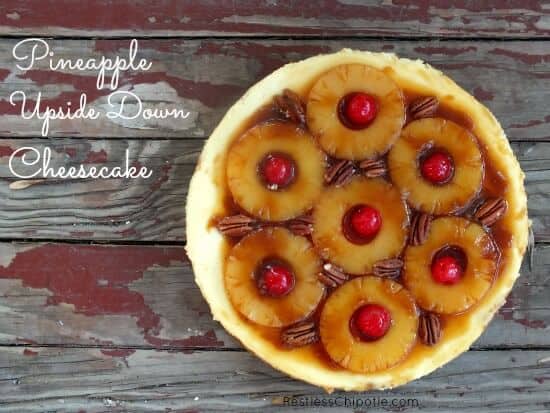 Pineapple upside down cake is an iconic dessert that probably represents the 1950s and 1960s  as much as Wonder Bread does. Personally, I'd rather have the cake. I wanted to try to do a spin on the original with cheesecake — y'all know that cheesecakes are something I love to make! I knew that turning the cake upside down wasn't going to work but I wanted that same syrupy, gooey topping with bursts of pineapple.
I thought about it a lot and finally decided on a pineapple-vanilla flavored cheesecake with the pineapple and cherries and pecans just like the cake. After my dismal failure using lemon cake as a base for my lemon meringue pie cheesecake I chose to stick with a graham cracker crust for this. It works well because the graham mirrors that brown sugar in the topping.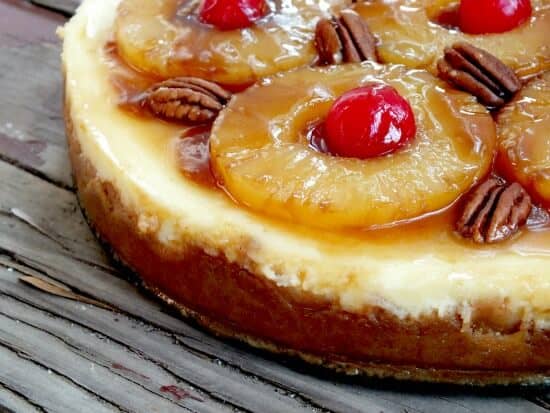 Doncha just want to lick your computer screen right now?
The filling is that dense, rich, New York style cheesecake that I love. It has just a hint of pineapple flavor so it doesn't become overpowering, you know? I wanted to be able to taste the brown sugar, the pecans, the burst of cherry… Just a minute, have to wipe my mouth.
Anyway, I have three springform pans and I was using the 9-inch pan for the s'mores cheesecake. I used a 10-inch pan for this, which made it a bit thinner, as you can see. I actually think I prefer it this way because it looks more like the splendiferous dessert it was named for.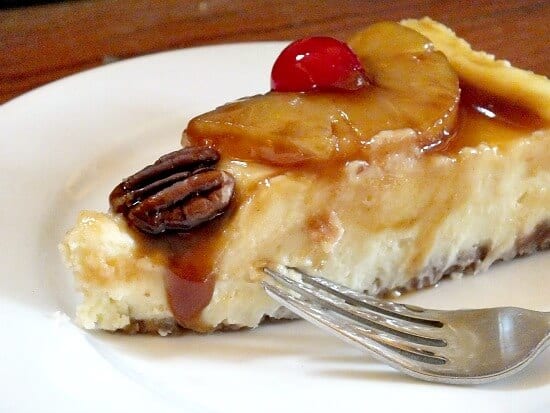 If you crave pineapple upside down cake then you will absolutely love this version.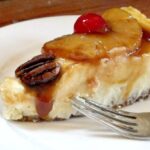 Pineapple Upside Down Cheesecake
Lush cheesecake lightly flavored with pineapple is topped with gooey, spiced rum enhanced syrup, bright pineapple, pecans, and maraschino cherries and then bruleed for just a minute to create an elegant twist on the iconic Pineapple Upside Down Cake.
Ingredients
Crust
2

cups

graham cracker crumbs

1/4

cup

sugar

1/3

cup

melted

, unsalted butter
Cheesecake
32

ounces

cream cheese

, rroom temp

2

cups

of sugar

, room temp

6

eggs

1 1/2

teaspoons

vanilla

1/4

cup

pineapple juice reserved from the pineapple slices

16

ounces

of sour cream
Topping
1/4

cup

butter

1/2

cup

brown sugar

2

tablespoons

spiced rum

20-

oz

can pineapple slices in juice

, drained and 1/4 cup juice reserved

12

oz

jar marachino cherries

, you'll need 9 or 10 drained and patted dry

1/2

cup

pecan halves
Instructions
Crust
Mix the crumbs with the sugar and butter.

Press into the bottom and part way up the sides of a 9 inch springform pan.

Cover the pan bottom and sides on the outside with aluminum foil to keep any water out.
Cheesecake
Preheat the oven to 375F.

Beat the cream cheese on low speed until smooth.

Add the sugar and continue to beat at low speed.

Add the eggs, one at a time, beating well after each.

Remove bowl from mixer and fold in the vanilla, pineapple juice, and sour cream.

Pour into springform and place it in another, larger pan.

Add water until it comes halfway up the sides of the outside of the cheesecake pan. (this makes the bain marie)

Bake for 45 minutes.

Turn off the heat and leave the cake in the oven for 1 hour. DO NOT open the oven door.

Remove from the bain marie and to a rack to cool to room temperature.

Refrigerate for at least 4 hours or overnight.
Topping
Remove cake from refrigerator.

Run a knife around the edges and carefully remove the sides of the springform pan.

Set aside.

Melt the butter and brown sugar in a pan, whisking until smooth and most of the graininess is gone.

Add the bourbon and whisk smooth over low heat for about 2 minutes.

The mixture should be thick and smooth, somewhat like caramel syrup.

Remove from heat and let cool until it is just warm to the touch - about 10 minutes.

Spoon half of the topping over the cake top.

Carefully arrange the pineapple rings, pecans, and cherries over the topping.

Spoon the remaining topping over the fruit and use a plumber's torch (or propane kitchen torch) to brulee the top.
Recipe Notes
May be made up to two days ahead and refrigerated, tightly covered.