If you're looking for the best pineapple upside down cake from scratch then you've found it! Light, fluffy spongecake is spooned atop a base of melted butter and brown sugar with pineapple rings, cherries, and pecans. This adaption of a vintage recipe calls for stiffly beaten egg white which are what give the cake it's delicate fluffy texture. Old fashioned upside down cake the way that mom made it! This post and recipe have been updated from the original 2008 version for better user experience. Last updated July 2, 2018
For this recipe you'll need: butter, brown sugar, pineapple rings, Maraschino cherries, pecans, eggs, sugar, cake flour, salt, cream of tartar, baking powder, vanilla, rum - optional
Pineapple upside down cake recipes are iconic classics that come with many variations. The original one is my favorite, there's just something about a thick, caramel syrup combined with juicy pineapple, and feather light sponge cake that no other recipe can touch.
This cake has a delicate pineapple flavor without being overpowering. That keeps this dessert from being too sweet with the buttery brown sugar topping and the pineapple. I've seen some pineapple upside down cake recipes without pecans but I love the buttery flavor and crunchy texture that pecans give to the fruit and spongecake.
Tips for Making Pineapple Upside Down Cake from Scratch
Experience level: Intermediate - experience with whipping egg whites and folding them into a batter is helpful.
Cooks Notes
Although pineapple upside down cake is simple there are a few tricks you need to remember that will help you create the perfect cake.
Fold the egg whites in very, very gently so they don't deflate.This keeps your cake light and airy.
If you overcook the cake it will taste like stale cardboard. Watch it carefully.
Let the cake cool for about 5 minutes before turning out of the pan. The sauce needs to thicken up or it will run all over.
Use good pineapple, the final product depends on it. Most vintage recipes assume pineapple in heavy syrup is being used. Adjust sugar to your own tastes. (I think it's better with the pineapple in heavy syrup.)
How to make pineapple upside down cake in a cast iron skillet
Adjust the serving size to 6 so you've got the measurements for half this cake. You can do this by clicking on the serving size and adjusting it down.
Preheat the oven to 350F.
Heat the skillet in the oven with the butter while the oven preheats.
Remove the skillet from the oven and mix in the brown sugar and lay the pineapple, cherries, and pecans just like with the regular cake.
Put that back in the oven for 5 minutes or until hot and bubbly.
Remove from the oven and spoon the cake batter over the brown sugar mixture.
Put into the oven and bake for 30 to 45 minutes, or until a toothpick inserted in the center of the cake comes out clean (be careful not to go to the bottom of the pan with the toothpick).
Follow directions for flipping.
How do I flip a pineapple upside down cake?
This is probably the trickiest part of this entire recipe! Whether you make the cake in a cast iron skillet, a cake pan, or a 13"x9" pan the process for flipping is the same.
Allow the cake to cook for 10 minutes before inverting.
While the cake is cooling get a pan that's bigger than the pan the cake was baked in - you'll invert your cake onto this.
Run a knife around the edge of the cake pan to loosen the cake from the pan.
Place the bigger pan over the top of the pineapple upside down cake pan so that the surface is facing the bottom of your cake layer.
Carefully flip it over, holding the two dishes firmly together.
Give the cake a minute for the topping to slip off the bottom and onto the cake.
Gently remove the pan that the cake was baked in.
Can you refrigerate pineapple upside down cake?
You sure can. It's best to store any remaining cake in the refrigerator for up to three days. I wouldn't suggest making this cake ahead of time because it's best when it's served warm and freshly baked.
How long do you wait to flip a homemade pineapple upside down cake?
5 minutes is just about right - just don't wait longer than 10 minutes or the cake topping will be too cool and stick to the pan. If this is happening flip the cake back over and slide back into the oven for a few minutes then try again.
More Desserts with Fruit
Here are some more of my favorite fruit and cake combinations -
You May Need
The following are affiliate links. We are a participant in the Amazon Services LLC Associates Program, an affiliate advertising program designed to provide a means for us to earn fees by linking to Amazon.com and affiliated sites.
Thanks so much for being a part of Restless Chipotle!
This recipe doesn't call for anything fancy but it works better with a heavier pan. I like this heavy, nonstick pan from OXO.

Pineapple Upside Down Cake from Scratch Recipe
This is the best pineapple upside down cake recipe ever. It comes from a mid 1930s cookbook - I 've adapted the recipe a bit just to make it easier. I hope you enjoy this old fashioned favorite! If you love this recipe please give it 5 stars.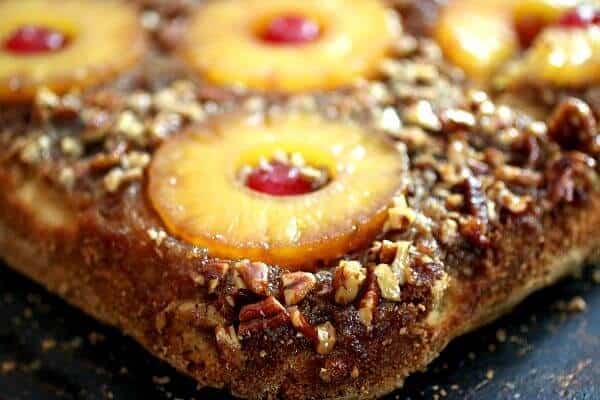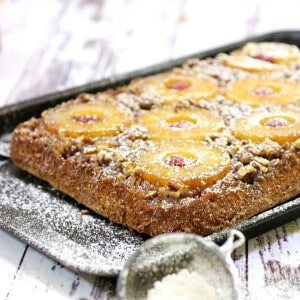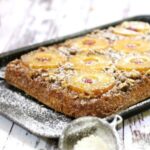 Pineapple Upside Down Cake: A Classic Recipe
Print
Add to Collection
Go to Collections
A classic recipe for tender pineapple upside down cake - super easy to make even for the beginner.
As an Amazon Associate I earn from qualifying purchases.
Ingredients
½

cup

butter

1

cup

brown sugar

20

ounces

pineapple rings

,

, syrup reserved

6

Maraschino cherries

,

, sliced in half

1

cup

pecans

,

, chopped

6

eggs

,

, separated

1 ½

cups

sugar

½

cup

reserved pineapple juice

2

cups

all-purpose flour

½

teaspoon

salt

2

teaspoons

baking powder

½

teaspoon

cream of tartar

2

teaspoon

vanilla

2

tablespoons

rum

,

, optional
Instructions
Mix the melted butter and brown sugar and stir until smooth.

Spread an even layer over the bottom of the pan.

Lay the pineapple slices in a single layer over the bottom.

Put a cherry in the center of each with the cut side up.

Sprinkle with nuts.

Whip egg whites and cream of tartar until stiff but not dry.

Set aside.

Beat sugar and yolks until thick and lemon yellow.

Add in the reserved pineapple juice, flavoring, and rum if using.

Sift flour, salt and baking powder together.

Blend into the egg yolk mixture until smooth.

Make sure the batter is well blended before adding egg whites.

Fold in ½ the egg whites carefully but thoroughly.

Fold in the remaining egg whites.

Spoon over the pineapple and bake at 350F for 30 minutes.

Allow to cool 5 to 10 minutes before inverting on large platter.
Nutrition
Calories:
421
kcal
|
Carbohydrates:
70
g
|
Protein:
4
g
|
Fat:
13
g
|
Saturated Fat:
5
g
|
Cholesterol:
20
mg
|
Sodium:
196
mg
|
Potassium:
264
mg
|
Fiber:
2
g
|
Sugar:
52
g
|
Vitamin A:
265
IU
|
Vitamin C:
5.5
mg
|
Calcium:
66
mg
|
Iron:
1.5
mg
Sign up for the emails and never miss another recipe!!
We'll never share your email or send you spam. Pinkie swear.
Submitted to Meal Plan Monday - Be sure to check out all the mouthwatering recipes!