This classic dessert recipe comes from a mid 1930s cookbook. I've adapted the recipe a bit just to make it easier. I hope you enjoy this old-fashioned favorite!
Don't want to scroll through the page to get to the recipe? Use the table of contents to click on the section you want to go to.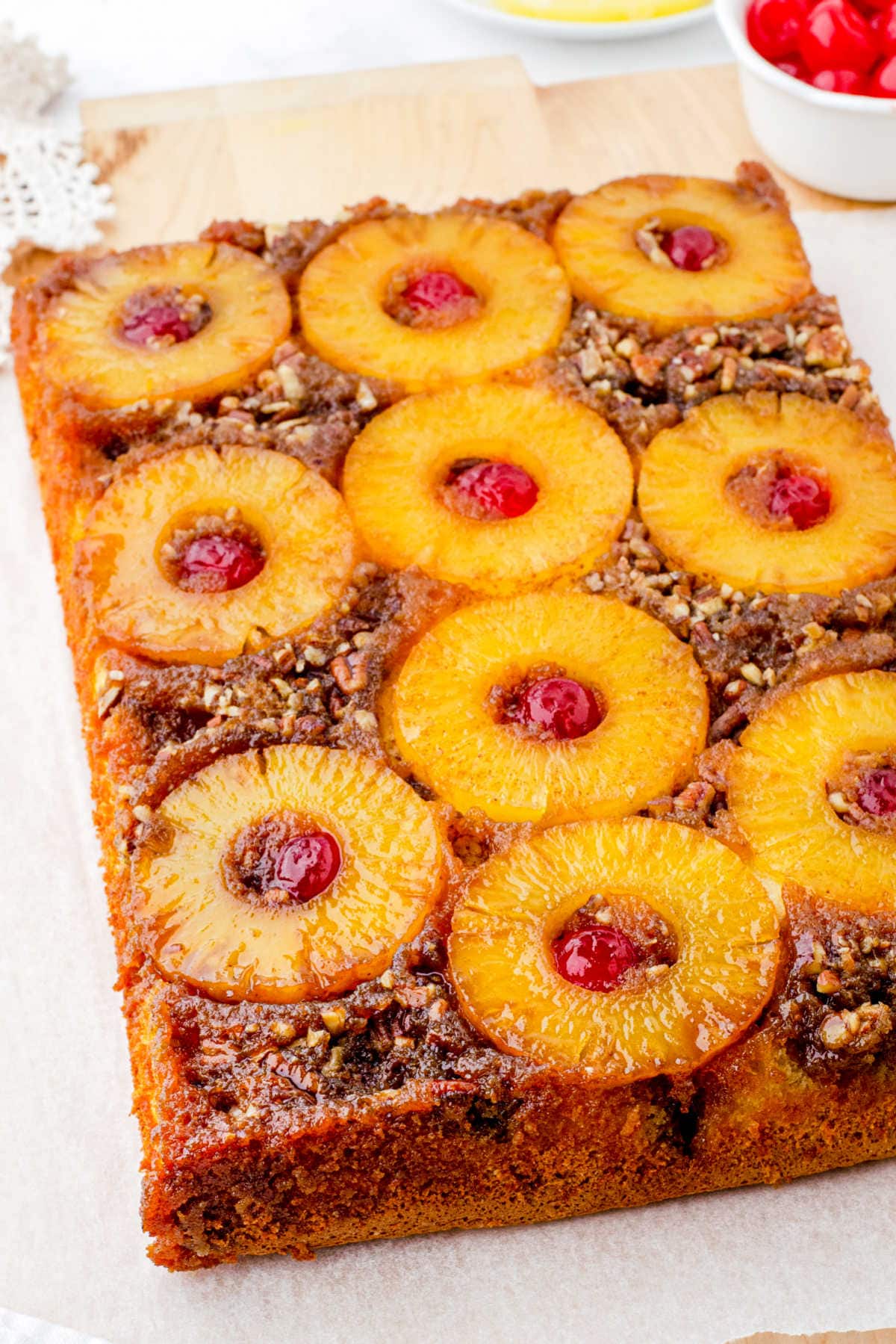 Jump to:
❤️ Why you'll love it
The classic recipe tastes just like when mom used to make it!
Bake in a pan or a cast iron skillet—whatever you prefer.
Easy-to-follow cake recipe, even for inexperienced bakers!
Pineapple-upside down cake is made with airy, buttery cake, juicy pineapple slices, and sweet maraschino cherries. It's all baked in a sticky brown sugar glaze.
This is a dessert fit both for casual family dinners and special occasions.
Decades of food fads have come and gone, but this old-fashioned recipe has stuck around for a reason. It's simply a good cake—no ifs, ands, or buts about it!
🧾 Ingredients
This is an overview of the ingredients. You'll find the full measurements and instructions in the green recipe card (printable) at the bottom of the page.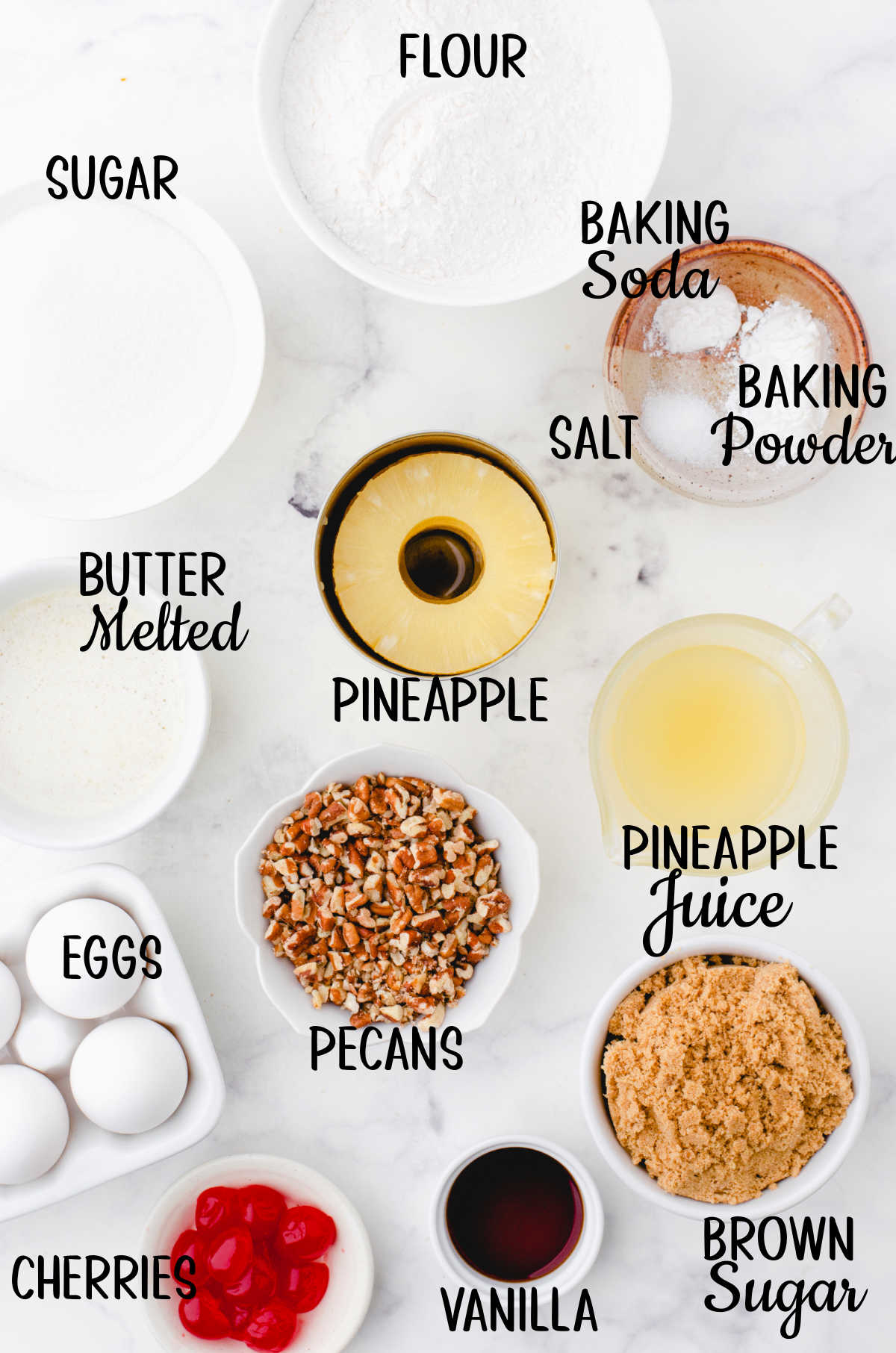 📖 Variations
Every family thinks that their original recipe is the best pineapple upside down cake—and that's part of what makes it special! Here are some of the most popular variations to try:
Upgrade the vanilla flavor by swapping extract for vanilla bean paste!
Or, replace the vanilla with almond extract.
You can use bourbon instead of rum if you prefer it.
Use fresh pineapples and cherries instead of canned ones.
Instead of pineapple juice, you can use regular milk or sour cream in its place (though, I prefer the subtle pineapple flavor in the cake!)
Some people like to add a pinch of nutmeg or cinnamon to the brown sugar mixture.
Pecans add a deliciously buttery crunch to the cake, but you could also use macadamia nuts, or omit them altogether.
🔪 Instructions
This is an overview of the instructions. Full instructions are in the green recipe card at the bottom of the page.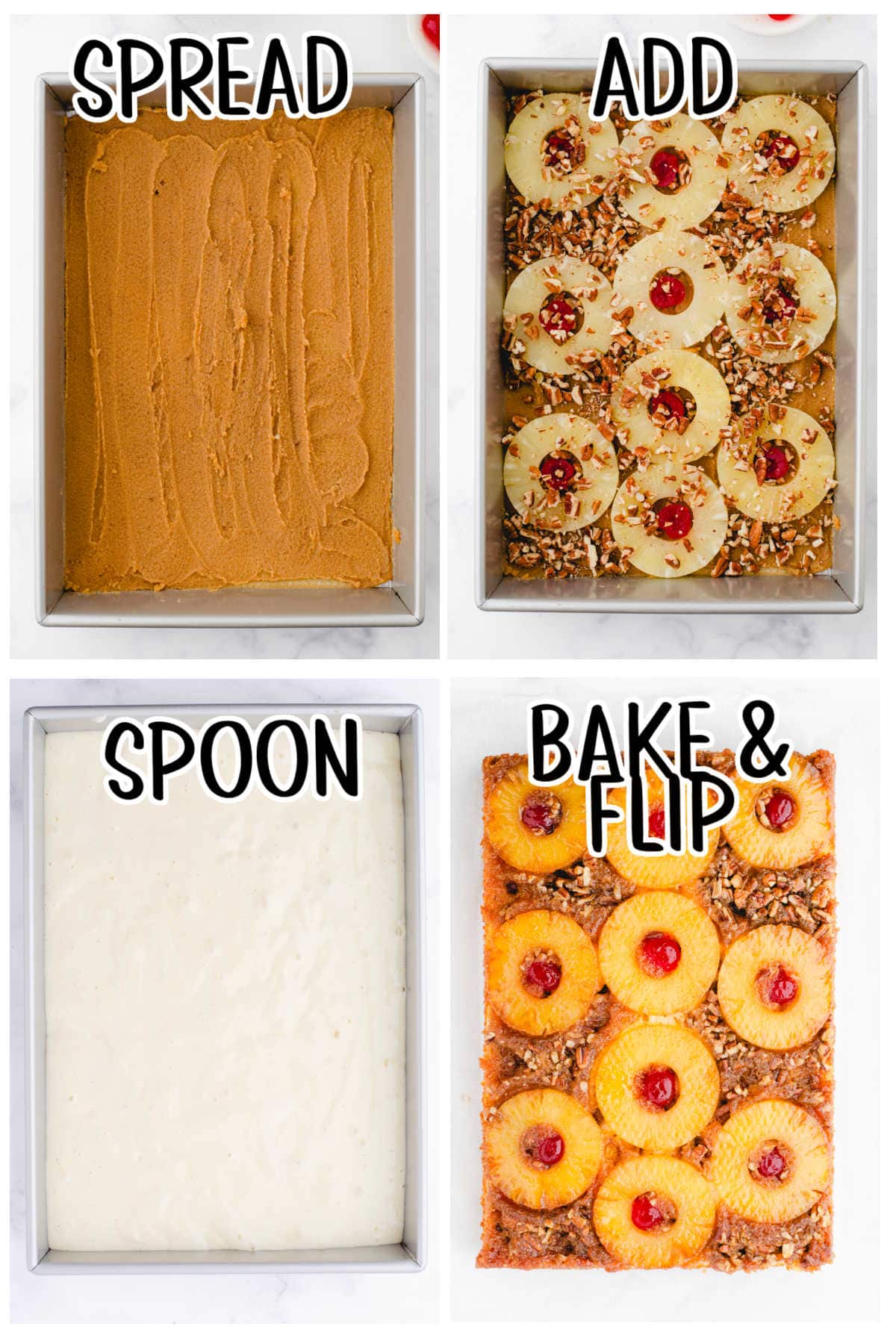 Spread the sugar and melted butter mixture in the bottom of the pan.
Add the pineapple rings, cherries, and pecans.
Spoon the cake batter over top of the fruit and nuts.
Bake and flip the pineapple upside-down cake onto a serving plate.
🥫 Storage
Put leftovers in an airtight container, or cover them with plastic wrap.
Here's my secret: use tin foil if you're trying to hide a few slices all to yourself... but don't be surprised if your family still sniffs 'em out!
Store the pineapple upside down cake leftovers in the refrigerator for up to three days.
You can also freeze them for about a month. (Just thaw in the refrigerator before enjoying.)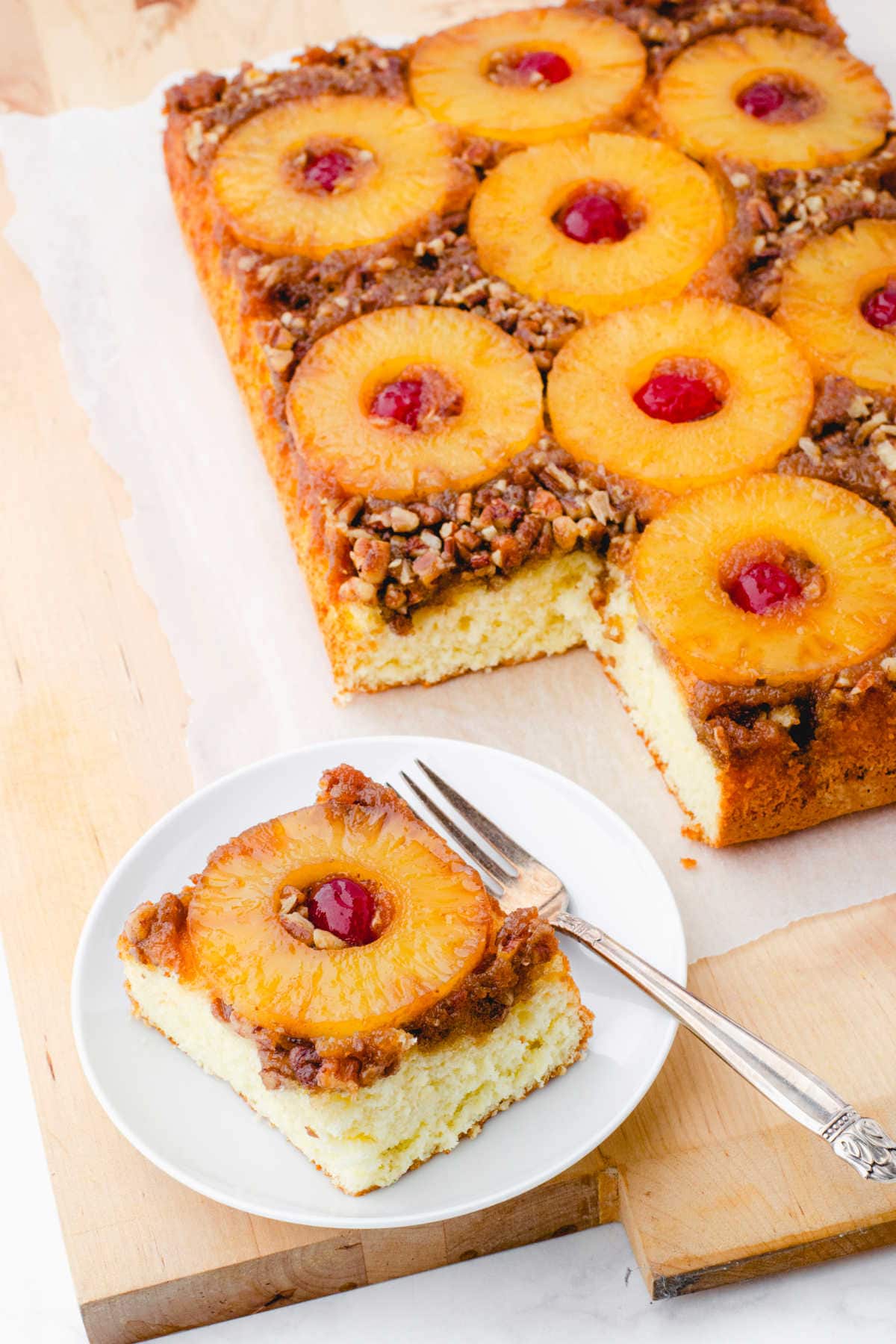 💭 Things to know
Expert Tip: Splurge a bit and use really good pineapple—the cake's named after it, for goodness sake! The vintage recipes used pineapple in heavy syrup, and I think it tastes best that way!
Don't use canned chunks of pineapple. They're a little too watery and tend to fall out of the cake during the flipping process!
Fancy Luxardo cherries are soaked in a super thick, cherry syrup—they're my favorite in this recipe!
Cold eggs separate more easily than those at room temperature.
I like to crack the eggs over a separate cup, first, placing the egg yolk in a small bowl and dumping the egg white from the cup into another bowl after each egg. That way, in case you get any shell or egg yolk in the white, you don't ruin a whole batch!
Feel free to use salted or unsalted butter, whatever you have.
If you can flip your bowl upside down over your head and the egg whites don't fall on your face, they're properly whipped to stiff peak stage.
The stiffly beaten egg whites make a typically dense cake super delicate and fluffy. Very carefully fold them into the batter using a spatula, and only mix until just combined. Too heavy of a hand will cause the air you just whipped into the whites to deflate.
The cake can overcook really quickly, so don't get distracted during baking!
When testing for doneness with a toothpick, don't poke all the way into the caramel layer at the bottom of the skillet. Just go far enough to test the cake. Some moist crumbs are fine, but you shouldn't see any wet batter.
Here are some tips to cleanly flip the cake over and upside right:
Cool the cake for around five minutes, but no more than ten, so that the sauce at the bottom of the pan can thicken up a bit.
Grab a pan larger than the one you baked the cake in, or another serving vessel large enough to hold the whole cake.
Place the pan or serving plate on top of the pineapple upside-down cake pan/skillet, with the top of the plate facing (what will become) the bottom of the cake.
Hold the two dishes together firmly, and confidently flip them over. It helps to move in one, swift motion, rather than a slow, unsteady turn.
Set the serving plate down on the counter and let it sit as is for a minute so that the caramelly pineapple topping has time to "unstick" itself from the bottom of the pan.
Finally, gently pull the baking pan off from the top of the cake and reveal your beautiful and delicious pineapple cake!
👩‍🍳 FAQs
What is the trick to flipping pineapple upside down cake?
Make sure it's still warm. The easiest way to flip it is to fit a clean baking sheet over the cake pan. Now, carefully turn it over, keeping the baking sheet and cake pan tightly together. Lift off the cake pan and your pineapple upside down cake should be perfectly situated on the baking sheet. If you've used a round cake pan then use a large round platter and do the same thing.
Can you make pineapple upside-down cake ahead of time?
I don't recommend doing so! It tastes best fresh out of the oven when the gooey brown sugar is still sticky and the fruit warm.
Can you make this cake in a bundt pan?
Nope! I'm not really even sure how that would look, but the intricate designs on a bundt pan would take away from the pretty pineapple slices on top. Plus, removing the sticky caramel from an already difficult bundt pan would be a nightmare!
Does it matter if I use light or dark brown sugar?
Not this time, nope! They're both delicious, so use whatever you've got!
Oh no! I let my cake cool too long and it won't come out of the pan. Help!
It's okay! Pop the cake back into the warm oven for a few minutes more to remelt the brown sugar layer. Let it cool just briefly this time, and try again.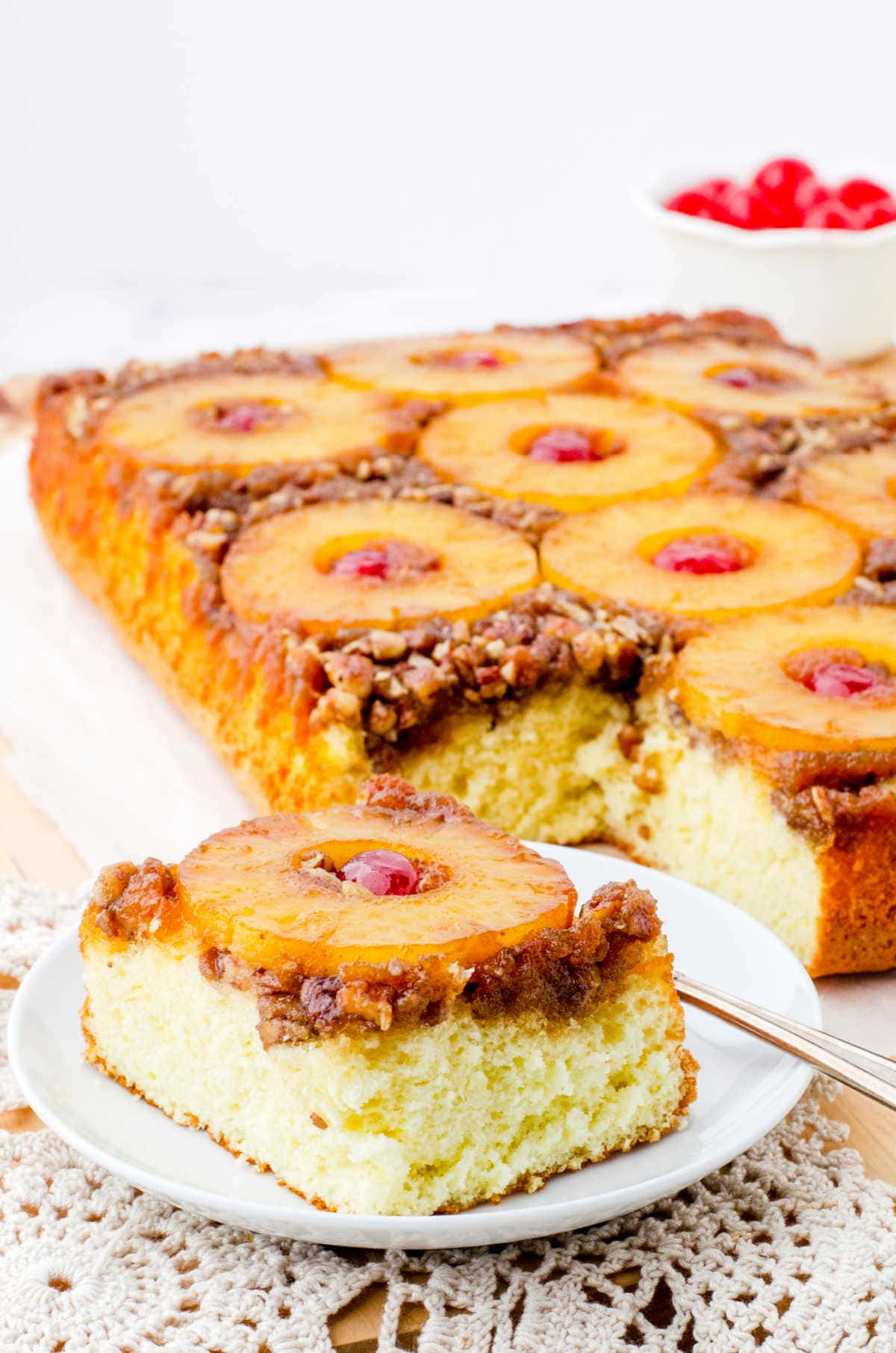 📚 Related recipes
America's favorite cake with a twist—Pineapple Upside Down Cheesecake is everything you crave about the classic, but creamy!
No-Bake Pineapple Cream Cheese Pie is light, fluffy, fruity, and perfect for summer—but best of all: it only takes about five minutes to prep!
Sheet cake recipes are so simple to make, and this Lemon Sheet Cake is no different! However, it's the fluffy, light, lemony whipped topping that makes it oh-so-cravable.
🍽️ Serve with...
Pineapple upside down cake is a classic. I like it with 1960s entrees like meatloaf or salisbury steak. I'll add some fried potatoes and maybe some broccoli casserole to round out the meal.
📞 The last word
If you're looking for the best pineapple upside down cake from scratch then you've found it!
Pineapple upside down cake recipes are iconic classics that come with many variations.
The original one is my favorite, there's just something about a thick, caramel syrup combined with juicy pineapple, and feather light sponge cake that no other recipe can touch.
I love this for dessert when we have the burrito casserole. There's just something about the combination.
Next time try this chocolate upside down cake.
If you click on the number of servings in the recipe card you can adjust the measurements up or down for the exact number of servings you need. Don't forget that you can click on "add to collection" to save it to your own, private recipe box!
If you love this recipe please give it 5 stars! ⭐️⭐️⭐️⭐️⭐️
📖 Recipe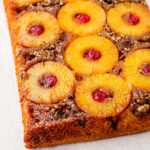 Pineapple Upside Down Cake: A Classic Recipe
Print
Pin Recipe
Save
Saved!
Homemade Pineapple Upside Down Cake recipe is made from scratch and is moist and delicious with plenty of pineapple flavor.
As an Amazon Associate I earn from qualifying purchases.
Ingredients
½

cup

butter

1

cup

brown sugar

20

ounces

pineapple rings

,

syrup reserved

6

Maraschino cherries

,

sliced in half

1

cup

pecans

,

chopped

6

eggs

,

separated

1 ½

cups

sugar

½

cup

reserved pineapple juice

2

cups

all-purpose flour

½

teaspoon

salt

2

teaspoons

baking powder

½

teaspoon

cream of tartar

2

teaspoon

vanilla

2

tablespoons

rum

,

optional
I earn a commission from Instacart from qualifying purchases.
Instructions
Spray a 13x9 inch pan with non-stick spray and set aside.

Mix the melted butter and brown sugar and stir until smooth.

Spread an even layer over the bottom of the pan.

Lay the pineapple slices in a single layer over the brown sugar mixture.

Put a cherry in the center of each with the cut side up.

Sprinkle with nuts.

Whip egg whites and cream of tartar until stiff but not dry.

Set aside.

Beat sugar and yolks until thick and lemon yellow.

Add in the reserved pineapple juice, flavoring, and rum if using.

Sift flour, salt and baking powder together.

Blend into the egg yolk mixture until smooth.

Make sure the batter is well blended before adding egg whites.

Fold in ½ the egg whites carefully but thoroughly.

Fold in the remaining egg whites.

Spoon over the pineapple and bake at 350F for 30 minutes.

Allow to cool 5 to 10 minutes before inverting on large platter.
Notes
Storage:
Store the pineapple upside down cake leftovers in the refrigerator for up to three days.
You can also freeze them for about a month. (Just thaw in the refrigerator before enjoying.)
Tips:
Fold the egg whites in very, very gently so they don't deflate.This keeps your cake light and airy.
If you overcook the cake it will taste like stale cardboard. Watch it carefully.
Let the cake cool for about 5 minutes before turning out of the pan. The sauce needs to thicken up or it will run all over.
Use good pineapple, the final product depends on it. Most vintage recipes  assume pineapple in heavy syrup is being used. Adjust sugar to your own tastes. (I think it's better with the pineapple in heavy syrup.)
You'll find more helpful tips and variations in the body of the post.
Nutrition Facts
Calories:
421
kcal
|
Carbohydrates:
70
g
|
Protein:
4
g
|
Fat:
13
g
|
Saturated Fat:
5
g
|
Cholesterol:
20
mg
|
Sodium:
196
mg
|
Potassium:
264
mg
|
Fiber:
2
g
|
Sugar:
52
g
|
Vitamin A:
265
IU
|
Vitamin C:
5.5
mg
|
Calcium:
66
mg
|
Iron:
1.5
mg
Nutrition information is estimated as a courtesy. If using for medical purposes, please verify information using your own nutritional calculator. Percent Daily Values are based on a 2000 calorie diet.
Sign up for the emails and never miss another recipe!!
We'll never share your email or send you spam. Pinkie swear.
This post and recipe have been updated from the original 2008 version for better user experience. Last updated August 31, 2022 for new images and editorial content.