Chocolate Upside Down Cake is a light, tender yellow cake that makes its own frosting as it bakes! The cake is buttery and flavored with pecan whiskey, a perfect combination with the dense, fudge-like topping. It's quick and easy, too!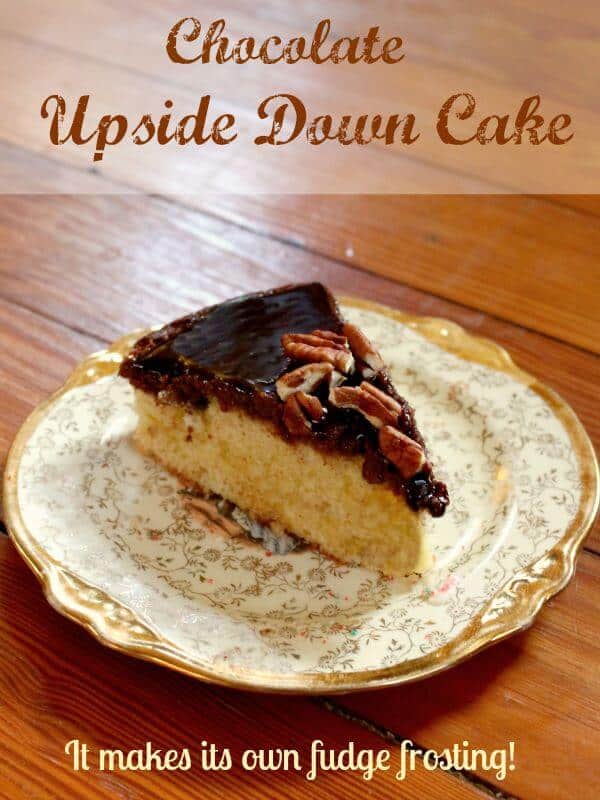 Paging through one of my vintage cookbooks (circa 1950) I spied this recipe and knew that it was a good one. How could it not be? A yellow cake topped with a thick fudge that was ready in less than an hour? I knew I was going to try it. I've always been a fan of a classic yellow cake with fudge frosting and if it can be made super easy?
I am in with both feet!
Oh my gosh, y'all. The first time I made a cake was a disaster. I was about 10 and had stayed home sick from school. My mom had some errands to run so she reminded me not to answer the doors and headed out. I walked around the empty house sort of aimlessly for awhile and then I decided I was going to make a cake. Apparently I wasn't all that sick but I don't remember the details.
Anyway, I got my mom's 1940 edition of Better Homes and Gardens Cookbook and turned to the cakes chapter. I decided to make the hot milk sponge cake. I don't remember the details of that either other than my  mom coming home to a smoky kitchen covered in cake batter. I wasn't allowed in the kitchen again for years. I am pretty sure she never quite got over the horror of that day. I do know that she kept cake mixes in the house from that point on.
I had a friend whose family was much different than mine. First of all I was an only child and she had four sisters. My mom was a clean freak but her mom didn't mind stacks of books, projects, and stuff all over the house. Most of all she could bake whenever she wanted to without even asking!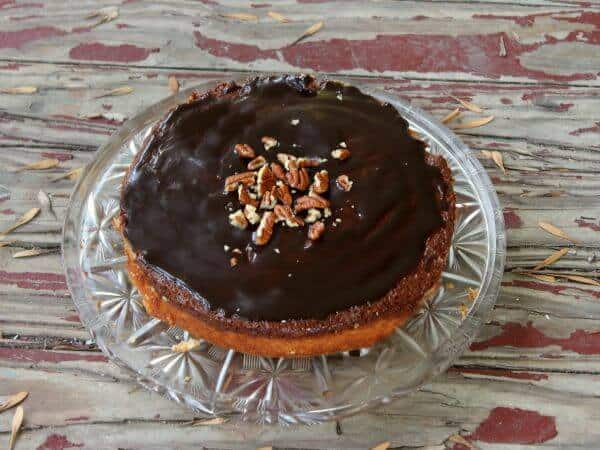 Now, had I come across this recipe the story probably would have ended much differently.
I've updated the recipe a bit from the original. I added pecan whiskey to give it a deep, buttery pecan flavor that goes really well with the creamy, fudgy topping. I also added chopped pecans between the topping and the cake. Next time I do it I am going to add the pecans to the cake pan first and then pour the chocolate over them so that is how I am writing the recipe. By adding the chocolate first the pecans were not visible when the cake was turned out and I had to add more of them to the top afterwards.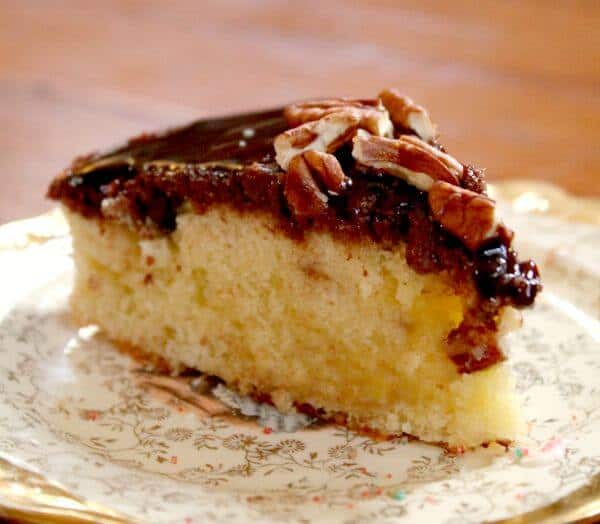 You probably have all of the stuff for this in your pantry, other than maybe the whiskey. You can leave it out if you like with no other substitutions. This would make a great sweet to tuck into a school lunch or as an after school snack.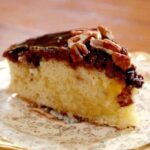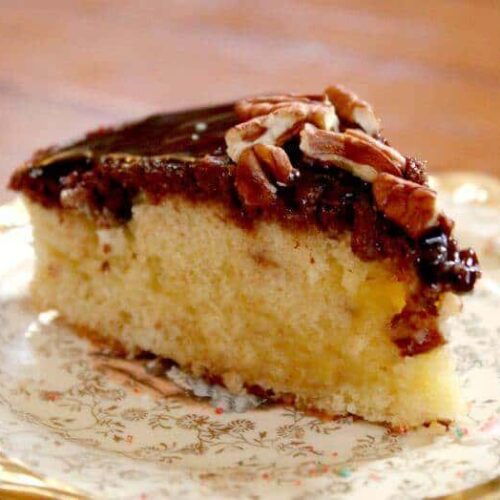 Chocolate Upside Down Cake
Print
Save
Go to Collections
A buttery yellow cake flavored with pecan whiskey and topped with a dark, fudge frosting that is baked right on top. This is a quick, easy cake that is just as delicious as it sounds.
As an Amazon Associate I earn from qualifying purchases.
Ingredients
½

cup

chopped pecans

2

ounces

of bittersweet chocolate

1 ⅓

cups

(1 can ) sweetened condensed milk

1 ½

cups

cake flour

¼

teaspoon

kosher salt

2

teaspoons

baking powder

⅓

cup

butter

1

cup

sugar

2

eggs

1 ½

teaspoons

vanilla

2

tablespoons

pecan whiskey

,

(I used Pie Hole Pecan Whiskey), may be omitted if desired

½

cup

milk
I earn a commission from Instacart from qualifying purchases.
Instructions
Preheat the oven to 350F.

Spray a 9 inch, high sided cake pan with cooking spray.

Cover the bottom with a parchment circle and spray again.

Sprinkle with the chopped pecans.

Set aside.

Pour the sweetened condensed milk in a microwave safe bowl.

Add the chocolate.

Microwave for 30 seconds, stir, and then microwave a few more seconds until the chocolate is melted.

Stir the mixture to make it smooth and carefully pour over the pecans in the cake pan.

Set aside.

Add the butter and sugar to the bowl of a mixer.

Beat until light and fluffy.

Add the eggs, one at a time.

Add the vanilla and pecan whiskey -- beat thoroughly.

Mix the flour with the salt and baking powder.

Add the flour and milk alternately to the butter mixture beginning and ending with the flour.

Spoon the batter over the top of the chocolate.

Bake for 35 minutes, or until a toothpick pushed in the center comes out clean.

Do not overbake.

When cake is done remove from the oven and let stand for a few minutes.

Run a knife around the edge of the cake to loosen it from the pan.

Place a cake plate over the cake pan and then invert to remove the cake.
Sign up for the emails and never miss another recipe!!
We'll never share your email or send you spam. Pinkie swear.
If you liked Chocolate Upside Down Cake you may also like...
Pineapple Upside Down Cheesecake
Banana Upside Down Cake Sprinkle Some Sugar
Cranberry Upside Down Cake  Simply Recipes