This easy recipe stays together and has the best glaze you've ever tasted! Southern style, classic comfort food straight from Mom's kitchen! I love serving it with Noodles Romanoff for a real vintage meal.
Be sure to read my tips for freezing!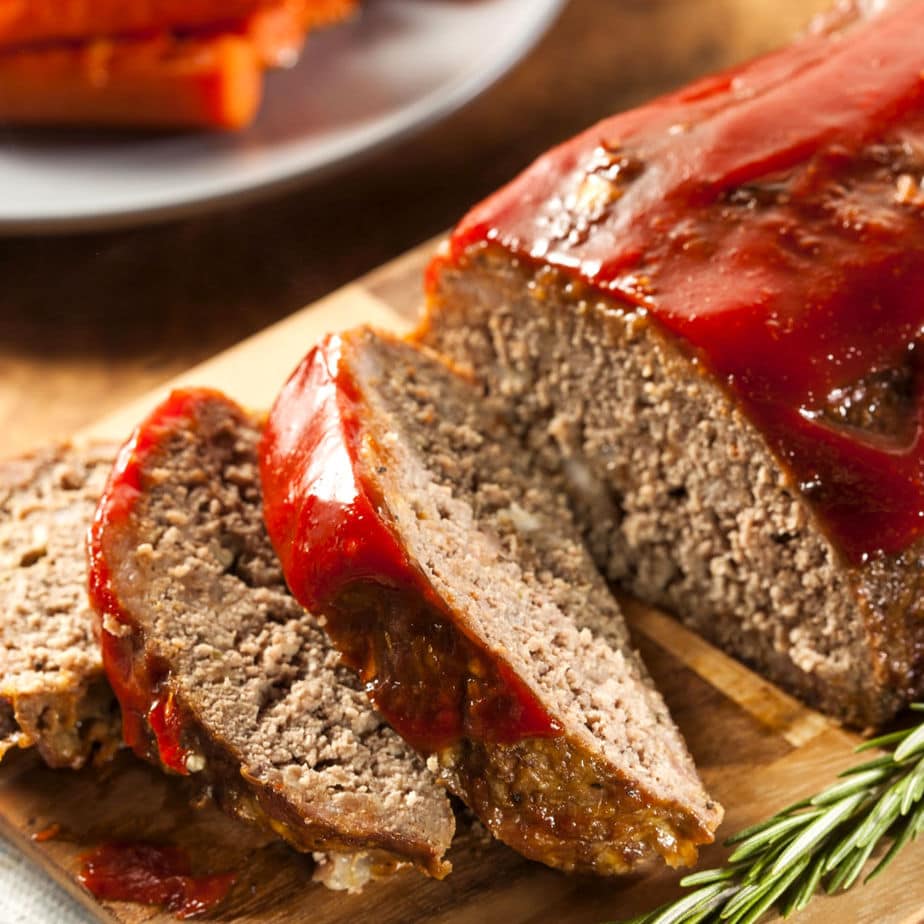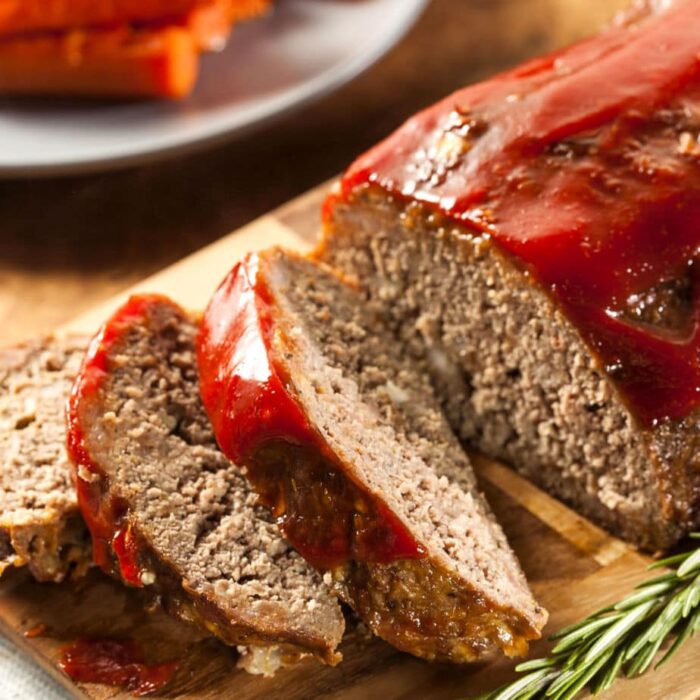 Shopping List
Nothing unusual or hard to find in this meatloaf recipe! I'm not hiding veggies or adding seaweed for extra nutrition. It's just a classic meatloaf like mom made.
90/10 ground beef (see tips about which ground beef to use)
Onion
Green pepper
Eggs
Salt
Black pepper
Minced garlic
Italian bread crumbs
Italian style diced tomatoes
Spicy Catsup
Brown Sugar
Balsamic vinegar or cider vinegar
Homemade Comfort Food
There is nothing that says home like a good, old fashioned meatloaf. It's basic, it's easy, it's budget friendly, and just about everyone has memories of a childhood table laden with steaming slices of tender meatloaf next to some potatoes. It defines many of our childhoods -- those days of kickball, riding bikes, and coming in when the streetlights came on
I think there's a quiet rebellion going on -- one in which we are returning to the foods that we loved growing up, the easy recipes and comfort foods that our grandmothers and mothers fed their families with. Comfort foods made with easily obtainable, quality ingredients.
How to Make a Moist Meatloaf
There are a couple of beliefs on making meatloaf that's not dry.
Use 80/20 ground beef so you have more fat... OR
Use more liquids
I like to use 90/10 ground beef for my homemade meatloaf recipe. I just don't like all the fat. I'd suggest making the same recipe a couple of times and using a different percentage of fat each time to see what you like best.
For me that's 90/10. Flavorful, moist, and no fat swimming around the meat when it's done cooking.
I used Italian diced tomatoes, Italian breadcrumbs, and minced garlic in this recipe and those help with the moistness, as well.
Can You Freeze Meatloaf?
You absolutely can!
In fact you can freeze it cooked or uncooked depending on which works better for you.
To Freeze Before Baking
You will need to thaw it overnight in the refrigerator before baking. Once thawed you'll just follow the recipe.
Line a loaf pan with waxed paper.
Assemble the ingredients according to instructions in the recipe but leave off the glaze.
Place in the freezer and freeze.
Once frozen remove the meatloaf by pulling up the waxed paper.
Wrap the waxed paper around the frozen meatloaf and then either vacuum seal (best) or wrap tightly with aluminum foil and return to the freezer.
Place bake in loaf pan before baking and glaze it.
Bake as directed in the recipe.
To Freeze Baked
I like to slightly undercook this meatloaf before freezing so it finishes cooking while I'm warming it up. I'll take it out when the center registers 155F.
Bake meatloaf as directed in recipe.
Remove when the center registers 155F.
Let cool.
Vacuum seal (best) or wrap in waxed paper and then seal in aluminum foil.
Thaw overnight and bake until the center is 160F.
About 20 minutes before it's done the whole kitchen starts smelling really good and your mouth begins to water. It's an easy recipe and definitely budget friendly but it's so unbelievably good. Tomato-y, beefy goodness!
I like to add just a little sweet-spicy glaze to the top about 15 minutes before it's ready to come out of the oven. I think it gives it a nice glaze and a little extra kick but you can leave it completely off if you like.
Be sure not to overwork the meat mixture or pack it together too hard! It will make it tough
More FAQs
Here are the most commonly asked questions about this recipe. If you don't find the answer to yours here leave a comment below or email me - I'll get back to you as soon as I can!
Why does my homemade meatloaf fall apart?
Usually it's because you are cutting into it when it's still too warm. Let it stand for 10 minutes before slicing.
When you 80/20 and the proportions of breadcrumbs, eggs, and liquids aren't right then that may make it fall apart as well.
How long to cook meatloaf?
It's going to take close to an hour at 350F.
Table of Cooking Times and Temps
Sometimes you may need to cook homemade meatloaf at a different temperature than called for (like if you have another dish baking alongside it) which will usually change the time.
The main thing to remember is the finished meatloaf should be at about 160F when you check the internal temperature AND you should let it rest about 10 minutes to come up to a full 165F.
Here is table of times and temps for homemade meatloaf-
| | |
| --- | --- |
| 325 | 65-75 minutes |
| 350 | 60 -70 minutes |
| 375 | 55-65 minutes |
| 400 | 45-55 minutes |
More Old Fashioned Dinner Recipes
There's just something about sitting down to a dinner that stirs up childhood memories. I love pho, and ramen, and Whataburger but they just don't satisfy in the way that my mom's homemade meatloaf recipe does!
Here are more of those kinds of recipes that I love.
Homemade Meatloaf Recipe
Y'all, double this and make two - the leftovers make the BEST meatloaf sandwiches ever.
Serve with a couple of these cloverleaf rolls, hot and steaming from the oven.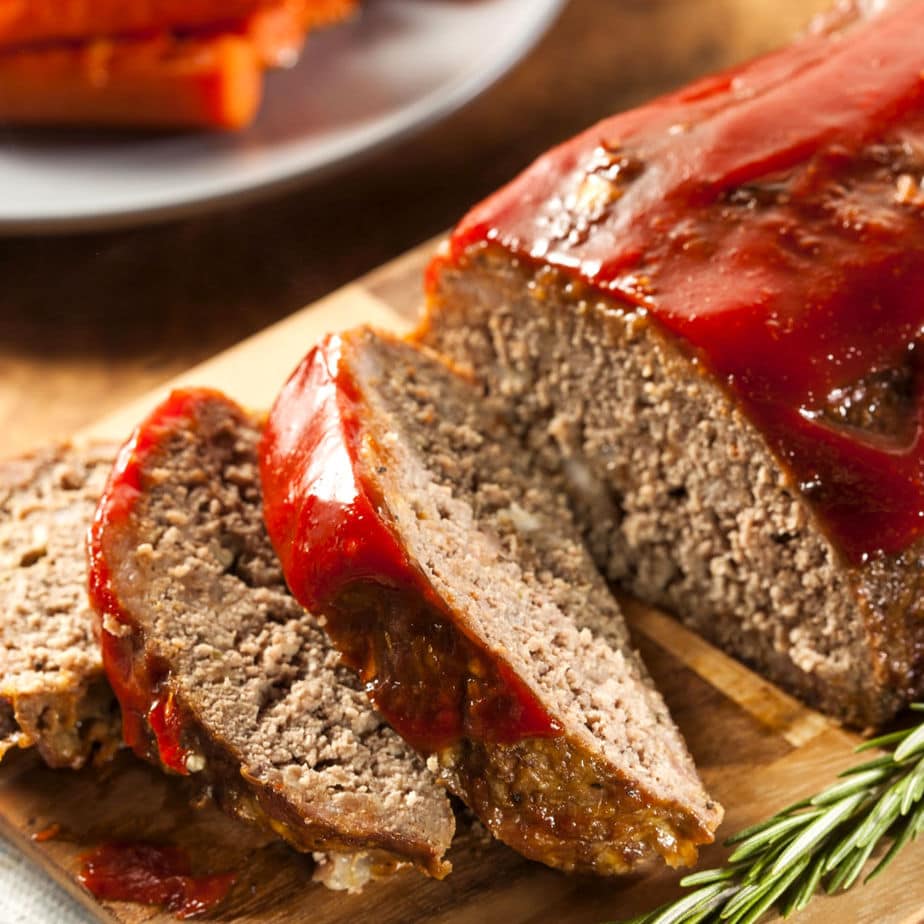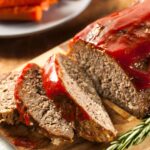 Old Fashioned Meatloaf
Print
Add to Collection
Go to Collections
Moist and tender homemade meatloaf is old fashioned comfort food. Double this recipe to make 2 so you can freeze one for later if you wish.
As an Amazon Associate I earn from qualifying purchases.
Ingredients
2

pounds

90/10 ground beef

1/2

cup

onion

,

chopped

1/4

cup

green pepper

,

chopped

2

eggs

1

teaspoons

salt

1

teaspoons

cracked black pepper

1

teaspoon

garlic

,

minced

1

cups

Italian bread crumbs

14.5

ounces

Italian style diced tomatoes

1/3

cup

spicy catsup
Glaze
1/4

cup

spicy catsup

3

tablespoons

brown sugar

1

tablespoon

balsamic vinegar

,

or cider vinegar
Instructions
Preheat the oven to 350F.

Spray two loaf pans with nonstick cooking spray.

Set aside.

Add the remaining ingredients to a large bowl and mix gently until completely mixed.

Press half of the mixture into each loaf pan.

Bake for 1 hour.

About 15 minutes before the meat loaves are done brush the glaze OR about 1/4 cup catsup on the top of each if desired. Return to the oven.

When loaves are done (160F in center) remove from oven and let stand for 10 minutes before serving.
Glaze
Mix all ingredients until smooth.
Notes
Here is table of times and temps for homemade meatloaf-
| | |
| --- | --- |
| 325 | 65-75 minutes |
| 350 | 60 -70 minutes |
| 375 | 55-65 minutes |
| 400 | 45-55 minutes |
It freezes well for up to 6  months baked or unbaked. Let thaw overnight before warming up or baking.
Nutrition
Calories:
314
kcal
|
Carbohydrates:
23
g
|
Protein:
26
g
|
Fat:
12
g
|
Saturated Fat:
5
g
|
Cholesterol:
74
mg
|
Sodium:
745
mg
|
Potassium:
591
mg
|
Fiber:
2
g
|
Sugar:
11
g
|
Vitamin A:
196
IU
|
Vitamin C:
11
mg
|
Calcium:
64
mg
|
Iron:
4
mg
Sign up for the emails and never miss another recipe!!
We'll never share your email or send you spam. Pinkie swear.