If you love comfort foods like meatloaf and stuffed peppers then this Meatloaf Stuffed Bell Peppers recipe is bound to be one of your favorites. It's quick and easy enough for busy weeknights.
First Published: October 5, 2015… Last Updated: June 6, 2019
Ingredients for this recipe: Bell peppers, ground beef, Panko bread crumbs, onion, spicy catsup, eggs, salt, pepper, bacon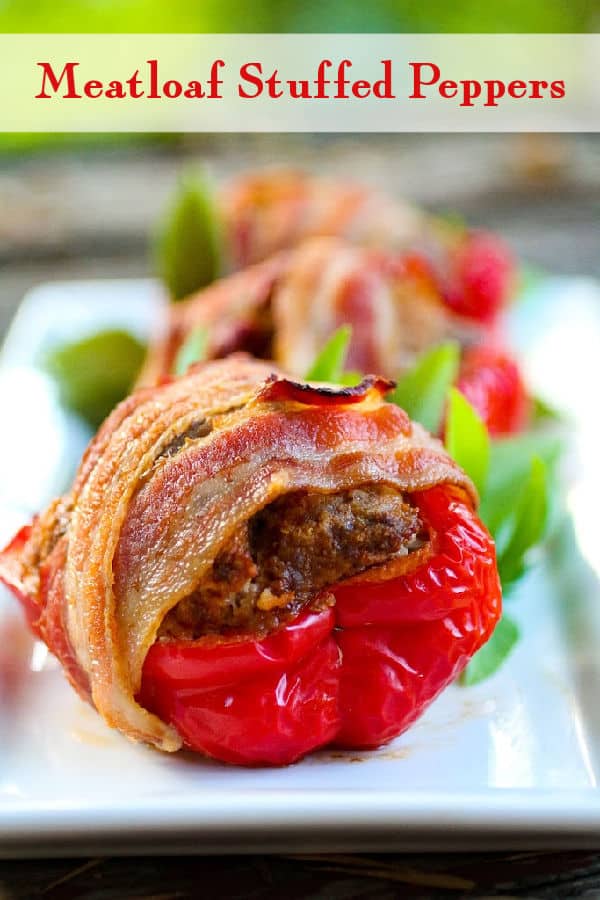 Meatloaf Stuffed Bell Peppers Is ALL the Comfort Food
I love meatloaf. I know it's totally not a cool thing to love but to me it is one of those iconic comfort foods from my childhood. It's inexpensive, easy to make, and if you are lucky enough to have leftovers (we never do) it's even better the next day.
The extra flavor that it gets when made into these meatloaf stuffed Bell peppers wrapped in bacon just takes it right over the top!
Original Stuff from 2015
When I update posts I generally update what's going on in my life as well. This memory is one I want to leave right here –
Today I was running late, as usual. I had the ingredients for meatloaf out when I spotted some red Bell peppers in the fridge that definitely needed to be used.
Please tell me that I am not the only one that goes to Costco, see's all this amazing fresh produce, then loses it in the auxiliary fridge until it's almost too late!
Being totally honest? Sometimes it's way, way, way too late and I just have to feel guilty and through the fuzzy, blue mass away, wondering what it was before it was fuzzy and blue.
This has been a very difficult, busy, crazy week. Well, last week I mean. It began with a two day fundraiser that my assistant and I attended at Klyde Warren Park in Dallas. It was lots of fun but tiring. Our pit bull, Cuddles, was in the midst of kidney issues again and we had to have him euthanized on Wednesday. That was traumatic for all of us — some of us are still crying. Then I drove to Houston for the Mixed Conference on Friday and home on Sunday. Tomorrow I drive up to McKinney first thing for a party to kick off a new product by Viva (stay tuned for that) and then I have to submit an article to one of my magazine clients.
All of that to say that my family should feel relatively lucky that they aren't eating fast food at the moment.
It's times like this that you want comfort food. Comfort food at my age is the nearest I can get to crawling up into Mom or Dad's lap and just crying it out. Comfort food is just exactly that — bites of soothing flavor that makes you feel all warm and cocoony.
End of 2015 stuff… thanks for indulging me …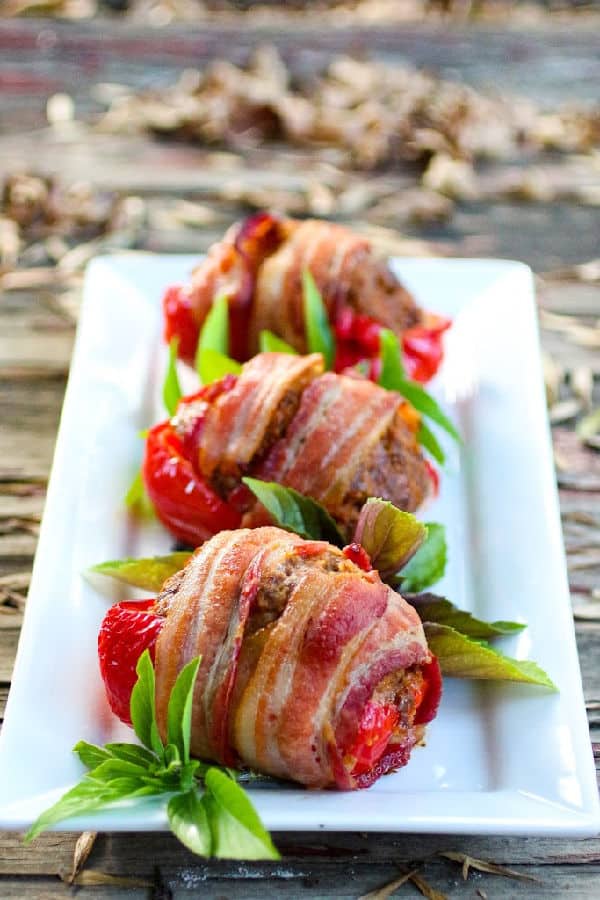 Meatloaf Stuffed Bell Peppers Variations
These easy stuffed peppers have plenty of variations – and because they freeze really well they're great to have on hand. Here are some of my favorites.
Use poblano peppers
Use the small sweet peppers to use this recipe to make appetizers. Bake for just 10 to 15 minutes.
Add a slice of cheese to the top before wrapping in the bacon.
Make on the grill – just place on top of an aluminum pan so the fat doesn't catch on fire. Add some wood chips for even more flavor.
Hollow out Vidalia onions and use in place of the Bell peppers.
Bell Pepper FAQs
Wondering about Bell peppers? Well here are some facts.
Is there a difference between Bell peppers.
Yes. All of the colors come from the same plant but are in different stages of ripeness so the flavor is a little different, too. Red is the sweetest, followed by orange, yellow, and lastly – green. There are new varieties that ripen to other colors like purple and "chocolate" as well but they aren't easy to find commercially.
Are Red and Green Bell Peppers from the Same Variety?
Yes – red Bell peppers are ripe green Bell peppers so which you eat is a matter of preference.
Which Bell pepper is healthiest?
Red Bell peppers have the most nutritional value.
Which pepper is sweeter, male or female?
Male peppers have 3 bumps and female peppers have 4. The female peppers are better for eating raw because they tend to be sweeter.

More Quick Weeknight Meals
You May Need
The following are affiliate links. We are a participant in the Amazon Services LLC Associates Program, an affiliate advertising program designed to provide a means for us to earn fees by linking to Amazon.com and affiliated sites.
What's new? Check out my Restless Chipotle & Co. Store on Amazon! Thanks so much for being a part of Restless Chipotle!
Add great smoky flavor to these meatloaf stuffed Bell peppers with a smoke infuser!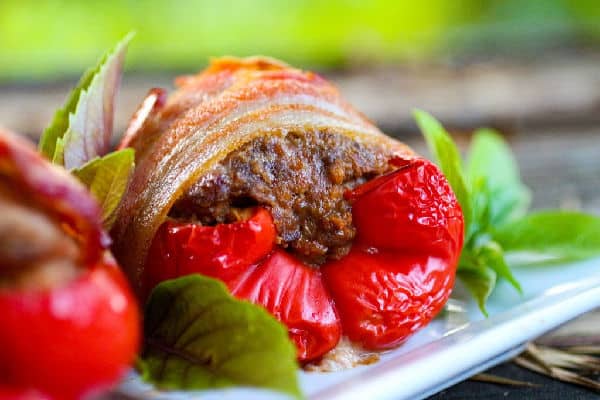 Meatloaf Stuffed Bell Peppers Recipe
A spicy seasoned meatloaf mixture is packed into Bell pepper halves and then wrapped in bacon and baked. The peppers and bacon add their flavors to the meat as it cooks and keeps it nice and moist.
And, since you're talking about small meatloaves, rather than one big one, the cooking time is way shorter — just about 30 minutes.
If you love this recipe please give it 5 stars!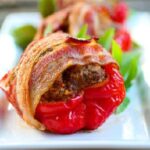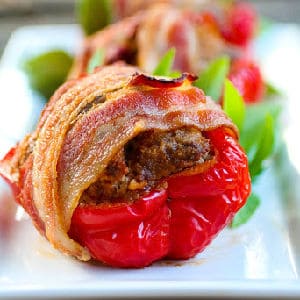 Meatloaf Stuffed Bell Peppers Wrapped in Bacon
Print
Add to Collection
Go to Collections
A tangy meatloaf mixture is packed into sweet Bell pepper halves and wrapped in bacon then cooked to perfection! Quick and easy for weeknight dinners! Best comfort food you'll ever eat.
Standing Time (after cooking)
10
minutes
As an Amazon Associate I earn from qualifying purchases.
Ingredients
3

Bell peppers

,

large

2

pounds

ground beef

3/4

cup

bread crumbs

,

I used Panko

1/2

cup

onion

,

finely chopped

1/4

cup

sriracha ketchup

,

use plain catsup if you don't like it spicy

2

eggs

,

beaten

1 1/2

teaspoons

salt

1 1/2

teaspoons

black pepper

12

slices

bacon
Instructions
Preheat the oven to 375F.

Cut the peppers in half long-wise and remove seeds and membrane.

Set aside.

Mix the ground beef, breadcrumbs, onion, ketchup, eggs, salt, and pepper together until it is well blended.

Pack an equal amount of the mixture in each Bell pepper half.

Wind bacon around the pepper and meatloaf, securing it with toothpicks.

Bake for 30 minutes or until the internal temperature reaches 155F and the bacon is crispy.

Remove from the oven and let stand 10 minutes before serving.
Nutrition
Calories:
662
kcal
|
Carbohydrates:
18
g
|
Protein:
35
g
|
Fat:
49
g
|
Saturated Fat:
18
g
|
Cholesterol:
136
mg
|
Sodium:
1183
mg
|
Potassium:
721
mg
|
Fiber:
2
g
|
Sugar:
6
g
|
Vitamin A:
1930
IU
|
Vitamin C:
77.4
mg
|
Calcium:
64
mg
|
Iron:
4.1
mg
Sign up for the emails and never miss another recipe!!
We'll never share your email or send you spam. Pinkie swear.
Submit Your Own Images