A big thanks to Avocados From Mexico, TABASCO® Brand, RITAS, and Forward Influence  for partnering with Restless Chipotle to bring you this mouthwatering recipe.
This easy, fried shrimp po boy sandwich recipe is the  ultimate sandwich - sure to make any game day party complete. Tender fried shrimp (I used frozen to make it even easier!) are piled on a sourdough baguette along with avocado and candied jalapeños. A spicy avocado remoulade give just the right, creamy kick to this updated Southern classic recipe.
For this recipe you'll need: Fried shrimp, shredded iceberg lettuce, shredded red cabbage, Avocados from Mexico, mayonnaise, limes, candied jalapeños, salt, pepper, TABASCO® Chipotle Sauce, sourdough baguette
Serious about the Big Game!
Where I live we're pretty serious about the big game. Bustling shopping centers turn into ghost towns as everyone takes their favorite spot in front of the TV to cheer their team on to victory.
It doesn't even matter if it's jr. high, high school, college, or pro football as long as there's tackles and scores involved!
Of course, no game day party is complete without food - and I'm telling you preparations for the big day start days ahead of time. It's kind of like Thanksgiving but with hearty finger foods rather than feast foods. I like to make those preparations as quick and easy as possible, because who wants to spend hours alone in the kitchen when everyone else is yelling at the television?
One of my favorite ingredients is avocados because they're healthy, delicious, and always in season! They are versatile enough to pair up with all my favorites from Tex-Mex to Italian. 
Check out this Fried Shrimp Po' Boy with Spicy Avocado Remoulade! It's so quick and easy - just add the ingredients to a baguette and cut in pieces!
Shrimp Po' Boy Perfect for Parties!
The perfect party is always as easy as family, friends, food, and football! This Shrimp Po' Boy sandwich is so quick and easy you'll be out of the kitchen in no time at all. Savor the flavor of creamy, ripe Avocados from Mexico in this quick and easy sandwich for a crowd!
I chose to use frozen breaded shrimp but you could use your favorite shrimp recipe - either grilled or fried. 
Although I often make remoulade from scratch I wanted to keep the prep time to a minimum so I started with my favorite prepared mayonnaise and added my remoulade ingredients from there.
You could certainly make homemade baguettes rather than purchase them.
I wouldn't suggest making this Shrimp Po' Boy ahead of time - it's best with the contrasts between the chewy bread, hot shrimp, creamy remoulade, and spicy-sweet candied jalapeños.
You can make the remoulade up to 5 days ahead of time and just keep it in an airtight container in the refrigerator. In fact the remoulade is much better if you give it at least a few hours to mellow out.
I used the TABASCO® Chipotle Sauce to add zing to the avocado remoulade as well as passing it with the shrimp sandwich so that guests could add it to their own tastes. It's amazing how a few simple ingredients can create so much flavor! Use at as either a condiment or ingredient in any of your favorite foods.
Shrimp Po' Boy FAQs
What bread do you use for a Po' Boy?
The best is New Orleans French bread but if you can't get that use any good baguette. I like sourdough, personally.
What do you serve with Po' Boys?
A Po' Boy shrimp sandwich is traditionally served with a hot sauce alongside and beer. We've upped the game a bit by choosing and Lime-A-Ritas!
What goes on a Shrimp Po' Boy?
Cut the bread and spread with a good layer of remoulade then arrange shredded lettuce, shredded red cabbage, and avocado over the top. Add the shrimp, cover with the sliced candied jalapenos, and spoon on more remoulade sauce! Add the top of the bread and press down to compress the sandwich. It's going to be messy no matter what you do!

What is Po' Boy Sauce?
Po' Boy sauce is just remoulade - a creamy sauce made with a mayonnaise base. It's super easy!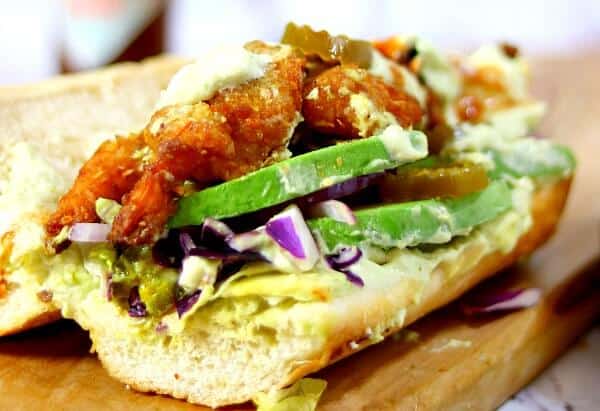 Spicy Shrimp Po' Boy Recipe
This easy sandwich is bound to be a favorite among the seafood lovers in the family. Just be sure to serve the shrimp hot on the sandwich - whether you use grilled or fried. I used frozen breaded shrimp to save time but you can use your own favorite. If you love this recipe please give it 5 stars!
Shrimp Po' Boy with Avocado Remoulade
Classic New Orleans sandwich updated with oh-so-versatile avocados!! Quick and easy - perfect for Game Day parties.
Instructions
Shrimp Po' Boy
Toast the baguette and split open.

Spread with the avocado remoulade.

Place the sliced avocado over the remoulade.

Add the shredded lettuce and cabbage.

Add a layer of candied jalapeños.

Cover with the top of the baguette and press down gently. Cut in 4 or more pieces.
Spicy Avocado Remoulade
Add all remoulade ingredients to a food processor.

Process until smooth and well blended.

Spoon into a canning jar and cover tightly. Refrigerate for at least an hour to blend flavors.

Serve extra remoulade along with the sandwiches.
Notes
Nutritional information is for the avocado remoulade ONLY.
Nutrition
Serving:
2
tablespoons
|
Calories:
145
kcal
|
Fat:
15
g
|
Saturated Fat:
2
g
|
Cholesterol:
8
mg
|
Sodium:
155
mg
|
Vitamin A:
12.5
IU
|
Vitamin C:
0.6
mg
|
Calcium:
1
mg
|
Iron:
0.1
mg