This crispy, fried chicken Po'boy recipe with homemade remoulade sauce is perfect for everything from Game Day to Poker Night! Crispy chicken chunks are nestled inside crispy french bread and covered in sauce for authentic New Orleans flavor.
For this recipe you'll need: Perdue Simply Smart Lightly Breaded Chicken Chunks, French bread or hoagie rolls, lettuce, tomatoes, spicy bread and butter pickles, mayonnaise, hot sauce, juice from spicy sweet pickles, dijon mustard,  horseradish, garlic, creole seasoning, smoked paprika
This post and chicken po'boy recipe were sponsored by Perdue. Perdue provided me with free product and compensation in exchange for an original recipe. All comments, thoughts and reviews are my own.
If you are in a hurry click here to go straight to the recipe.

The Restless Chipotle Channel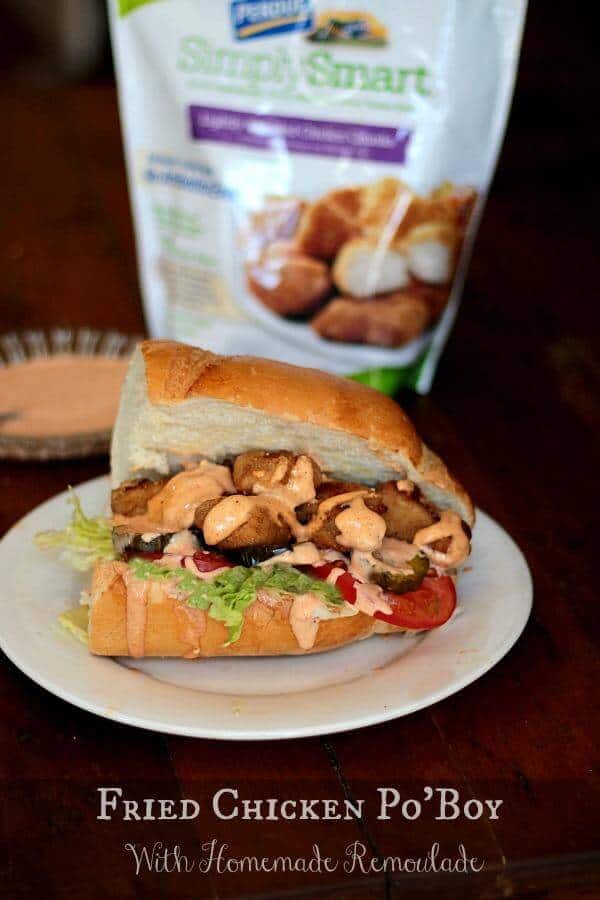 February is a pretty exciting month, all in all. I mean you've got Valentine's Day and you've got Mardi Gras plus lesser known but just as yummy holidays like National Margarita Day and National Biscuits and Gravy Day. When I think of Mardi Gras I think of Louisiana, and when I think of Louisiana I think of the iconic Po'Boy sandwich. If you think that it's anything like the northern Hoagie, Grinder, Submarine, or whatever you all it you'd be so very, very wrong.
It all kind of started in the early 1900's with Martin Brothers' Coffee Stand and Restaurant in the French Market. The owners had been street car workers and when there was a big strike they offered free sandwiches to the strikers. Bennie Martin, one of the owners, said, "We fed those men free of charge until the strike ended. Whenever we saw one of the striking men coming, one of us would say, 'Here comes another poor boy.'" Only in N'awlins it gets pronounced po'boy.
And that's how the Po'Boy got it's name. FYI, in the 1930s a 20-inch po'boy sold for 15 cents and a lettuce & tomato sandwich was free at Martin Brothers. As you can imagine the restaurant was very popular and customers were loyal long after the Depression ended.
There's your history trivia for today. 🙂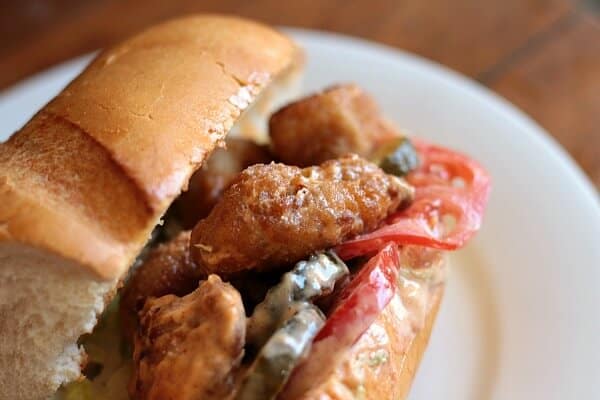 You can find almost anything edible tucked into a po' boy from lobster to crawfish. My personal favorite is boneless fried chicken pieces. Just add some lettuce, tomato, pickles, and a spicy remoulade sauce and you've got a meal as far as I'm concerned. Chips optional.
I like Perdue Simply Smart chicken chunks because there's more chicken than breading. I know you know exactly what I mean. You can also use the chicken strips. Plus, they're having a contest with a chance to win a kitchen makeover! Who doesn't need that?
Enter Perdue's Winner Winner PERDUE® Dinner Selfie Contest for a chance to win a kitchen makeover valued at $10,000! Enter between January 10 and April 10, 2016. Learn more and enter today: perdue.com/promotions

*There are three (3) prizes available to be won. Each prize consists of five (5) $2,000.00 Lowe's® Gift Cards for a total of $10,000 in gift cards. Total Estimated Retail Value of each prize is $10,000. Total ERV of all prizes combined is $30,000. Terms and conditions apply to gift cards; see front and back of gift cards for more information. Limit one prize per person and per household for duration of contest period.

Potential winners will be notified on or about February 15th, March 15th and April 15, 2016.

No purchase necessary. See Official Rules for complete details: perdue.com/promotions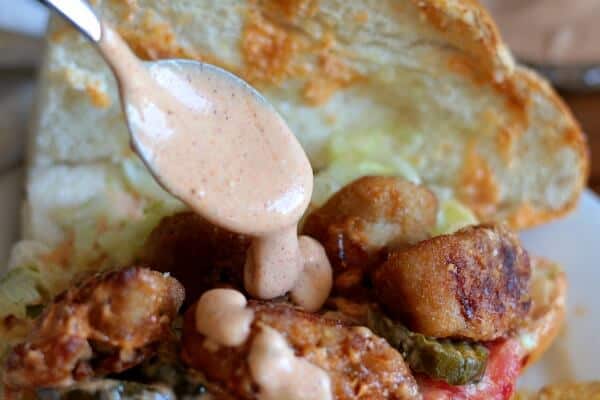 You'll have the perfect photo opportunity if you serve these fried chicken po'boys on Game Day! It's not a delicate sandwich for sure plus you can make them as large or as small as you like. The remoulade sauce is amazing. I've made it this way for decades — it was actually a copy of a remoulade that I had at a tiny sandwich shop when traveling with my Dad back in the 1970s. Amazing stuff. You can use it on salads, as a dip, or do what I do and just suck it off the spoon.
Here's that chicken po'boy recipe.

Print Recipe
Clickable Table of Contents
hide
Fried Chicken Po'Boy Recipe with Homemade Remoulade
This chicken po' boy sandwich is a filling meal, perfect for casual dinners, game day entertaining, and picnics! The homemade remoulade sauce takes this po' boy right over the top.
Ingredients
Po'Boy
1 20-

ounce

package Perdue Simply Smart Lightly Breaded Chicken Chunks

3

large loaves of French bread

, cut in half

2

cups

shredded lettuce

, or more as needed

3

large

, ripe tomatoes, sliced

Spicy Bread and Butter Pickles
Instructions
Bake the chicken according to package directions.

Slice the bread almost all the way through but leave a "hinge" on the bottom.

Open it up, brush with olive oil, and toast under the broiler, watching carefully so it doesn't burn.

Spread a layer of the remoulade on the toasted bread.

Cover with shredded lettuce.

Lay tomato slices over the lettuce.

Place pickle slices over the tomatoes.

Add a generous amount of the hot chicken chunks and drizzle with more remoulade.
If you liked this Chicken Po'Boy recipe you might also like…
Chicken Enchiladas in Homemade Cream Sauce
Chicken Tetrazzini Southwestern Style
Buffalo Chicken Pasta The Melrose Family
Ranch Chicken Tenders The Lean Green Bean