So why would anyone go to all of the trouble of making homemade tater -tots? Well, because they are so easy, you can create endless variations (bacon tots, anyone?), and they even freeze well! Best of all - you'll love the flavor! PSA: I LOVE them with this Jezebel Sauce instead of catsup.
First Published: October 1, 2013... Last Updated: May 8, 2019
For this recipe you'll need these ingredients: potatoes, onions, salt, pepper, flour, oil (i like peanut oil the best)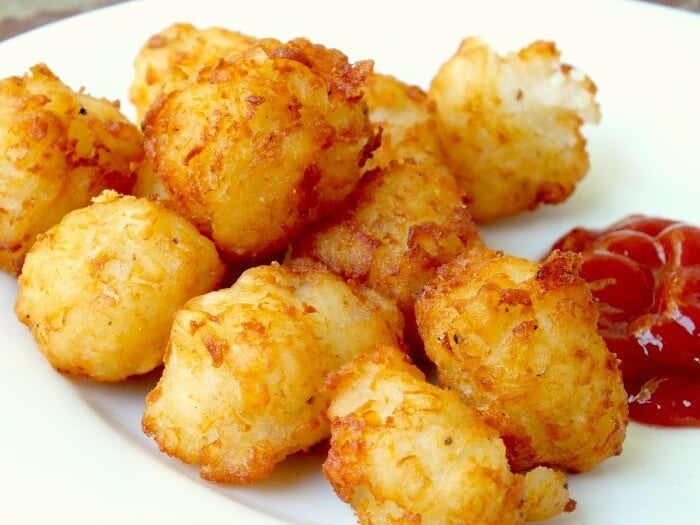 A Homemade Tater Tots Recipe You'll Love
And... I like that when I make this tater tots recipe they don't have all of the junk chemicals in them.
I loved tater tots long before I knew who Napoleon Dynamite was.
My mother was the queen of frozen food so I had the opportunity to eat them a lot when I was growing up. There is something about the crispy outside and the tender inside that is addictive and I had decided that I was going to make tater tots if it killed me (it didn't) but if I couldn't get them right I wasn't posting them. I wouldn't even admit to trying.
These were so right. So very right.
Infinite Variations
Not only is this homemade tater tot recipe easy but you can tweak it to your heart's content. For example, you can add:
Cheese
Onion
Jalapeno
Poblano
Habenero
Cilantro
Chives
Cheese
Ranch dressing mix (the powdered kind)
Taco seasoning
Bacon
Crab
Shrimp
Chopped BBQ
Make them with sweet potatoes or yams

OK — You get what I am saying, right? Experiment, y'all. How can you go wrong with potatoes as the base?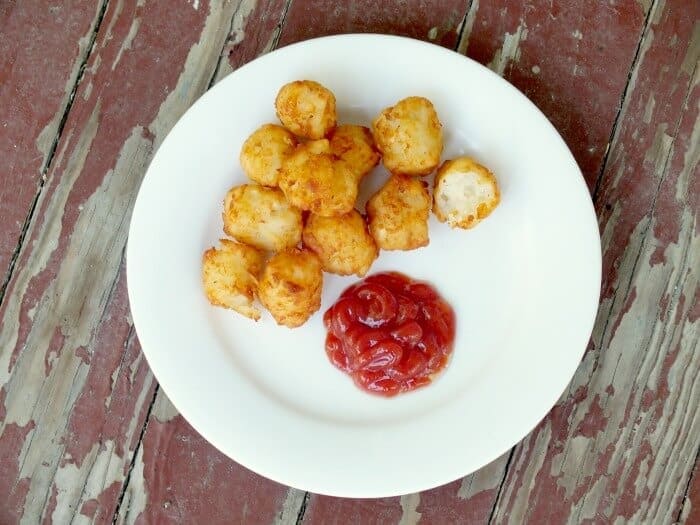 Tips for Making Homemade Tots
This homemade tater-tots recipe is one of our favorites. It's so easy to make and I love creating as many variations as I can think up! Here are some tips that will help ensure your success.
You can save time by using the shredded hash browns in the refrigerated section of your grocery store.
Don't forget to parboil the potatoes.
Grate them gently after you parboil them - you don't want them mushy.
If you are adding other ingredients do so sparingly - 1 tablespoon per cup of potatoes is about right.
You can use flour, cornstarch, or potato starch as a binder but go easy on it.
Use peanut oil unless someone has an allergy - it just fries better.
Make sure your oil is new and not rancid, and definitely don't reuse oil more than once.
Use an electric deep fryer to keep the temperature even.
Never overcrowd the fryer.
If they seem to wet you might try making them with powdered dried onion or powdered garlic instead of fresh.
To Make in an Air Fryer
If you'd like to try making these in an air fryer here are some tips:
Be sure to chill them first. You can also cook them from frozen.
Spray lightly with olive oil.
Place them in the air fryer so that the sides don't touch.
Turn a couple of times during cooking.
This may take 15 minutes or so.
Shaping Tips
If there is any trick at all to make these tater-tots it is in the shaping.
You can coarsely chop the potatoes in your food processor or grate them on the big holes in your grater. I think the grater works better and gives the texture I like but try both to see what you want to do.
If you mash the mixture together too firmly you end up with the wrong texture. If it is not shaped firmly enough you end up with something that is flat or crumbles. I found that gently shaping the about 1 1/2 teaspoons of the mixture into a log was just about right. It took me about 5 tries to get the hang of it.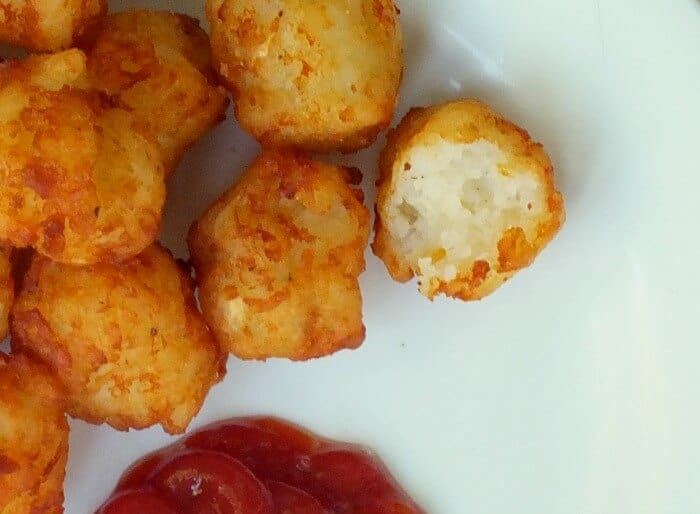 More Great Side Dishes
What's a dinner without some great sides to go with it? Here are some of my very favorites - I think you'll love them, too.
You May Need
The following are affiliate links. We are a participant in the Amazon Services LLC Associates Program, an affiliate advertising program designed to provide a means for us to earn fees by linking to Amazon.com and affiliated sites.
What's new? Check out my Restless Chipotle & Co. Store on Amazon where you'll find all kinds of nostalgic goodness! Thanks so much for being a part of Restless Chipotle!
This T-Fal Deep Fryer has its own oil filtration system and plenty of room to fry your favorite foods. If you're looking for an air fryer you can't beat the Programmable Ninja Air Fryer!
Tater Tots Recipe
I make this recipe so often you'd think I'd have updated the images but we eat them as fast as they come out of the fryer! Unbelievably good, y'all!
If you love this recipe please give it 5 stars!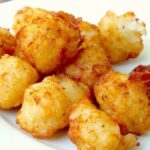 Homemade Tater Tots Recipe
Print
Add to Collection
Go to Collections
Basic homemade tater tot recipe that is crispy on the outside, light and delicate on the inside. Add bacon, cheese, onion, chives, or jalapenos for variety. (2 tbs total)
Servings
8
servings/5 tots each
As an Amazon Associate I earn from qualifying purchases.
Ingredients
2

pounds

potatoes

1/2

tablespoon

flour

1/2

teaspoon

salt

Pinch of pepper

2

tablespoons

finely chopped onions

Oil for frying

,

(I prefer peanut oil)
Instructions
Cut the potatoes in fourths and parboil them in a generous amount of water to cover.

Allow to cool, at least to the point you can handle them.

Grate them on the big holes of your grater.

Gently place them in a bowl.

Add the flour, salt, pepper, and onion and mix gently.

Let stand for about 5 minutes.

Heat the oil up to 355-360F

Use 1 1/2 teaspoons potato mixture for each tot.

Shape the potato mixture gently until it is in the shape of a tater tot.

Fry, a few at a time, in the hot oil just until they are golden brown.

Drain on absorbent paper.
Notes
Add up to 2 tablespoons finely chopped: bacon, cilantro, jalapeno, cheese, crab, chives, or other ingredients for delicious variations. You can also bake them at 400F. Sweet Potatoes work well, too. ALSO to make them gluten free you can substitute gluten free baking mix but you'll also want to add a little egg to help bind it.
Nutrition
Calories:
68
kcal
|
Carbohydrates:
14
g
|
Protein:
2
g
|
Sodium:
156
mg
|
Potassium:
468
mg
|
Fiber:
2
g
|
Vitamin C:
13.1
mg
|
Calcium:
34
mg
|
Iron:
3.7
mg
Sign up for the emails and never miss another recipe!!
We'll never share your email or send you spam. Pinkie swear.
Share Your Images