This easy, roasted sweet potato salad is packed with flavor from fragrant spices, tangy-sweet balsamic vinegar, sultry vanilla, and just enough smoky, hot chipotle to make it tingle. Perfect for summer potlucks, it's also a healthy side dish for the colder months, and a nice change from regular, creamy potato salad anytime. This recipe is updated from the original 2009 version.
For this recipe you'll need: roast sweet potatoes, celery, tangy apple like Honeycrisp or MacInstosh, pecans, onion, candied ginger, spiced cider, balsamic vinegar, brown sugar, vanilla, honey, chipotle in adobo, light oil – like peanut, salt, pepper, cinnamon, cloves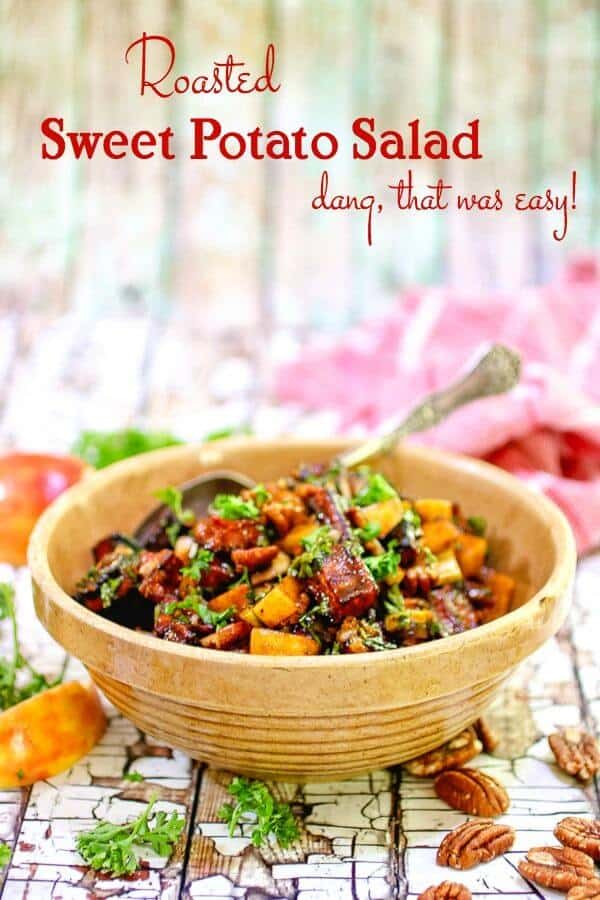 The Recipe Backstory
I grew up eating potato salad, and to be perfectly honest I love it all — creamy old fashioned potato salad, hot German potato salad, and every single variation in between. By Labor Day I'm pretty much potato-saladed-out and it's a mad dash through my cookbooks to figure out what to serve at the Labor Day bash.
One year I happened to have some heirloom sweet potatoes on hand from a trip to farmer's market and I had a wild and crazy idea. What if I did a potato salad mash-up (mash-up, get it?) and took all of the best parts from ALL the potato salads I liked.
It was awful – at least the first try. The second wasn't much better but by Labor Day I had created this – and it was SO good that the bowl was emptied minutes after it was put on the table.
It was like pirañas.
Roast Sweet Potato Salad FAQs
This recipe is easy enough for a beginning cook. You'll find chipotle in adobo in cans – usually in the Mexican food section – or Amazon. Amazon has everything!
Nutrition Facts
Sweet potatoes and yams are nutritional powerhouses! They have plenty of fiber, vitamin A, vitamin C, magnesium, B6, vitamin E, vitamin K, calcium, and iron.
Can you use yams in place of sweet potatoes?
Yams and sweet potatoes can be used interchangeably.
What's the difference between yams and sweet potatoes?
A yam is a starchy edible root that's related to lilies, and is imported to America from the Caribbean. It's drier and starchier than a sweet potato – think of the difference between bananas and plantains.
Sweet potatoes are members of the morning glory family. Depending on the variety, sweet potato flesh can vary from white to orange or even purple. The orange-fleshed variety is the most well known and, in order to distinguish it from the more well known white variety , producers chose the English form of the African word "nyami" and labeled them "yams." Sweet potatoes are softer and sweeter than true yams.
The U.S. Department of Agriculture requires that producers put labels that have the term 'yam' to be accompanied by the term 'sweet potato.' Despite the label regulations, most people still think of sweet potatoes as yams regardless of their true identity.
How do you make sweet potato salad?
Many people boil and dice sweet potatoes for salads but I think it weakens that great flavor. Roasting brings out all of the flavor and sweetness and gives the sweet potatoes (or yams) a crispy on the outside/creamy on the inside texture that I love. Once you have your cooled sweet potatoes it's easy –
Mix up the ingredients for the vinaigrette and let stand for at least an hour to blend flavors.
Toast pecans in the oven at 350F for 5 minutes – watch carefully and stir often!
Mix the ingredients up in a large bowl with the cooled, roasted sweet potatoes, and stir in the vinaigrette.
Serve immediately or chill in the refrigerator to infuse more flavor into the potatoes. Beware though – with the chipotle as it stands it will get spicier – you may want to wait to add the chipotle until just before serving.
How do you cook sweet potatoes for a salad?
I prefer roasting them but you can boil them or even cook them in a microwave. If you've got the grill going then you can slice them thickly, brush with oil, and grill them.
To roast sweet potatoes-
Peel and cube
Toss with seasonings and a little olive oil.
Place on an oiled, heavy baking sheet.
Roast at 425F, stirring often, for about 30 minutes.
Can you eat cold sweet potato?
Yes! They are so good just about any way you want to make them.
Can you eat sweet potato skin?
As long as it was scrubbed well before baking there's no reason not to! It adds extra nutrition and fiber.
Sweet Potato Salad Variations and Menu Suggestions
Even though this is my absolute favorite way to make this potato salad I do have some variations and short cuts you may like…
Use walnuts in place of pecans
Add dried cranberries
Add a pinch of cumin
Add some fresh orange zest to brighten it up
Use pears in place of apples
Try a flavored balsamic like vanilla or fig in place of plain balsamic vinegar
You can use cider vinegar if you absolutely have to but it's really really not as good.
Roast the apples and onions, too.
Use maple syrup instead of honey.
Add some fire roasted poblano peppers.
This is such a versatile side dish but here are some of my favorite combinations. Serve with –
Roast chicken
Grilled chicken
Game
Turkey
Roast pork loin
Pork chops
Ham
Hamburgers – this surprised me but I really like this salad with burgers!
You May Need…
The following are affiliate links. We are a participant in the Amazon Services LLC Associates Program, an affiliate advertising program designed to provide a means for us to earn fees by linking to Amazon.com and affiliated sites.
Thanks so much for being a part of Restless Chipotle!
A good balsamic vinegar is thick, sweet and tangy. It's great in this recipe BUT this vanilla balsamic (or a vanilla fig flavored one) REALLY kicks up the flavor!

More Great Side Dishes from Restless Chipotle
Here are some more side dish recipes you might like.
Roasted Sweet Potato Salad Recipe
This is truly a unique side dish with plenty of flavor. It's easy to put together, too. If you have leftovers (ha!not likely) keep them in a tightly covered glass or plastic dish in the fridge for up to 4 days. After that it gets kind of soggy. If you're looking for a less sweet, more savory recipe try this sweet potato salad from Averie Cooks.
If you love this recipe please give it 5 stars! Thanks!
Roasted Sweet Potato Salad
Easy, roasted sweet potato salad is packed with flavor from fragrant spices, tangy-sweet balsamic vinegar, sultry vanilla, and just enough smoky chipotle to make it tingle. A healthy side dish that's perfect for summer potlucks and autumn feasts! Click on the sweet potato link for the instructions on roasting sweet potatoes. Other links in this recipe are affiliate links to the product.

Ingredients
Roast Sweet Potato Salad
3 1/2

pounds

Sweet potatoes

,

,diced and roasted

3

stalks of celery

,

, sliced

1

large

honey crisp apple

,

, diced -- may substitute Granny Smith or MacIntosh - leave the peels on

1

cup

pecans

,

, toasted and chopped

1

medium

onion

,

, diced

1/4

cup

candied ginger

,

, chopped

1

tablespoon

Chipotle in adobo

,

,chopped -optional but fantastic

Salt and pepper to taste
Vanilla Balsamic Vinaigrette
1/4

cup

balsamic vinegar

1/4

cup

spiced cider

1/3

cup

light oil

,

(walnut, peanut, etc)

2

tablespoons

brown sugar

2

tablespoons

honey

,

, may substitute maple syrup

1

teaspoon

vanilla

1/4

teaspoon

cinnamon

Pinch of cloves

1

tablespoon

chipotle in adobo sauce

,

, mashed
Instructions
Salad
Let sweet potatoes cool after roasting.

Add the sweet potatoes and the rest of the salad ingredients to a large bowl.

Pour the vinaigrette over all.

Toss lightly, serve or chill for up to four days.
Vanilla Balsamic Vinaigrette
Whisk ingredients together and allow to mellow for 20 minutes if possible.

Pour over salad and allow flavors to mingle for at least an hour or up to three days.
Nutrition
Calories:
330
kcal
|
Carbohydrates:
48
g
|
Protein:
3
g
|
Fat:
14
g
|
Saturated Fat:
1
g
|
Cholesterol:
0
mg
|
Sodium:
150
mg
|
Potassium:
659
mg
|
Fiber:
6
g
|
Sugar:
20
g
|
Vitamin A:
452.9
%
|
Vitamin C:
7.8
%
|
Calcium:
6.7
%
|
Iron:
8
%
Included in Meal Plan Monday.
Let's Keep in Touch!