Baked sweet potatoes are delicious, easy to make, and healthy, too! Learn how to bake them to perfection in the oven, microwave, and air fryer. Be sure to read the expert tips, too!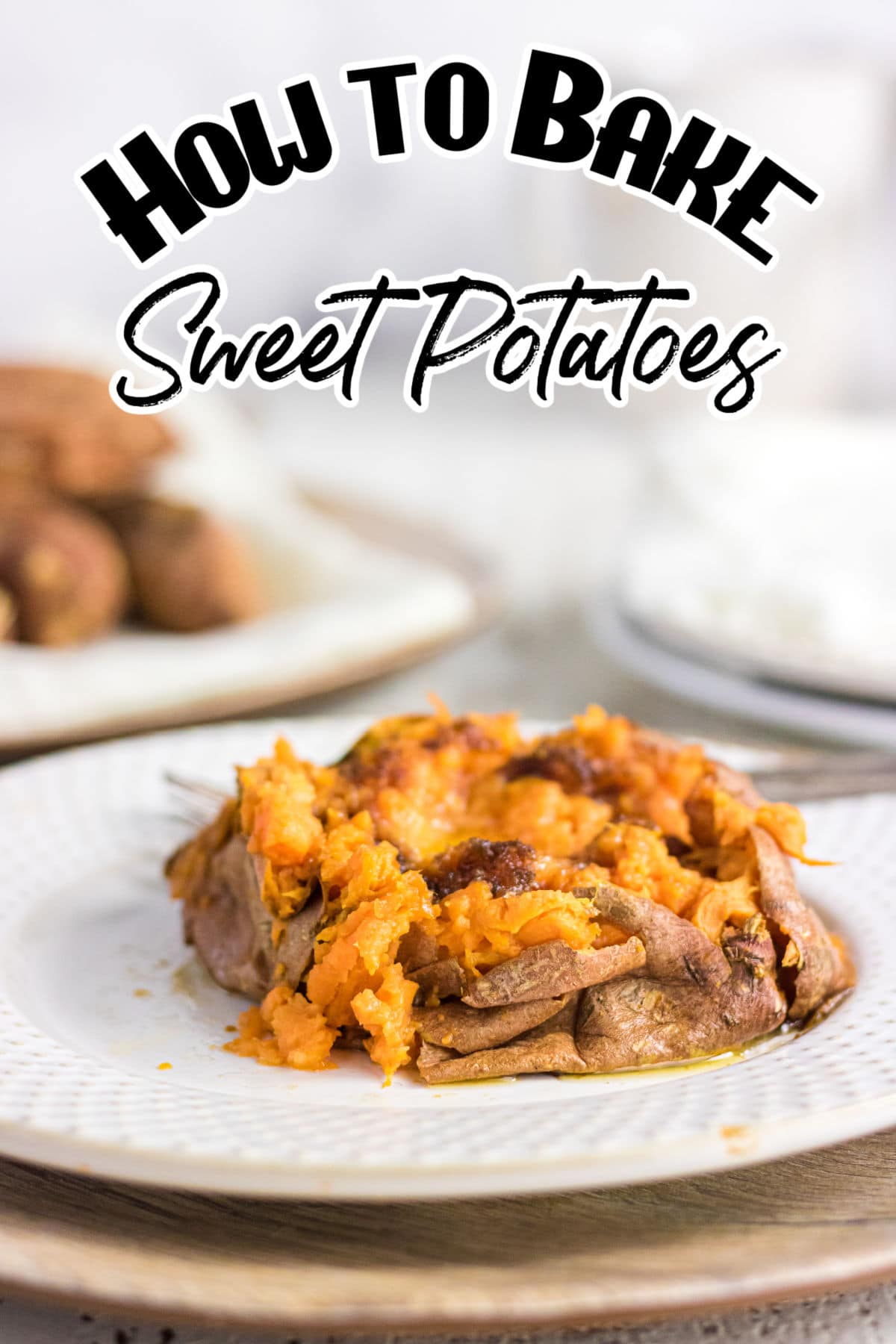 Jump to:
❤️ Why you'll love it
Cooked sweet potatoes are the basis of many holiday foods.
They're nutritious with plenty of vitamin A and fiber.
Super simple side dish!
These delicious vegetables (actually tubers) can be cooked almost any way but baking is really the easiest - especially if you are going to be using them in a mash or a cake. No need to peel them!
They're the perfect side dish for busy weeknights.
🧾 Ingredients
You don't really need anything but the main ingredient!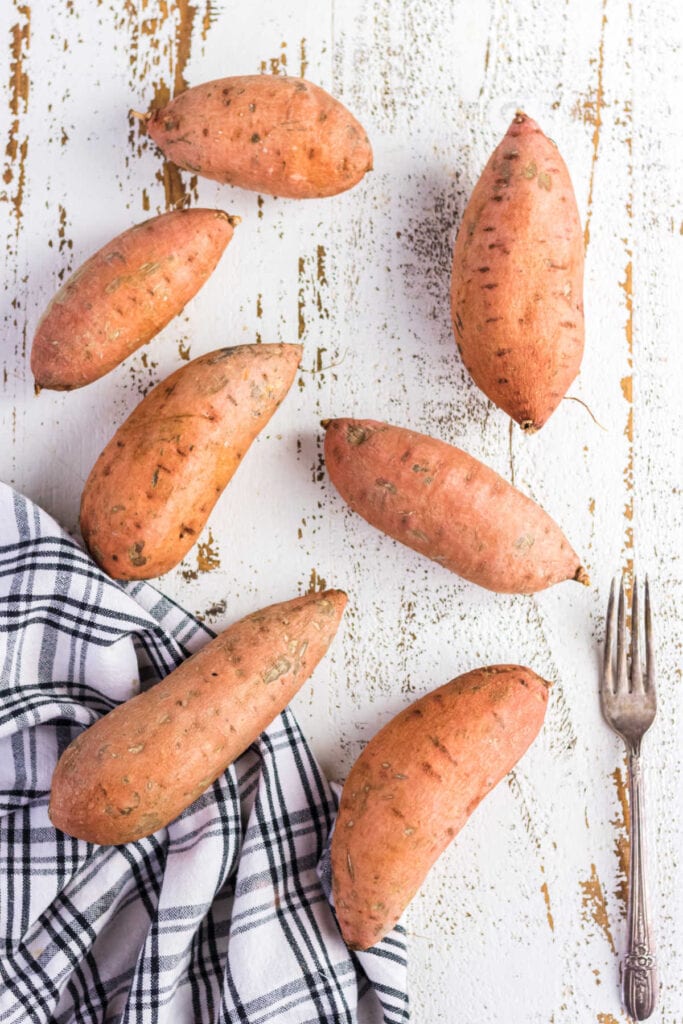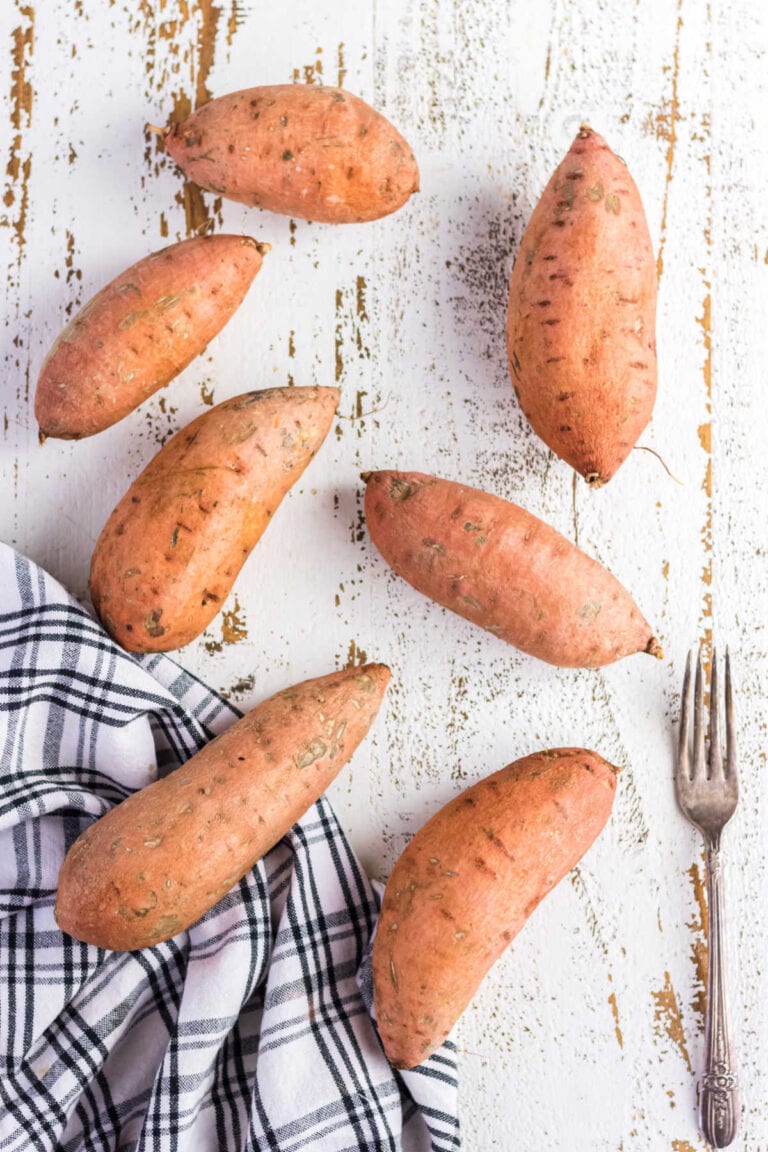 The following are affiliate links. We are a participant in the Amazon Services LLC Associates Program, an affiliate advertising program designed to provide a means for us to earn fees by linking to Amazon.com and affiliated sites.
🎥 Video
Click on the image to watch me make this recipe from start to finish with extra tips! (Video opens in a new tab).
🥫 Storage
Here's how to store this delicious root vegetable.
Raw, fresh sweet potatoes
Don't wash them before you store them. Damp, wet sweet potatoes are more likely to rot or mold.
Don't store fresh sweet potatoes in the refrigerator because they'll develop a weird flavor and texture.
Always store them in a cool, dry place that's well ventilated.
They'll be fine at room temperature for at least a week after you buy them.
They'll last for 6 months or so in a root cellar or basement at 55 to 60F.
Cooked
Cooked sweet potato leftovers can be stored in an airtight container in the refrigerator for up to 5 days.
You can freeze them, too! Sweet potatoes freeze beautifully for up to 3 months.
🍠 How to choose sweet potatoes
Look for firm sweet potatoes with no cuts or cracks.
Medium sized are best.
If they look wrinkled or like they are shrinking in the skin they're old.
Don't worry about sprouts - you just need to trim them off. They don't hurt the potato.
📖 Variations
Sweet potatoes can also be cooked in an air fryer or microwave.
Air fryer
Pierce with a fork and oil the outside of the sweet potato.
Set the air fryer to 400F.
Air fry for 40 minutes and check. You may need to let it go a bit longer to be fully done.
Microwave
Microwaving is usually not the best way to cook them because they are often oddly shaped and can cook very unevenly.
If you are going to microwave be sure to choose sweet potatoes or yams that are oval shaped without big middles and tiny ends.
Pierce with a fork.
Place on a paper towel lined microwave safe plate.
Microwave for 5 minutes on high for a medium sized potato.
If it's not done continue to microwave, checking at 20 second intervals.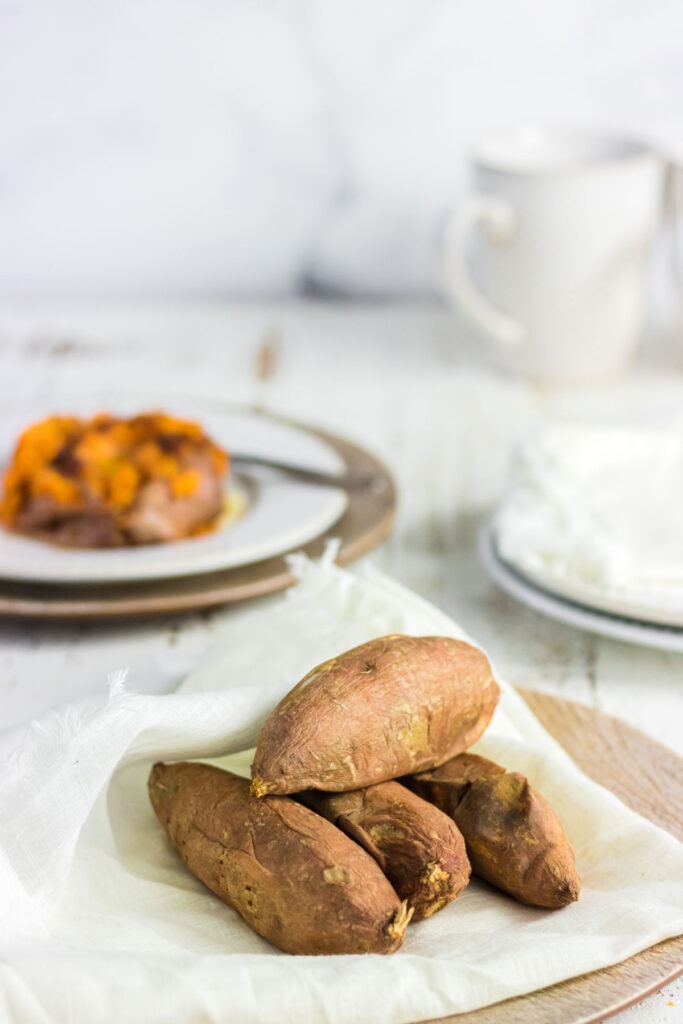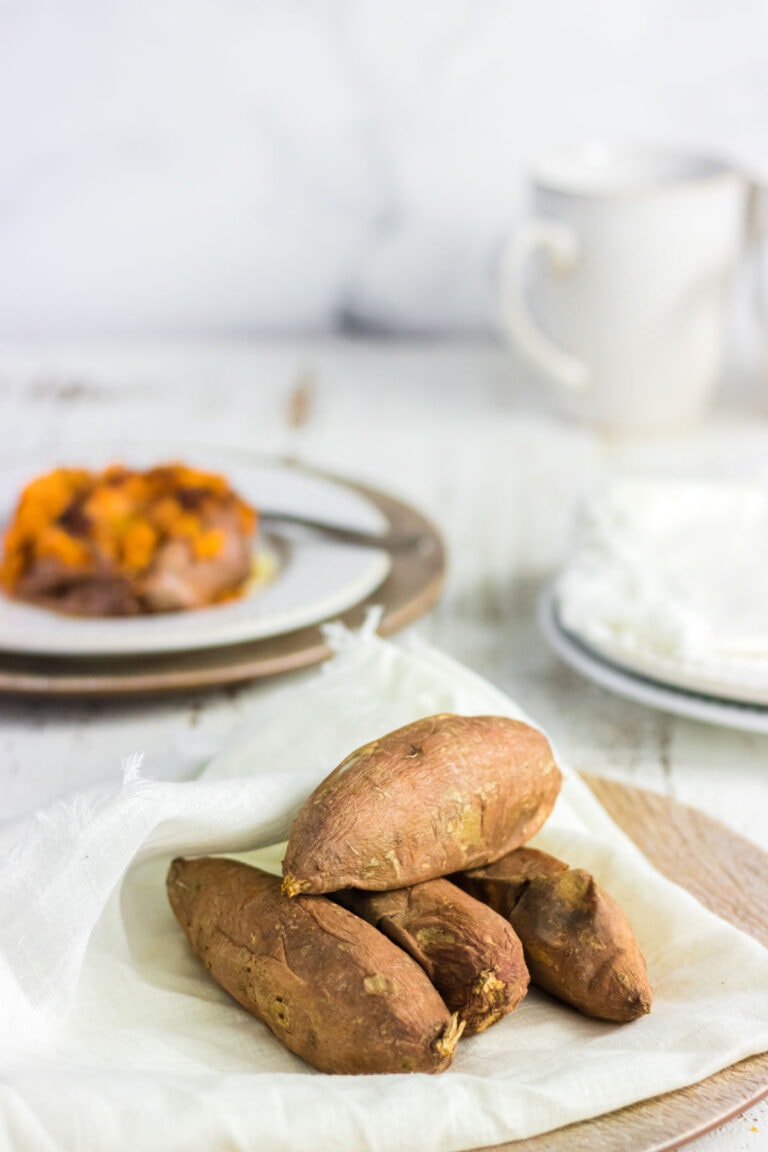 💭 Tips
Expert Tip: Sweet potatoes are done when they register 205-210F in the center on an instant read thermometer.
Before you get ready to bake or cook a sweet potato wash it really well - gritty sand is gross in most recipes so make sure you get it all out!
Don't wrap in foil to bake them! The skin is not like a white potato skin and it will sometimes get slimy.
Some people oil the skin on the outside of the potatoes before baking because they believe it helps keep moisture in.
If you're serving baked sweet potatoes oil the skin and sprinkle with kosher salt before baking.
Use aluminum foil to line the baking sheet - parchment paper can catch fire at a high temperature.
👩‍🍳 FAQs
Why do you need to poke holes in the sweet potato? 
It allows the steam to escape and keeps the whole sweet potatoes from exploding.
How long do baked sweet potatoes last?
Up to 5 days in the refrigerator.
How long to cook sweet potatoes?
Depending on the size 45 minutes to 75 minutes.
How do you know when sweet potatoes are cooked?
They feel soft if you squeeze them gently (protect your hands!). If you put a knife into the center it will move right though without any resistance.
How do you know if the sweet potato has gone bad?
Look for signs of discoloration, soft spots, mold, or rotting - plus it will smell AWFUL.
What's the difference between a sweet potato and a yam?
Most of what are commonly called "yams" in the United States are actually just different varieties of sweet potatoes. The flesh can range from white to deep orange-red - and some are even purple!
Yams are starchier with a skin that resembles a shaggy bark.
📚 Related recipes
They're a favorite around here!
🍽️ Serve with...
There are all sorts of ways to serve baked sweet potatoes. Here are some of our favorite mix-ins. Start with butter then add -
cinnamon and brown sugar
maple syrup and marshmallows
cayenne pepper and cumin
maple syrup and crushed red pepper flakes or chipotle powder to taste
salt and chili powder
smoked paprika
We like them with...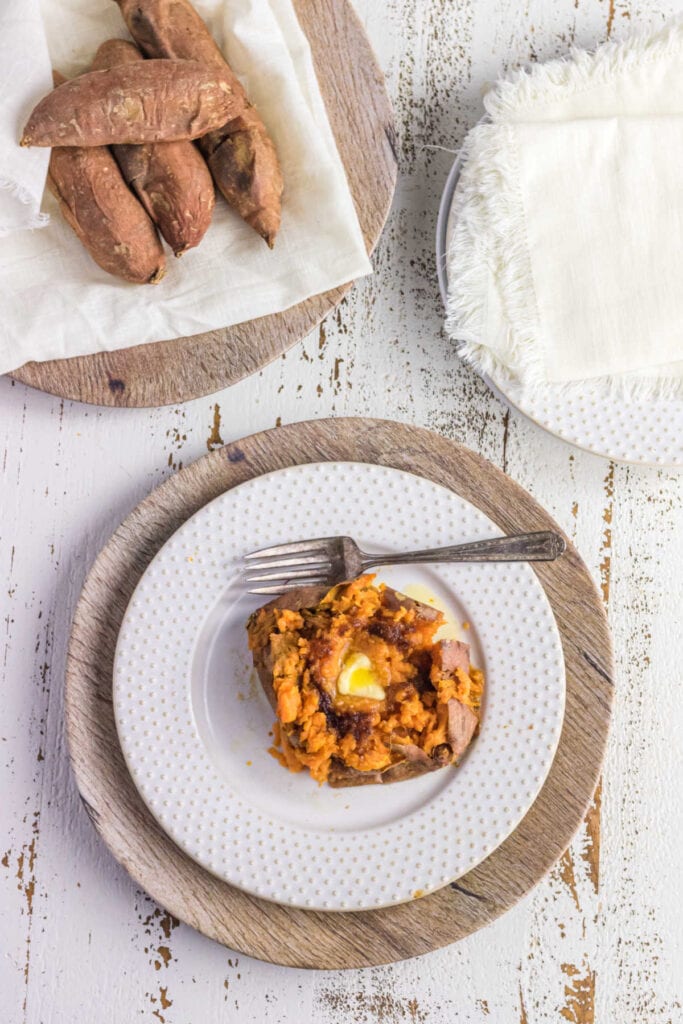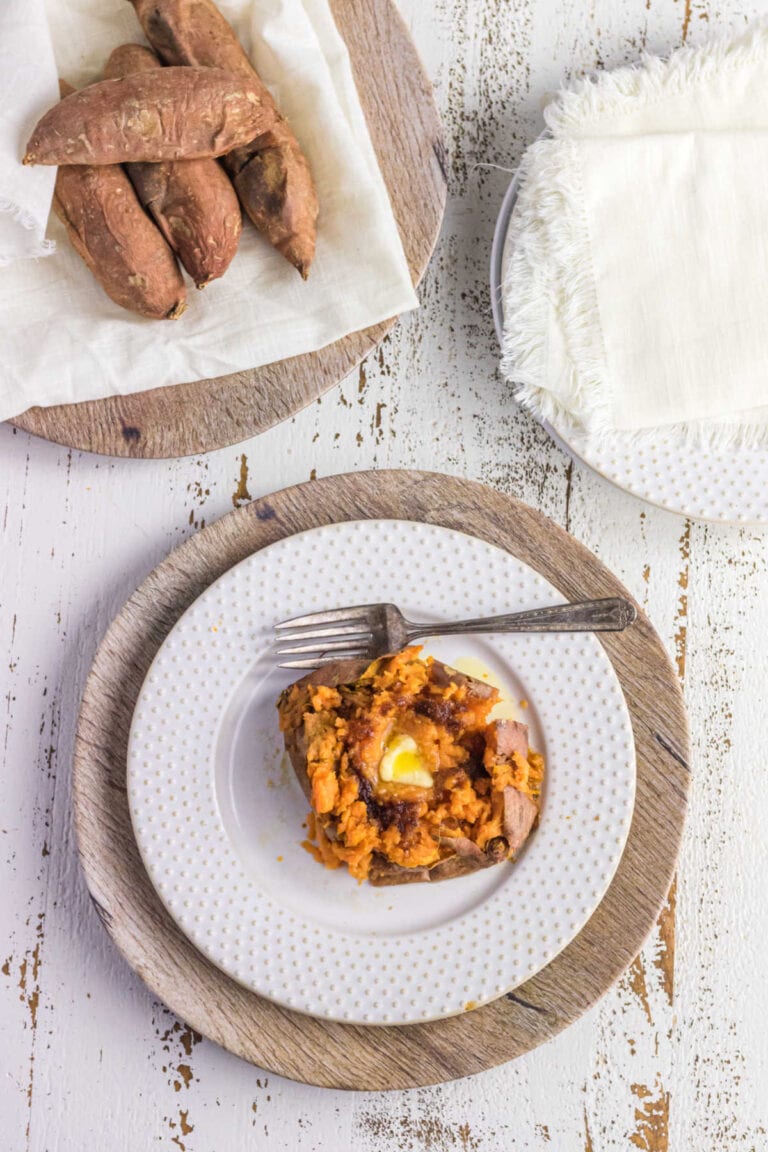 How to Bake Sweet Potatoes
Time needed: 1 hour and 10 minutes.
Learn how to bake sweet potatoes perfectly with this step by step guide! Once they're baked they're ready to be eaten or used in any sweet potatoes recipe.
Preheat oven

Preheat your oven to 425F and line a rimmed baking sheet with foil to catch any of the juices that might drip out.

Wash

Always wash the sweet potatoes and scrub gently with a vegetable brush to get off any dirt.

Poke holes

Use the tines of a fork or sharp knife to firmly poke holes through the skin in the thickest part of the potato.

Poke holes in several places

You want to make sure that the steam can escape so poke holes in several places.

Bake

The cooking time will depend on the size of the sweet potatoes. 45 minutes to an hour or so is about right. Cook time will vary by size of the potato - you'll need to check them to see if they're "squishy" and add more baking time as needed. When they are finished the internal temperature will be around 205 to 210 degrees Fahrenheit.

Serve

Let cool a few minutes then cut a line down the center of the sweet potato and squeeze the ends to open it up. Add a little butter and other favorite toppings as desired or use in your recipes... And enjoy!
📞 The last word
There are so many ways to serve these delicious but under-used root vegetables!
It's the perfect base for so many different toppings from sweet to savory. Plus, when you bake them you don't lose any of the nutrients or flavor if you're planning on using the creamy flesh in a sweet potato casserole or mash.
Budget friendly, easy to make, they taste great... there's just not much to dislike!