Perfect for game day snacking or as a sauce for all kinds of meat! This vintage southern recipe is delish!
Don't want to scroll through the page to get to the recipe? Use the table of contents to click on the section you want to go to.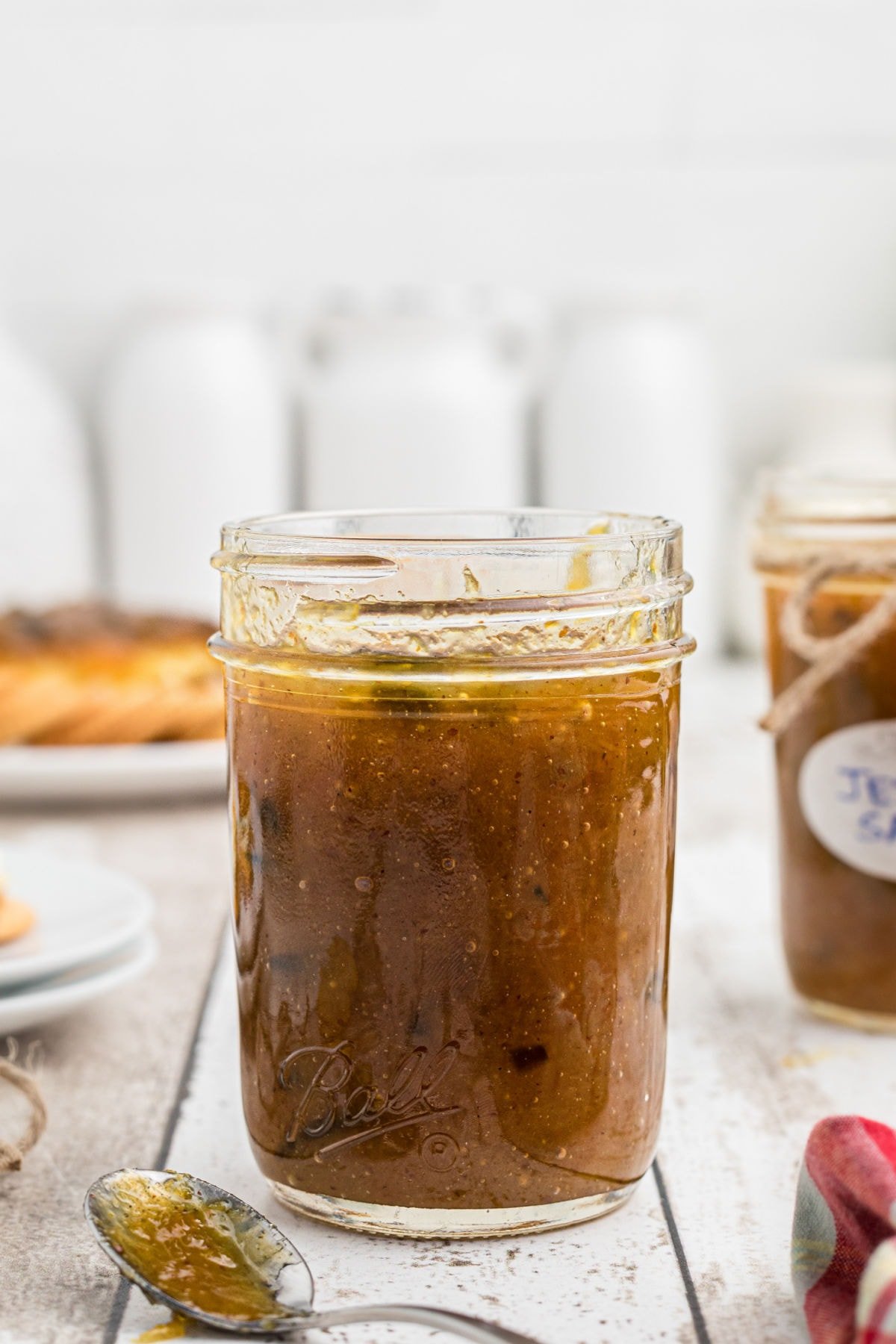 Jump to:
❤️ Why you'll love it
Uses yummy caramelized pineapple and candied jalapeno
Sweet, tangy, and spicy sauce—the Southern trinity of flavors
Great as an appetizer, party snack, or dipping sauce
Classic Southern Jezebel sauce is an addictive, spicy condiment that'll soon be your favorite for spreading on everything. Though there are a few variations of this recipe online, I'm not kidding when I say that this one is the best—it's so good, so decadent, that it tastes sinful!
And that's why it's named after the biblical character!
🧾 Ingredients
This is an overview of the ingredients. You'll find the full measurements and instructions in the green recipe card (printable) at the bottom of the page.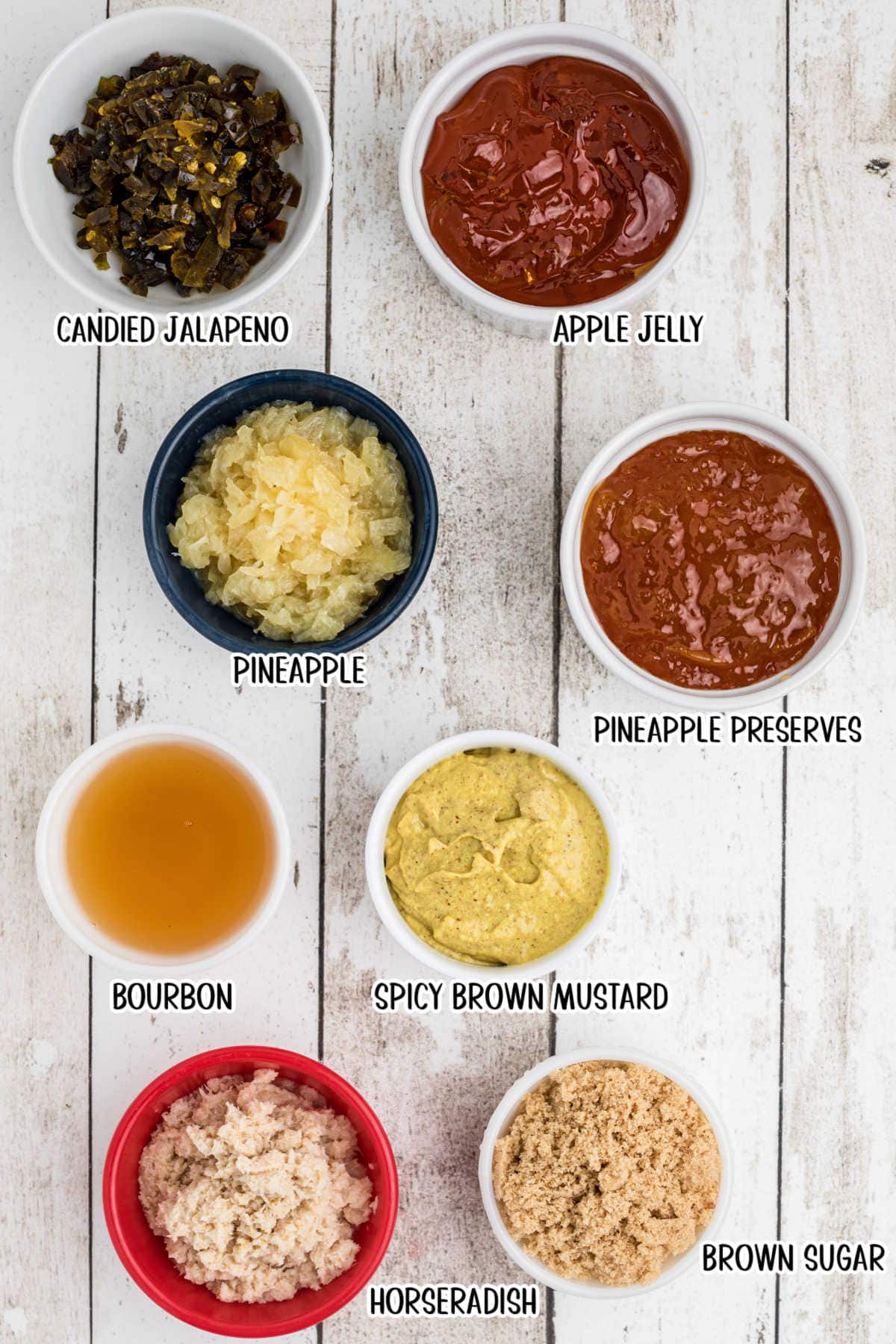 🔪 Instructions
This is an overview of the instructions. Full instructions are in the green recipe card at the bottom of the page.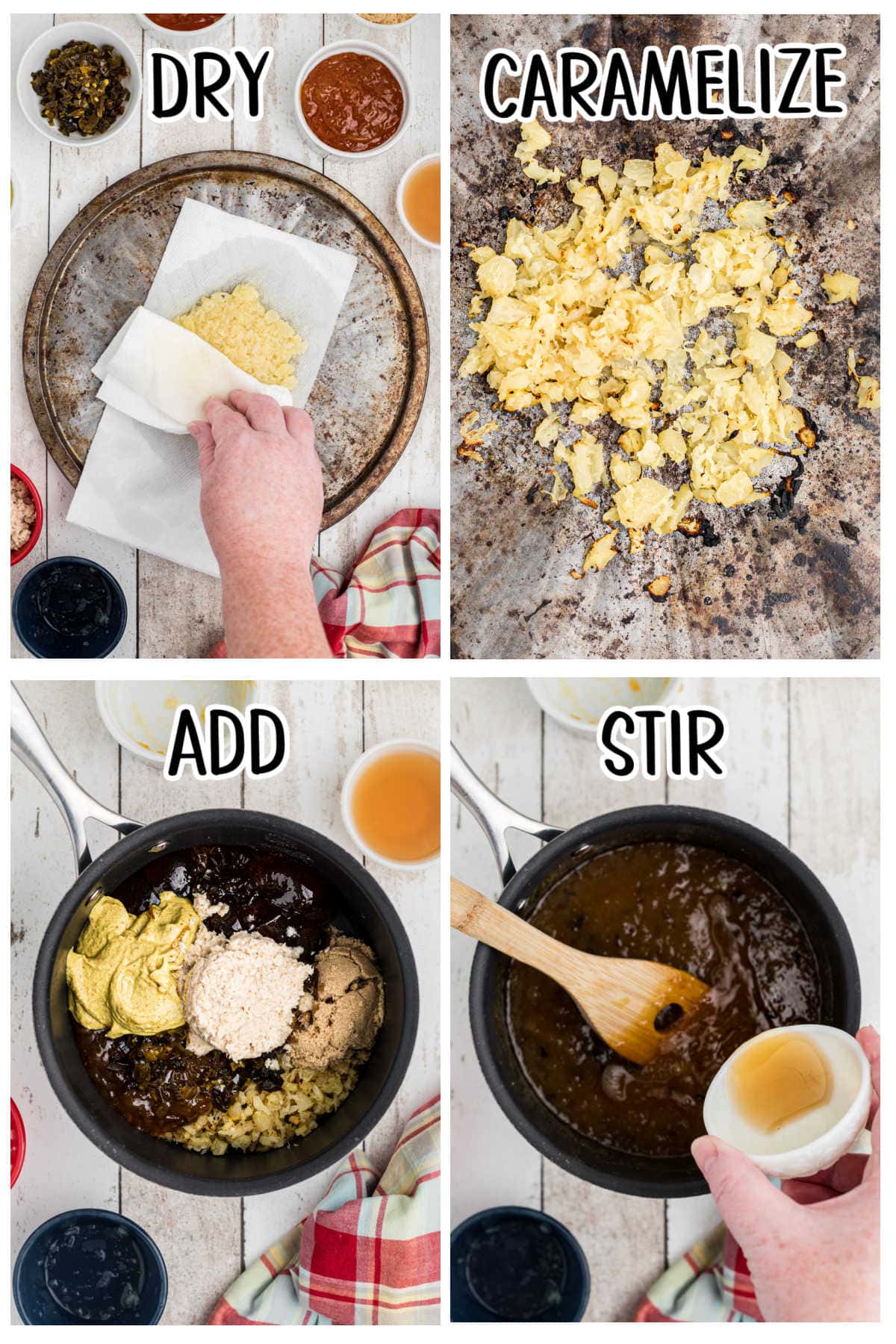 Pat the pineapple dry.
Caramelize the pineapple with a kitchen torch or broiler.
Add all ingredients (except bourbon) to a pan and simmer.
Stir in the bourbon at the end.
🥫 Storage
This Jezebel sauce recipe is super easy to store. Just spoon the tasty sauce into a glass jar and seal the lid tightly. A Mason jar works great for this!
You can keep Jezebel sauce for two to three weeks in the fridge, but I'll be darned if it lasts that long. I'm happy if I have any leftovers at all!
To freeze:
It also freezes well.
Add it to an airtight freezer container and be sure to leave ½ inch or so of space between the surface and the top. That way when it expands during freezing the container won't spew frozen Jezebel sauce all over the place.
It will be fine for up to 3 months - but honestly I've dug it out of the frosty interior of the freezer after 6 months (because I forgot about it) and it was as delicious as ever.
To thaw it out leave it in the refrigerator overnight and then give it a good stir before using.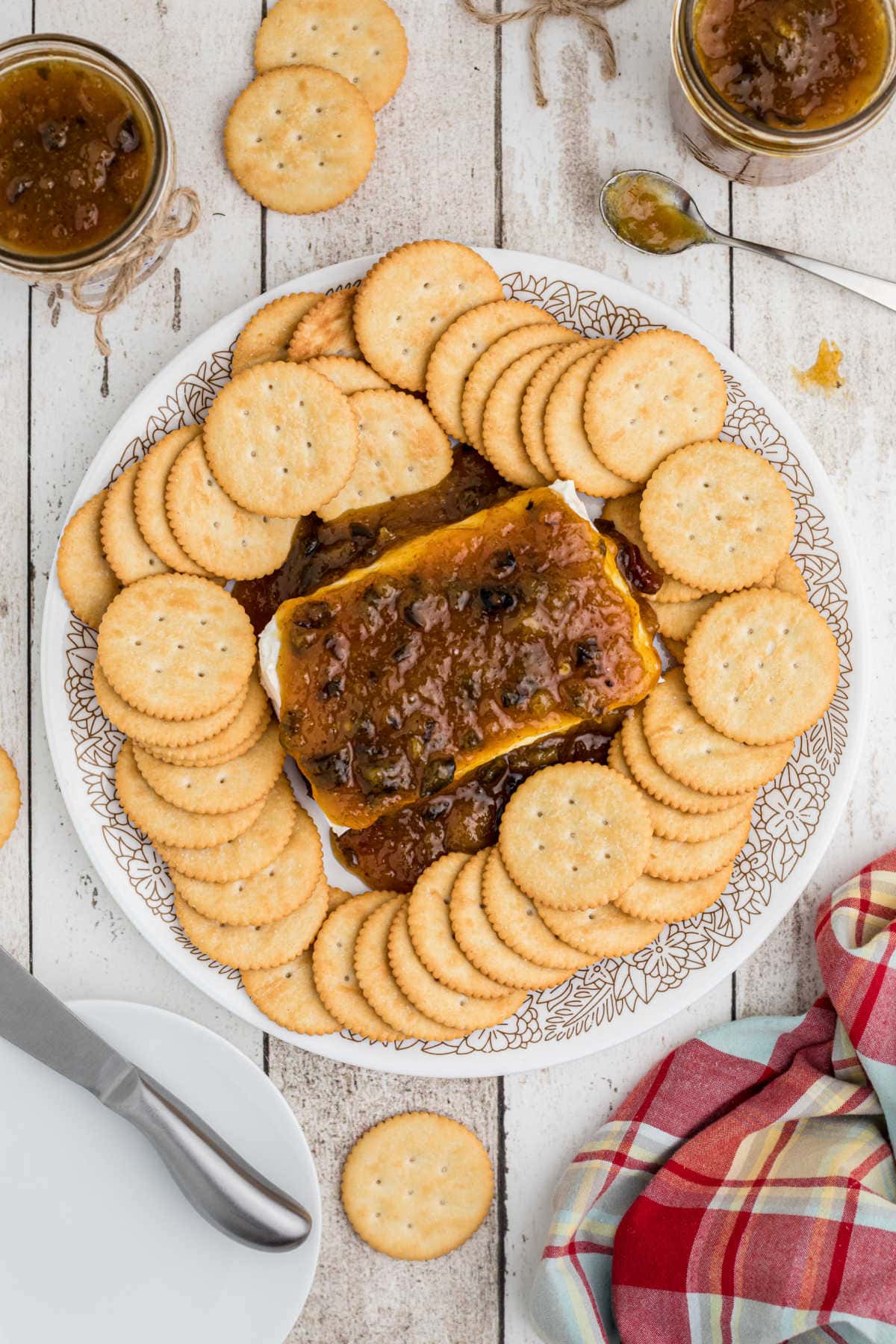 📖 Variations
Here are a few tweaks you can make if you need or want to:
Alternate Fruit Spreads: You can use peach or apricot preserves instead of pineapple preserves.
Axe the Apple: Some families like Jezebel sauce with orange marmalade instead of apple jelly.
Mix up the Mustard: If you don't have spicy brown, you can use Dijon mustard, though it's not quite as flavorful. (I wouldn't recommend using plain yellow mustard, though.)
Spice, Spice, Baby: Adjust the spicy kick by using more or less jalapeno.
If you hate horseradish you "can" cut the amount or leave it out altogether. You'll be missing out, though. The flavor isn't that strong but it adds depth to the recipe.
Though it's called Jezebel "sauce," there are plenty of variations for serving, too:
Spread on ham sandwiches, wraps, or burgers.
Scoop it up with cornbread or homemade baguette crostini.
Serve as a dipping sauce for shrimp or chicken tenders.
Smother it over pork tenderloin or chicken breasts before baking.
It makes a delicious glaze for your Easter ham!
Spoon a dollop on top of your sausage breakfast biscuit or toast.
Serve over a warm block of cream cheese or a log of goat cheese with pita chips or crackers for one of the easiest appetizer recipes! (Plus, it looks fabulous on a pretty serving dish.)
Share on a charcuterie board with lots of delicious dippers.
💭 Things to know
Expert Tip: For the best flavor, make Jezebel sauce a day in advance so that the flavors can mingle together overnight.
Squeeze out every last drop of moisture from the pineapple so that it caramelizes better. The wetness will prevent caramelization.
If you don't have a kitchen torch, use the broiler setting of your oven. However, the pineapple will go from broiled to burnt in a flash so watch it carefully!
Don't add the bourbon too early, or all of the flavor will boil out—then, it's just a waste of good bourbon!
Is the sauce still thin? Let it simmer for a little longer. Depending on the exact amount of moisture left in the pineapple, you might need to let it reduce a bit longer.
If you don't want to use the bourbon or the jalapeno, you can just leave those ingredients out. You don't need to add anything in their place.
Be sure to let it sit for at least 30 minutes before using but it's really at it's best the next day.
Jezebel sauce makes a great gift for housewarming parties, hostess gifts, and even favors for afternoon teas. Wrap some ribbon or raffia around the jar, add a cute tag, and voila!
👩‍🍳 FAQs
Do "horseradish," "prepared horseradish," and "horseradish sauce" all mean the same thing?
Nope! Horseradish is actually a root vegetable. Prepared horseradish turns the veggie into a spread. Horseradish sauce refers to a horseradish spread combined with other ingredients like sour cream (or softened cream cheese or mayo) and green onion.
Can I use dry mustard instead of spicy brown?
I wouldn't unless you've made homemade mustard from dry mustard powder before and are happy with the flavor. Otherwise, stick to the premade kind for the best results.
What does Jezebel sauce taste like?
It's sort of like hot pepper jelly, but with more flavor! It's a sweet, tangy, and spicy condiment with the texture of a thick jam or spread.
I've seen it called "Jezabel" sauce, instead of Jezebel. Which is it?
The common understanding is that the condiment was named after the morally-questionable Jezebel, from Biblical times. The sauce is hot and so good it's sinful, so, the name seemed to fit nicely.
Where did Jezebel sauce originate?
No one is exactly sure of the original spot where we can send our thanks for this tasty sauce. Many people seem to think it originated somewhere on the Gulf Coast in the 1940s or 50s. Despite the uncertainty, we all can agree: it's a Southern thing for sure!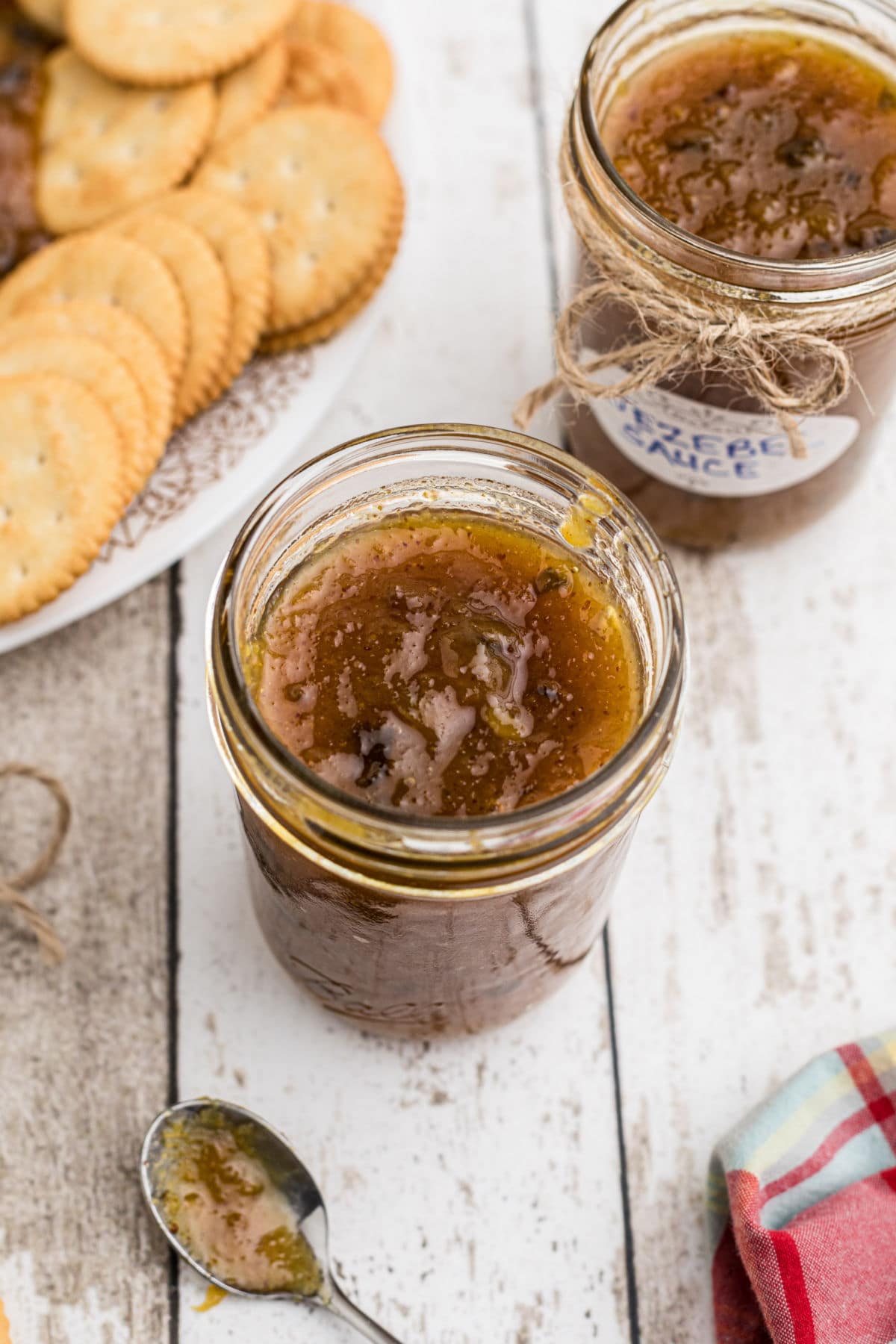 📚 Related recipes
This 5-minute cilantro and lime Chimichurri Sauce is mouthwateringly good on tacos, steak, grilled chicken, and more—plus, it's super easy!
Mildly spicy, sweet, and creamy, Red Robin Copycat Campfire Sauce is the perfect dipper for fries, onion rings, potato wedges, and even the occasional finger swipe! Guilty!
Spicy Chipotle Aioli is an upgraded version of every sandwich's favorite companion: mayo! Chipotle in adobo makes this spread 5-stars good.
🍽️ Serve with...
🥄 Restless Chipotle recommends
The following are affiliate links. We are a participant in the Amazon Services LLC Associates Program, an affiliate advertising program designed to provide a means for us to earn fees by linking to Amazon.com and affiliated sites.
You'll need the following items to make this recipe successfully.
kitchen torch or plumber's torch to caramelize the pineapple. Optional but good.
📞 The last word
Try these Halloween Jalapeno Poppers, too!
If you click on the number of servings in the recipe card you can adjust the measurements up or down for the exact number of servings you need. Don't forget that you can click on "add to collection" to save it to your own, private recipe box!
If you love this recipe please give it 5 stars! ⭐️⭐️⭐️⭐️⭐️
📖 Recipe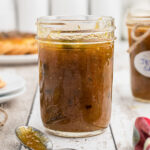 Southern Jezebel Sauce
Print
Pin Recipe
Save
Saved!
In this jazzed up version of classic Jezebel sauce the pineapple is caramelized and chopped candied jalapenos are added during the cooking time. It's finished with a splash of bourbon.
As an Amazon Associate I earn from qualifying purchases.
Ingredients
⅓

cup

crushed pineapple

8

ounces

pineapple preserves

8

ounces

apple jelly

5

ounces

prepared horseradish

6

ounces

spicy brown mustard

⅓

cup

candied jalapeno,

, chopped - optional

¼

cup

brown sugar

¼

cup

bourbon
I earn a commission from Instacart from qualifying purchases.
Instructions
Drain the crushed pineapple and pat dry - place it on a flame proof baking sheet.

Using a plumber's torch caramelize the pineapple, stirring often, until it is well speckled with black spots. Or use the broiler but watch carefully.

Add to a heavy saucepan over medium heat.

Stir in the remaining ingredients except the bourbon.

Simmer, stirring often, until the mixture reduces and thickens - about 15 minutes.

Stir in the bourbon and simmer 2 more minutes.

Refrigerate over night to allow flavors to mellow.
Notes
Tips
Be sure to squeeze as much moisture out of the pineapple as you can before caramelizing. It will make it faster and easier.
Add the bourbon in just before removing the sauce from heat or the flavor will cook right out.
If you can let your Jezebel sauce sit in the refrigerator overnight before serving it the flavors will mellow out a lot.
Jezebel sauce will last in the refrigerator for several weeks as long as it's in a tightly covered glass jar.
Try it as a spread for ham sandwiches.
Spoon it over pork chops.
Brush it on chicken breast before baking.
Add a spoonful of Jezebel sauce to a sausage biscuit.
How to Serve
Try it as a spread for ham sandwiches.
Spoon it over pork chops.
Brush it on chicken before baking.
Add a spoonful of Jezebel sauce to a sausage biscuit.
Cover a block of cream cheese with it, microwave for until it's warmed through and the cream cheese is soft, and serve it with crackers.
Serve with coconut shrimp or any kind of shrimp, really.
So good on a charcuterie board.
How long does Jezebel sauce last?
It will last about 2 - 3 weeks in the fridge if you haven't used it before then. You can also freeze it for up to 3 months.
You'll find more helpful tips and variations in the body of the post.
Nutrition Facts
Serving:
1
tablespoon
|
Calories:
59
kcal
|
Carbohydrates:
13
g
|
Sodium:
84
mg
|
Potassium:
41
mg
|
Sugar:
9
g
|
Vitamin A:
15
IU
|
Vitamin C:
4.1
mg
|
Calcium:
11
mg
|
Iron:
0.2
mg
Nutrition information is estimated as a courtesy. If using for medical purposes, please verify information using your own nutritional calculator. Percent Daily Values are based on a 2000 calorie diet.
Sign up for the emails and never miss another recipe!!
We'll never share your email or send you spam. Pinkie swear.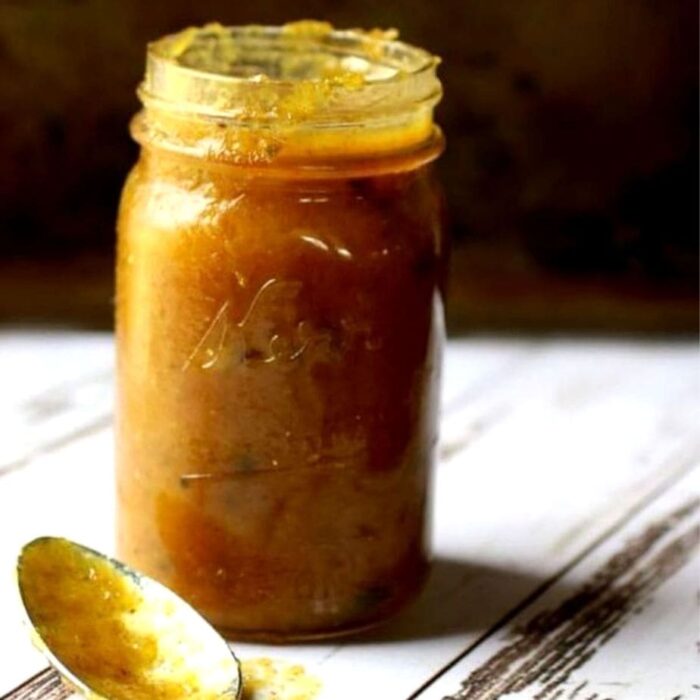 First published March 1, 2018. Last updated January 23 to add helpful editorial content.