Sourdough bread is a tangy and fine crumbed loaf that is made with a sourdough starter. You can really make it out of any flour but bread flour and rye seem to be the ones most often used. I used to hate making sourdough because the starter seemed like such a committed relationship — you have to take a week to make it and then you have to remember to feed it or it'll die. Who wants to be responsible for the death of a sourdough starter?
Not me.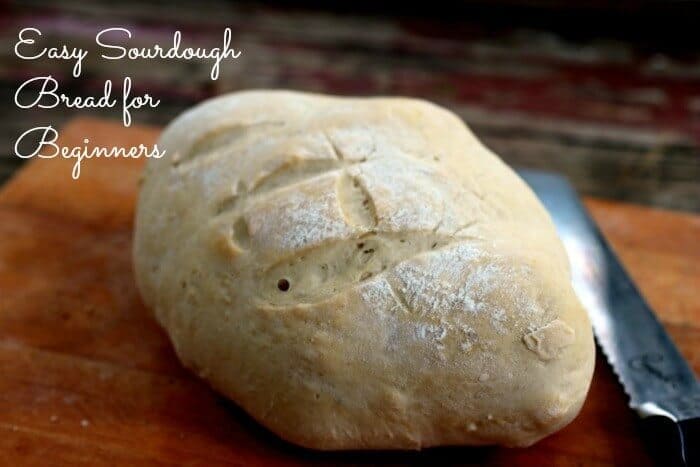 The thing is you can use sourdough for biscuits, pancakes, waffles, scones, quick breads, and muffins. There's enough ways to use a starter that you probably don't have to worry about murder by neglect.
If you don't know how to begin check this post on how to make a sourdough bread starter. You'll need at least five days and maybe up to a week to get the starter active and ready to go. After that you'll just need to use it regularly or feed it according to the instructions in the post. I cheat a little and add a little active dry yeast with the starter. It guarantees my bread is going to rise and I don't like surprises. I'm funny like that.
Sourdough starter absorbs the wild yeast that floats around in the air and that's what makes it work. You don't need yeast so it makes me feel all good and prepared for a zombie apocalypse — you know, in case I can't get to the store for more yeast.
Sourdough bread has a three step rising process. You'll make a sponge and let it rise for about 8 to 10 hours. During this time the flavor will develop so don't skimp! After that you'll add the rest of the flour, knead, and allow it to rise again. Finally, you'll punch it down, shape it, and let it rise one last time before baking. Sourdough makes great sandwiches and amazing toast. Or, you can do what one of my kids does and just grab the whole loaf and eat it while making animal noises. It's up to you, of course.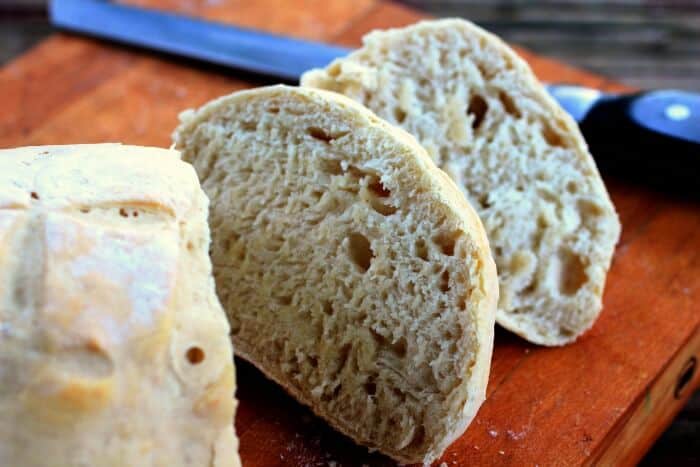 Sourdough is a great homeschooling project. I really enjoyed doing units on it because you can pull in history and science. Just a thought for fellow homeschoolers. 🙂 This recipe is very basic, and great for beginners.
📖 Recipe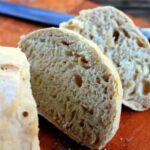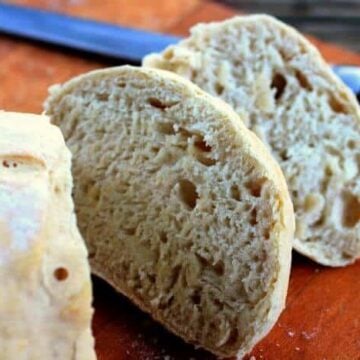 Sourdough Bread
Print
Save
Saved!
Tangy sourdough loaves with a crispy crust and velvety, tender crumb make great sandwiches or toast.
Servings:
2
loaves/20 servings
As an Amazon Associate I earn from qualifying purchases.
I earn a commission from Instacart from qualifying purchases.
Instructions
Sponge
Use the paddle attachments on your mixer.

Add the warm water and yeast to the large mixer bowl.

Stir to dissolve the yeast.

Add the starter and mix well.

Add 3 cups of the flour.

Beat for 2 minutes on medium speed.

Cover with plastic wrap and put it in a warm spot for 8 hours.

You can also put it in the refrigerator overnight after that if you want a more sour flavor.
Bread
Fit the kneading hook on your mixer.

When the sponge is well risen and bubbly add the salt and one cup of the flour.

Add more flour, a little at a time, until the dough pulls away from the sides and comes together.

Knead it for 5 minutes, adding flour as needed to create a smooth, elastic dough.

Place the dough in a greased bowl, grease the top, and cover with plastic wrap.

Set in a warm place to rise - about 2 hours, or until double.

Don't punch dough down. Just divide it in half and form into loaves.

Let rise for another hour or two until the loaves have doubled.

Slash the tops and bake at 450F for 20 to 25 minutes.

Let cool before slicing.

.
You'll find more helpful tips and variations in the body of the post.
Nutrition information is estimated as a courtesy. If using for medical purposes, please verify information using your own nutritional calculator. Percent Daily Values are based on a 2000 calorie diet.
Sign up for the emails and never miss another recipe!!
We'll never share your email or send you spam. Pinkie swear.
If you liked Sourdough Bread you might also like:
Sourdough Buns King Arthur
Sourdough Cinnamon Rolls Chef in Disguise
Yeast Bread Baking: Troubleshooting RestlessChipotle
Beer Pizza Dough Restless Chipotle