If you're looking for a recipe for wheat bread like Grandma used to make you've found it. This 100 percent molasses whole wheat bread recipe has all the flavor and nutrition of whole wheat but the texture is more like a classic white sandwich bread. If it is kneaded properly the crumb is light and velvety and you can cut the slices almost paper thin — not that you'd want to.
For this recipe you'll need: yeast, white whole wheat flour, vital wheat gluten, milk, molasses, butter, salt
Jump to Recipe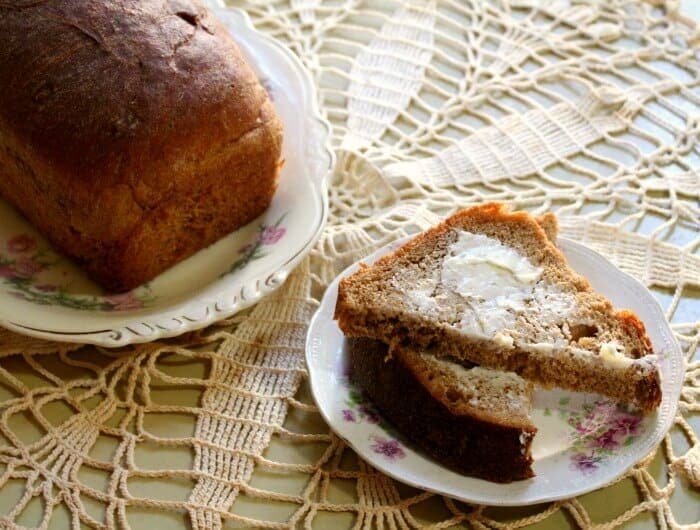 This is the bread I made most often when all of the kids were small. I have a wheat grinder and I'd make about six loaves every couple of days. My oldest son hated homemade bread. He told me that when he grew up he was only going to eat Wonder Bread and he'd never eat homemade bread, especially not homemade wheat bread again.

The Restless Chipotle Channel
Well, time has a funny way of changing your mind. He is now 29 and in the Air Force. In fact, he and my daughter-in-law work with the Thunderbirds so you may even see him sometime if you go to airshows. Anyway, he was stationed in Japan for several years and when he came home on leave do you know what he wanted?
Yep. this recipe for wheat bread!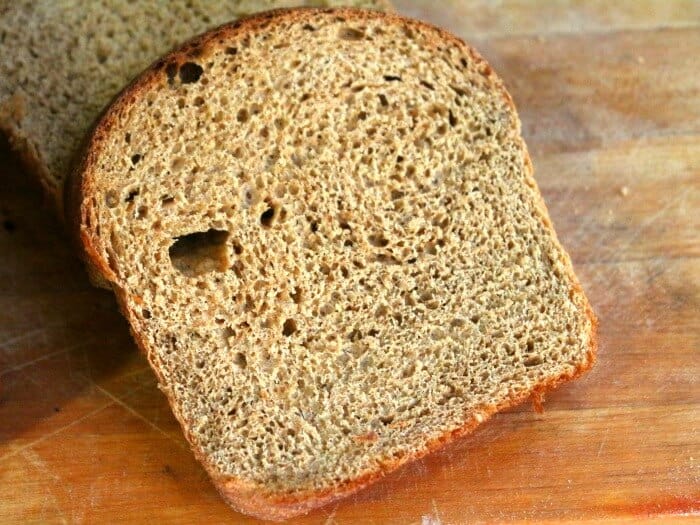 This recipe for wheat bread is hard to make by hand but it can be done — I did it for years. The main thing to remember is that you have to knead it enough. For wheat bread that can take 15 minutes so don't get impatient. You'll be able to skip arms day at the gym. When the dough is kneaded enough it will be smooth, slightly sticky, and will feel like your earlobe when you pinch it.
This whole wheat bread recipe is by far my favorite. I have made it for over 40 years and, although I have used others, this is the one I always go back to when I want just a good bread for sandwiches. The crumb is soft and a little spongy like white bread. It's just slightly sweet from the molasses, and it has that good nutty flavor from the whole wheat. If your family usually doesn't like whole wheat bread then give this one a try.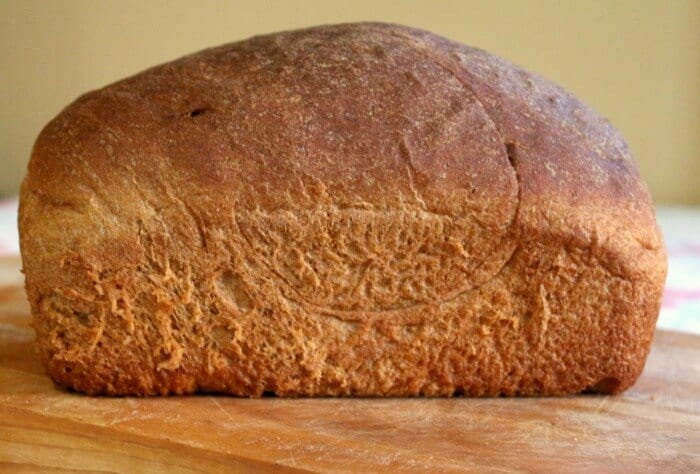 If you are not experienced with homemade bread then keep in mind that it takes a little practice to get it exactly right. Keep at it! And, please stop by the Restless Chipotle Facebook page and upload a picture of what you've created!
If you like this recipe for wheat bread you may also like…
Buttermilk Honey Cracked Wheat Bread, Honey Buttermilk Bread, Honey Oatmeal Bread
Recipe for Wheat Bread
Print Recipe
Molasses Whole Wheat Bread
100% whole wheat and molasses bread with old fashioned flavor. The crumb is velvety, soft, and moist - this is a good bread for people who prefer white sandwich bread because it has a similar texture.
Servings:
2
loaves (nutrition info is per LOAF)
Ingredients
1 1/2

cups

110F water

1 1/2

tablespoons

active dry yeast

1

cup

whole milk

, warmed to 110F

1/2

cup

Grandmas unsulfured molasses

1/3

cup

vital wheat gluten

5 2/3

cups

to 6 2/3 cups King Arthur white whole wheat flour

1/2

cup

melted butter cooled to room temperature

2

teaspoons

kosher salt