Buttermilk Honey Cracked Wheat Bread is nutty and slightly sweet with a tender crumb and chewy bits of cracked wheat in every bite. It's great for sandwiches, toast, or just eating warm with a slather of butter melting into it. Although wheat bread is a little more difficult to work with than white this bread is great for the beginner, too.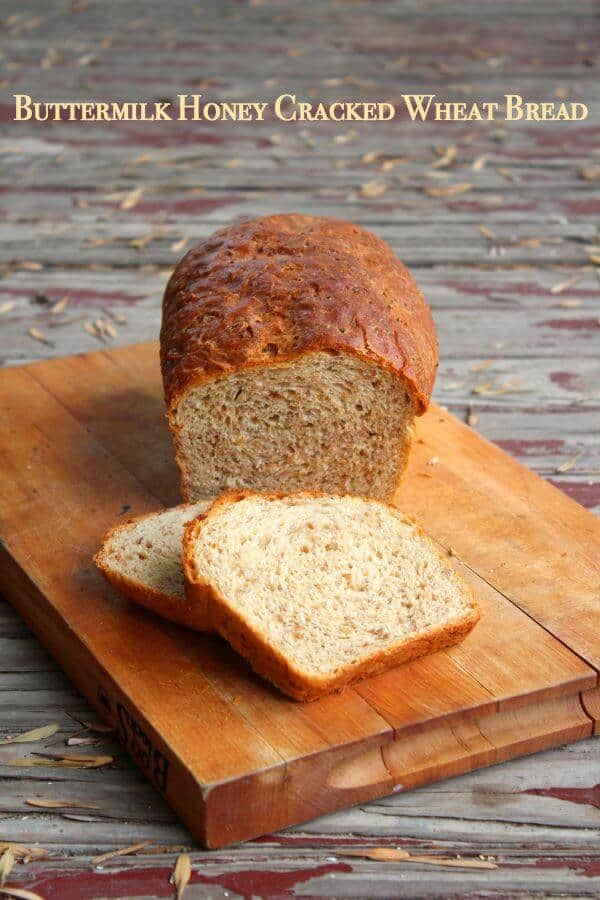 It was overcast all day long and we even had a cold front last week (dropped the temperatures to 87!) that made me feel like autumn was in the air. First thing in the morning you can feel a hint of a chill in the air — it's not baking hot like it was a few weeks ago. Oh, we have a couple of months yet before it really cools down but this is nice.
With fall on the mind I am back to baking bread more. I realized that I haven't made that much whole wheat bread for the blog — and I happened to have some whole wheat flour so I decided to make my buttermilk honey cracked wheat bread. If you liked the buttermilk bread recipe then you'll likely love this as well.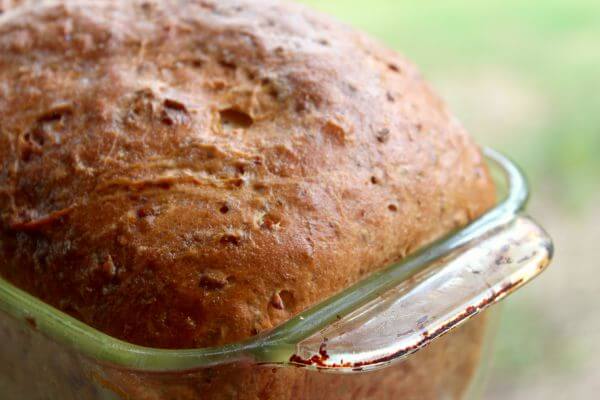 The following is an affilate link. When you click through and buy I get a small commission that helps support the blog. Thanks so much for being a part of Restless Chipotle!
A lot of people have asked why my bread rises so high and what I use for kneading. I use my Bosch Universal Plus Kitchen Machine
 for breadmaking and my KitchenAid Stand Mixer for cakes and regular baking. I don't think that the KitchenAid handles bread very well — and especially not heavy loaves like wheat breads are. If you plan to do a lot of bread baking invest in a Bosch. If you can't then use your stand mixer but knead for 3 to 5 minutes after you knead it with the machine. Thorough kneading helps develop the gluten and your bread will rise better and have a better texture.
And, if you've always wanted to learn to make great bread but were either afraid or never could get it to work out right you might like my book, Bread Bootcamp: It's Not a Cookbook…It's an Adventure
. It's an incremental approach to bread baking and if you follow it as written you'll be making gorgeous loaves of bread in no time.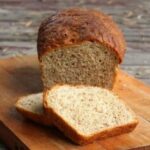 Buttermilk and Honey Cracked Wheat Bread
High, light, slight sweet loaves of cracked wheat bread are so good for sandwiches and toast! The mix of flours in the recipe ensures that the finished loaf won't be tough and crumbly.
Ingredients
1

cup

cracked wheat or bulgur

1 1/2

cups

boiling water

1 1/2

tablespoons

active dry yeast

(see note)

1

pinch of powdered ginger

1

teaspoon

of honey

1/4

cup

lukewarm water

(105 to 110 degrees)

1 1/2

cups

lukewarm buttermilk

(105 to 110 degrees)

1/3

cup

honey

1/4

cup

unsalted butter

, melted and cooled to lukewarm (105 to 110 degrees)

1

tablespoon

salt

1/3

cup

gluten flour

2

cups

whole wheat flour

21/2

to 3 cups bread flour

(approximately. This is a stiff dough that will stay sticky even after kneading)
Instructions
Place cracked wheat or bulgur in a bowl and pour boiling water over it.

Let sit for 1 hour to soften - it will almost triple when done.

Make sure it is no more than 110 degrees when you are ready to use it. It should just be warm to the touch when you stick your finger in the center.

When the cracked wheat is ready place the water, yeast, ginger, and 1 teaspoon of honey in a bowl and mix well.

Allow to sit until the yeast is foamy, about 10 minutes.

Combine the buttermilk, honey, and butter in a bowl and set aside.

In the mixer with the paddle attachment add the softened cracked wheat to the yeast mixture.

Add in the buttermilk.

Mix well.

Change to the bread attachment.

Blend the gluten flour, the whole wheat flour, and the salt.

Beat in to the yeast mixture on speed 2 for about 2 to 3 minutes.

Add the bread flour 1/2 cup at a time until the dough "cleans" the bowl and is a compact ball formed around the bread attachment (or dough hook).

Continue to knead on speed 3 until the dough is springy and firm, about 4 minutes. It will still feel slightly sticky but won't stick to your hands.

If kneading by hand knead for 15 minutes, or until dough feels firm and springy but still slightly sticky.

The dough should spring back when gently poked with your finger.

Butter a large bowl, and rub the ball of bread dough with butter.

Place the dough in the bowl, turning it once to make sure that it is buttered.

Cover with a clean tea towel.

Place in a proofing oven or warm spot until doubled (about 1 1/2 hours)

Punch down the dough.

Knead gently for a minute or two and then divide it in half.

Form each half into a loaf and then fit the loaves into greased 9x5 inch bread pans.

Brush the tops with butter.

Cover with the clean tea towel.

Let rise about 30 minutes.

While the loaves are rising, preheat the oven to 350F.

Bake for 30 to 40 minutes, or until loaves sound hollow when tapped.

Remove from oven.

For soft crust - brush with melted butter and cover with a tea towel for 5 minutes.

Let cool for 5 minutes, turn the bread out of the pans, and let finish cooling on a rack. This keeps the bottom from getting soggy. For soft crusts keep a tea towel over the bread as it cools.
If you liked Buttermilk Honey Cracked Wheat Bread you may also like…
5 Ingredients to Make Your Bread Rise Higher
Old Fashioned Whole Wheat Oatmeal Bread
No Knead Whole Wheat Bread Jo Cooks
Outback Copy Cat Honey Whole Wheat Bread Gather for Bread