Whole wheat bread recipe with the chewy goodness of cracked wheat and the sweetness of honey is much easier to make than you might think! This soft, fluffy wheat bread makes fantastic sandwiches, toast, and even dinner rolls! If you've never baked bread before be sure to read this handy bread baking guide first! Instructions for bread machine included.
First Published: August 2015… Last Updated: August 15, 2019
Recipe Ingredients: cracked wheat, whole wheat flour, bread flour, gluten, honey, buttermilk, butter, ground ginger, salt, bread pans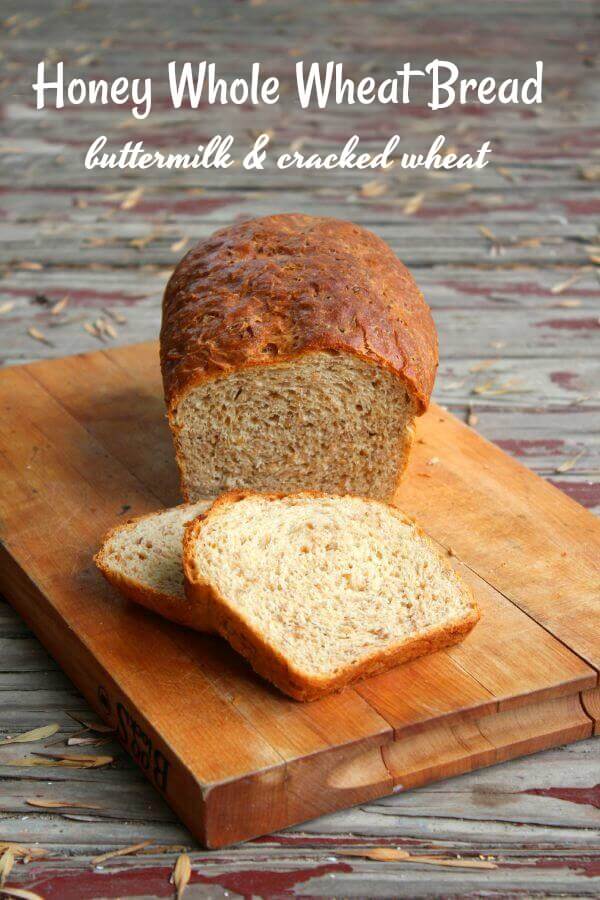 Basic Whole Wheat Bread Recipe Plus…
I love all kinds of bread.
It's sad, really… because of health issues bread and other carbs are reserved for an occasional treat but I do love to make yeast breads of all kinds and I am thrilled that my family loves to eat them up just as much!
This honey cracked wheat bread is absolutely delicious! Cracked wheat has to be handled a little differently but the finished bread is sweet and light with chewy bits of cracked wheat in every bite.
The flavor is wholesome, nutty, and just slightly sweet depending on the type of honey you use – and you've not had a peanut butter and jelly sandwich until you've made it with this bread!
Wheat bread is a little more difficult to work with than white bread. It takes longer to knead it properly and you may have a tougher time getting it to rise. If those two things don't happen correctly the bread with be dense, coarse, and dry.
Perfect Day to Bake Bread
Oh my gosh the house was quiet today – the kids' first week back at school is always tough to get used to.
Even the dogs just moped around. I don't think they're ready for summer to be over, either. One nice thing is that with just me using the WIFI my computer is running faster than it has since last May. Extra people on a WIFI will cause some swampy behavior.
It was overcast all day long and we even had a little cold front that made me feel like autumn was in the air. First thing in the morning you can feel a hint of a chill in the air — it's not baking hot like it was a few weeks ago. Oh, we have a couple of months yet before it really cools down but this is nice.
With fall on the mind I am back to baking bread more. I realized that I haven't made that much whole wheat bread for the blog — and I happened to have some whole wheat flour so I decided to make my honey whole wheat bread. If you liked the buttermilk bread recipe then you'll likely love this as well.
Tips for Cracked Wheat Bread
Follow these tips to get the best whole wheat bread of your life!
Whole wheat breads are always more dense that white breads. You can use ALL whole wheat flour if you want but the result is much more dense than when the bread flour is added – and much harder to work with. If you're new to bread making save the whole wheat bread for when you have more experience.
Adding gluten flour also helps it rise better and have a softer texture after it's baked.
White whole wheat flour goes by various names but it results in a lighter, more airy loaf than the regular whole wheat. You might have a harder time finding it.
Try letting the dough rise twice before shaping and see if you like the results better.
Use unsalted potato water (water that you've cooked potatoes in) as the liquid to help your bread rise higher.
Do not store your honey whole wheat bread in the refrigerator – it will dry it out. I like to slice it, and freeze it with waxed paper between each slice.
You might also want to give this Pullman Loaf a try? Look in the recipe notes for tips on how to make it into a wheat bread.
How to Knead Cracked Wheat Bread By Hand
Kneading bread by hand is a lost art – and great exercise! I've added a video down in the recipe area to help with the visual aspect but here's basic instructions on kneading bread. More on how to bake bread here.
Transfer the mixed dough to a lightly floured surface and shape into a flattish ball.
Gently press the dough down and push it away from you with the heel of your hand at the same time.
Life the edge of the dough that's farthest away and fold it back toward you.
Repeat until the dough is smooth and elastic, adding a little flour as needed to keep it from sticking.
Hand kneading takes about 20 minutes. When it's kneaded properly it will feel like your earlobe when pinched.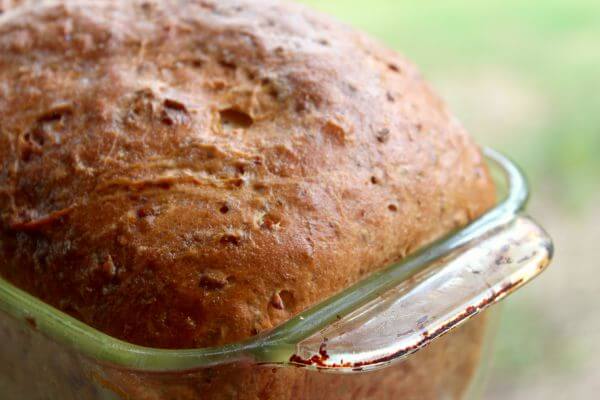 Whole Wheat Bread Recipe FAQs
Here are the most commonly asked questions about this recipe. If you don't find the answer to yours here leave a comment below or email me – I'll get back to you as soon as I can!
You'll find more FAQs about bread baking here.
Why is whole wheat bread dense?
Whole wheat bread tends to be dense because the flour has less gluten than white flour. Gluten is what gives the bread structure.
What is vital wheat gluten and why do I need it in this recipe?
Vital wheat gluten helps to improve the elasticity of the dough. It helps the dough rise well and keeps the finished bread lighter and fluffier than whole wheat alone.
Can I omit the vital wheat gluten?
You can, if you must, but the resulting texture will be much more coarse. If you do omit the gluten then you'll also want to increase your kneading time.
What is cracked wheat?
Cracked wheat is whole grain wheat berries that have been chopped into small particles. It gives a chewy texture and more fiber to whole grain breads.
Do I have to use buttermilk in this whole wheat bread recipe?
Not really. I think buttermilk helps it to have a more tender crumb but you can substitute regular whole milk.
Bread Machine Instructions for This Cracked Wheat Bread Recipe
You can make this in a bread machine if you prefer.
Use the serving size bar to cut the recipe in half.
Soften the cracked wheat according to the instructions in the recipe.
Add the water to the machine.
Add the remaining liquid ingredients.
Now add the dry ingredients except the yeast.
Make a small well in flour and put yeast into that well.
Set to manufacturer's instructions for wheat bread and you're ready to go!
Best honey whole wheat bread recipe ever! You'll love this nutty, chewy, slightly sweet bread recipe
Click To Tweet
More Great Bread Recipes
I love baking bread so it should come as no surprise that I have several recipes on the blog. Here are some I think your whole family will love.
You May Need…
The following are affiliate links. We are a participant in the Amazon Services LLC Associates Program, an affiliate advertising program designed to provide a means for us to earn fees by linking to Amazon.com and affiliated sites. Thanks so much for being a part of Restless Chipotle!
What's new? Check out my Restless Chipotle & Co. Store on Amazon where you'll find all kinds of nostalgic goodness! Thanks so much for being a part of Restless Chipotle!
A lot of people have asked why my bread rises so high and what I use for kneading. I use my Bosch Universal Plus Kitchen Machine for bread making. If you plan to do a lot of bread baking invest in a Bosch. If you can't then use your stand mixer but knead for 3 to 5 minutes after you knead it with the machine. Thorough kneading helps develop the gluten and your bread will rise better and have a better texture.
Honey Whole Wheat Bread Recipe
Give this honey whole wheat bread recipe a try and I think you'll be pleased with the results! Even if your family has never liked whole grains they'll like this! Try the multigrain bread recipe, too! It's a family favorite.
Need to adjust for high altitude? Check out the instructions from Utah State University.
If you love this recipe please give it 5 stars!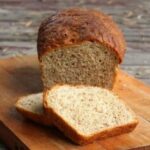 Honey Whole Wheat Bread
Print
Add to Collection
Go to Collections
High, light, slight sweet loaves of cracked wheat bread are so good for sandwiches and toast! The mix of flours in the recipe ensures that the finished loaf won't be tough and crumbly.
Prep Time
2
hours
45
minutes
Soaking the Cracked Wheat
1
hour
Total Time
4
hours
15
minutes
As an Amazon Associate I earn from qualifying purchases.
Ingredients
1

cup

cracked wheat or bulgur

1 1/2

cups

boiling water

1 1/2

tablespoons

active dry yeast,

2 packets

1

pinch

powdered ginger

1

teaspoon

honey

1/4

cup

lukewarm water

,

105 to 110 degrees

1 1/2

cups

lukewarm buttermilk

,

105 to 110 degrees

1/3

cup

honey

1/4

cup

unsalted butter

,

melted and cooled to lukewarm (105 to 110 degrees)

1

tablespoon

salt

1/3

cup

vital wheat gluten

2

cups

whole wheat flour

2-1/2

cups

bread flour

,

approximately. This is a stiff dough that will stay sticky even after kneading
Instructions
Place cracked wheat or bulgur in a bowl and pour boiling water over it.

Let sit for 1 hour to soften – it will almost triple when done.

Make sure it is no more than 110 degrees when you are ready to use it. It should just be warm to the touch when you stick your finger in the center.

When the cracked wheat is ready place the water, yeast, ginger, and 1 teaspoon of honey in a bowl and mix well.

Allow to sit until the yeast is foamy, about 10 minutes.

Combine the buttermilk, honey, and butter in a bowl and set aside.

In the mixer with the paddle attachment add the softened cracked wheat to the yeast mixture.

Add in the buttermilk.

Mix well.

Change to the bread attachment.

Blend the gluten flour, the whole wheat flour, and the salt.

Beat in to the yeast mixture on speed 2 for about 2 to 3 minutes.

Add the bread flour 1/2 cup at a time until the dough "cleans" the bowl and is a compact ball formed around the bread attachment (or dough hook).

Continue to knead on speed 3 until the dough is springy and firm, about 4 minutes. It will still feel slightly sticky but won't stick to your hands.

If kneading by hand knead for 15 minutes, or until dough feels firm and springy but still slightly sticky.

The dough should spring back when gently poked with your finger.

Butter a large bowl, and rub the ball of bread dough with butter.

Place the dough in the bowl, turning it once to make sure that it is buttered.

Cover with a clean tea towel.

Place in a proofing oven or warm spot until doubled (about 1 1/2 hours)

Punch down the dough.

Knead gently for a minute or two and then divide it in half.

Form each half into a loaf and then fit the loaves into greased 9×5 inch bread pans.

Brush the tops with butter.

Cover with the clean tea towel.

Let rise about 30 minutes.

While the loaves are rising, preheat the oven to 350F.

Bake for 30 to 40 minutes, or until loaves sound hollow when tapped.

Remove from oven.

For soft crust – brush with melted butter and cover with a tea towel for 5 minutes.

Let cool for 5 minutes, turn the bread out of the pans, and let finish cooling on a rack. This keeps the bottom from getting soggy. For soft crusts keep a tea towel over the bread as it cools.
Notes
Bread Machine Instructions
You can make this in a bread machine if you prefer.
Use the serving size bar to cut the recipe in half.
Soften the cracked wheat according to the instructions in the recipe.
Add the water to the machine.
Add the remaining liquid ingredients.
Now add the dry ingredients except the yeast.
Make a small well in flour and put yeast into that well.
Set to manufacturer's instructions for wheat bread and you're ready to go!
Nutrition
Calories:
122
kcal
|
Carbohydrates:
21
g
|
Protein:
3
g
|
Fat:
3
g
|
Saturated Fat:
1
g
|
Cholesterol:
8
mg
|
Sodium:
368
mg
|
Potassium:
101
mg
|
Fiber:
2
g
|
Sugar:
5
g
|
Vitamin A:
100
IU
|
Calcium:
27
mg
|
Iron:
0.8
mg
Sign up for the emails and never miss another recipe!!
We'll never share your email or send you spam. Pinkie swear.
Share Your Images