If you are looking for a hearty, healthy multi-grain flaxseed bread that you can make at home here it is. It's full of healthy ingredients and a generous splash of honey to give it just enough sweetness. It makes a hearty sandwich or the crunchiest toast imaginable. If you're family prefers white bread you can't go wrong with this honey buttermilk bread!Originally published May 2007 and updated September 2016.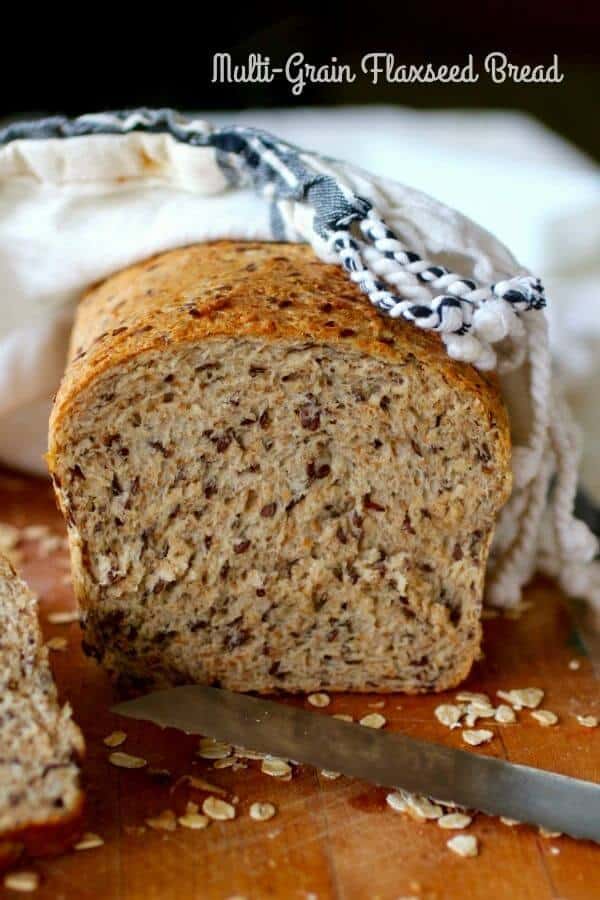 For this recipe you'll need: active dry yeast, honey, 7 Grain Cereal, Old Fashioned Oatmeal, whole wheat flour, flaxseed, bread flour, vital wheat gluten, salt, butter
Do you cringe when you see the words healthy and recipe in the same phrase?
I admit that I do. Maybe it's because generally healthy recipe can be translated tastes like cardboard. I promise you this is not the case here. This bread is not coarse or dense. It's a little chewy with a thin, crisp crust and a wholesome, nutty flavor. Since there are flax seeds as well as a ton of other good seeds and whole grains this homemade bread recipe is high in omega-3 fatty acids. That's the stuff that keeps your cholesterol at a healthy level. Homemade multi-grain flaxseed bread is delicious toasted and generously smeared with butter or your favorite jam.
When this bread is in my house I do not low-carb. It's impossible. Lock the loaf in a tin breadbox. Have one of my kids (all of them are taller than me…all of them!) put it on the highest pantry shelf. It still calls to me until I drag a chair over, pick the lock, and cut a slice of this wholesome flaxseed bread.
I don't even feel guilty afterwards. Not even a little.
Where Are All the Crunchy Moms?
In the late 60's and early 70's people rediscovered whole grains and homemade bread. I think it was brought about by the Wonder Bread Generation rebelling against that soft, spongy whiteness. We traded cornflakes for granola, embraced chewy brown rice, and eschewed limp canned vegetables. My parents were way ahead of their time. They were born in 1917 and 1918, teenagers during the Depression. By the time I came along in 1960 they were adept at growing lush, organic gardens in the backyards of the various houses we lived in. Although Dad never did give up his Corn Flakes he fell in love with granola and added it to the breakfast menu.
Fresh vegetables were on our table all summer long and in the autumn the kitchen counters were lined with Mason jars. Stewed tomatoes, pickles, pears… The list goes on and on. They had lived through the Depression and they knew the value of being self sufficient even in the midst of prosperity. Until Mom was in her 80's she'd find pear trees in the neighborhood that weren't being harvested and ask if she could gather the pears. She'd can them and take a few jars back as a gift to the owner of the tree. She knew where the best wild pecan trees were, too.
I'm definitely a product of my parents.
I used to can jams, pickles, and preserves but haven't done that in years. The one thing I have made time for is homemade bread. It relaxes me and baking bread makes me feel connected to history
Need a Kneading Tutorial?
Kneading bread can be tough to explain even though it's so easy to do. Here's a tutorial that should help!
Tips for Making Multigrain Flaxseed Bread
This bread is even easier when you use these handy baking tips –
Make this loaf in a round, oval, or any freeform shape. The dough is stiff enough to handle it.
I make mine in a bread pan but that's just a personal thing.
You need a good stand mixer for this bread dough. I've kneaded it by hand in the past but it takes a long time and strong hands.
I use a Bosch. You can probably use your Kitchen Aid since it's just a little over 2 pounds of dough.
This has a longer rising time than most of the breads I make. You'll need to be patient but it is worth it.
Get more bread baking tips here.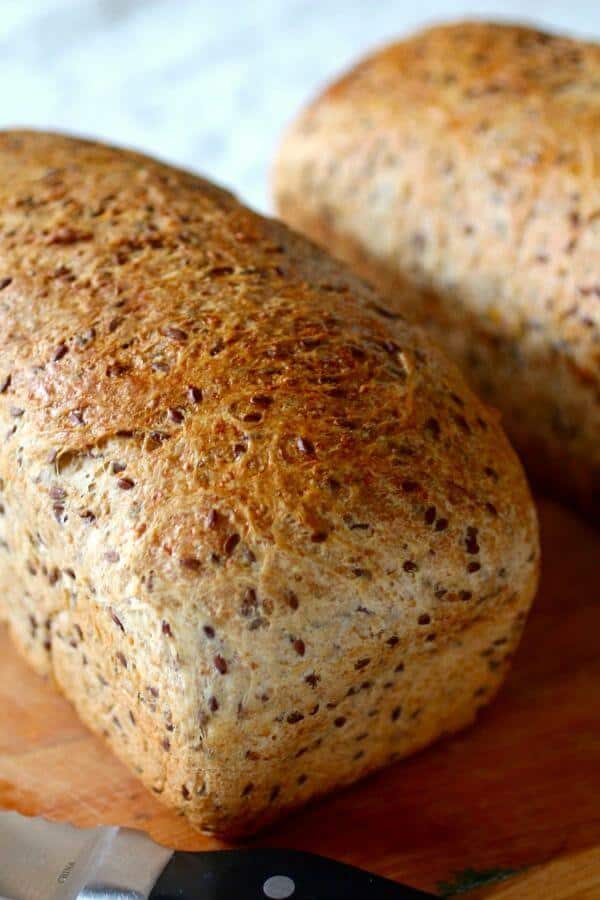 I put together the sponge for this multi-grain flaxseed bread Sunday before church. I figured it could do the first rise when I was at church and I'd finish it up when I got home. Although I hadn't tried it this way before it was actually better than the old method. When you make this just leave the sponge to rise for 30 minutes or up to 4 hours.
After it has risen stir it down and add the remaining ingredients. Knead the dough for about 5 to 6 minutes by mixer, 15 minutes by hand, and let rise for 90 minutes. You punch that down and shape the loaves, letting them rise for another hour before baking.
Be sure to use bread flour. It keeps the bread from being crumbly and falling apart too easily. All purpose flour is not the best choice but will probably work.Do not use cake flour in this recipe.
This bread is best if it is allowed to cool before slicing.
You May Need…
The following are affiliate links. We are a participant in the Amazon Services LLC Associates Program, an affiliate advertising program designed to provide a means for us to earn fees by linking to Amazon.com and affiliated sites.
If you make a lot of bread, especially a lot of whole grain bread, consider getting a Bosch. It can handle up to 6 pounds of whole grain dough and kneads the bread so well that it is light and fluffy. I added gluten to this recipe when I updated. It helps the bread rise high and light. You'll find more great products for your bread baking adventures in the Restless Chipotle & Co. Storefront!
Multi-Grain Flaxseed Bread Recipe
Here's the flaxseed bread recipe! If you love this hearty homemade bread please give it 5 stars. Also be sure to check out the Harvest Bread with whole grains, nuts, and dried fruit!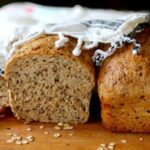 Multi-Grain Flaxseed Bread
Print
Add to Collection
Go to Collections
Healthy whole grain bread with plenty of Omega-3s and a slightly sweet, nutty flavor. Makes incredible toast!
Prep Time
3
hours
30
minutes
Total Time
4
hours
10
minutes
As an Amazon Associate I earn from qualifying purchases.
Ingredients
2

packages

yeast

1/4

cup

warm water

,

(110F)

1/4

cup

+1 Tablespoon honey

,

, divided use

2

cups

warm water

1/2

cup

7 grain cereal

1

cup

old fashioned oatmeal

2

cups

whole wheat flour

1

cup

flaxseed

3

to 3 1/2 cups bread flour

1/4

cup

vital wheat gluten

1 1/2

Tablespoons

salt

1/2

cup

melted butter
Instructions
Add the yeast and 1 tablespoon honey to the warm water

Set the mixture aside for about five minutes. It will get bubbly.

Add the 2 cups of warm water, remaining honey, 7 grain cereal, oatmeal, 1 cup of the whole wheat flour, 1 cup of flaxseed, 1 cup of bread flour, and 1/4 cup gluten.

Stir until well mixed.

Cover and set in a warm place to rise – about 30 minutes and up to 3 hours.

Stir the dough down and add the salt and butter.

Using the dough hook on your mixer beat in the remaining whole wheat flour and enough of the remaining bread flour to make an elastic dough.

Knead for 10 minutes.

Cover and place in a warm spot to rise.

Let rise until double, about 1 1/2 hours.

Punch down.

Let rest for 15 minutes.

Form into loaves and place in greased pans.

Oil tops and cover, let rise for 1 hour or until doubled.

Bake at 375F for 40-45 minutes.

Loaves will sound hollow when tapped.

Cool completely before slicing! Bread will slice VERY thin when it's completely cool.
Nutrition
Calories:
151
kcal
|
Carbohydrates:
17
g
|
Protein:
4
g
|
Fat:
7
g
|
Saturated Fat:
3
g
|
Cholesterol:
11
mg
|
Sodium:
522
mg
|
Potassium:
111
mg
|
Fiber:
4
g
|
Sugar:
3
g
|
Vitamin A:
130
IU
|
Vitamin C:
0.1
mg
|
Calcium:
27
mg
|
Iron:
1.1
mg
Tried this recipe?
Tag me!! @Marye_RestlessChipotle
If you liked this multi-grain flaxseed bread recipe you may also like these Restless Chipotle favorites…
From left to right: Buttermilk Honey Whole Wheat Bread, Honey Oatmeal Bread, Old Fashioned Molasses Whole Wheat Bread – Click on the image to see the recipe.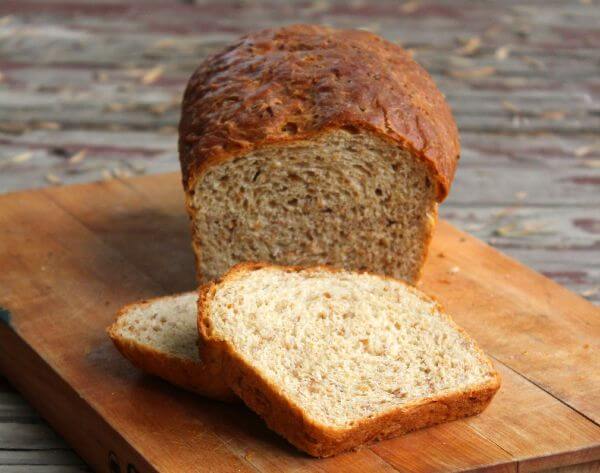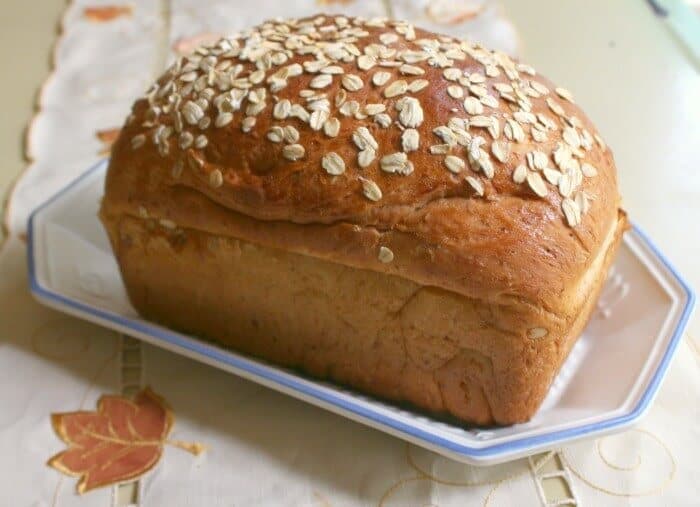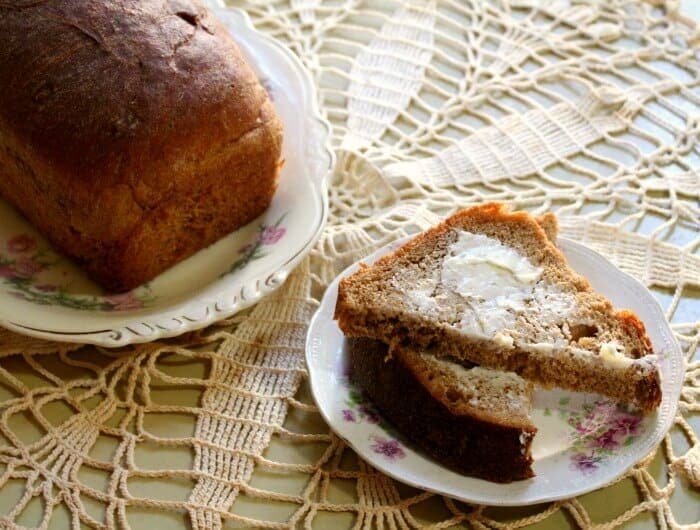 Here are some similar recipes from a couple of my favorite bloggers.
Seeded Whole Grain Breakfast Bread Half Baked Harvest
Whole Wheat Bread Bowls How Sweet Eats