Honey oatmeal bread is an old fashioned classic. It's moist, soft, and a little chewy with a slightly sweet honey and oat flavor that makes it irresistible. This is my go to bread for peanut butter and jelly sandwiches — there is no bread that is better for that beloved classic.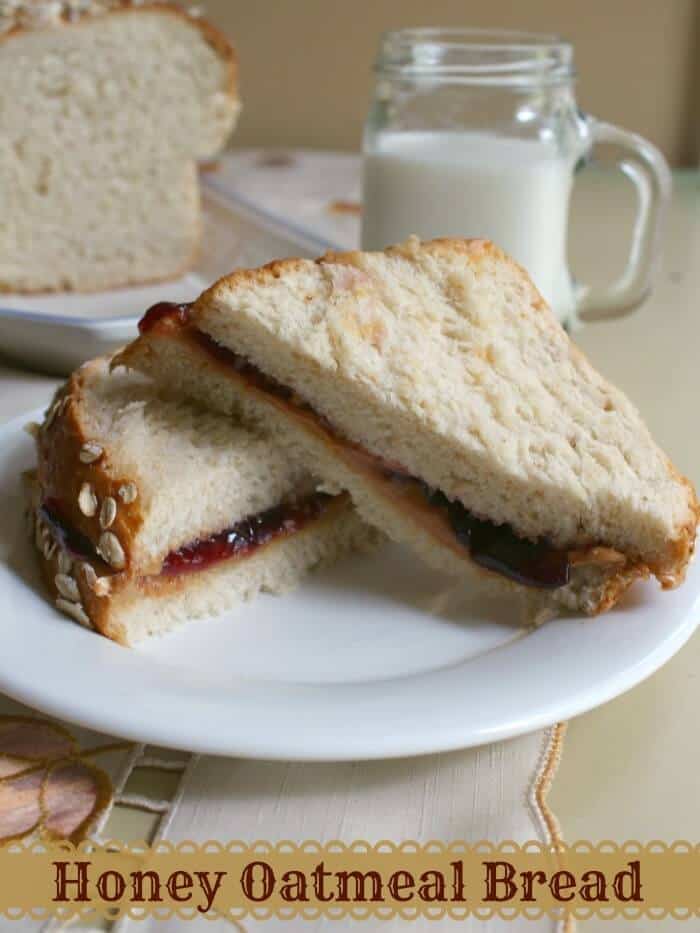 I love peanut butter and jelly. I always have. I can't eat them often because of the carbs and fat but … OhEmmGee I do love them. Serious comfort food.
Diclaimer: The honey for this recipe was provided by Sue Bee Honey.
Anyway, this honey oatmeal bread recipe has been in my recipe box for years. I have my "top three" list of breads that I make often and it's the honey buttermilk, the molasses whole wheat, and this one. If you can practice these three recipes to perfection you don't even have to learn to make another kind. These are the best all-purpose bread recipes I have and with them you can make almost any variation.
I make bread several times a week. My family eats a lot of it and with school back in session lunches are sandwiches, again. That means that the house is smelling really good most days. I made this oatmeal bread on a stormy day. Here's something that just fries my brain but it's true. Your bread will rise higher and be lighter on rainy days than on sunny ones. You'd think it'd be the other way, right? Nope. It has something to do with the barometric pressure — when the pressure is lower the bread doesn't have to work so hard to get light. It's nice, too. There is something seriously comforting about a dark, stormy day outside my window while I am puttering around in my kitchen making bread. It's warm and cozy and cocoon-like. Try it sometime!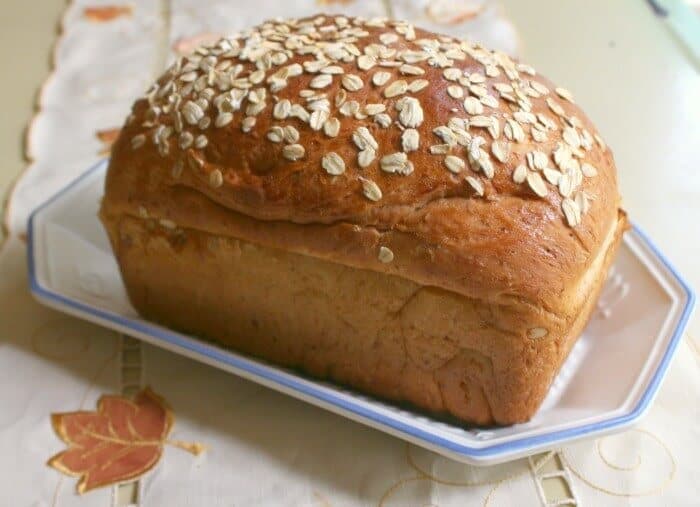 Oatmeal does not have gluten in it so it can be hard to work with. I offset this a little by adding vital wheat gluten but the dough will still be just a little sticky. It won't stick to your hands but it will feel like it leaves a tacky film on them. Also because of the lack of gluten you'll need to knead this for a long time if you are doing it by hand. You should plan on kneading it no less than 20 minutes by hand and about 10 by machine.
The following are affiliate links. We are a participant in the Amazon Services LLC Associates Program, an affiliate advertising program designed to provide a means for us to earn fees by linking to Amazon.com and affiliated sites.
I use a Bosch Universal Plus to make my bread. I have a Pro Series Kitchen Aid but it is just not as good as the Bosch for bread. I can make up to 6 loaves of 100 percent whole wheat bread at one time and very much of that burns the KA out. PLUS the KA doesn't knead as well. I do not use my Bosch for cakes, meringues, and such because the KA is so much more superior in those things. If you are going to be doing a lot of bread baking get a Bosch if at all possible. You'll be amazed at the difference. I love mine. I need to take the time to post a full review one of these days.
Be sure to allow at least a full hour for the oatmeal to soak or your bread will not work well. Don't cut corners when you are making this bread!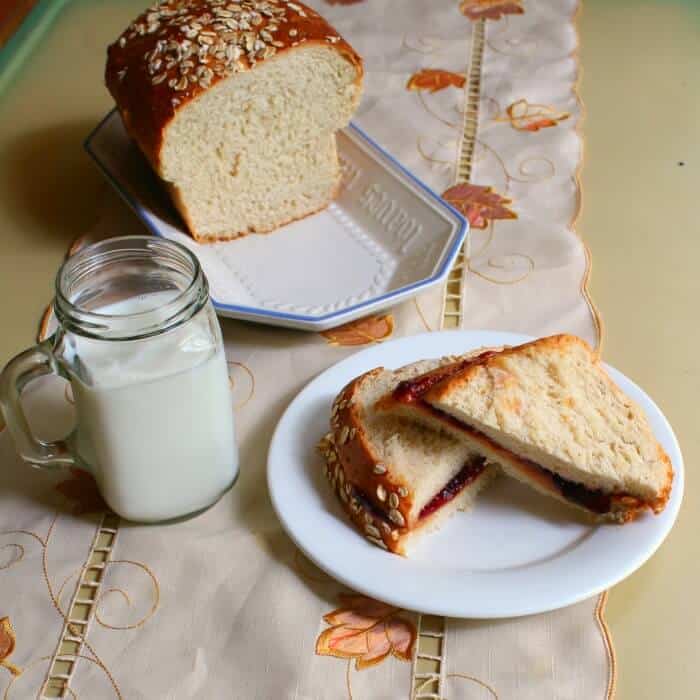 It's one of my favorites and I think you'll like it, too.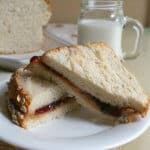 Honey Oatmeal Bread Recipe
Print
Add to Collection
Go to Collections
Soft, slightly sweet sandwich bread with the old fashioned goodness of oatmeal and honey. Makes great sandwiches and toast! You can also shape this dough into sandwich rolls.
Prep Time
3
hours
5
minutes
Total Time
3
hours
35
minutes
Servings
2
loaves, 12 servings (slices) each
As an Amazon Associate I earn from qualifying purchases.
Ingredients
2

cups

boiling water

1

cup

old fashioned oats

,

(not "quick" or "instant")

1/2

cup

Sue Bee honey

,

(or your favorite brand)

1/4

cup

unsalted butter

2

teaspoons

kosher salt

1 1/2

tablespoons

active dry yeast

1/4

cup

110F water

3 1/2

to 4 1/2 cups bread flour

1/3

cup

vital wheat gluten

1

egg

1

teaspoon

water

2

tablespoons

oats
Instructions
In a large mixing bowl, combine boiling water, oats, 1/2 cup honey, butter and salt.

Let stand for 1 hour or so.

In a small bowl, dissolve yeast in warm water with a teaspoon of the honey added.

Let stand until foamy, about 10 minutes.

Pour the yeast mixture into the oat mixture.

Add the combination to the bowl of a stand mixer with the dough hooks attached..

Add 1 cup of flour and the gluten.

Mix well on low.

Stir in the remaining flour, 1/2 cup at a time, continuing to beat on low.

When the dough has pulled together turn the mixer to the manufacturers recommended speed for kneading and knead 8 to 10 minutes (20 minutes by hand).

The dough will be smooth and elastic but still slightly sticky.

Lightly oil a large bowl, place the dough in the bowl and turn to coat with oil.

Cover with a damp cloth and let rise in a warm place until doubled – about 1 hour 15 minutes.

Deflate the dough and turn it out onto a lightly floured surface.

Divide the dough into two equal pieces and form into loaves.

Place the loaves into two lightly greased 9×5 inch loaf pans.

Mix the egg and water and brush over the loaves.

Sprinkle the oats over the top.

Cover the loaves with a towel and let rise until doubled – about 40 minutes.

Preheat an oven to 350 degrees F .

Bake in the preheated oven for about 30 minutes or until the top is golden brown and the bottom of the loaf sounds hollow when tapped.

Remove from the oven.

For soft crust cover the loaves with a towel and let them cool in the pans for 3 minutes.

Put the pans on their sides, cover with a towel and let cool 5 minutes.

Remove bread from pan and cool completely before cutting.
Notes
This dough can be made into sandwich rolls, too.
Tried this recipe?
Tag me!! @Marye_RestlessChipotle
If you liked Honey Oatmeal Bread Recipe you may also like…
Honey Buttermilk Bread Restless Chipotle
Old Fashioned Molasses Whole Wheat Bread Restless Chipotle
Part of Meal Plan Monday 126
Let's Keep in Touch!