Tender, succulent grilled shrimp are served on a bed of roasted tomatoes and peppers for the most amazing Shrimp Creole you ever put in your mouth.
It's a deceptively quick meal - 30 minutes or less for the whole thing. It's a great recipe for summer parties. You may also like my fried shrimp po boy recipe!
\
Perfect for Valentine's Day, too! Try this easy quail recipe next!
For this recipe you'll need: large shrimp, cherry tomatoes in various colors, green Bell pepper, yellow Bell pepper, red Bell pepper, celery, onions, garlic, cayenne, Tony Chachere's Creole Seasoning, sugar, Herbes de Provence, olive oil, butter, salt, pepper, parsley, limes, wooden skewers
A few weeks ago I was paging through a copy of a Southern cookbook from the early 1900s. In it was a recipe for Creole Shrimp that was pretty similar to how it's made nowadays. I was looking at the ingredients and I wondered how in the world I could make an updated version of this iconic dish that would honor the tradition while kicking it up a little.
Making it fresher.
Lighter.
More modern.
I had a lot to live  up to. My best friend, Edye, is from Louisiana. We already argue about the proper way to say praline - I didn't want to make a traditional creole dish and have her tell me I had completely jacked it up.
The last time she went home to Louisiana I asked her to bring me back some Gulf shrimp. There's a place in her hometown that has the most incredible shrimp ever. Huge, meaty, tender, fresh...
I decided to grill the shrimp and roast the vegetables for the Creole sauce rather than simmering or sauteeing. OMG it was amazing. Really amazing. So much flavor!
You're going to love it as much as she did!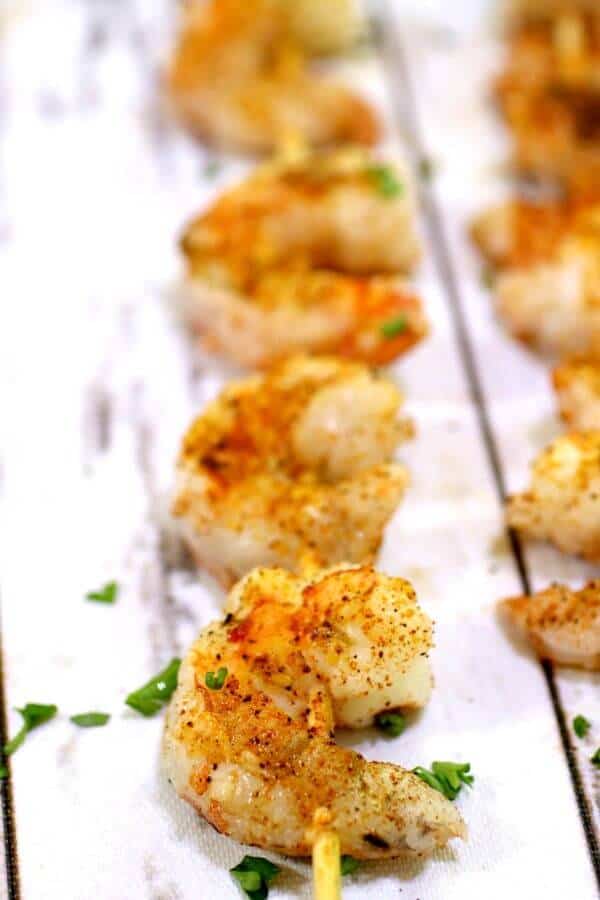 Tips for Grilling Shrimp
It's actually one of the best ways to cook them as far as I'm concerned! So easy!
Experience Level: Easy - some cooking experience
How do you make shrimp on the grill?
Brush shrimp with oil or butter.
Season with salt, pepper, or whatever seasonings you're using.
Place on a preheated grill until done.
How long do you cook jumbo shrimp on the grill?
You want shrimp to be just cooked - they get rubbery if they are cooked too long. Plan on about 3 to 5 minutes total, turning once - depending on the size.
Can you grill peeled shrimp?
Yep! Peeled, deveined shrimp are the easiest to work with. Just grill as above - in fact I used peeled, deveined shrimp in this recipe.
How do you grill shrimp on skewers?
Soak the skewers in water, cayenne, and lime juice for about 30 minutes. The flavor will infuse into the shrimp as they cook.
Gently push the raw, peeled and deveined shrimp on the skewer so that it goes through both sides and the shrimp forms a "C"
Don't crowd the shrimp, make sure there is space between them.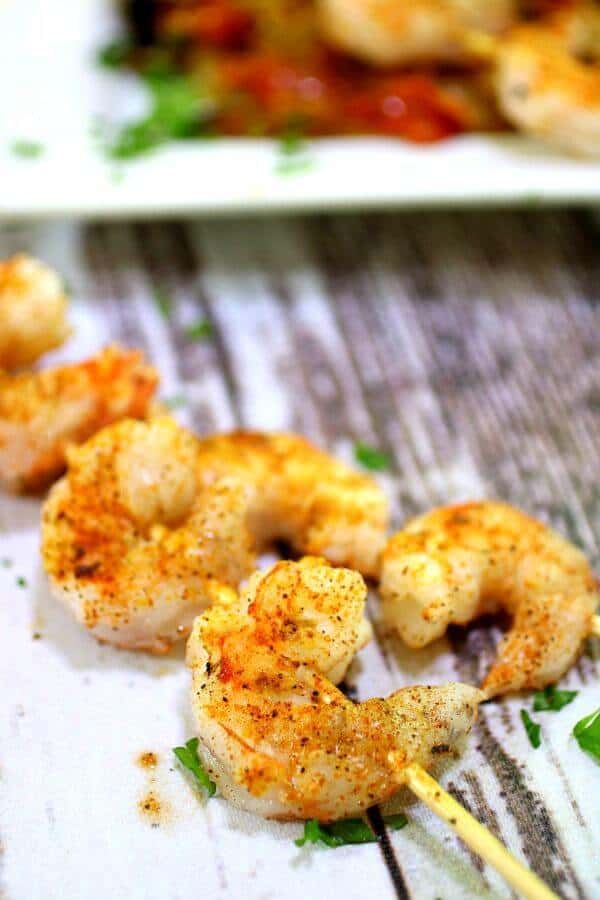 How to Roast Vegetables
The magic in my updated version of Shrimp Creole is in roasting the vegetables for the sauce rather than boiling them together. Roasting brings out sweetness and flavor like nothing else. Be sure that your oven is completely preheated before putting the pan of vegetables in it.
Preheat the oven to 425F
Place the vegetables that you've prepared for roasting in a large bowl.
Add olive oil and seasoning.
Toss until the vegetables are coated with oil.
Place the vegetables on a heavy baking sheet with plenty of space between them.
Roast for 10 to 20 minutes, or until charred areas appear on the vegetables and they are tender.
You May Need
The following are affiliate links. We are a participant in the Amazon Services LLC Associates Program, an affiliate advertising program designed to provide a means for us to earn fees by linking to Amazon.com and affiliated sites.
Thanks so much for being a part of Restless Chipotle!
If there's any particular secret ingredient in this recipe it's the Tony Chachere's Creole Seasoning. Spicy and flavorful - it's used to season the shrimp and the sauce.
More Restless Chipotle Recipes with Tony Chachere's Seasoning
I really do use this stuff a lot. I know that you probably HATE buying an ingredient you're never going to use again, right? Here are some more recipes that use this product.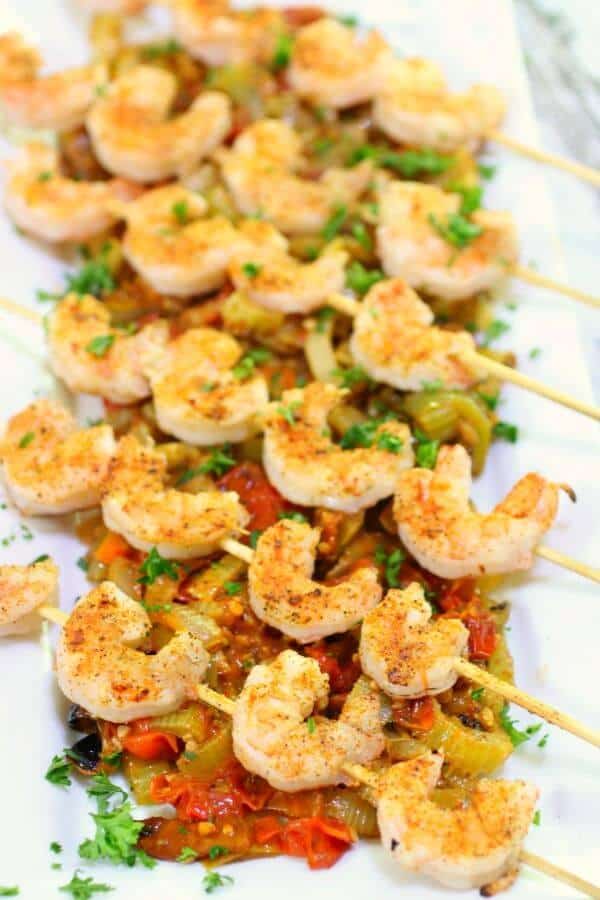 Grilled Shrimp Creole Recipe
This shrimp Creole is as fresh and summery as it can be. My friend told me that she took some to work the day after we had it and it was just as good warmed up. I don't know about that - I'd suggest eating it all the day you make it. Believe me, that won't be difficult. If you love this recipe please give it 5 stars.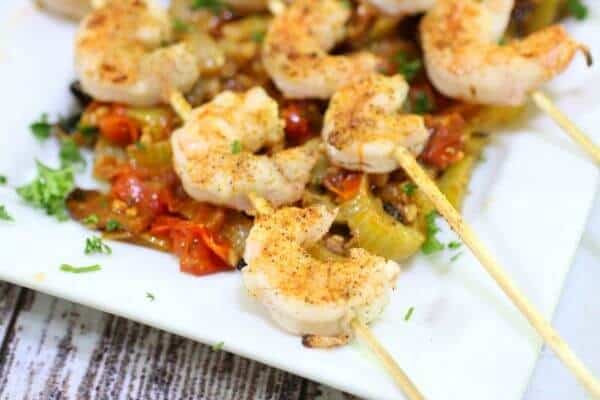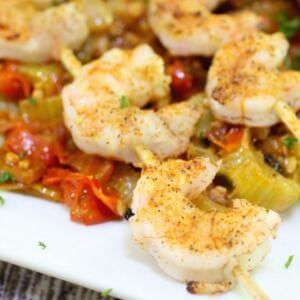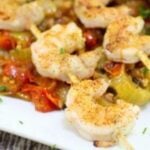 Grilled Shrimp Creole
Print
Add to Collection
Go to Collections
Succulent and spicy grilled Shrimp Creole is an update of a vintage southern recipe. It's so quick and easy but looks fabulously fancy!

Experience Level: Easy - some cooking experience
As an Amazon Associate I earn from qualifying purchases.
Ingredients
Instructions
Skewers
Put the water, lime juice, and cayenne in a casserole dish and add skewers.
Roasted Tomato Creole Sauce
Preheat the oven to 425F.

Add the tomatoes, peppers, and onion to a large bowl.

Add the olive oil and herbes de Provence - mix well so that all the vegetables are coated.

Place the vegetables on a heavy baking sheet without overcrowding.

Put into the oven until the vegetables are tender and charred areas appear on the skins. About 10 to 20 minutes. Watch carefully!

Meanwhile add the remaining olive oil to a heavy skillet with 1 tablespoon of butter.

Heat it up and add the garlic and celery.

Add the roasted vegetables.

Gently stir in salt and pepper to taste. Sprinkle with a little Tony Chachere's

Taste and adjust seasoning. Add sugar if needed. Set aside in a warm spot.
Shrimp
Peel and devein shrimp. Remove skewers from water.

Add about 4 shrimp to each skewer, making sure there is space between each.

Brush both sides with olive oil.

Sprinkle with Tony Chachere's seasoning - more if you like spicy and less if you like it less spicy.

Grill about 2 to 3 minutes on each side.
To Serve
Serve the skewers over the roasted Creole sauce.
Nutrition Facts
Calories:
228
kcal
|
Carbohydrates:
6
g
|
Protein:
6
g
|
Fat:
20
g
|
Saturated Fat:
3
g
|
Cholesterol:
65
mg
|
Sodium:
218
mg
|
Potassium:
225
mg
|
Fiber:
1
g
|
Sugar:
2
g
|
Vitamin A:
805
IU
|
Vitamin C:
39.4
mg
|
Calcium:
58
mg
|
Iron:
1.5
mg
Sign up for the emails and never miss another recipe!!
We'll never share your email or send you spam. Pinkie swear.
If you like this vintage Shrimp Creole recipe you may also like these vintage favorites...
From left to right: Chicken and Noodles, Beef Tips and Gravy, King Ranch Chicken Casserole