This easy Italian pasta salad recipe has a tangy -sweet cider vinegar dressing. Black olives, rigatoni, purple onions, and Italian seasonings are the foundation – you just need to add your favorite ingredients. Pepperoni, tomatoes, and shredded cheese are all good choices! Make it a side dish or add protein to transform it into a simple summer meal. This post has been updated from the original May 2008 publish date.
For this recipe you'll need: cider vinegar, sugar, dried Italian seasoning mix, rigatoni, salt, black olives, purple onions Optional – shredded mozzarella, cherry tomatoes
Jump to Recipe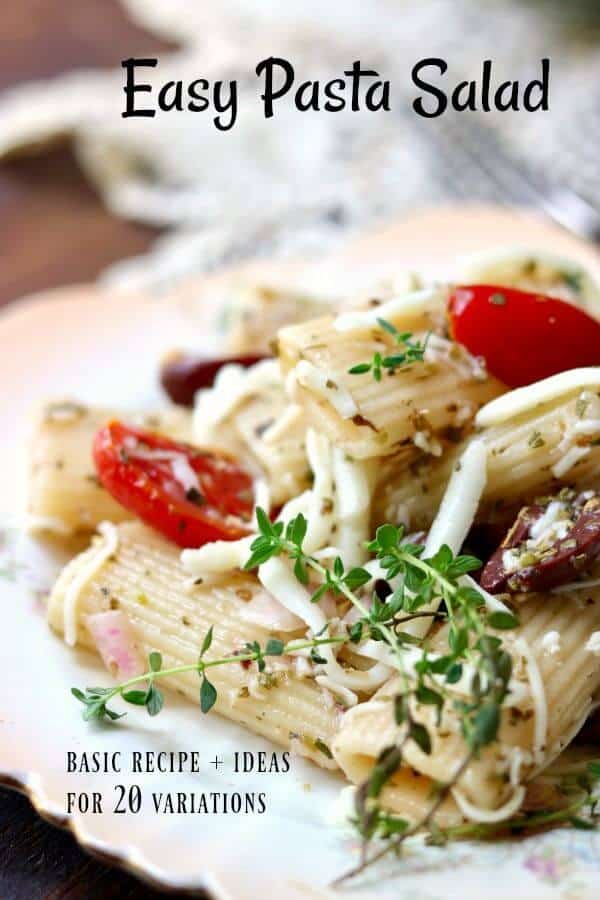 When I owned the tea room this pasta salad was the number one side dish on the menu. It was bigger than our hand cut French fries, bigger than the crispy onion rings, and even bigger than the cut fruit with lavender creme fraiche.
Of course the reason for that is the same now as it was then — this stuff is addictive! It doesn't take long to make but you have to allow time for it to sit overnight. During that time the pasta soaks up the simple vinaigrette so that every bite is bursting with flavor. Don't skimp on this step or try to cut it short — you can't get the same flavor. Keep in mind that you might need to add a little more of the vinegar and sugar mixture before serving if it's soaked it all up.
I measure the Italian seasoning by the handful for this. It sounds like a lot but you'll have to trust me on this. Just do it. My hands hold about 3 tablespoons of seasoning so that's the measurement I'm using. You can use more or less depending on your own tastes.
So, yeah. I get it. Who ever heard of rigatoni in pasta salad?
The thing is those big tubes of chewy pasta soak up the dressing. Tiny pieces of purple onion, herbs, and olives play hide and seek in the interiors of the tubes so that you get a surprise flavor blast in every bite. Will it be onion? Olive?
You won't know until you take a bite. You can substitute rotini pasta or something else but just try it my way at least once, please?
This pasta salad is the perfect potluck recipe. It dresses up al fresco dinners on the deck. It graciously accepts your leftover ham, chicken, or other leftovers. I know I can't get through summer without it.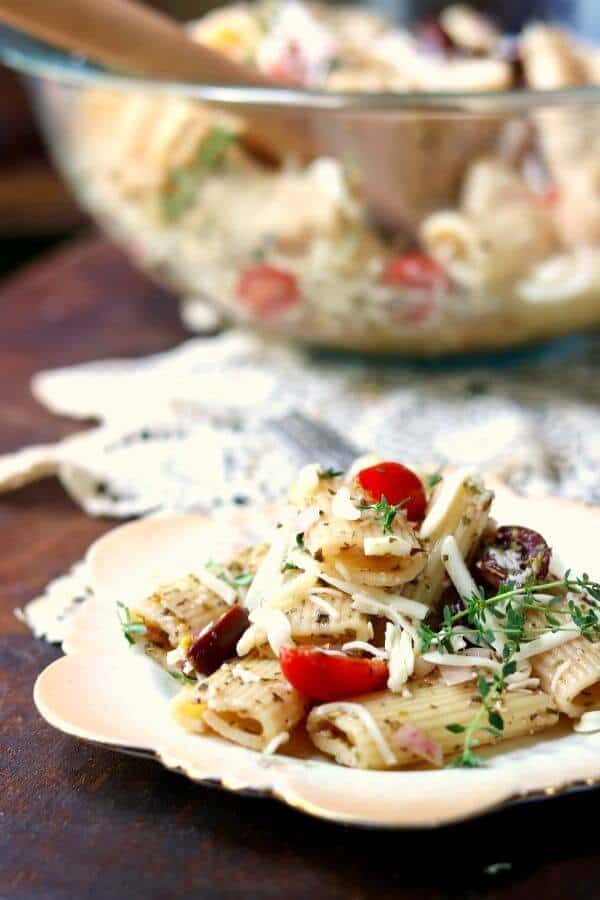 20 Ingredients to Add to This Basic Pasta Salad Recipe
Cooked diced chicken
Cooked diced ham
Cooked shrimp
Tofu
Pepperoni
Cooked Italian Sausage (mild or hot)
Pancetta
Crispy bacon
Anchovies
Shredded Mozzarella
Parmesan
Smoked provolone
Halved cherry tomatoes
Diced green peppers
Celery
Fresh parsley
Shredded carrots
Pepperoncini
Kalamata olives
Chopped fresh basil
You May Need
The following are affiliate links. We are a participant in the Amazon Services LLC Associates Program, an affiliate advertising program designed to provide a means for us to earn fees by linking to Amazon.com and affiliated sites.!
I love this serving bowl! It's such a refreshing color for summer.

Basic Pasta Salad Recipe
Italian Pasta Salad
Tender rigatoni pasta, onion, and black olives marinate in a tangy-sweet vinegar and sugar mixture overnight to create a deliciously simple side dish. Or, add protein for a main dish salad.
Ingredients
2

pounds

of rigatoni

1

purple onion

,

, coarsely chopped

28

ounces

ripe black olives

,

, drained and sliced

3

tablespoons

Italian seasoning

1

cup

cider vinegar

1

cup

sugar

salt

,

, to taste
Instructions
Cook the rigatoni until over done. Yep. Overdone. Nope. I am not kidding. Do not try this with a la dente pasta it won't work. It needs to be very cooked, but still hold it's shape.

Drain.

Pour the vinegar and sugar mixture over the pasta.

Dump the handful of herbs on it.

Mix thoroughly and let cool.

Add the onion and black olives and mix well.

Cover and chill overnight.

Stir gently before serving - you may need to add a little more of the vinegar sugar mixture.
Notes
  may add: shredded Mozzarella or Parmesan, halved cherry tomatoes, chopped parsley, cooked chicken, etc.    
Nutrition
Calories:
452
kcal
|
Carbohydrates:
77
g
|
Protein:
10
g
|
Fat:
11
g
|
Saturated Fat:
1
g
|
Sodium:
1035
mg
|
Potassium:
240
mg
|
Fiber:
5
g
|
Sugar:
19
g
|
Vitamin A:
5.6
%
|
Vitamin C:
0.8
%
|
Calcium:
7.4
%
|
Iron:
10.1
%
If you liked this Classic Pasta Salad recipe you may also like…
Candied Jalapenos, Black Eyed Pea Salad, BBQ Macaroni Salad
Let's Keep in Touch!