Sweet Bell peppers are some of the most commonly called for ingredients in recipes but, are, like your crazy Great-Aunt Thelma Sue, rarely discussed. At Restless Chipotle we've never been afraid to bring you the nekkid truth about the food you eat - read on for pepper FAQs, nutrition, storage, recipes, and more.
My favorite way to use them? In my mom's chili soup!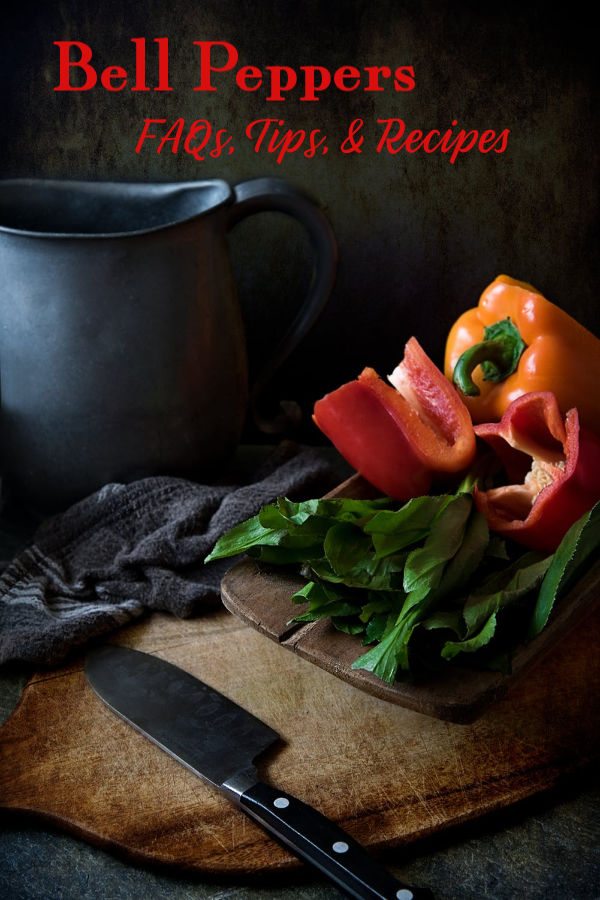 Best for...
| | | | | | | | |
| --- | --- | --- | --- | --- | --- | --- | --- |
| | Salads | Grill/Roast | Sauces | Stuffed | Salsa | Saute | Snack |
| Red | x | x | x | x | | x | x |
| Orange | x | | x | x | | x | x |
| Yellow | x | x | x | x | x | x | x |
| Green | | x | | x | x | | |
FAQs
Looking for answers to your sweet pepper dilemma? Here are the most commonly asked questions -
Is there a difference between Bell peppers?
Yes.
All of the colors come from the same type plant but different varieties and are in different stages of ripeness -- so the flavor is a little different, too.
Red is the sweetest, followed by orange, yellow, and finally – green. There are new varieties that ripen to other colors like purple and "chocolate" as well but they aren't easy to find commercially.
Are Red and Green Bell peppers from the same variety?
Yes and no. Often they are but some green peppers never turn red. Other red Bell peppers are actually ripe green peppers so which you eat is a matter of preference.
Clear as mud?
Which is healthiest?
Red ones have the most nutritional value.
How can you tell the difference between male and female peppers?
Male peppers have 3 bumps and female have 4.
Which is sweeter, male or female?
The female peppers are better for eating raw because they tend to be sweeter.
Can you eat sweet Bell peppers raw?
Yes! You can eat them raw in salads or with a dip. They have a crisp texture. Choose the red or yellow ones for sweeter flavor.
Are they fruits?
Technically a fruit is the part of the plant that carries the seeds so yes, Bell peppers are a fruit.
Nutrition facts
Peppers have different amounts of vitamins and minerals depending on the stage of ripeness. So, green peppers have the least amount of nutrition (but still very nutritious!) and red peppers have the most.
Some of the information on Bell peppers was sourced at the USDA website.
Counts are average for the whole pepper.
| | | | | |
| --- | --- | --- | --- | --- |
| | Calories | Carbs | Fiber | Fat |
| Green | 29.8 | 6.9 | 2.5 | 0.3 |
| Yellow | 50 | 11.8 | 1.7 | 0.4 |
| Red | 31 | 6 | 2.1 | 0.3 |
The vitamin and mineral counts are different, too.
| | | | |
| --- | --- | --- | --- |
| | C | A | B6 |
| Green | 11% | 303% | 17% |
| Yellow | 7.4% | 569% | 0.3% |
| Red | 169% | 16% | 16% |
When are Bell peppers in season?
Sweet peppers are plentiful in the summer and fall months in most parts of the country - peak season is July through September, depending on where you live. Of course, they're available all year round in most grocery stores but may cost a bit more in the off seasons.
Storage
They will last for a week or two in the vegetable crisper in the refrigerator. For longer storage they should be frozen.
The best way to do this is to cut them into strips or dice them, remove the seeds, and flash freeze on a baking sheet. When they are frozen you can put them in a freezer container for up to 8 months.
You can also blanch them for longer storage but it's honestly not worth the extra time and trouble!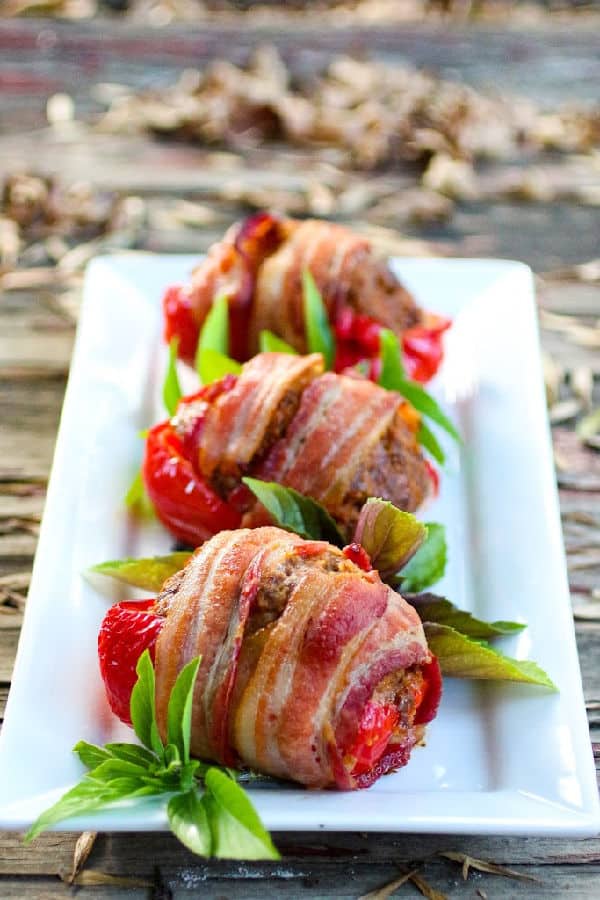 Recipes
Here are some recipes from here on Restless Chipotle that make the most out of peppers!
Stuffed Pepper Soup
This hearty stuffed pepper soup recipe has all of the flavor of classic stuffed peppers in a comforting soup that can be made in the slow cooker or on top of the stove. Ro*Tel tomatoes add a little kick that warms you up on the chilliest day!
Check out this recipe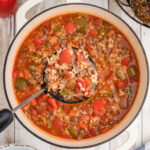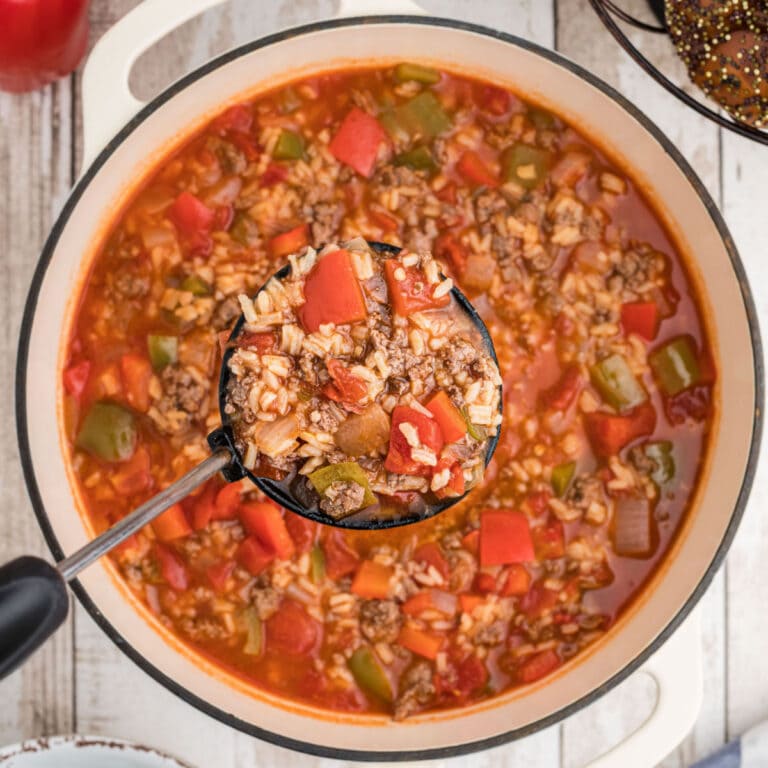 Meatloaf Stuffed Bell Peppers Wrapped in Bacon
Just 30 minutes to cook!! These easy meatloaf stuffed bell peppers are quick to put together, can be made ahead, freezes like a dream, and tastes deliciously moist and meaty. Wrapping them in bacon keeps them moist and gives them even more flavor.
Check out this recipe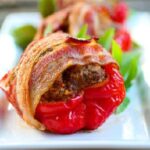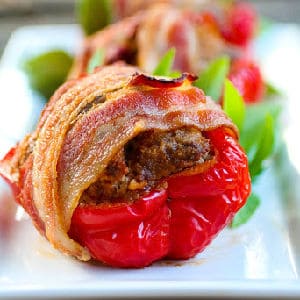 Old Fashioned Stuffed Bell Peppers
Old fashioned stuffed bell peppers with a lighter, more modern twist. Get all of the flavor that you used to love. This is real comfort food!
Check out this recipe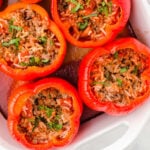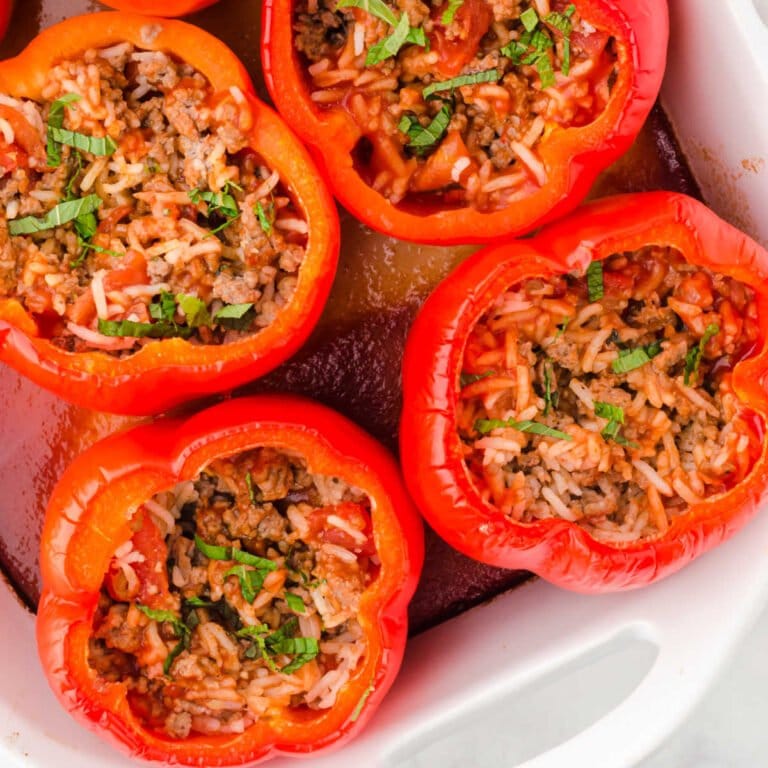 How to use
This is one very versatile ingredients! Not only can you eat peppers raw but you can grill, roast, boil, fry, bake, saute... well you get the idea. Here are some more recipes with different cooking techniques.
Raw
Grilled
Roasted
Grilling and roasting are NOT the same. Roasting is done for a longer period at a lower temperature.
Sauteed
Fire roasted (Video)
I originally did this video to show how to fire roast Hatch Chiles but the method is the same for Bell peppers, too.
[adthrive-in-post-video-player video-id="qfgJcKWB" upload-date="2017-08-14T15:35:23.000Z" name="How To Roast Hatch Chiles" description="Roast Hatch Chiles the quick and easy way!"]