This classic recipe has been a family favorite for decades! No tomato sauce; V-8 juice is used instead.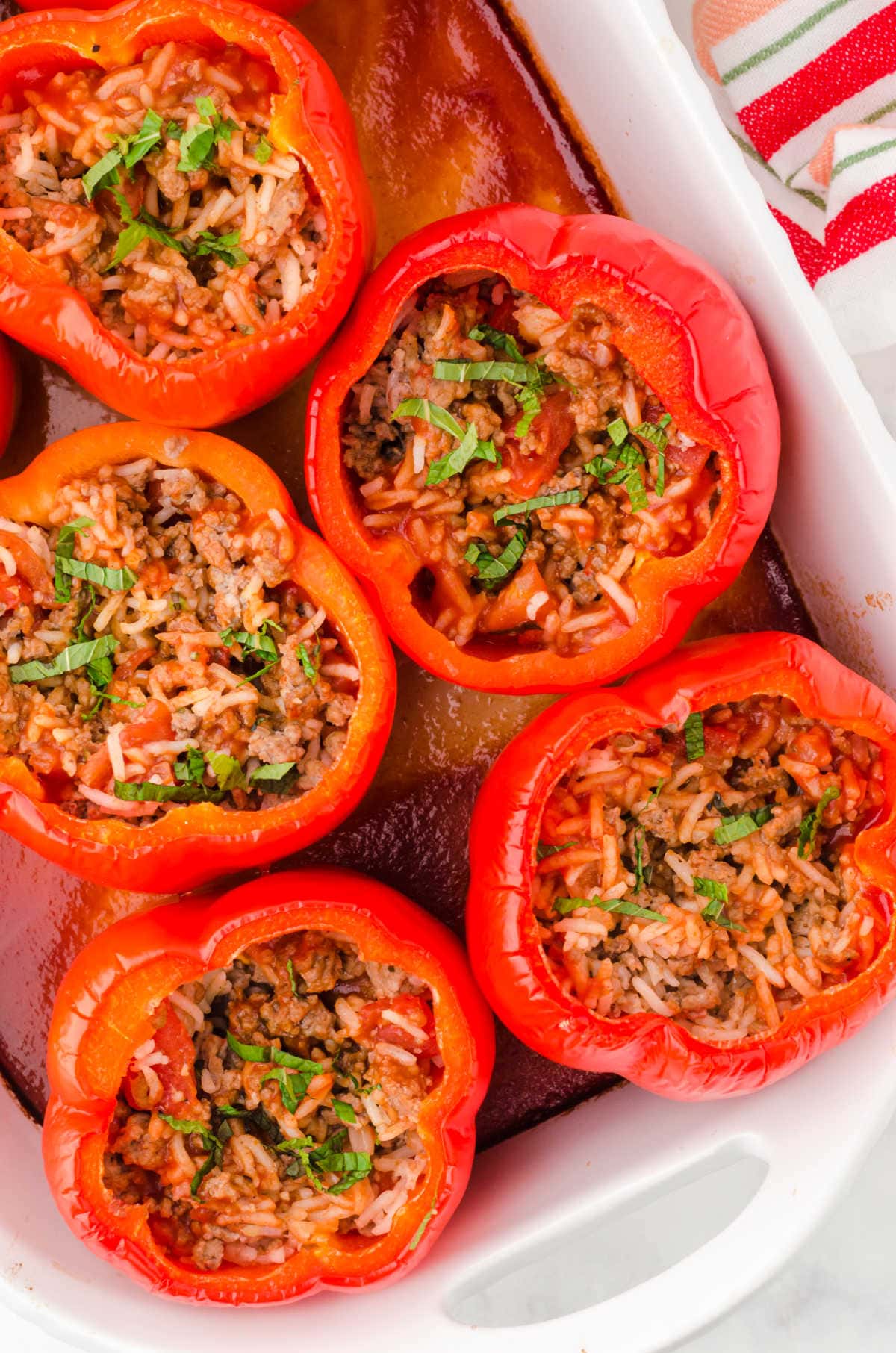 Jump to:
❤️ Why you'll love it
Make stuffed bell peppers quickly or slow cook 'em all day.
This easy recipe feels like soul food but is packed with nutritious ingredients. Double win!
An ultra-flexible meal so you can use up what you have, please picky eaters, or satisfy a craving.
Stuffed bell peppers are flavorful, fun, and so easy to put together. Plus, since the ground meat mixture and rice are stuffed conveniently inside of the colorful veggie, you get every food group in one simple dish—no sides required!
If you're wondering what to serve with your peppers check out these 49 ideas for what to serve with cabbage rolls. They'll all work here, too!
🧾 Ingredients
This is an overview of the ingredients. You'll find the full measurements and instructions in the green recipe card (printable) at the bottom of the page.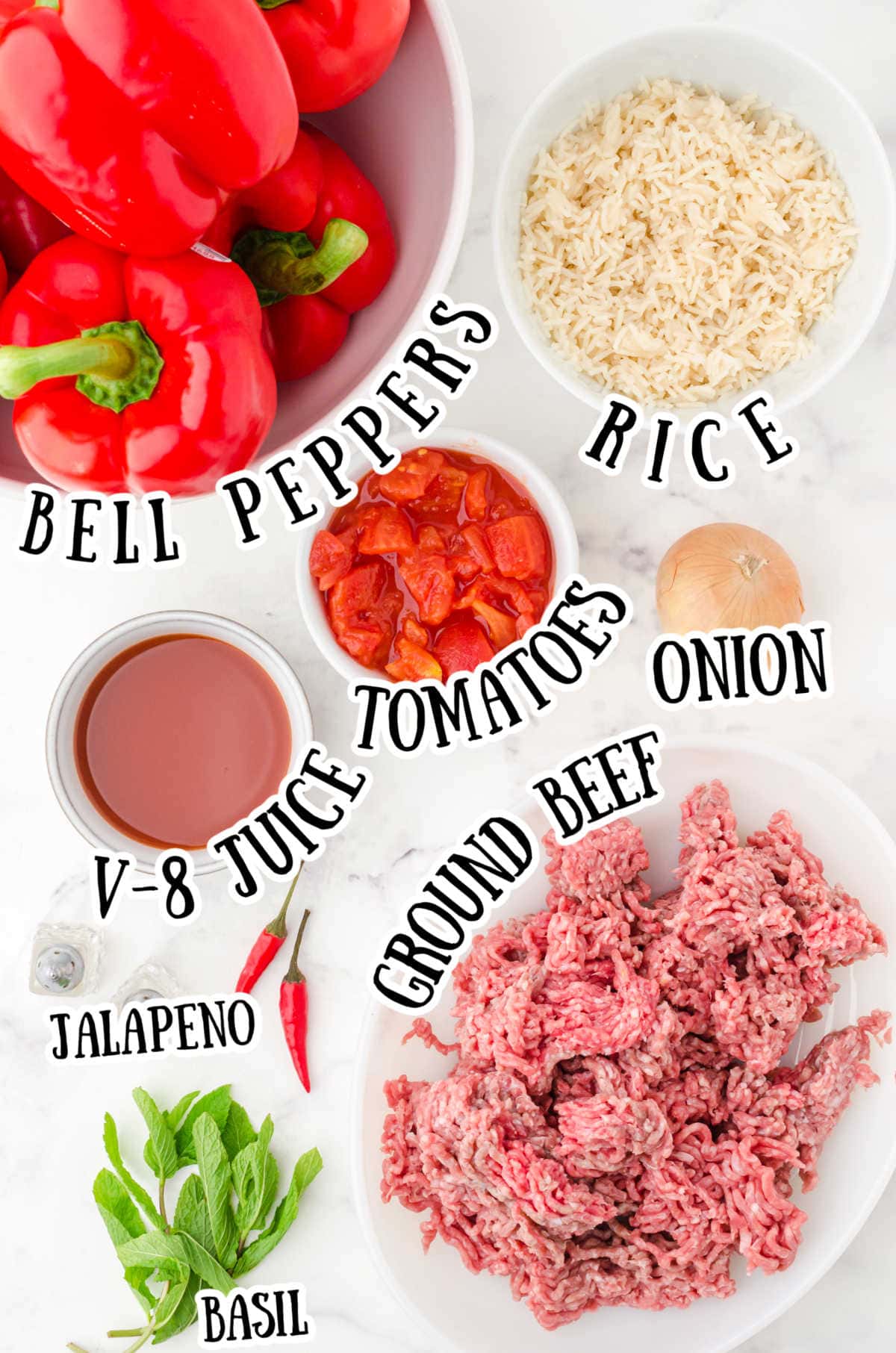 🍅 What can I substitute for the tomato sauce?
Although this is a stuffed pepper recipe with no tomato sauce, the classic recipe (when cooked the original way) does call for it. Here are some tomato sauce substitutes:
Condensed tomato soup
Plain or lightly seasoned spaghetti sauce
Marinara sauce
Tomato puree
Stewed tomatoes - try my homemade recipe!
A mixture of one part tomato paste to one part water
Pizza sauce
However, the best substitute for a fresh and flavorful stuffed bell pepper is V-8 juice! That's what we'll use in today's recipe. The whole family will love this subtle, modern upgrade.
🔪 Instructions
This is an overview of the instructions. Full instructions are in the green recipe card at the bottom of the page.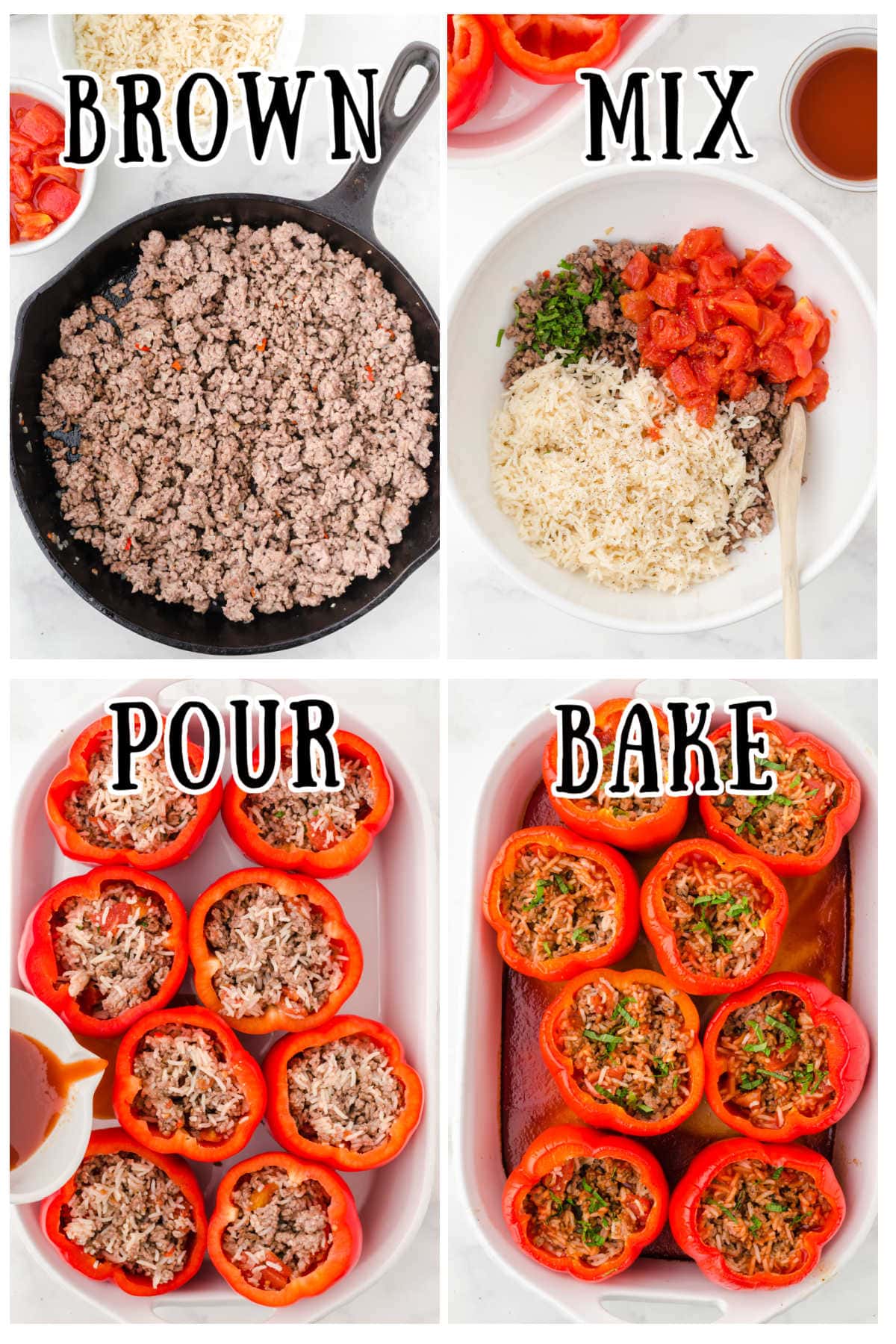 Brown lean ground beef with onion in a large skillet.
In a large bowl, mix together the meat, rice, tomatoes, and seasonings.
Fill each of the red bell peppers and pour V-8 juice into the bottom of the baking dish.
Bake and enjoy.
🥫 Storage
A great option for meal-prepping, you can store leftover stuffed bell peppers in the refrigerator for three to five days.
You can also freeze them for up to six months! However, with either option, you'll first need to seal the leftovers in an airtight container.
To reheat, place refrigerated or frozen bell peppers into an oven-safe casserole dish. Then, heat at 350 degrees F until warmed through. For a quick option, you can reheat individual peppers in the microwave, but they first must be thawed in the refrigerator for a day or so.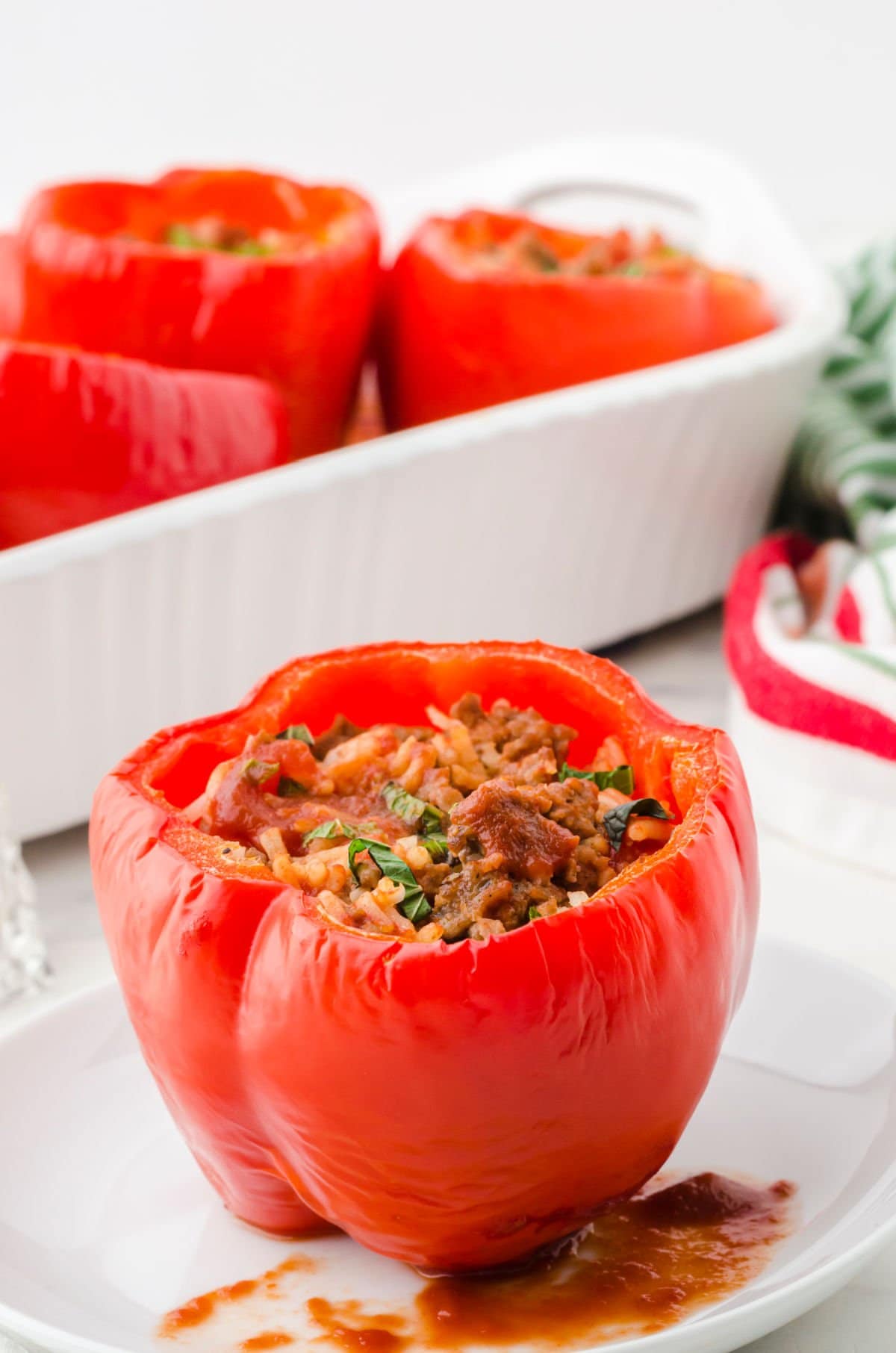 📖 Variations
The best part about this stuffed peppers recipe is how you can customize it! These ideas are only the beginning—adjust according to your personal preferences.
Mix up your meat. Try ground turkey, pork, chicken, lamb, venison, game, or Italian sausage. Alternatively, go meat-free with a vegetarian option.
Swap the starch. Classic white rice is great, but you can also try Minute rice, brown rice, or go low-carb with cauliflower rice.
Have fun with flavor. If you like it, add some red or black pepper, a pinch of Italian seasoning, garlic powder, a sprinkle of cheddar cheese, or a dash of hot sauce. Some families love to add a small spoonful of brown sugar to cut the acidity of the tomatoes (helpful for picky eaters!) Taste test the cooked ground beef mixture before filling the peppers and adjust as you'd like.
Cook in the Crockpot. Prepare stuffed peppers as directed. Place them upright in the crockpot and add ¼ cup of V-8 around the peppers. Set the slow cooker to low for 6 hours.
Simmer on the stove. Halve the peppers, then fill them open-face style. Next, place the peppers in a large pan and add the V-8 juice to cover the bottom by about an inch. Cover tightly and simmer for 45 minutes. Add more juice if needed.
Keep it classic. If you want to try stuffed bell peppers the way I grew up eating them, replace the tomatoes and V-8 with ½ of a can of condensed tomato soup. Then, mix the remaining ½ can of soup with one teaspoon Worcestershire sauce and spoon it over the peppers with about ten minutes of cook time to go.
💭 Things to know
Expert Tip: To keep the peppers upright during baking, try to buy the kind with four points on the bottom. If you have a stubborn pepper that just won't stay standing up, you can make a tin foil ball and use it to prop up the pepper.
If you like your peppers very soft (rather than crisp-tender) parboil them in the microwave. Place the peppers in a microwave-safe dish, sprinkle with a bit of salt, and fill the dish with no more than a cup of water. Heat for four to five minutes. Then, stuff peppers and bake as directed.
👩‍🍳 FAQs
Can I use large green peppers instead of red?
Sure, any color of bell pepper will work. Red peppers are the sweetest, then orange and yellow. Green peppers are the least sweet, but if you like them, go for it!
Can I prepare stuffed bell peppers ahead of time and cook them later?
Absolutely! Prepare the bell peppers as directed, cover, and refrigerate for up to three days. You can also freeze the peppers before cooking and save the meal for up to six months. It makes a great freezer meal for a friend in need!

Simply bake as directed, adding a few more minutes if baking from frozen.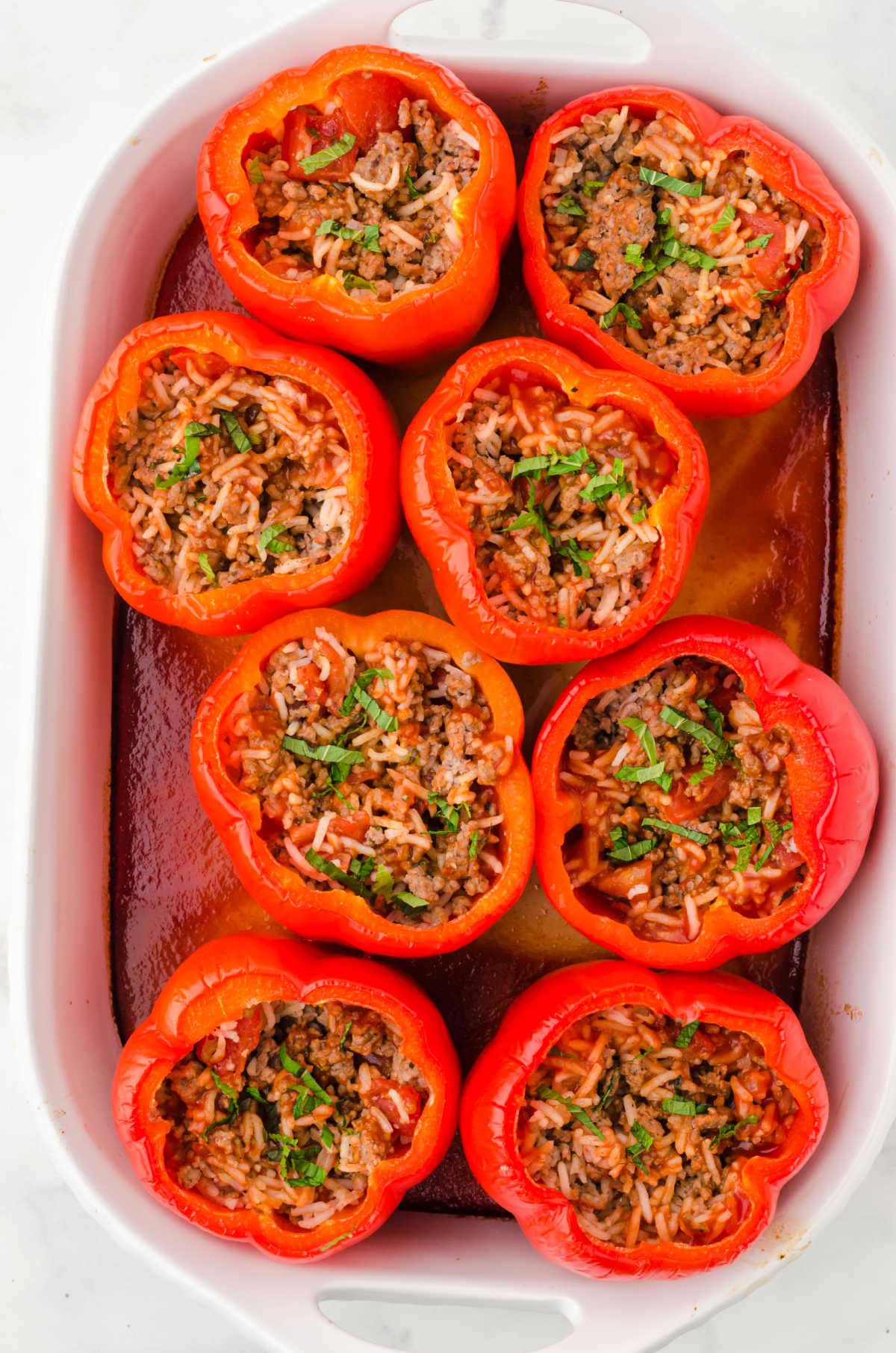 📚 Related recipes
🍽️ Serve with...
📞 The last word
Stuffed peppers are high on my list of comfort food. A tomato-y beef and rice mixture is stuffed into green peppers and baked in the oven until the house smells like you want to chew on the walls and your stomach is turning somersaults in anticipation.
It's a gloriously easy meal that your wallet will thank you for. This stuffed bell pepper casserole from my friend Deb at Bowl me over is fantastic if you don't want to mess with the prep.
If you click on the number of servings in the recipe card you can adjust the measurements up or down for the exact number of servings you need. Don't forget that you can click on "add to collection" to save it to your own, private recipe box!
If you love this recipe please give it 5 stars! ⭐️⭐️⭐️⭐️⭐️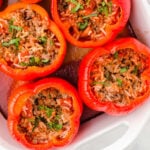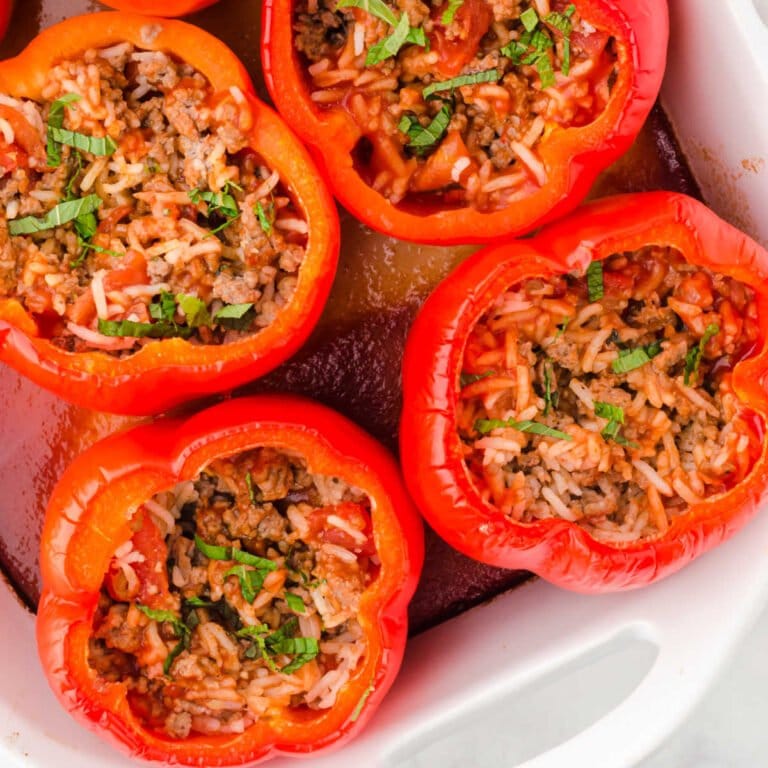 Old Fashioned Stuffed Bell Peppers
Print
Pin Recipe
Save
Go to Collections
Old fashioned stuffed bell peppers with a lighter, more modern twist. Get all of the flavor that you used to love. This is real comfort food!
As an Amazon Associate I earn from qualifying purchases.
Ingredients
8

bell peppers

,

cleaned and seeds removed

1 ½

lb

ground beef

2

cups

cooked rice

¼

cup

finely minced onion

2

tablespoons

minced jalapeno

,

optional

1

cup

tomatoes

,

canned, diced

½

cup

V-8 juice

1

tbs

fresh mint or basil

,

chopped - optional

½

teaspoon

salt

Pepper to taste
I earn a commission from Instacart from qualifying purchases.
Instructions
Preheat oven to 350F

Brown the ground beef in a skillet with the onion and jalapeno (if using)

Drain well, blotting away excess fat

Add cooked rice, beef mixture, tomatoes, mint,lemon peel, salt and pepper to a bowl

If you want the filling to be more compact you can add a beaten egg to the rice mixture before stuffing peppers

Mix well

You can stuff the peppers one of two ways, either cut them in half vertically and stuff each half or just cut the tops off and stuff the whole thing upright.

Fill the cavity of the peppers with the rice mixture, don't pack it too tight

Place the peppers upright in a baking pan, for halves place them with the filling mounded upwards

Pour ½ cup V-8 juice around the peppers - it should come just a little way up the sides but not cover the halves

Cover pan with foil

Bake at 350 for 50-60 minutes, remove the foil for the last 10 minutes

Let cool slightly before serving
For Crockpot
Use the whole peppers stuffed. Place in the crockpot upright and pour ¼ cup of V-8 in the crockpot. Cook on low for 6 hours.
For Top of the Stove
Use the halves. Place filled pepper halves in a large pan and add V-8 to cover the bottom of the pan by an inch. Cover and simmer for 45 minutes or until done, adding more juice as needed.
Notes
Storage:
A great option for meal-prepping, you can store leftover stuffed bell peppers in the refrigerator for three to five days.
You can also freeze them for up to six months! However, with either option, you'll first need to seal the leftovers in an airtight container.
Tips:
You can use condensed tomato soup in place of the tomatoes and V-8. It makes a thicker, sweeter sauce. Just add ½ can of tomato soup to the rice mixture before stuffing peppers and continue with directions. When the peppers are almost done mix the remaining ½ can soup with 1 teaspoon Worcestershire and mix well. Heat thoroughly and spoon over the peppers before serving.
My mom used to make it with a can of condensed tomato soup. I prefer to use diced tomatoes in the rice and meat mixture. It is just lighter, more flavorful, and more natural than what mom used. If you want to use tomato soup in it read the notes at the bottom of the recipe.
Use ground beef, lamb, pork, chicken, turkey, venison, game, or leave the meat out and go vegan. Mom said in the Depression they made them with chopped walnuts sometimes.
To make in a slow cooker just put about ¼ cup V-8 juice or water in the bottom of the slow cooker and add the peppers. Cover and cook on low for 6-8 hours.
To make in a dutch oven you'll add liquid to the bottom of the pan, add your green peppers, cover, and simmer for about an hour.
Top each pepper with a spoonful of tomato sauce or tomato soup about 15 minutes before they're ready to come out of the oven.
You can assemble these ahead of time and keep them in the refrigerator for up to 3 days before cooking.
You can make these ahead of time and freeze for up to 6 months.
Nutrition Facts
Calories:
319
kcal
|
Carbohydrates:
21
g
|
Protein:
17
g
|
Fat:
17
g
|
Saturated Fat:
6
g
|
Cholesterol:
60
mg
|
Sodium:
249
mg
|
Potassium:
634
mg
|
Fiber:
3
g
|
Sugar:
7
g
|
Vitamin A:
3900
IU
|
Vitamin C:
162.4
mg
|
Calcium:
39
mg
|
Iron:
2.7
mg
Sign up for the emails and never miss another recipe!!
We'll never share your email or send you spam. Pinkie swear.
Originally published August 7, 2012. Last updated June 1, 2022 to improve images and readability.