This crusty, rustic bread is made in a cloche which gives it a European style texture and crust. It's incredibly easy to do, even for a beginning bread baker, and will take you just under two hours start to finish. If you've never used an ceramic cloche for bread making you are in for a real treat! You'll be making your own artisan bread in no time!
Ingredients for Rustic Bread in a Cloche
There are really only five ingredients plus water needed for this recipe. The really important ingredient is the cloche itself!
Yeast is imperative if you want the bread to rise! I use active dry yeast but you could also use rapid rise.
Sugar is what the yeast eats to help it grow. Without sugar the dough will take much, much longer to rise.
Bread flour has more protein than all-purpose flour so it rises really well. You can use all-purpose flour if you like but the rising time and texture of the finished bread may be a little different.
Vital wheat gluten is the protein in flour. Adding the pure gluten gives the bread a better texture and helps it rise more.
Kosher salt is my salt of choice. If you are using regular table salt reduce the amount by 1/4.
Homemade Bread Is My Jam
I've said it so many times here on Restless Chipotle – I love making bread. I think it's one of the most relaxing things I do and it leaves the house smelling even better than those expensive candles I have sitting around. Besides, who doesn't like a warm slice of homemade bread?
The thing is that sometimes, when you've got a recipe you like :::cough honey buttermilk bread cough cough::: you get in a rut and constantly make what you know rather than trying something new. Please tell me it's not just me? Surely some of y'all like strolling along in your ruts as much as I do?
I thought so.
This rustic bread is a crusty, European style artisan loaf that is ridiculously easy to make. AND it's easy to create a variety of flavors of bread once you have the technique down.

Artisan Rustic Bread FAQs
There are some misconceptions about artisan bread but I've got you. Here are the answers to some common questions and you may want to read my series on yeast bread baking tips before you get started.
What is meant by "rustic bread"
When people say rustic bread they most often mean a round loaf with a crispy crust. It often has an open texture and, some people believe, it must be made with just a few ingredients and a starter such as sourdough or a biga.
For our purposes we're calling it rustic because it's got the round shape and crispy crust.
How do I make my bread crusty?
Steam in the oven is what gives artisan, European, and other rustic bread recipes their signature crispy crust. You can throw some ice cubes on the preheated oven floor, add a pan of water, or use a cloche like this recipe.
The beauty of using the cloche is that the bread creates its own steam as it bakes and the steam is trapped in the cloche with the bread.
What is a bread cloche?
A bread cloche is a bell shaped container that's generally made from ceramic. It holds a loaf of bread as it rises and then you bake the dough right in the covered cloche.
The steam generated by the baking bread is trapped in the cloche and emulates the fancy steam injected ovens the professionals use to create artisan loaves with crispy crusts.
Can you make this rustic bread recipe without a cloche?
You can substitute a dutch oven for a cloche but it isn't ideal.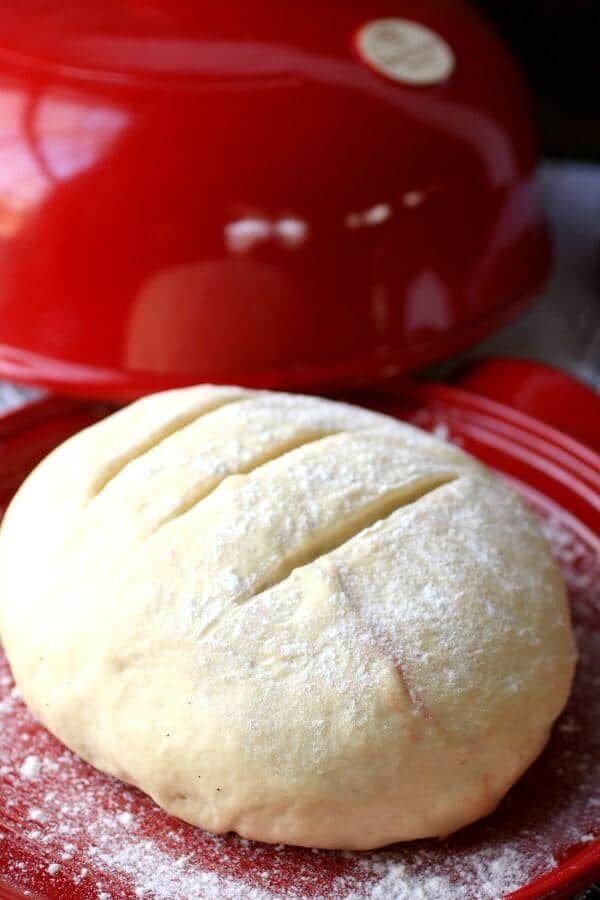 Variations of this Artisan Bread Recipe
I always suggest making it strictly by the recipe until you are satisfied with the results and then start experimenting. Some of the variations on this recipe that I love are –
Use part whole wheat flour
Use 1 cup of rye flour for 1 cup of the bread flour
Substitute 1 cup of old fashioned oats for 1 cup of the bread flour
Add dried fruit and pecans
Add dried apricots and white chocolate chips
Knead in sun dried tomatoes
Use some Kalamata olives in the recipe
Caramelized onions are a delicious addition
Chopped sauteed jalapeno gives a little zip
Knead in some grated cheese
There are so many possibilities — you're sure to come up with your own favorites!
Tips for Baking Crusty Bread in a Cloche
I had no trouble baking with my cloche the very first time. Here are some tips to get you started.
Before using it the first time rinse with plain water and dry.
Never use soap on your cloche – let cool, rinse with plain water, and let air dry.
Dust the bottom of the cloche well with flour to help keep the bread from sticking.
Put the rack in the bottom third of the oven before you preheat it.
For a thick, crunchy crust take the top off the cloche for the last 10 minutes of baking.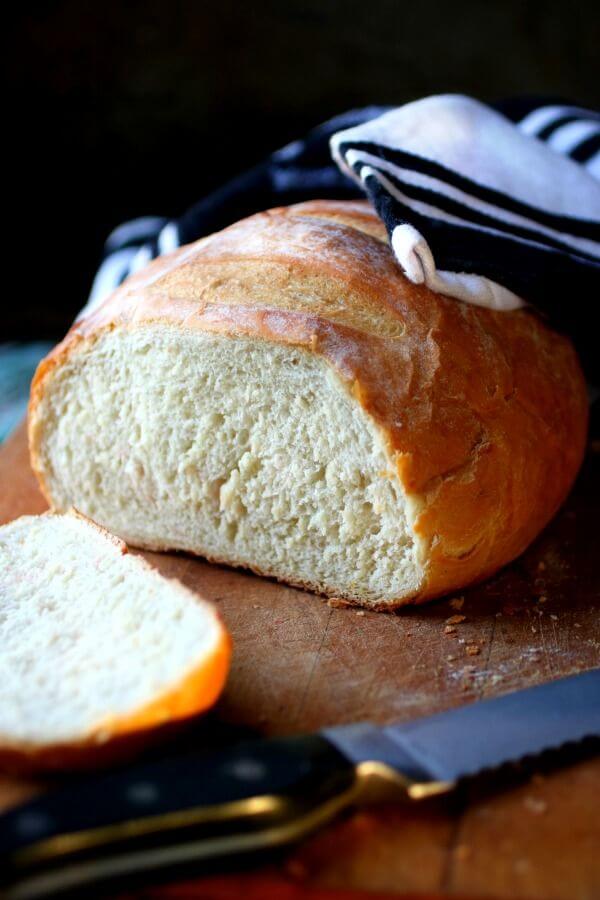 More Great Bread Recipes
I have a ton of bread recipes of all types here on Restless Chipotle. Here are a few of my favorites.
Multi-Grain Flaxseed Bread
Healthy whole grain bread with plenty of Omega-3s and a slightly sweet, nutty flavor. Makes incredible toast!
Check out this recipe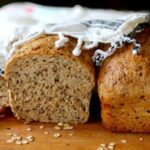 Honey Whole Wheat Bread
High, light, slight sweet loaves of cracked wheat bread are so good for sandwiches and toast! The mix of flours in the recipe ensures that the finished loaf won't be tough and crumbly.
Check out this recipe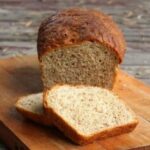 Best Homemade White Bread for Beginners
This is the most basic of white bread recipes. Master this and you'll be on your way to creating all kinds of yeast breads in no time!
Check out this recipe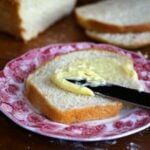 Pain de Mie (Pullman Loaf)
A mild bread with a delicate flavor and velvety crumb. It is baked in a special pain de mie pan so that is is perfectly squared off and has the thinnest crust possible. Great for French Toast.
Check out this recipe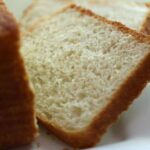 Amish White Bread
Amish white bread is an easy, tender sandwich loaf that slices easily without crumbling. Its velvety texture and sweet flavor make it a hit with the kids. This recipe makes 2 loaves and freezes well for up to 6 months.
Check out this recipe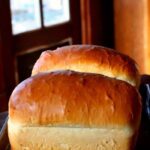 You May Need
The following are affiliate links. We are a participant in the Amazon Services LLC Associates Program, an affiliate advertising program designed to provide a means for us to earn fees by linking to Amazon.com and affiliated sites.
What's new? Check out my Restless Chipotle & Co. Store on Amazon where you'll find all kinds of nostalgic goodness! Thanks so much for being a part of Restless Chipotle!
This is the exact bread cloche that I have and I absolutely love it! It's so beautiful – perfect for hiding treats in when I don't feel like sharing.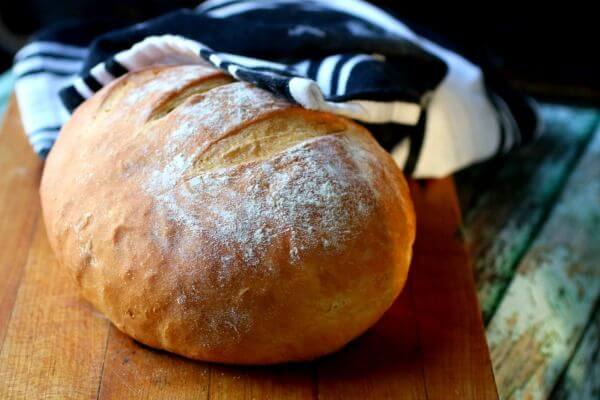 How to Get the Dough to Rise
Some people have problems getting the dough to rise properly. Usually it's because of a chilly room or they've killed the yeast off with water that's too hot.
Here are my best tips for getting the dough to rise –
Always use a insta-read thermometer to check the temperature of the liquids before adding them. 110F is just about right.
Let the dough rise in a warm spot away from drafts. 75F is good.
Use one of my secret ingredients that really makes the dough puff up.
How to Make Rustic Bread in a Cloche
You're definitely on your way to a loaf of artisan bread perfection with this recipe! Try it once – it's just so easy! If you love this recipe please give it 5 stars.

If you've never worked with yeast dough before I suggest reading my complete guide to working with yeast doughs before you start this recipe. It has a ton of information that will make you an experienced baker in no time!
Need to adjust for high altitude? Check out the instructions from Utah State University.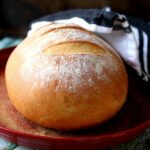 Rustic Bread in a Cloche
Print
Add to Collection
Go to Collections
Bread baked in a cloche has a crusty exterior and a tender interior that's more like the European and artisan breads.This easy, basic loaf is a great way to jump in to cloche baking.
Rise Time
1
hour
30
minutes
Total Time
2
hours
20
minutes
As an Amazon Associate I earn from qualifying purchases.
Instructions
Add the yeast and the sugar to 1/4 cup of the water and stir until blended.

Set aside until foamy – about 3 to 5 minutes.

Add the remaining water to the yeast mixture.

Stir in 1 cup of the bread flour and the gluten.

Add the remaining flour, a little at a time, until the dough pulls away from the sides of the bowl – you may need a little more flour or you may not need all of the flour.
Knead with Mixer
Knead in your mixer according to manufacturer's instructions.
Knead by Hand
Turn the dough out onto a lightly floured surface and knead for 5 minutes, or until the dough is firm and elastic. It should feel like your earlobe when you pinch it.

Form into a ball, place in an oiled bowl, cover with a clean, damp cloth, and let rise in a warm place for 45 minutes, or until it's doubled.

Gently deflate the dough and knead lightly.

Sprinkle flour on the bottom of the cloche.

Form the dough into a ball and place on the floured bottom of the cloche.

Cover with the cloche top and let rise 45 minutes.

Preheat the oven to 450F.

Dust with flour and score with a sharp knife or baker's blade.

Cover with the cloche top and bake for 35 minutes.

Cool the bread, uncovered.
Notes
Homemade bread doesn't keep very long. If you won't finish it in about 24 hours plan on slicing it and freezing it.
Using a cloche –
Before using it the first time rinse with plain water and dry.
Never use soap on your cloche – let cool, rinse with plain water, and let air dry.
Dust the bottom of the cloche well with flour to help keep the bread from sticking.
Put the rack in the bottom third of the oven before you preheat it.
For a thick, crunchy crust take the top off the cloche for the last 10 minutes of baking.
Nutrition
Calories:
142
kcal
|
Carbohydrates:
28
g
|
Protein:
5
g
|
Fat:
1
g
|
Saturated Fat:
1
g
|
Sodium:
468
mg
|
Potassium:
41
mg
|
Fiber:
1
g
|
Sugar:
1
g
|
Calcium:
7
mg
|
Iron:
1
mg
Sign up for the emails and never miss another recipe!!
We'll never share your email or send you spam. Pinkie swear.