These easy beef enchiladas are made with ground beef, chiles, cheese, and an authentic homemade enchilada sauce. They can be assembled ahead of time and baked when needed or freeze them for later.
For this recipe you'll need: onions, olive oil, dried ancho chiles, chili powder, fresh garlic, chicken stock, cumin, Mexican oregano, salt, flour, cinnamon, Mexican chocolate, ground beef, cheddar cheese, canned chiles, corn or flour tortillas
If you are in a hurry click here to go straight to the recipe.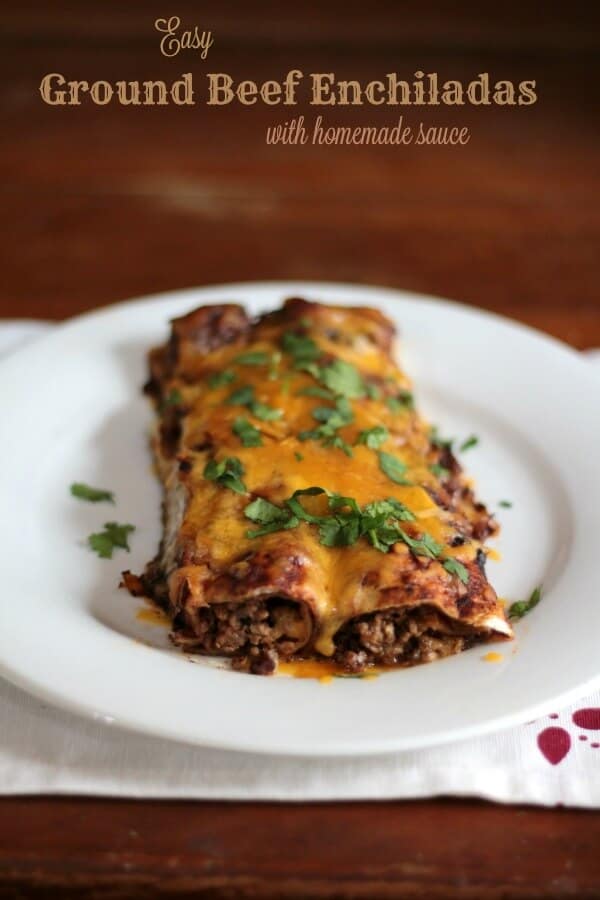 It shouldn't be a big surprise that I love enchiladas. I don't even care what kind they are -- beef, chicken, cheese, bean, vegetable... Just put it on my plate. I think a lot of  people don't realize just how easy (and yummy!) homemade enchiladas are. You can assemble them ahead of time and keep them in the fridge for a couple of days or you can make them and freeze them to keep things even easier.
I like to make the sauce ahead of time and keep it in the fridge (or make a batch and freeze it). For one thing it mellows out when it has a chance to sit for a while, and for another it makes the process of making dinner lightening fast. If you thought you could only get good Tex-Mex at the local restaurant chain then you are going to have to admit that you are wrong. So wrong.
And let's not even talk about the "authentic" canned stuff at the store.
Now, there is some debate on what kind of tortillas are correct in enchiladas. Personally, I prefer corn tortillas because they give texture and flavor to the dish. Saying that, I have to admit that much of my family are culinary plebeians and prefer the flour tortillas which is why you see those in the images. Make them whichever way you prefer but for authenticity go with the corn.
Please. If it was good enough for the Mayans it is good enough for you.
In 2010 my husband took me on my very first cruise. It was the inaugural year for the Norwegian Epic and it was a magical week for me. We had a fantastic vacation sailing to Honduras, Belize, and Mexico -- I'd never seen ocean water so uniquely blue. When we were in Costa Maya we went on a shore excursion and toured one of the ancient Mayan temples. I love history and am totally fascinated by it. The idea that I was touching something that someone's hands had built 1,000 years ago was kind of overwhelming and awe inspiring. I get kind of crazy about food in the same way. It's almost like food is a message to us from the past -- a touch from someone who lived long ago. When you are putting together enchiladas for your family you are carrying on a ritual that isn't that different from how someone did it a thousand years ago. It's a tradition of love and nurturing that fast food and chain restaurants can never-ever replicate.
Anyway, once you've made that all important decision about the type of tortillas you'll need to decide how much sauce to use. I hate the way that enchiladas absolutely drown in sauce at the restaurants. I prefer a drier beef enchilada with much less sauce so that I can taste all of the ingredients together. You can add more or less to your own preferences.
And... let's talk sauce. Please. Some people add tomatoes and some don't. I have another enchilada sauce recipe (link at the bottom of this post) that has them in it but this one doesn't. You can use either one. The main thing enchilada recipes have in common is chiles of some sort. After all, Enchilada is the past participle of enchilar which means, seasoned with chile. 
This sauce is super easy. Beef enchiladas need a strong sauce or the flavor of the enchilada will overwhelm the flavor in the sauce. I like this particular sauce because it's reminiscent of a mole without the week long investment of preparation time. Here's another area you'll need to experiment. I like the Mexican chocolate in this but you can use unsweetened or dark chocolate if you like. Try it with the Mexican chocolate at least once! I also use my homemade chili powder but you can use your favorite.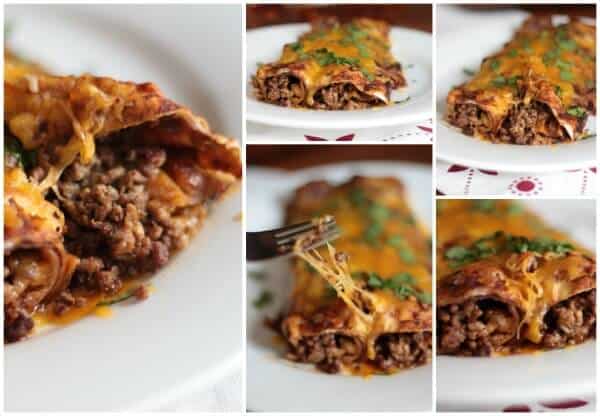 The following are affiliate links. If you click through and buy something I get a small commission which is used to keep the blog up and running smoothly. Thank you for being a part of Restless Chipotle!
Los Chileros Whole Ancho Chile
Taza Chocolate Mexicano Chocolate Disc
May 5 is officially National Enchilada Day so you have plenty of time to perfect this super easy beef enchiladas recipe before then. I suggest lots and lots of practice.
Here's that easy beef enchilada recipe. I hope you love it as much as we do.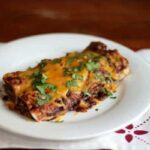 Easy Beef Enchiladas
Print
Add to Collection
Go to Collections
Everyone's favorite beef enchiladas made easy with ground beef and a flavorful homemade enchilada sauce that you'll want to keep on hand.
As an Amazon Associate I earn from qualifying purchases.
Ingredients
Enchilada Sauce
2

ancho chiles,

(or 1 ancho and 1 chipotle for spicier sauce)

2

tablespoons

olive oil

1

cup

diced onion

3

tablespoons

chopped garlic

2

teaspoons

chili powder - homemade is best

1

teaspoon

Mexican oregano

,

(regular is fine if you can't find the Mexican)

1 1/2

teaspoon

ground cumin

1/4

teaspoon

cinnamon

1/4

cup

flour

4

cups

chicken stock

1

ounce

Mexican chocolate,

, chopped
Enchiladas
12

large flour or 18 corn tortillas

Salt and pepper to taste

1 1/2

pounds

ground beef

1/4

cup

canned chiles

3

cups

grated Cheddar cheese or a combination of Cheddar and Pepper Jack
Instructions
For Sauce
Remove stems from Ancho chiles.

Grind to a powder in the blender.

Set aside.

Heat the oil in a heavy frying pan.

Add the onion and garlic and saute until the onion is transparent.

Add the chili powder, oregano, cumin, cinnamon, ground Ancho chiles, and flour.

Cook, moving the mixture around constantly so that the flour doesn't scorch, for about a minute.

Whisk in the chicken stock and simmer until the sauce thickens.

Add the chopped chocolate and whisk until smooth.

You can make a smoother enchilada sauce by pulsing it in the blender but it's not necessary.

Use immediately or refrigerate in a tightly covered jar for up to a week.
Ground Beef Enchiladas
Preheat the oven to 350.

If the sauce is not warm heat it up in a large frying pan.

Spray a 13x9 inch pan with cooking spray then spoon a thin layer of enchilada sauce on the bottom of the pan.

Set aside.

Season the ground beef with the salt and pepper.

Brown it until cooked through.

Add the chiles and stir to incorporate evenly.

Dip one of the enchiladas in the sauce, scraping off excess.

Spoon about 3 tablespoons of the beef into the tortilla.

Top with 2 tablespoons of the cheese.

Roll tightly and add to the 13x9 inch pan.

Repeat with the remaining tortillas.

Spoon the remaining sauce over the tortillas and top with the remaining cheese.

Cover with aluminum foil and bake for 15 minutes.

Remove the foil and bake for 10 minutes more.
Sign up for the emails and never miss another recipe!!
We'll never share your email or send you spam. Pinkie swear.
If you liked these easy beef enchiladas you may also like...
Enchilada Sauce (This one has tomatoes)
Breakfast Enchilada Bake Lovely Little Kitchen
Cheesy Enchilada Rice Skillet Damn Delicious