A saucepan is an important kitchen staple that can handle all sorts of delicious tasks in the kitchen.
Let's cut the confusion and discover what a saucepan looks like and what it's used for so you can make cooking easier—and maybe even enjoy it!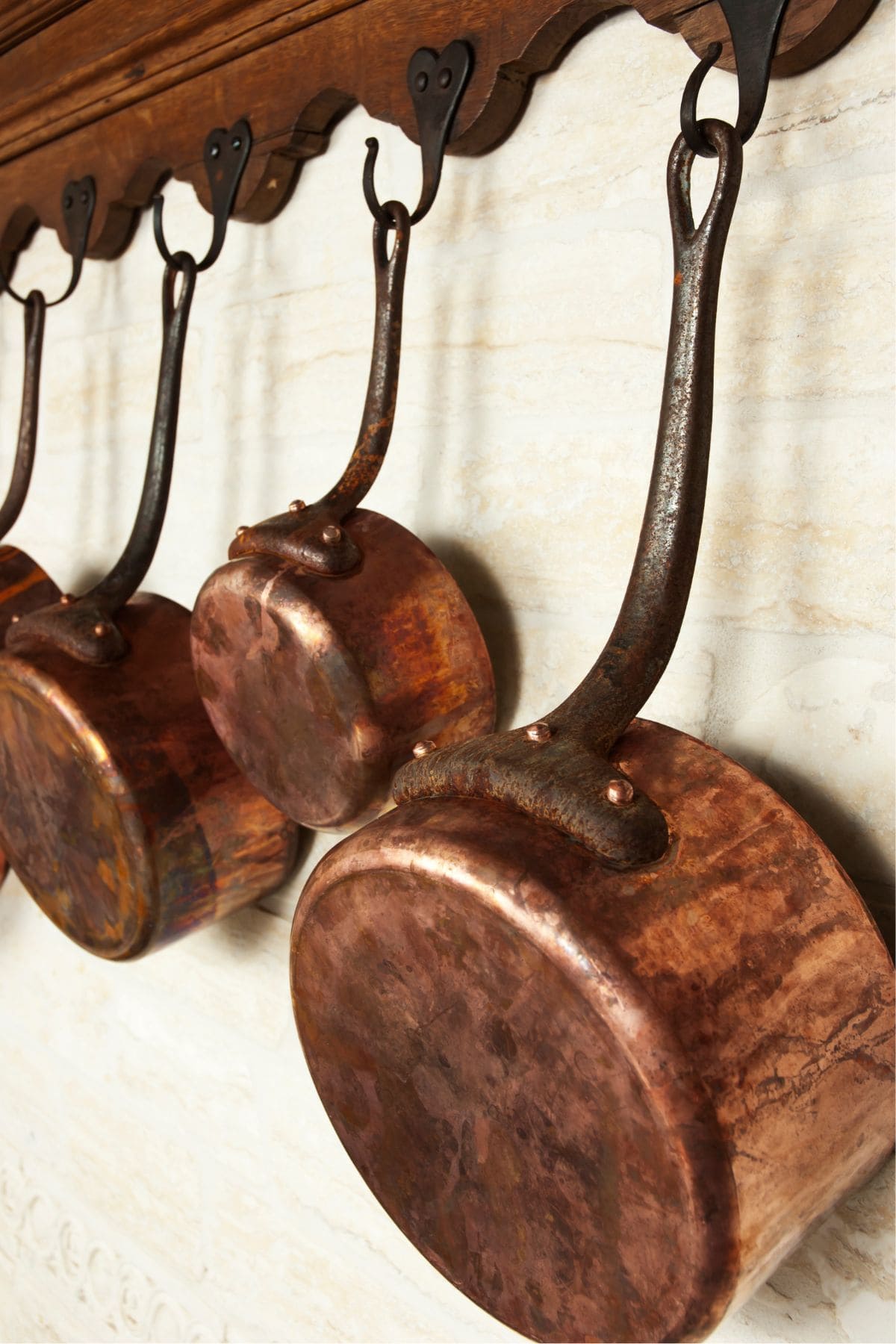 Table of Contents
🗝️ Key takeaways
Saucepans have long handles and high sides. They're made in a few different sizes and come in different materials.
One piece of cookware can handle plenty of kitchen tasks—savory and sweet sauces, soups, boiling liquids, blanching veggies, and more.
Choosing the proper saucepan can make a big impact on the success of your dish. A simple change really makes a difference!
Home cooks, get ready to take your meals to the next level! Knowing how to choose, use, and care for your saucepans will pay off—saving you time and money in the long run.
What Does a Saucepan Look Like?
Saucepans have a distinct shape. They're deep circular pans with tall sides, a long handle, flat bottom, and usually come with lids.
These pans are generally made out of aluminum or stainless steel, which makes them really durable when exposed to high heat.
You'll also find copper pans or some with a non-stick coating, as well as cast iron saucepans.
Smaller than a stock pot but taller than saute pans, saucepans come in various sizes. The long handle makes them easy to pick up, allowing you to swirl ingredients around or easily dump them elsewhere.
In a large cookware set, you'll often receive a traditional saucepan and a saucier. A saucier has the same saucepan look, but the slightly curved edges make it better for whisking and stirring.
Sauciers also have straight sides toward the top, but the main difference between it and a regular saucepan is the slightly larger opening. This makes it the best choice when cooking liquids that need to be reduced.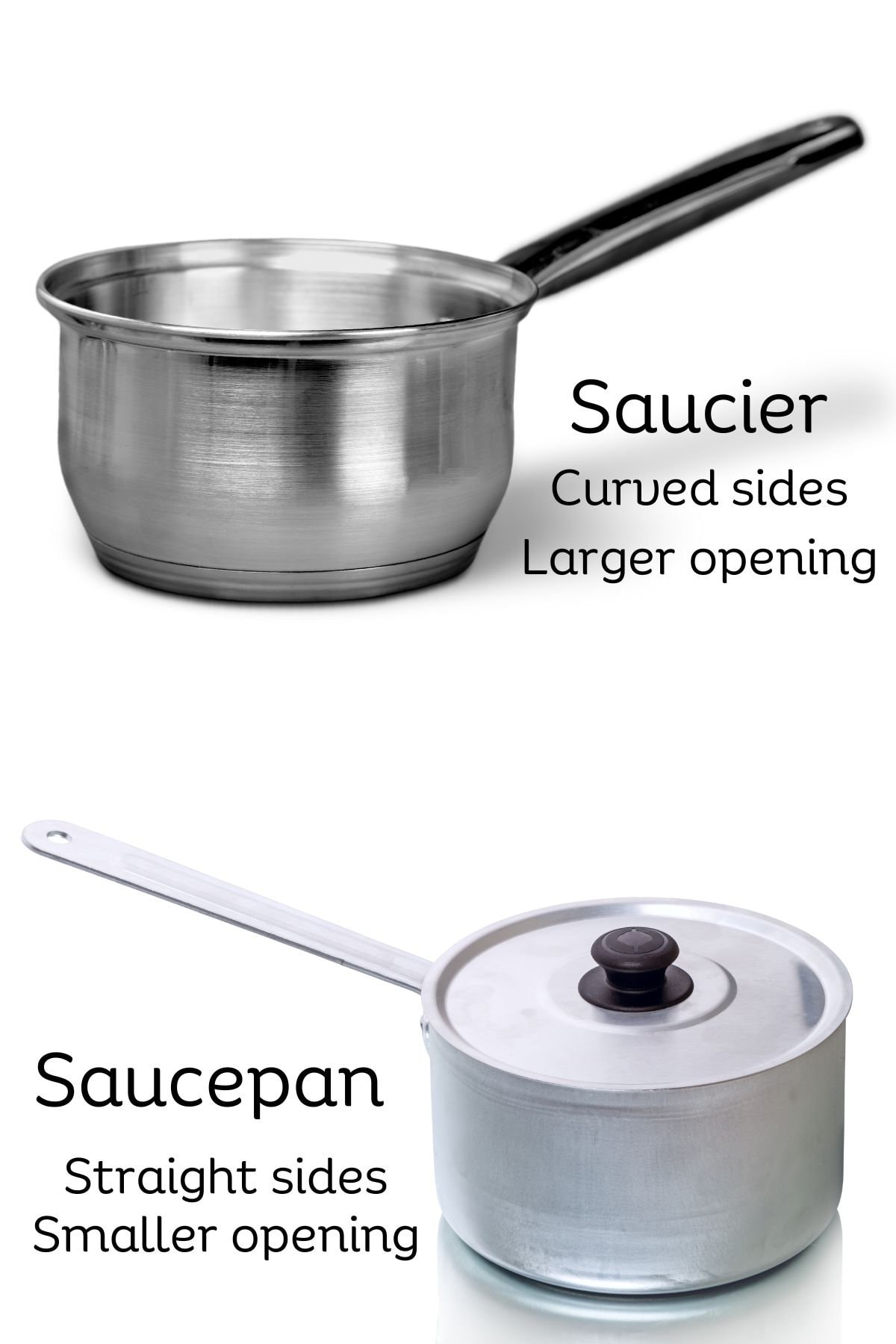 👩‍🍳 FAQs
Can I use a saucepan instead of a saucier?
Yep! A saucier is technically a type of saucepan, but the biggest difference is its rounded bottom, which makes it better for stirring. Saucepans and sauciers are both used for cooking liquids or sauces.
What is the difference between stainless steel and non-stick saucepans?
Stainless steel saucepans are super easy to clean—they're really durable, too. Many professional chefs prefer them. Non-stick saucepans have a coating that makes it easier to prepare foods, but they're not as hearty. Don't use metal utensils with non-stick pans.
What's the difference between a saucepan and a stock pot?
Stock pots (or Dutch ovens) have two loop handles and are better for slow-simmering foods that take a long time to cook. Saucepans are a good choice when you need to boil or reduce a liquid more quickly.
What's the difference between a saucepan and a frying pan?
Frying pans are the best choice when you need a lot of heat—fast. They're great for searing, browning, and making food crisp. However, the deeper sides of a saucepan make the heat more even, and you can control it better for liquids and sauces.
What's the difference between a saucepan and a saute pan?
Saute pans are a good choice for sauteing—cooking foods in fat, like oil or butter. While you can simmer in a saute pan, liquids, soups, and sauces cook better and more evenly in a saucepan.
How do I care for nonstick saucepans?
I recommend hand washing and towel drying your saucepans. Avoid using bleach, harsh chemicals, and dishwashing detergents. These can strip the nonstick coating off of a pan.
What is a Saucepan Used For?
A saucepan's steep sides allow it to hold a good amount of liquid in a small space. This makes it one of the best pans for all sorts of cooking processes, including:
Boiling water—the deep sides make water boil quickly.
Poaching—high sides ensure your eggs (or whatever else you're poaching) are completely covered by the liquid.
Preparing sauces—a rounded bottom makes whisking easy.
Heating soups or stocks—lunch is ready in minutes with quick heating.
Blanching veggies—a long handle means you can strain with ease.
Unlike frying pans, which have a larger surface area, cooks prefer saucepans for tasks that require a large quantity of liquid and wish to control how quickly it evaporates—or doesn't evaporate.
Saucepans are available in different sizes, generally ranging from one to four quarts. It's important to choose the right size based on what you'll be cooking.
Don't worry—most recipes will tell you which to pick. The instructions will mention something like, "In a small saucepan, heat the milk," or, "Bring the ingredients to a boil in a large saucepan."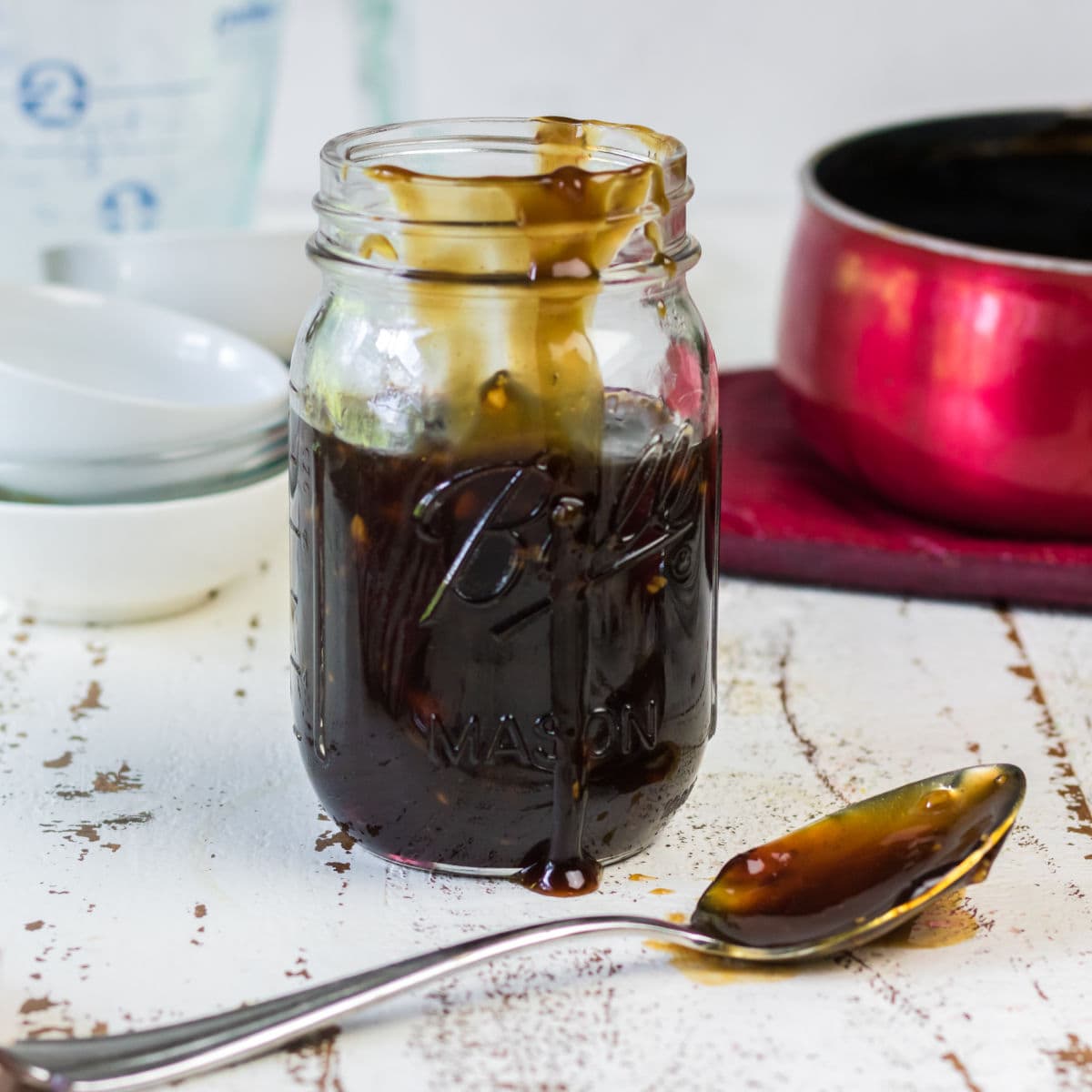 How to Choose and Use a Saucepan
When deciding which kind of saucepan to buy, determine your budget first. Aluminum or stainless steel saucepans are the most budget-friendly. Copper saucepans are more pricey, but they do heat up faster.
Cast iron heats evenly and I love it but it's super heavy if you have to try to pour something out of it.
Try to buy a saucepan that comes with a tight-fitting lid.
Choose stainless steel if you plan to cook with a lot of acidic foods, like tomato sauce. It's nonreactive, so it won't make your food taste metallic.
I love a saucepan with a glass lid so I can see what's going on inside without removing the top.
If your saucepan is dishwasher safe, it will have a symbol that indicates so, usually on the bottom. Typically, stainless steel is dishwasher safe, but aluminum and non-stick cookware are not.
Store your saucepans in a cool, dry place, like a deep drawer. This helps preserve your kitchenware, keeping it in tip-top shape.
📚 Related recipes
Test out your new saucepan with this mouth-watering 10-minute tomato soup. It's a Campbell's copycat that tastes so much better!
Easy homemade teriyaki sauce is great for spicing up a quick dinner, like stir fry, grilled chicken, turkey burgers, and more.
Red velvet hot fudge sauce is so rich and decadent that you'll want to eat all of it in just one sitting! If you manage not to, this recipe keeps very well in the refrigerator.
🫶 Restless Chipotle recommends
As an Amazon Associate I earn from qualifying purchases.
📞 The last word
I cooked for years just grabbing whatever pan was nearby and using it willy-nilly. When I first realized that there were different types of pans for different things I scoffed.
I mean you can boil water in a frying pan if you have to, right?
But once I started using the right pan for the right job my food moved up to a new level. I mean, it makes sense, you wouldn't wear a pair of high-heeled pumps to play basketball, right/
They're both shoes but they have different purposes. Same with cookware.
Pick the right tool for the chore and watch your cooking get much easier!