Smoky, spicy, sweet, and salty - this brings the "Hot Dang!" to your next cook out.
Make a batch of these spicy Cajun wings to get the party started!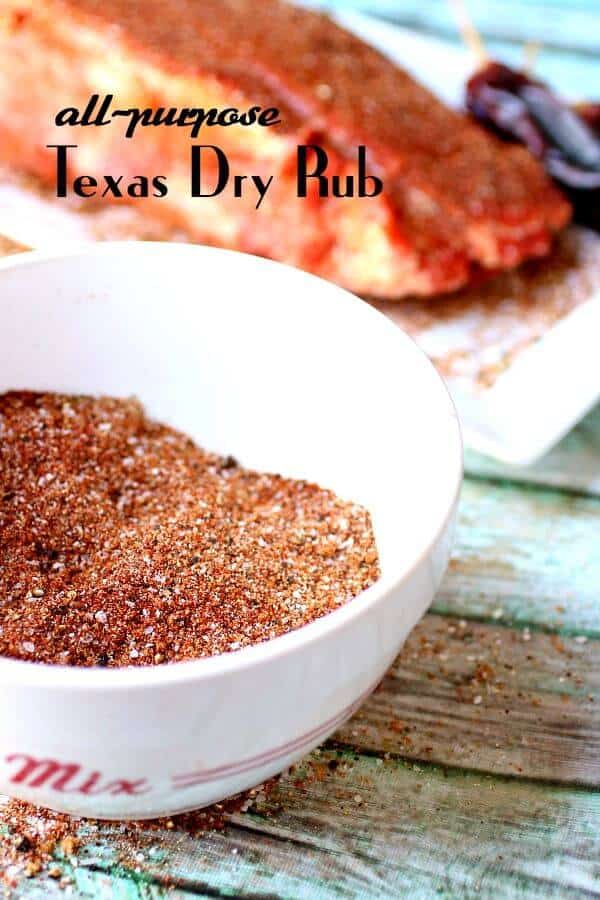 Jump to:
❤️ Why you'll love this recipe
All-purpose means you can use it on anything - even grilled veggies.
Simple, common ingredients.
Adds tons of flavor for a great brisket, ribs, or even grilled veggies.
We use this easy Texas dry rub for brisket as well as about anything else you care to put it on.
Delicious rubs like this are why we pass barbecue sauce separately rather than mopping it on.
🧾 Ingredients
For this recipe you'll need: chili powder, light brown sugar, kosher salt or some kind of fancy smoked salt is good too, ground pepper, cumin, garlic powder, smoked paprika, onion powder, lime zest, Mexican oregano, guijillo pepper, chipotle pepper, coriander, roasted cinnamon
🔪 Instructions
Note: This is an overview of the instructions. The full instructions are in the green recipe card below.
Mix all ingredients together in a bowl, breaking up any lumps of brown sugar.
Spoon into a Mason jar or other air tight container and store in a cool, dark place.
Stir or shake up before using to season brisket.
To Use
Pat the meat dry.
Cover with olive oil.
Pat the dry rub on meat.
Vigorously rub the seasoning into the meat.
Let stand for 30 minutes at room temperature.
For large pieces of meat like roasts you can cover with plastic wrap and refrigerate overnight before cooking.
🥫 Storage
Keep your spice rub in an airtight container or in a small bowl covered with plastic wrap. It will be fine for months.
🤠 Texans Know Our Dry Rubs
When you're from Texas everyone just assumes that you know how to pull every molecule of flavor from beef and other meats.
The answer, of course, is a good dry rub recipe that infuses big flavor into the meat no matter what kind it is, no matter what cut it is, and no matter how you cook it.
Better yet, you need a recipe that you can adapt and tweak until it's your own signature dry rub - just tell everyone that it's a secret family recipe your great-great-grandmother hoarsely whispered to your great-grandmother with her last feeble breath.
This is Texas. Tall tales are part of the mystique.
🥩 Dad's Grilling Secret Formula
My dad was a Texan through and through. Never mind that he grew up on a farm in Michigan - he seemed to absorb every western themed movie he ever saw and all of those movies became who he was somehow.
He was, in fact, more Texan than some of the Texans I know - big hat, boots, dark leathery tan, and that perfect John Wayne squint.
One of the things he learned to do was grill the best flavored beef that you've ever tasted.
Oh, he'd grill chicken and shrimp and pork, too, but it was the beef that you wanted to turn into a scented candle and just burn it all the time.
That smell!
His secret, if there was one besides the fact that he just did everything better than anyone else, was a homemade dry rub that he patted on the beef in a thick layer.
And, when I say patted I mean like how you pat a big spider with a shoe not how you pat a baby's butt to make it go to sleep.
Give this dry rub recipe a try and see if you don't think Dad kinda knew what he was doing.
👩🏻‍🍳 Frequently asked questions
For some reason dry rubs are an enigma. So many people stick with salt and pepper that when you hand them a jar of homemade dry rub you're met with a blank look - kinda like handing a broom to a ten year old.
If you've got questions I've got answers!
What are dry rubs?
Dry rubs are a mixture of spices and herbs that are rubbed into meat before it's cooked. There are as many different kinds as there are ... well there's a lot of different kinds. The best kind, in my opinion, is a good, all-purpose, homemade rub because you can tweak the recipe to make it exactly the balance of sweet and salty that you're looking for.
What does a dry rub do?
It gives the meat (or poultry, or game, or...) more flavor because it's absorbed into the meat plus the sugar in it helps give it that crispy caramelized crust. My dry rub recipe also helps to tenderize your dish because of the citrus I add.
How long do you leave homemade dry rub on ribs?
Ribs need a little more time than most things, I think. I  like to keep that rub on them for a minimum of 8 hours but a full day ahead of cooking is better. If you are in a super big hurry then 30 minutes will do. If you're just going to sprinkle it on and then cook them don't bother with the dry rub.
What is the difference between a rub and seasoning?
Dry rubs are generally made of coarsely ground ingredients that are liberally rubbed into meat while seasonings tend to be sprinkled on. Dy rubs have sugar to help with caramelization and most seasonings do not.
How do you apply dry rub to meat?
There's not a lot of instruction that you need about how to use dry rub, or even when to use it.
It's great on all kinds of meats and poultries but also good on the outside of baked potatoes and corn on the cob. I've been known to sprinkle homemade seasonings on my eggs - and if you're looking for a dry rub for ribs you've hit the jackpot.
Whatever kind of meat you're putting it on the technique for getting the best results is the same -
Pat the meat dry with paper towels
Rub a little olive oil over all surfaces - I like to use a flavored olive oil
Pat the rub on thickly with one hand and rub it in with the other - it's called rub for a reason
Let the meat come to room temperature, about 30 minutes
OR wrap it in plastic wrap and refrigerate until you're ready to use it the next day - then let it come to room temperature
Seriously, that's it. Couldn't be easier.
Always let meat sit at room temperature before cooking, though - about 30 minutes.
What is a wet rub?
A wet rub is best used when you are putting meat in a slow cooker, smoking it, or cooking it slowly using any technique. A dry rub is better for cooking on the grill, stovetop, or even roasting in the oven.
Any dry rub recipe can become a wet rub. You simply add enough of a liquid to make it a paste. It can be any consistency you want as long as it sticks to the meat. Here are some possibilities but no doubt you'll think of more!
Beer
Wine
Bourbon (watch this if you're cooking over a fire)
Fruit juice
Honey
Mustard
Worcestershire sauce
Teriyaki sauce (watch the sodium)
Melted butter
Flavored oils
Just a word of caution. If you go searching for a wet rub recipe? DON'T type "wet rub" into the search box on your search engine. And please pass the brain bleach.
🥦 Favorite Side Dishes for Grilled Meats
I have so many family favorites here on Restless Chipotle that it's hard to choose. Here are some of my favorite side dishes to go with grilled meat.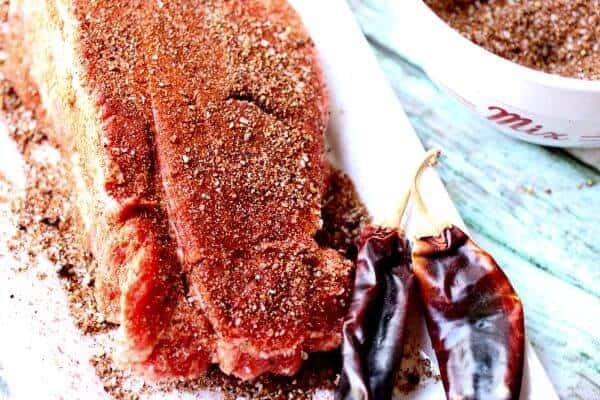 📞 The last word
This is an all purpose dry rub that you can use for just about any cut of meat from brisket to burgers. Make it according to the recipe the first time then try some variations to make it your own.
Once you get your steak done - spoon some of this chimichurri sauce over the top.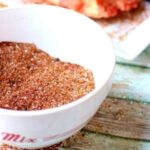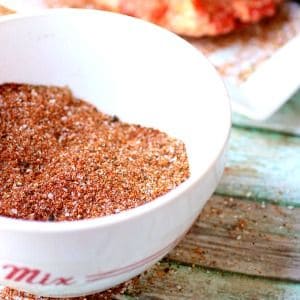 Texas Dry Rub
Print
Save
Go to Collections
This all-purpose dry rub recipe brings real Texas flavor to almost any kind of meat, poultry, game, or fish. The smoked paprika and roasted cinnamon add wood fired flavor, the dried peppers add heat, and the lime brightens the whole thing up. Nutrition info is based on about 2 tablespoons per serving.
Store in a covered jar in the pantry - if it clumps up just shake to break up the clumps.
As an Amazon Associate I earn from qualifying purchases.
Ingredients
⅓

cup

chili powder

⅓

cup

light brown sugar

¼

cup

kosher salt

,

You may want to omit this - read why in the notes!!

¼

cup

coarse ground pepper

2

tablespoons

cumin

1-½

tablespoons

garlic powder

1-½

tablespoons

smoked paprika

1

tablespoon

onion powder

½

tablespoon

lime zest

1

teaspoon

Mexican oregano

1

teaspoon

guajillo pepper

,

ground...seeds removed

½

teaspoon

chipotle chiles,

or more to taste. ground...seeds removed

½

teaspoon

coriander

,

ground

½

teaspoon

roasted cinnamon
I earn a commission from Instacart from qualifying purchases.
Instructions
Mix all ingredients together in a bowl, breaking up any lumps of brown sugar.

Spoon into a Mason jar or other air tight container and store in a cool, dark place.

Stir or shake up before using.
To Use
Pat the meat dry.

Cover with olive oil.

Pat on meat, covering all surfaces.

Vigorously rub the seasoning into the meat - no need to be gentle!

Let stand for 30 minutes at room temperature before grilling or cooking as desired.

For large pieces of meat like roasts you can cover with plastic wrap and refrigerate overnight before cooking.
Notes
You MAY want to omit the salt. You see, different people have different tastes for salt. Some cuts of meat need more salt than others - chicken thighs compared to chicken breast, for example. Salting the meat ahead of time gives it a chance to penetrate the meat without making it too salty. And, finally, some things are injected with salt solutions so the extra salt in a dry rub causes your mouth to pucker up like you bit into a green persimmon on your first bite.
If you want to leave the salt in that's fine. I just wanted you to understand your options. 
Use a blender or food processor to grind the dried peppers.
Nutrition Facts
Calories:
33
kcal
|
Carbohydrates:
7
g
|
Protein:
0
g
|
Fat:
0
g
|
Saturated Fat:
0
g
|
Cholesterol:
0
mg
|
Sodium:
2365
mg
|
Potassium:
50
mg
|
Fiber:
0
g
|
Sugar:
6
g
|
Vitamin A:
265
IU
|
Vitamin C:
0.4
mg
|
Calcium:
21
mg
|
Iron:
0.9
mg
Sign up for the emails and never miss another recipe!!
We'll never share your email or send you spam. Pinkie swear.
First published May 10, 2018. Last updated May 18, 2022 to improve user experience.