This​ ​post​ ​is​ ​sponsored​ ​by​ ​the​ ​Certified​ ​Angus​ ​Beef​ ​®​ ​brand​ ​in​ ​conjunction with​ ​a​ ​social​ ​media​ ​campaign​ ​through​ ​Sunday​ ​Supper​ ​LLC.​ ​All​ ​opinions​ ​are my​ ​own.
Tender beef round roast is marinated in a mixture of beer, brown sugar, and dijon mustard for 12 hours then roasted in a slow oven until it's just right. Tender, juicy, and full of flavor - this is a nice change from those turkey leftovers!
For this recipe you'll need: 3 pounds bottom sirloin roast (I used beef round roast), dark beer, Dijon mustard, teriyaki sauce, brown sugar, seasoned salt, black pepper, garlic powder, and guijillo peppers (because I love their flavor!)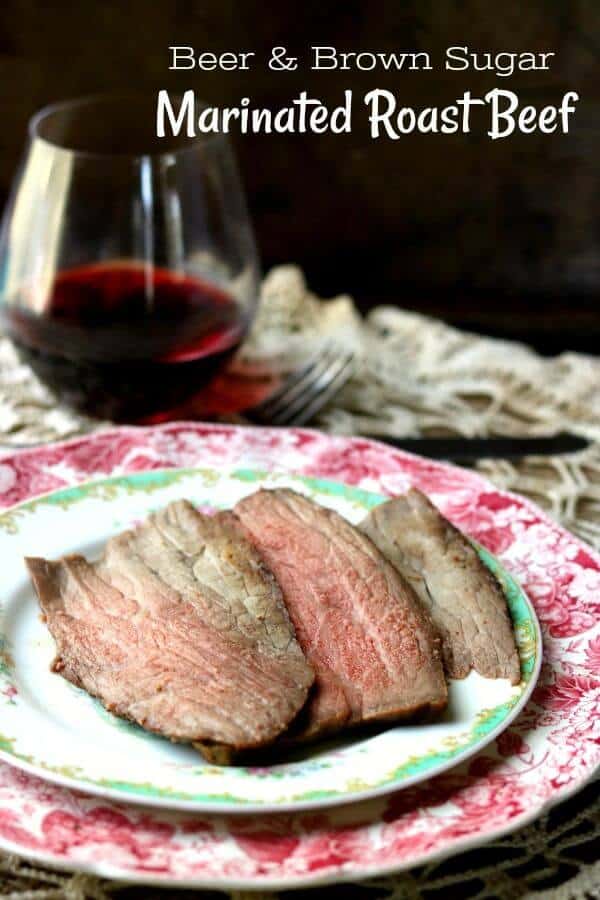 I have a tendency to wonder how to cook a beef round roast, or want to do something different than I usually do, and then end up tossing it in the slow cooker as usual. This time I'm followed the recipe for Beer and Brown Sugar Marinated Roast from the folks at Certified Angus Beef®​ ​brand and roasted it instead. Often I'll use my own Texas Dry Rub but this time I went by the recipe.
We'll get to that in a minute.
I was super excited to be asked to be a paid ambassador for Certified​ ​Angus​ ​Beef​ ​®​ ​brand this year. It's a brand that I've used for years because I like the quality of the meat and the integrity of the company. Being an ambassador means that they'll be partnering with Restless Chipotle over the next year to bring you great recipes, tips, and ideas on how to make the best of your beef dishes.
I'll always have a disclosure so you'll know when I'm being paid but if y'all know me at all you know I can't be paid to say something I don't believe.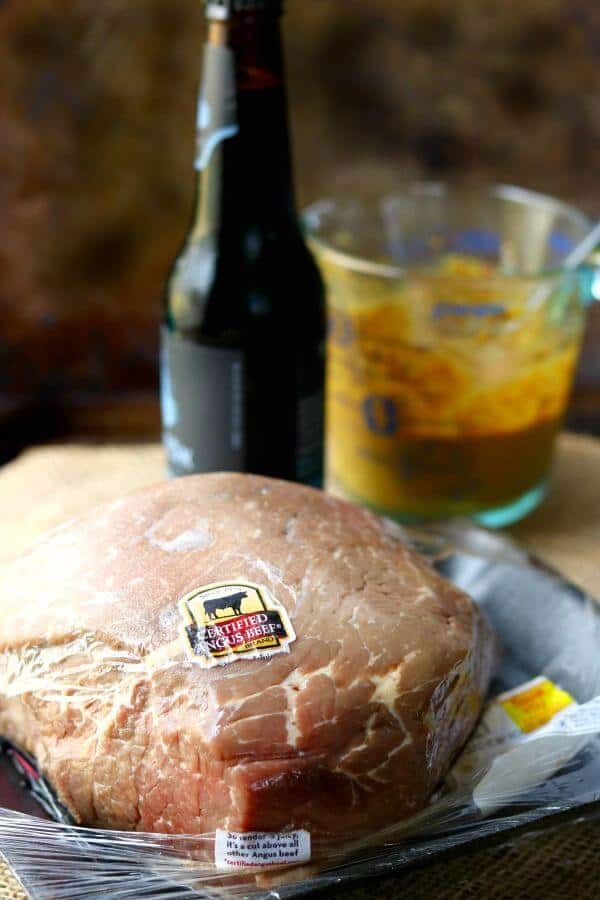 Back to this beef round roast.
The recipe calls for a ball tip roast (bottom sirloin) but there weren't any available during my shopping trip. I chose this Certified​ ​Angus​ ​Beef​ ​®​ ​brand Round Rump Roast because that's what was available. On the website Certified​ ​Angus​ ​Beef​ ​®​ ​brand says this: Lean and economical, this cut is best enjoyed braised. When roasted in the oven, slice thin against the grain to maximize tenderness.
I can do that. In fact, y'all need to download the Roast Perfect ap onto your phone. It helps you know how much to buy, what kind of roast will work best for what you're doing, and all kinds of things. I use it during every shopping trip - no lie.
I wasn't too worried about it being tough because it marinates for 12 to 14 hours before cooking. That's plenty of time for the fibers to soften up and start to break down. So, I mixed the marinade ingredients together, put the beef in a vacuum sealer bag, added the marinade, and prepared to wait it out.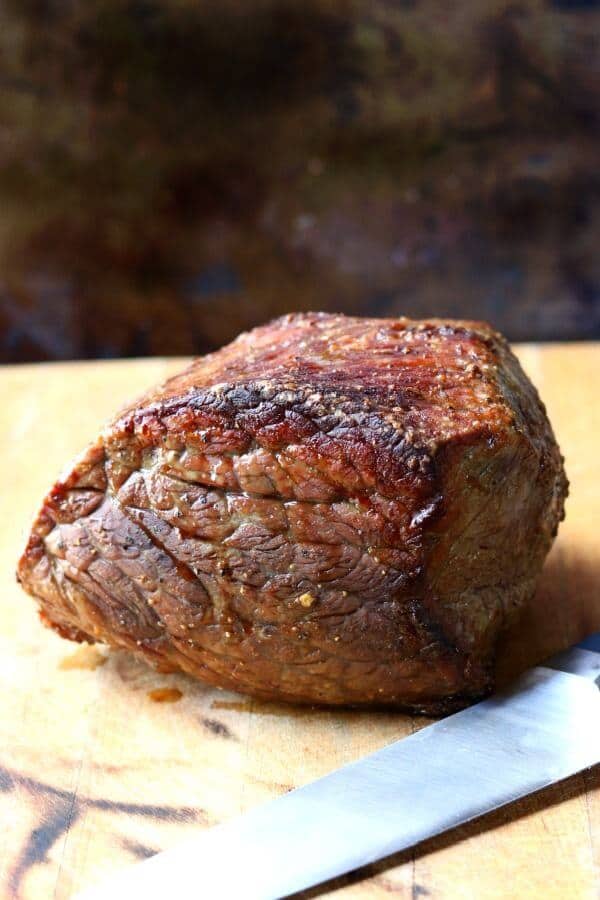 It was totally worth it.
I have to tell you, as I put this on the table I felt like I should be wearing heels, a starched apron, and pearls. There's something about roast beef that just feels like a family dinner, don't you think?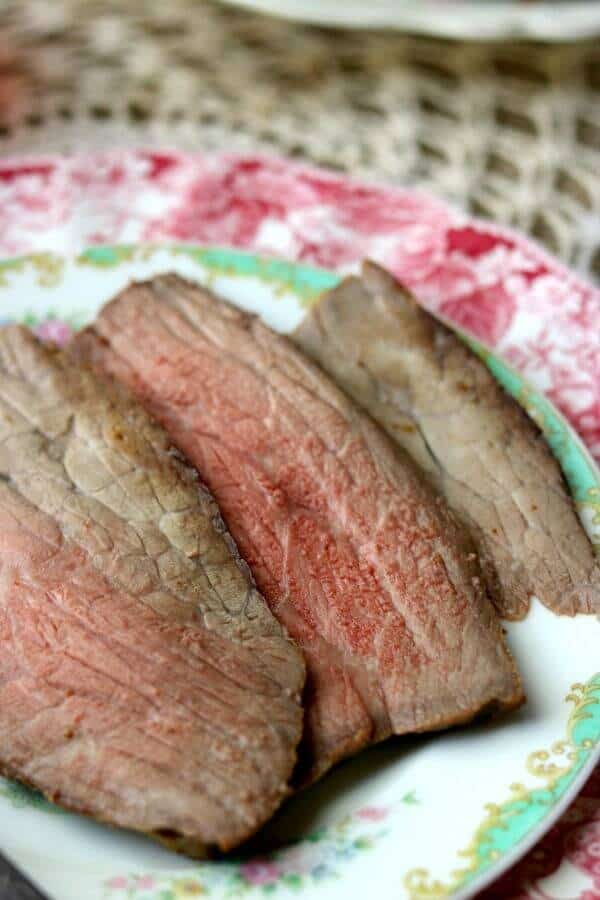 Suggested Menu for Beef Round Roast
This is the perfect dish for an old fashioned Sunday Supper where the family gathers around the table. It's traditional but the marinade gives it a little extra flavor. Keep that "traditional with a twist" theme going with the rest of your menu -
Certified​ ​Angus​ ​Beef​ ​®​ ​brand Beef Round Roast
Crisp Salad with a creamy dressing
Cabernet Sauvignon or a glass of dark beer
Beer and Brown Sugar Beef Round Roast Recipe
So, what's your favorite way to prepare a roast? Leave a comment and let me know or shoot me an email! Love this recipe? Please consider giving it a star rating below. ? Follow me on Facebook and Pinterest!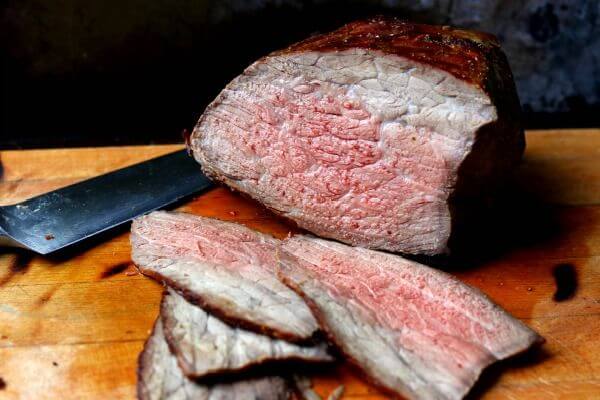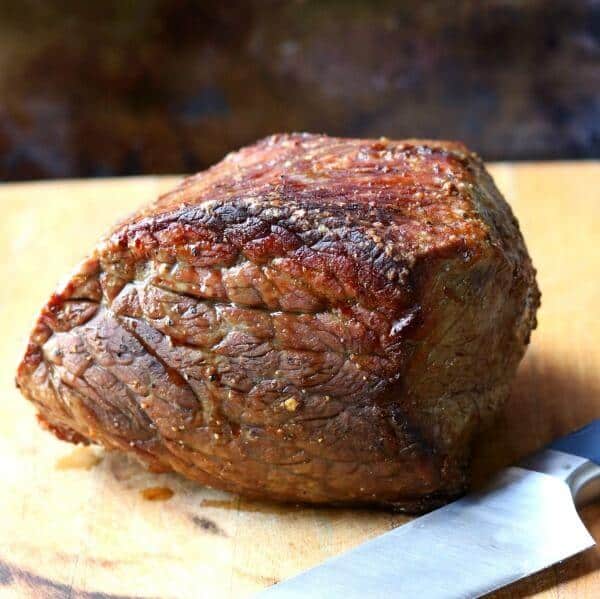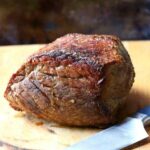 Beer & Brown Sugar Marinated Beef Round Roast
Print
Add to Collection
Go to Collections
Tender beef is given a sweet, tangy marinade and then roasted to perfection. Delicious for Sunday dinners - leftover make the best roast beef sandwiches ever!
As an Amazon Associate I earn from qualifying purchases.
Ingredients
3

pounds

Certified​ ​Angus​ ​Beef​ ​®​ ​brand ball tip (bottom sirloin) or bottom round roast

1

cup

dark beer

1/2

cup

Dijon mustard

3

tablespoons

teriyaki sauce

3

tablespoons

brown sugar

1

teaspoon

seasoned salt

1

teaspoon

black pepper

1

teaspoon

garlic powder

1

guijillo chile
Instructions
Combine all ingredients except the beef.

Place roast in a large freezer bag and pour the marinade over the roast.

Close bag and marinate in refrigerator 12 to 14 hours.

Remove roast from refrigerator and pat dry with paper towels.

Pour out and discard the marinade and the chile.

Preheat oven to 450°F.

Season roast with an additional 2 teaspoons kosher salt and 1 teaspoon black pepper.

Place in a shallow roasting pan fitted with rack.

Roast 15 minutes in preheated oven; reduce heat to 325°F.

Cook approximately 1 hour to reach medium (135-140°F) doneness.

Remove roast from oven, tent loosely with foil and rest 10 minutes before carving.
Nutrition
Calories:
478
kcal
|
Carbohydrates:
9
g
|
Protein:
63
g
|
Fat:
18
g
|
Saturated Fat:
6
g
|
Cholesterol:
176
mg
|
Sodium:
1053
mg
|
Potassium:
574
mg
|
Sugar:
7
g
|
Vitamin A:
15
IU
|
Vitamin C:
0.3
mg
|
Calcium:
33
mg
|
Iron:
6
mg
Sign up for the emails and never miss another recipe!!
We'll never share your email or send you spam. Pinkie swear.