This​ ​post​ ​is​ ​sponsored​ ​by​ ​the​ ​Certified​ ​Angus​ ​Beef​ ​®​ ​brand​ ​in​ ​conjunction with​ ​a​ ​social​ ​media​ ​campaign​ ​through​ ​Sunday​ ​Supper​ ​LLC.​ ​All​ ​opinions​ ​are my​ ​own.
Is there anything that screams Mom's (or Grandma's) kitchen more than beef tips and gravy? This classic comfort food has been warming hungry bellies for decades.The whole family will love this updated version with a lighter gravy and a little punch from poblano and guijillo chiles. Serve these fall-apart-tender beef tips over jalapeno-cheese grits, mashed potatoes, rice, or noodles.
For this recipe you'll need:  Certified​ ​Angus​ ​Beef​ ​®​ ​brand boneless chuck roast, flour, smoked paprika, salt, pepper, butter, button mushrooms, onion, poblano pepper, oil, beef stock, red wine, guijillo pepper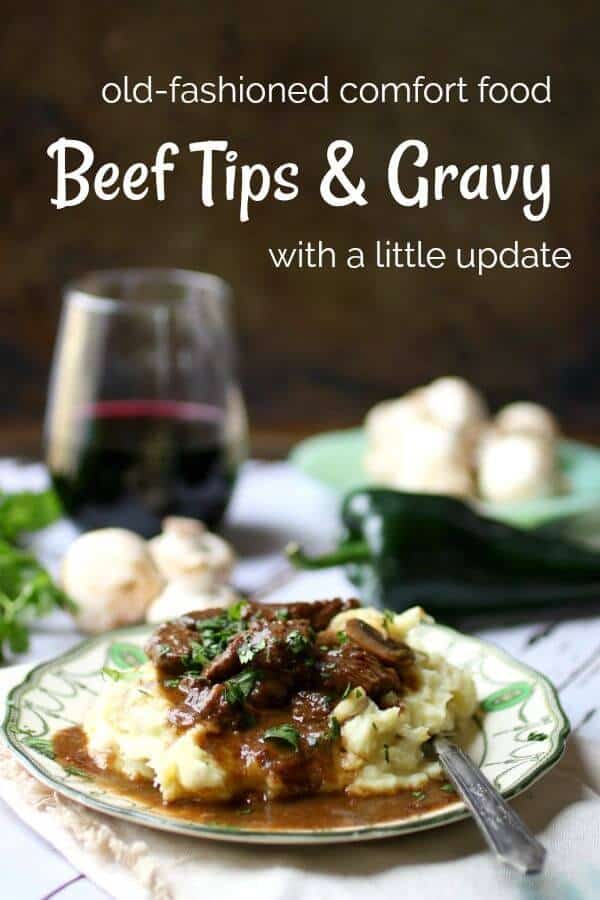 If you think of chewy meat chunks (of questionable origin) in gloppy, bland gravy when you read the words beef tips and gravy then you've got it all wrong. I'm going to fix your perception right now.
Beef tips can be a variety of cuts of beef. I think the dish was created to use up the pieces of beef that were too small for stew meat -- although some people use stew meat. I prefer to use a chuck roast and then cut the pieces about half the size that I would for stew. The beef simmers on the stove or in a slow cooker until it's just melt-in-your-mouth tender. My version of beef tips and gravy is done so that the gravy thickens while the beef is cooking and you don't have to do anything else - unless you'd like it thicker.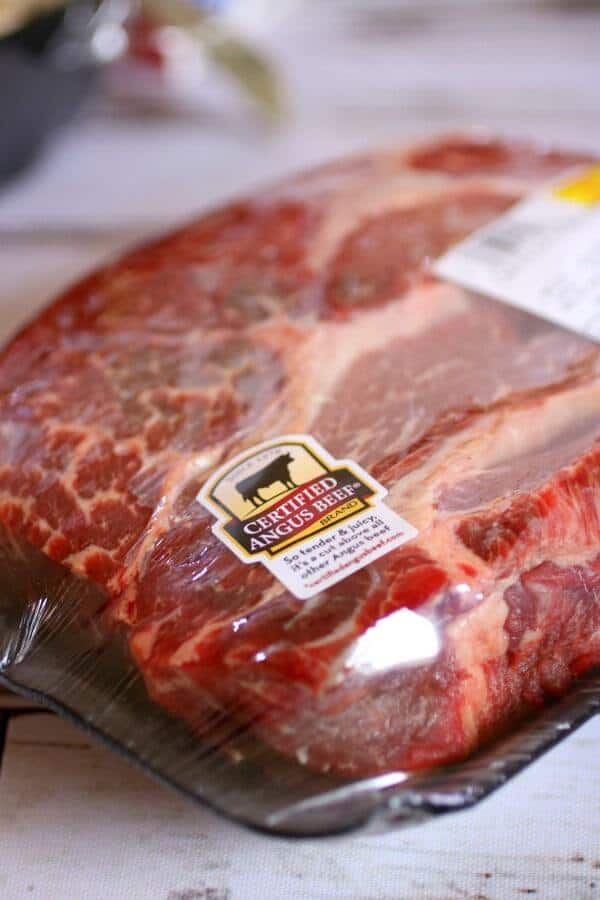 And, y'all know... I have to get my Texas flavors in it so in went poblano and guijillo chiles. The poblano has a velvety heat to it - just comfortable not overwhelming - while the guijillo adds a fruity-spicy flavor that blends well with the beef and other ingredients.
Yep - it's definitely mid 20th century diner food but I promise you've never tasted anything quite like it - you'll love it!
Beef Tips Are a Favorite Mid-Century Diner Food
Do you remember the old diners or am I the only one? We used to go to one that, in retrospect, looked like an Airstream trailer. It was all chrome and Art Deco design on the outside but on the inside it smelled like everything good. Yeasty dinner rolls, beef gravy, apple pie, chocolate cake... all of those smells mingled to make a scent I wish a candle company would make. The aromas would band together and just snuggle up to your nose the minute you walked through the doors.
The floor was big red and white squares of vinyl tile and the booths had over-stuffed, cherry red seats with a wide white stripe vertically down the center. The tables had chrome edges and red marble looking tops with a little personal juke box right by the salt and pepper shakers and catsup at each table.
I never wanted to sit at the tables. I always led my dad over to the counter where chrome stools with bright red seats stood in a line ready to support whoever wished to sit there. The stools were my favorite because they twirled. The counter was my dad's favorite because that's where they kept the chocolate cake.
Blue plate specials were cheap and hearty with generous servings... and quite often consisted of beef tips over mashed potatoes. Nine times out of ten that was what I ordered so I guess this recipe is kind of an homage to that diner.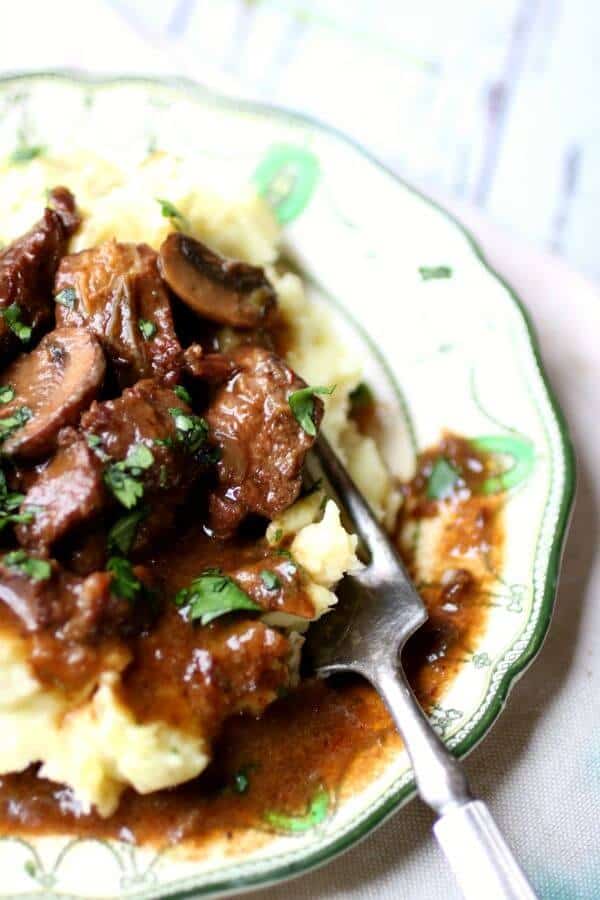 Beef Tips FAQs
What is the best kind of meat for beef tips? Although sometimes you'll find a package of meat labeled beef tips more often you're choices will be stew meat or a chuck roast. I prefer the chuck roast because I can cut it exactly the way I want it and it is usually a tad less expensive than stew meat. Saying that, you can use tenderloin, steak, or whatever chunk of beef you prefer.
How do I get my beef tips tender? The quick answer is low and slow. After the beef is browned you'll want to simmer it in the gravy for two or three hours - or in a slow cooker for up to eight hours. I add a little wine to the recipe (which usually doesn't call for wine) because it gives the beef tips and gravy a nice flavor and helps to tenderize the meat.
How long does it take to cook beef tips? Two to three hours at the least. If you use a slow cooker then eight hours. The long, slow cooking time is what makes them tender.
How do you tenderize beef tips? Cooking them slowly usually does the trick. If you have a particularly tough piece of meat (which you won't if you go with the Certified Angus Beef®​ ​brand ​) you can pound the cut pieces of beef with a mallet or marinate them overnight. If you follow this recipe you really don't need to worry about it - trust me.
How long do you cook beef tips in the oven? You can put a cast iron or enamel over cast iron Dutch oven in your oven and cover it tightly. Cook at 325 for 3 hours. You can also put them in a casserole dish and cover rightly with foil and bake them that way.
What to serve with beef tips? Beef tips are usually served over mashed potatoes, rice, or noodles - in the south they  might also be served over biscuits or grits. Anything to soak up that yummy gravy!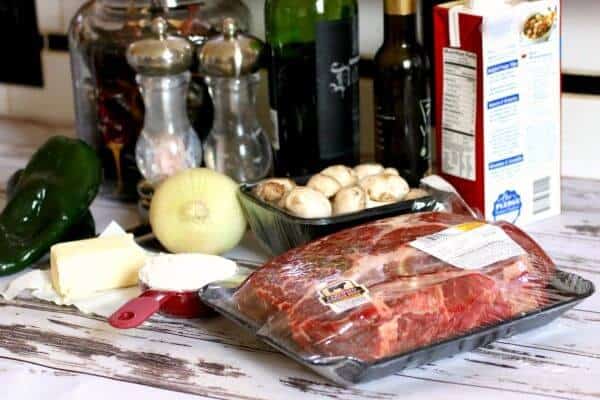 Vintage 1950s Era Diner Menu
Want to get the whole experience of eating from a 1950s diner menu? Give this a try! It's perfect for a chilly day!
Beef Tips and Gravy
Egg Noodles or Mashed Potatoes

Beef Tips and Gravy Recipe
I think you'll love this updated beef tips and gravy recipe. The addition of red wine, poblano, and guijillo adds SO much flavor! If you love this recipe please consider giving it 5 stars.
Don't forget -  y'all need to download the Roast Perfect ap onto your phone. It helps you know how much to buy, what kind of roast will work best for what you're doing, and all kinds of things. I use it during every shopping trip – no lie.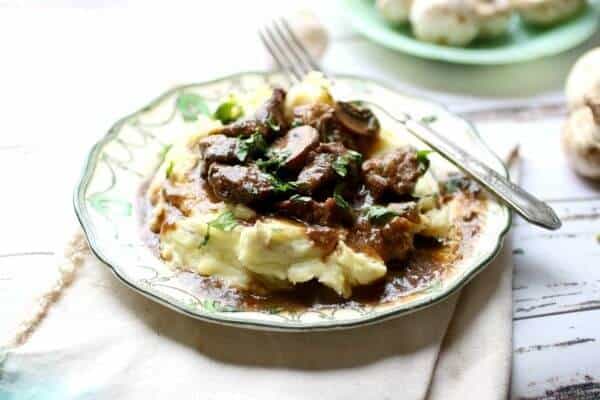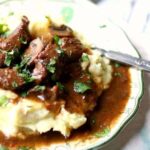 Beef Tips and Gravy
Print
Add to Collection
Go to Collections
Beef tips and gravy has been a comfort food favorite for decades. This version is updated with a generous amount of red wine, poblano pepper, and guijillo pepper - just as comforting but a lot more flavorful. Difficulty level 1/10
As an Amazon Associate I earn from qualifying purchases.
Ingredients
3

pounds

boneless chuck roast

1/3

cup

flour

1

teaspoon

smoked paprika

1/2

teaspoon

salt

1/2

teaspoon

pepper

1/4

cup

butter

8

ounces

button mushrooms

,

sliced if large

1 1/2

cups

onion

,

chopped

1

Poblano pepper

,

diced

1/4

cup

oil

,

your favorite

3

cups

beef stock

,

from a 32 ounce carton - reserve the other cup of stock in case you need it

1/2

cup

red wine

1

guijillo pepper

,

seeds removed...optional
Instructions
Trim the silvery membrane off the roast.

Cut in bite sized pieces.

MIx the flour, salt, pepper, and smoked paprika.

With your hands mix the cut meat in the flour until all sides are covered. Set Aside.

Melt the butter in a heavy iron skillet or Dutch oven.

Add the mushrooms and saute until golden brown.

Add the onion and poblano pepper.

Remove the vegetables from the skillet and set aside.

add oil to the skillet and heat until it pops.

Add the beef and quickly sear on all sides.

Remove the beef from the skillet and set aside.

Add most of the beef stock, reserving about a cup and a half. You may or may not need it.

Bring the broth mixture to a simmer and drop in the Guijillo pepper.

Add the beef and the onion mixture to the simmering broth.

Cover, leaving a small crack for steam to escape and simmer for 3 hours, stirring and scraping the bottom once in awhile to keep the meat from sticking.

At the end of 3 hours the meat should be very tender and the gravy will have thickened - if it hasn't you can bring it up to a boil and boil for a few minutes with the cover off to let the liquid reduce.

If it still doesn't seem thick enough to you add 2 tablespoons of cornstarch to 1/2 cup of the reserved beef stock and stir until dissolved.

Add to the pan and stir. Simmer until thickened.

Serve over mashed potatoes, rice, noodles, grits, biscuits, or whatever you like.
Notes
You can make this in a slow cooker. Follow steps through browning the meat and then add everything to your slow cooker and cook on low 8 hours. Browning the the beef makes a huge difference in the flavor of this dish. You *can* skip that step but I don't recommend it.
Nutrition
Calories:
484
kcal
|
Carbohydrates:
10
g
|
Protein:
36
g
|
Fat:
32
g
|
Saturated Fat:
12
g
|
Cholesterol:
132
mg
|
Sodium:
515
mg
|
Potassium:
921
mg
|
Fiber:
1
g
|
Sugar:
2
g
|
Vitamin A:
380
IU
|
Vitamin C:
14.8
mg
|
Calcium:
46
mg
|
Iron:
4.4
mg
Sign up for the emails and never miss another recipe!!
We'll never share your email or send you spam. Pinkie swear.
If you like this vintage beef tips and gravy recipe you may also like...
From left to right: Chicken and Noodles, Macaroni and Cheese, King Ranch Chicken Casserole
Still looking for a great idea? Check out these recipes from some of my favorite blogs!
Beef Stroganoff Gimme Some Oven
Slow Cooker Beef Stew Six Sisters Stuff
This recipe is part of Meal Plan Monday