A good cast iron skillet is essential southern cooking equipment. In fact, in many homes the skillet has been passed down through the generations.
Learn to take care of it so it lasts forever!
Don't want to scroll through the page to get to the recipe? Use the table of contents to click on the section you want to go to.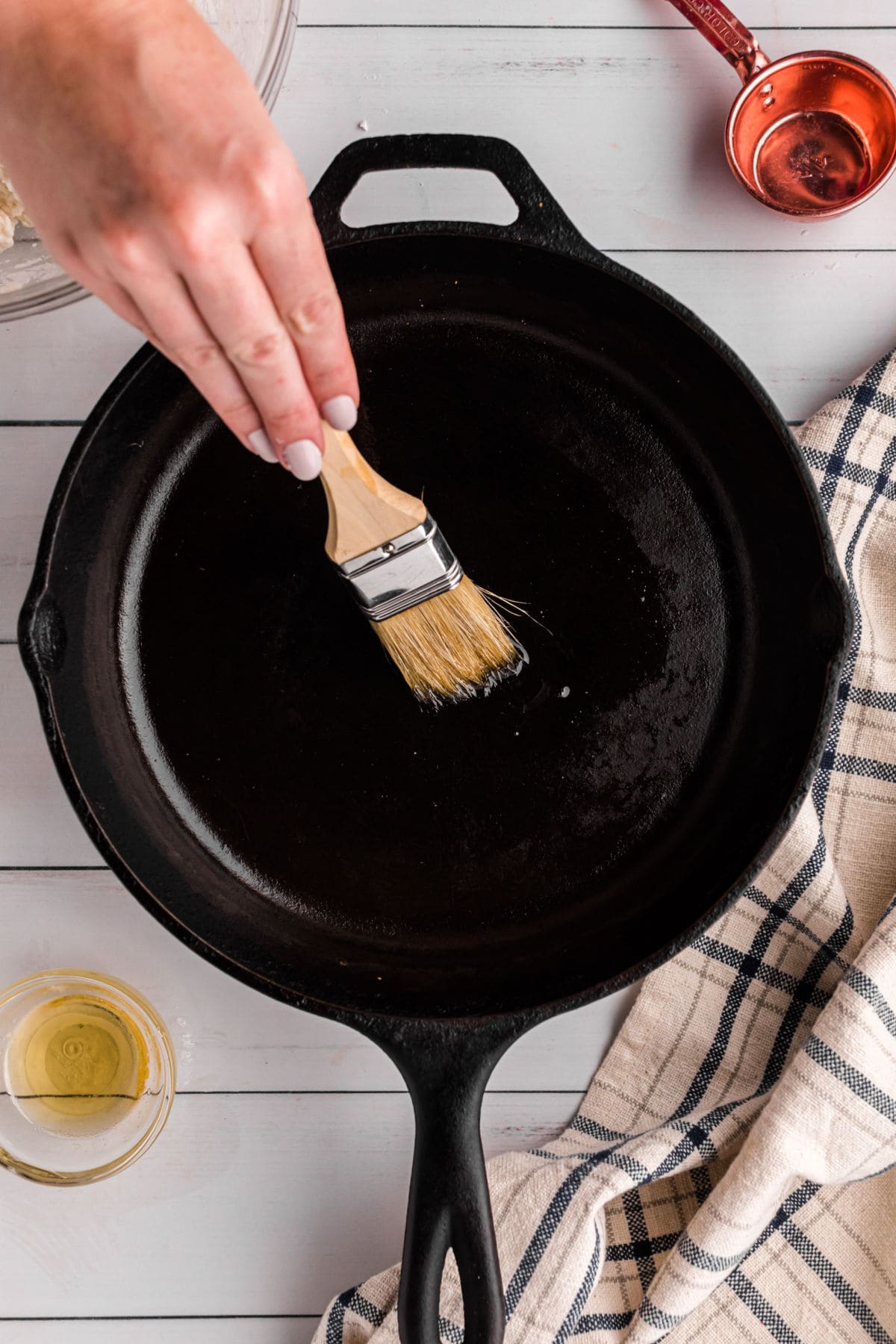 Table of Contents
🗝️ Key takeaways
It gets (and stays) really hot, so your food cooks evenly and always tastes amazing
Use it for frying, baking, sauteeing, and simmering.
One of the best kitchen investments you can make—treated properly, a cast iron skillet lasts for generations
Despite regular use, a well-seasoned cast-iron pan tends to get even better with age.
In many Southern homes, this versatile cookware is more valuable than gold—and is the secret to making home-style meals that taste as good as when you were a kid.
👩‍🍳 FAQs
What does cast iron "seasoning" mean?
This seasoning isn't the salt, pepper, and chili powder you might be used to. When you season cast iron, you're baking a thin layer of oil onto it. It's like adding a non-stick surface to the cookware.
Is cast iron cookware easy to season?
You bet! Cast iron pans have been a popular choice for ages because they're not difficult to maintain. As long as you clean it the right way, and season it every so often, you're good! (The easy steps in the following sections will teach you how to do so.)
Should you season a new, pre-seasoned skillet?
Yes ma'am! For best results, season your brand-new skillet before its first use. This step ensures a good, nonstick surface for cooking, and turns it into a well-seasoned pan (just in case the store-bought seasoning wasn't done super well!)
What type of oils can you use to season cast iron?
Quite a few—we'll dive into that later! The main thing to keep in mind is that you don't want the oil to burn. So, you'll want to heat your oven just slightly lower than the smoke point of the oil you choose.
How do I fix a rusty cast iron pan?
If you've inherited a pan with a little rust, or maybe let yours sit for too long, don't worry. You'll first want to clean the entire pan really well. Use cast-iron cleaner and a stiff brush, if necessary. Then, proceed with the seasoning process—follow the steps in the sections below. Your pan will be good as new!
Can you prepare acidic foods in cast-iron cookware?
After repeated use and proper care, a cast-iron skillet will build up enough of a protective layer in which you can cook acidic foods. However, it's not recommended to jump right into acidic recipes after only the initial seasoning.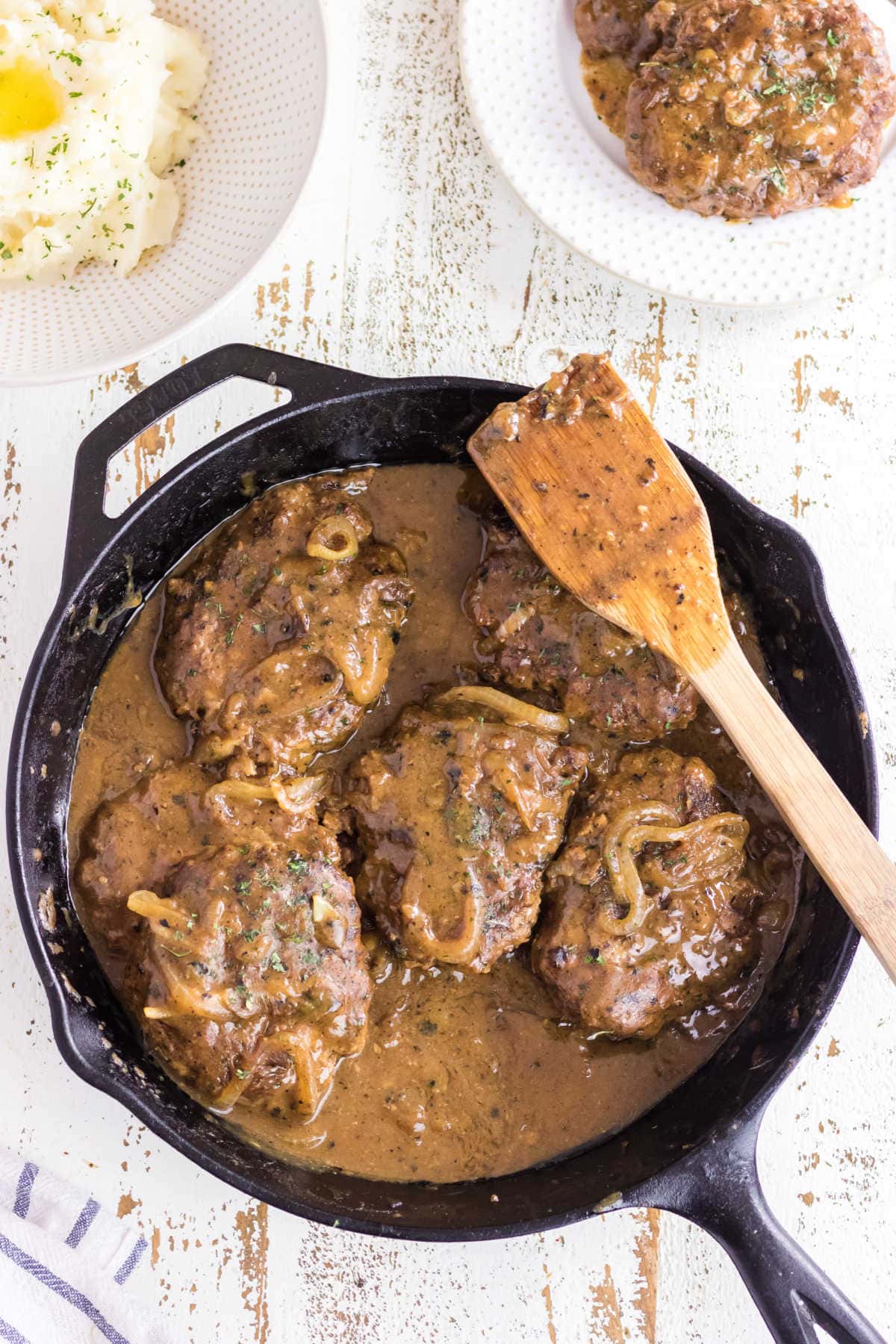 Prepare a new skillet for seasoning
Preparing a brand-new pan for seasoning is simple because the cooking surface is already clean. However, it's a good idea to wash it, first, to remove any residue from manufacturing and packaging.
Use warm water and a small bit of gentle dish soap. New cast iron skillets are technically pre-seasoned, so you don't want to remove the durable coating that's already been applied.
For this first wash, choose the soft side of a sponge, or use a dish rag. Then, dry it gently (but thoroughly) with a soft towel. Now, it's time to season your new, clean pan!
How to season a cast iron skillet with olive oil
You can achieve a durable seasoning for your cast iron skillet with olive oil in two easy ways: using the oven or on the stove!
If you're seasoning well-used cast iron, be sure to wash it first in soapy water. Start with a gentle sponge.
Then, if you need to, remove any stubborn food residue with a firmer-bristled brush. Avoid steel wool or a metal scouring pad.
In the oven
Lay some tin foil on the bottom of your oven to catch oil drips.
Preheat the oven to 400 degrees F (since olive oil has a smoke point of around 410 degrees F.)
Once the oven reaches full temperature, let it sit for at least 15 more minutes—this way, your oven really is preheated, even in the corners.
Use a paper towel to coat the entire pan (inside and out) with a layer of olive oil. Don't let the oil pool in the bottom of the pan.
Place the pan upside-down into the oven.
Season (or bake) the pan for about an hour.
Turn off the oven. Let the pan cool in the oven for 30 minutes to an hour.
Once cooled, remove from the oven and wipe any excess oil with a gentle, soft cloth.
On top of the stove
Pour some olive oil into the skillet and smooth it around evenly. Make sure to smooth oil up the interior sides, too.
Turn the stove flame to medium-high heat.
Place the pan over the heat and let the oil cook. Keep kids and pets out of the kitchen to prevent accidents! You'll also want to turn on your hood vent if you have one.
When the oil starts to smoke, take the pan off of the heat. Be careful—the handle gets hot, too!
Let the cast iron cool.
Wipe away any extra oil with a soft paper towel.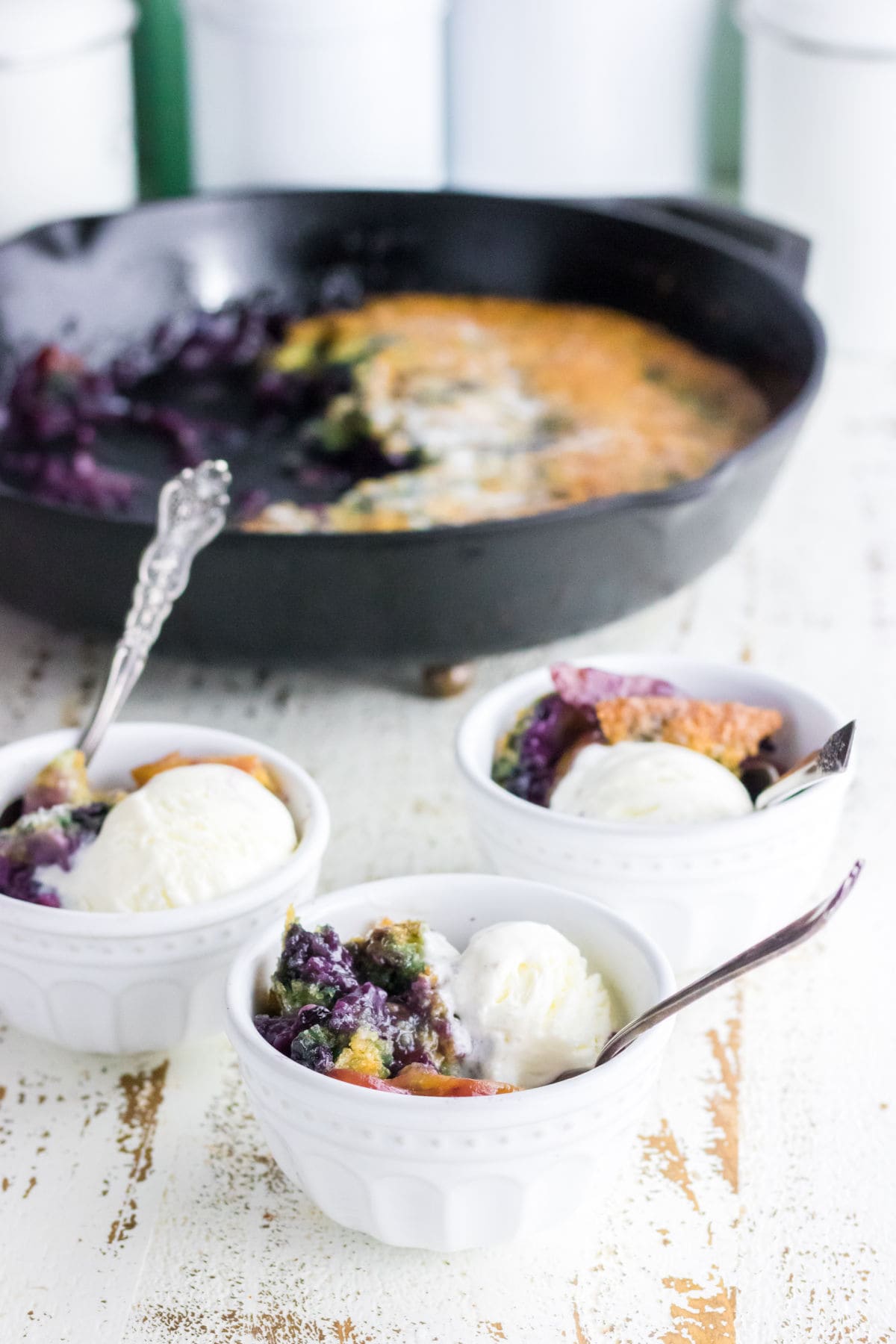 Other oils
There are many different oils you can use to season your cast iron skillet. Olive oil can be a bit on the pricy side, and if you don't cook with it much, you might not want to buy any.
Neutral oil is a good choice because it won't add any identifiable flavor to your pan. However, animal fats and even bacon grease work, too.
Coconut oil
Coconut oil has a lot of health benefits, so many people prefer it when seasoning their cast iron skillets.
However, it has a low smoke point when compared with other oils. So, you'll only want to heat your oven to 350 degrees F when seasoning cast iron with it.
Also, be sure to choose refined coconut oil. Not only does it have a less prominent flavor than unrefined, but it has a higher smoke point, too.
Bacon grease
If you have a lot of bacon grease leftover from yummy Southern recipes, you might be tempted to reuse it for seasoning cast iron.
We love to repurpose ingredients and save a little money, after all!
However, there are a few things to keep in mind. Cast iron seasoned with bacon grease might require a bit more TLC (and more-frequent seasoning) than with higher smoke point oils.
Also, the smoke point of bacon is about 325 degrees F, so you'll have to let your pan season in the oven set to 300 degrees F.
Grapeseed oil
Grapeseed oil is one of the best choices for seasoning cast iron because it can withstand relatively high heat. So, your nonstick finish will last longer than some other oils.
Plus, unlike flaxseed oil (which is similar) grapeseed oil won't dry out the iron.
It also has a very neutral flavor (unlike bacon grease) which means you can cook almost anything in your pan and it'll come out tasting exactly as it should!
Vegetable oil
Vegetable oil is a staple in most households, and it works pretty well as cast iron seasoning. The smoke point of the oil is between 400 and 450 degrees F, so you can set your oven temp to 400 for curing.
Plus, not to get too scientific, but the saturated fat percentage of vegetable oil makes it an ideal cast iron seasoning.
It's like Goldilocks and the Three Bears—just right.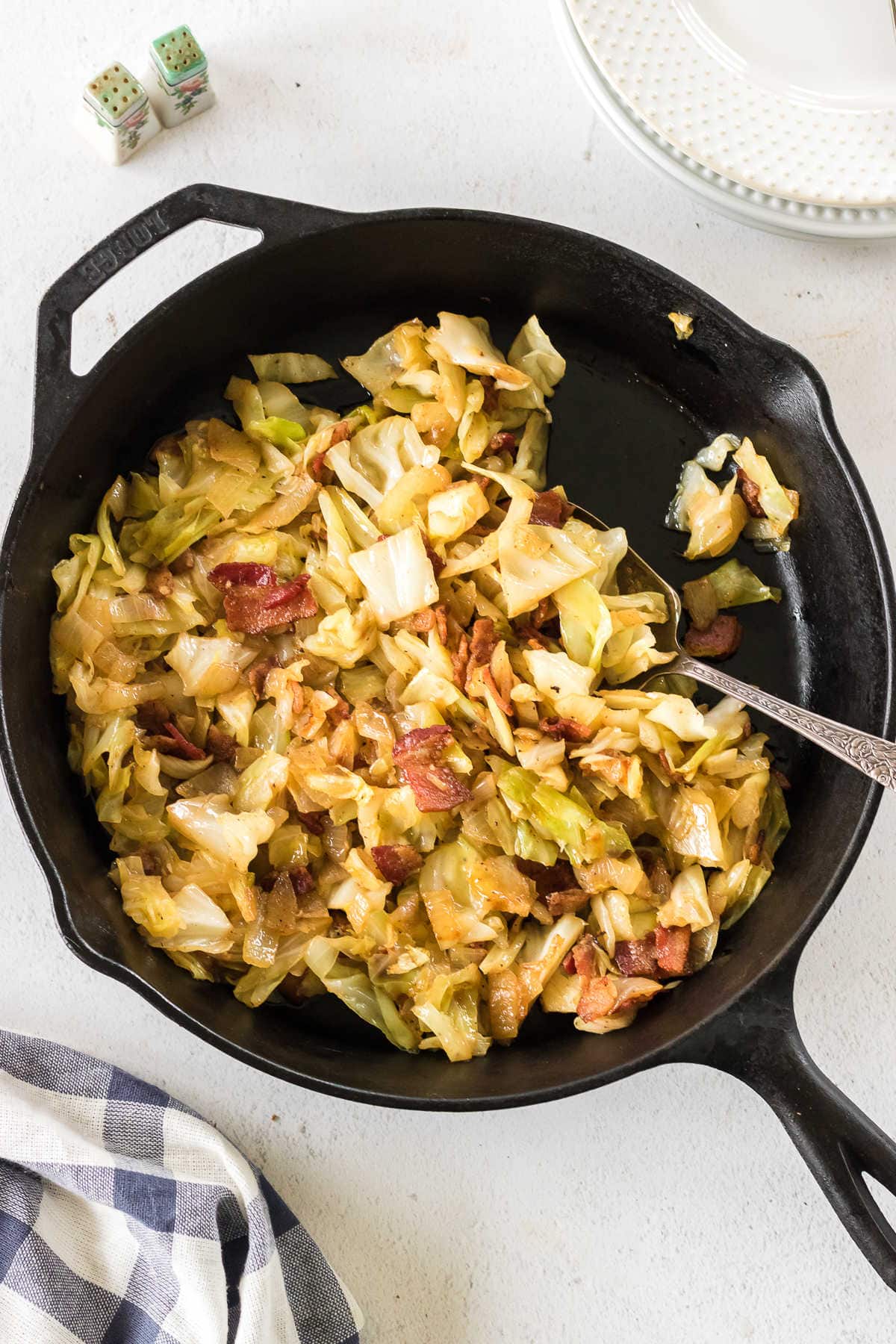 Storing cast iron
Store cast iron cookware in a cool, dry place.
If you have room to do so, hanging a cast iron pan can provide air circulation. This prevents moisture from building up.
Don't let your cast iron hang where it might often be exposed to hot steam (like behind or over a stove.)
Be sure to let your skillet dry completely before storing it. Excess water (even just a drop) can cause rusting.
Before storing your cast iron pan, wipe it down with a very thin layer of oil. (You can use whichever type of oil you season it with.) However, don't let the oil build-up or leave it to pool in the bottom of your pan.
If storing in the pantry or a cabinet, wrap your pan with a few paper towels to prevent it from getting scratched by other pans.
💭 Things to know
Expert Tip: It is possible to over-season your pan with too much oil, which can lead to uneven cooking. Experts recommend seasoning your skillet when the surface of the cast iron starts to show some dull spots.
Depending on what "regular use" means for you, you may need to reseason your pan as few as 2-3 times a year.
However, if you're cooking in it every night, your cast iron skillet may require seasoning as often as each month! Look for dullness, first, rather than timing it specifically on a calendar.
It may take a few rounds of seasoning to get a very old or unseasoned pan back into tip-top shape. Don't fret if it still looks dull after the first seasoning—just repeat the steps again until it's shiny.
Any area of a cast iron skillet can rust, so it's important to season all of the sides and the bottom, too.
Excess oil causes sticky spots, which will end up burning when you cook. Coat the cast iron until it's shiny with oil, but don't let any pool.
If you're using the stove method to season your cast iron pan, don't coat the outsides with oil. This could start a fire!
Whatever you do, don't put cast iron in the dishwasher! Harsh detergents remove and ruin the seasoning. Even if the pan is sold as "dishwasher-safe," it's best to hand wash.
Avoid cooking in your cast iron skillet with metal utensils. They can scratch the seasoning and ruin your effort!
Cast iron feels a little sticky? Chances are you used a bit too much oil when seasoning it. Place the pan back in the oven (upside down) and rebake it. The excess oil will burn off, leaving you with a perfectly seasoned skillet.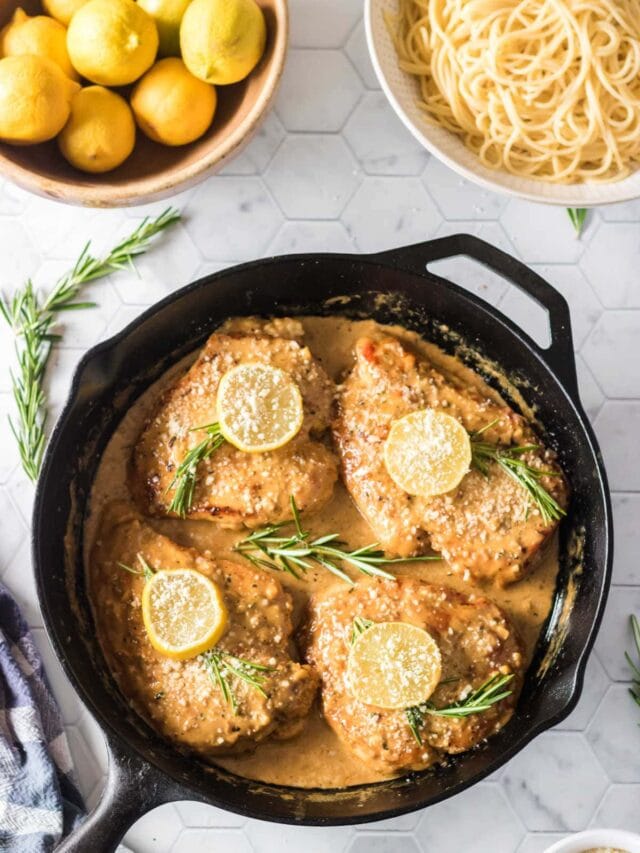 📚 Related
Get cooking with your seasoned cast iron skillet! These recipes are the perfect way to begin.
🥄 Restless Chipotle recommends
The following are affiliate links. We are a participant in the Amazon Services LLC Associates Program, an affiliate advertising program designed to provide a means for us to earn fees by linking to Amazon.com and affiliated sites.
There are a lot of different brands of cast iron skillets but I have been using Lodge for decades and I love it. It lasts forever and they have a variety of sizes.
📞 The last word
A cast iron skillet is really essential equipment in any household. When properly taken care of it will last for generations!