Bourbon Apple Pandowdy is something like a pie, something like a cobbler, and totally unlike anything you've ever eaten. A thick layer of tender apples is simmered in a bourbon and cinnamon spiked sugar syrup with a little chipotle to kick up the heat. Then strips of buttery pastry are dropped on top and the whole thing is baked. Partway through you push the pastry down into the apples so that it soaks up all of that sweet and spicy sauce. Served warm with vanilla ice cream it is unbeatable.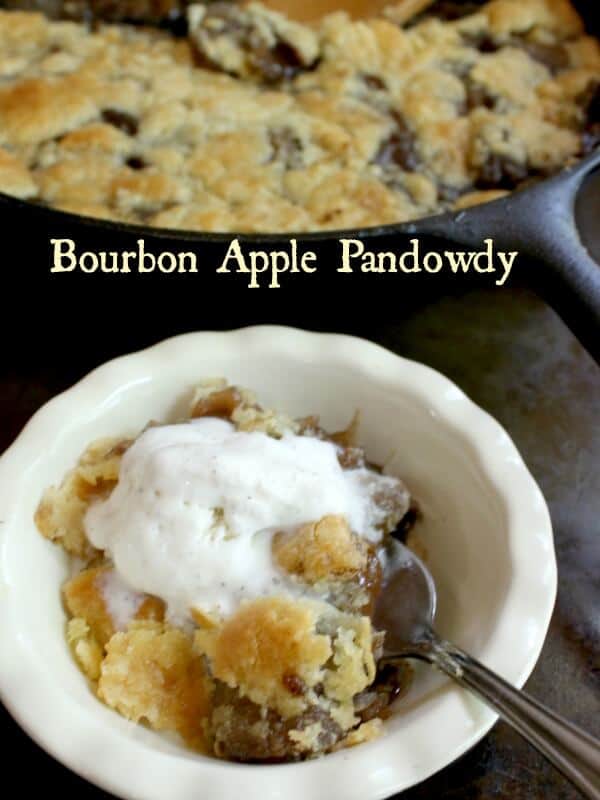 Yeah. I think this is more of an autumn dessert than a summer one. I totally agree with you — I am crazy. In my own defense with all of this rain that we are having it's much more like autumn here than like summer. Our temperatures are down right chilly for the last week of May in Dallas. Six Flags is underwater, it's too cold to go to Hurricane Harbor, and the crops can't set fruit because of all of the rain. Chilly (anything under 80F in Texas is chilly), dreary, rainy days call for warm, comforting desserts — like this old fashioned, bourbon apple pandowdy.
What is a pandowdy you ask?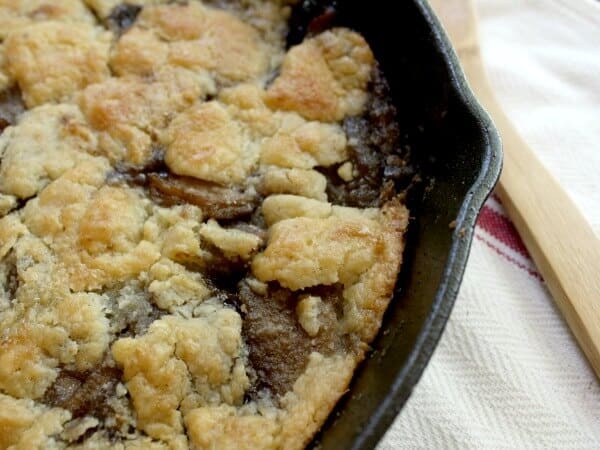 Well, some would say that it's a dessert born in Colonial America, made of apples and dough but I say it's a godsend for those who can't get a pie crust on to a pie without it falling apart. There is no bottom crust and the top crust is cut up pie dough or biscuit dough.
This recipe uses a tweaked pie dough that bakes crisp, buttery, and crumbly. It's made in an iron skillet where the apples are simmered in a rich, flavorful sauce before the pastry is put on and the whole thing is baked. When it comes out of the oven the crispy pastry is swathed in the thick, spicy sauce so every bite is crumbly-crispy and tender-sweet. The tiny bit of chipotle I add sort of kicks you at the end of the bite just to let you know it's in there.
It is not a beautiful dessert but it is a comfortable one. While Anne Shirley would have certainly eaten it Jay Gatsby never would have. Bourbon Apple Pandowdy, served warm with a scoop of vanilla ice cream is comfort food in the strictest sense of the word.
The following is an affiliate link. If you click through and buy something I will get a small commission which helps keep the blog up and running. Thank you so much for being a part of Restless Chipotle!
A cast iron skillet is an absolute necessity. Yes, you will see apple pandowdy made in ceramic pie pans and casserole dishes but people do all kinds of crazy things. I promise you a skillet is the thing to make this in. It gives the filling a different flavor and it just bakes differently. I can't explain it. I just know it's true. If you must make it in a casserole dish then cook the filling on the stove as directed and then turn it into a casserole dish to put the pastry on… but that is only in emergencies. Trust me. The skillet I used is a 15 inch cast iron skillet by Lodge. Like this…
Lodge Pre-Seasoned Cast-Iron Skillet, 15-inch
Hat tip to
Saveur
for inspiring this updated version of one of my favorite desserts. Be prepared to become a pandowdy addict in 3…2…1…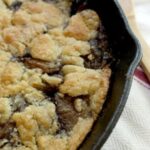 Bourbon Apple Pandowdy
Print
Add to Collection
Go to Collections
Tangy apples are simmered in a spicy sweet sauce and then baked with buttery squares of crust. Something like a cobbler or an apple pie but so uniquely good!
Total Time
1
hour
15
minutes
As an Amazon Associate I earn from qualifying purchases.
Ingredients
Crust
1

cup

flour

,

, plus more for dusting

3/4

cup

unsalted butter

,

, cubed and chilled

1

tablespoon

sugar

1

teaspoon

baking powder

1/2

teaspoon

kosher salt

3

tablespoons

ice-cold water
For the Apples
5

to 6 pounds Granny Smith apples

,

(about 6 large)

1/2

cup

bourbon

1/2

cup

unsalted butter

,

(one stick)

1/2

cup

sugar

1/2

cup

dark brown sugar

1

teaspoon

cinnamon

1/2

teaspoon

cloves

1/8

to 1/4 teaspoon chipotle powder

,

, or to taste

1/4

cup

heavy cream

Sugar for sprinkling
Instructions
Crust
Add the flour, butter, sugar, baking powder, and salt to a food processor bowl.

Process until the mixture is crumbly.

Add the water and pulse until the dough forms a ball.

Pat the dough into a disk and wrap in waxed paper.

Chill for 30 minutes.
Apples
Preheat the oven to 375F.

Core, peel, and slice the apples

Add the 1/2 cup butter, bourbon, sugar, dark brown sugar, cinnamon, cloves, apples, and chipotle to a 15-inch cast iron skillet.

Simmer, stirring occasionally, for 10 to 15 minutes, or until apples are tender.

Roll out the dough about 1/8-inch thick.

Cut into squares.

Drop the squares on the simmering apple mixture.

Brush with cream and sprinkle with sugar.

Bake for 20 minutes.

Push the dough gently into the apples mixture.

Bake for 20 minutes more, or until crust is crispy and golden.
Tried this recipe?
Tag me!! @Marye_RestlessChipotle
If you liked Bourbon Apple Pandowdy you may also like…
Fresh Strawberry and Cream Tart
Raspberry Pandowdy Boulder Locavore
Gingered Pear and Raspberry Pandowdy Technicolor Kitchen
Let's Keep in Touch!