This is not a beautiful dessert but it is a comfortable one. Think of it as a skillet apple pie.
Don't want to scroll through the page to get to the recipe? Use the table of contents to click on the section you want.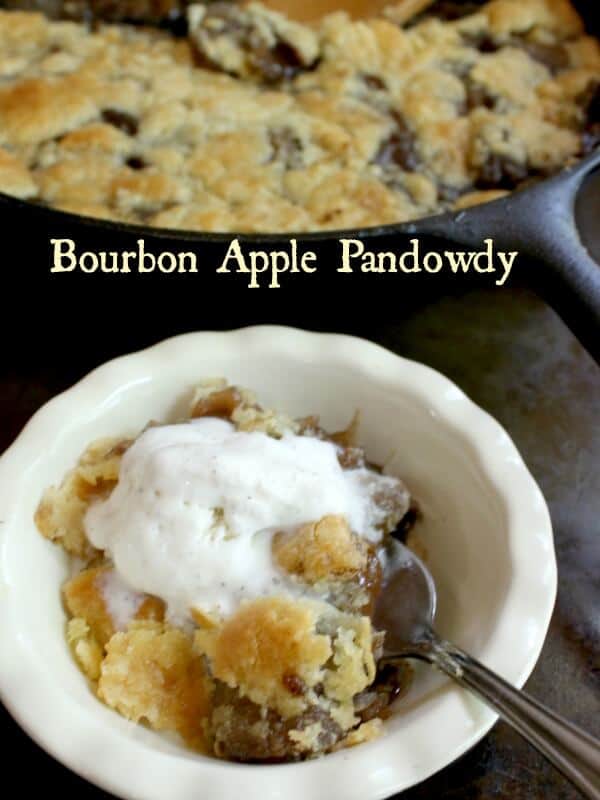 An apple pan dowdy recipe is like a very casual apple pie.
It's a simple, old-fashioned dessert that will have you smiling over every sweet bite.
Jump to:
🗝️ Key takeaways
Fuss-free pie crust—there's no worries about it cracking or breaking apart because it's cut up anyway.
This easy, old-fashioned recipe is a cozy fall dessert that's perfect for casual weekend dinners.
A mixture of apples is how we get great flavor in this apple pandowdy. Be sure to check the chart below to choose the best varieties.
Bourbon apple pandowdy is the most mouth-watering cross between pie and cobbler—think of it as a skillet apple pie, if you please.
Plus, everything cooks in the single cast iron skillet, so this delicious recipe is as easy and quick as it is warm and comforting.
📖 Variations
The apple filling tastes best with a mixture of sweet and tart apples. I recommend using all Granny Smith apples or swapping in some others from the chart below.
Don't like to cook with bourbon? That's okay! Use the same amount of apple cider or apple juice in its place.
Some people like to use puff pastry instead of pie crust.
Feel free to use a store-bought pie crust to speed up prep. You can generally find it near the frozen desserts at most major grocery stores.
It's not exactly traditional, but you can stir in some raisins, cranberries, or toasted pecans for extra flavor.
Haven't gone apple picking yet? Use this same recipe with peaches or pears (in place of apples) to make a similar, tasty dessert.
If you don't have an oven-safe skillet, don't worry! Prepare the apple pan dowdy filling, then transfer it to a greased baking dish or cake pan.
🥫 How to store leftovers
This apple pandowdy recipe doesn't usually yield many leftovers in my house—it's too good to resist!
However, extra pandowdy will last for up to four days in the fridge or three months in the freezer. Simply cover it with plastic wrap, or spoon the delicious apple dessert into a separate, airtight container.
You can enjoy the leftover pandowdy cold, but it's best when warmed up a little. If frozen, let it thaw in the fridge overnight. Then, heat it in the microwave at 50% power (or use the "defrost" setting) until it's warm. 🍎
💭 Things to know
Expert Tip: When making pie dough, be sure to use really cold ice water, and don't overmix it. Gentle handling makes for a super tender pastry!
Don't have a food processor? Simply cut the butter into the flour with two forks or a pastry blender until the texture resembles wet sand. There should be small chunks of butter left, about the size of peas.
Use ripe, fresh apples for the best results! (Some people use old apples since they reason that the texture will get soft anyway. However, if your apples taste mealy raw, they won't get better after baking.)
Cutting the apples into evenly sized-pieces ensures that they all cook at the same rate. This makes the pandowdy texture even tastier.
I like to cut the pie dough with a pizza cutter to make prep go by faster! You could also use cookie cutters to create fun, festive shapes.
Use coarse sugar for sprinkling, like turbinado or demerara sugar. This gives the pieces of dough the satisfying crunch that pandowdy crust is known for.
I usually put the iron skillet on top of an old baking pan to catch any juices that might overflow.
🍎 Which apples are best?
Choose a mixture from the following:
| | | | |
| --- | --- | --- | --- |
| Apple Type | Flavor | Texture | Hold shape? |
| Honey Crisp | sweet | crisp & juicy | yes |
| MacIntosh | tangy | creamy | no |
| Braeburn | balanced sweet & tart | firm & crisp | yes |
| Winesap | sweet; slight spicy flavor | crisp & juicy | yes |
| Jonathon | sweet & tangy | crisp | yes |
| Jazz | sweet, tart, tangy, slight spice | crisp & juicy | yes |
| Granny Smith | very tart | crisp | yes |
Don't use Red Delicious, Gala, or Fuji—they turn to mush in the oven.
👩‍🍳 FAQs
Do I have to peel the apples?
We like the texture a little better when the apple slices are peeled. However, if you prefer it the other way around, go ahead and leave the skin on!
Help! How do you roll out pie crust without it sticking?
I have a complete guide on making the perfect pie crust. By following these tips, making crust is (as the saying goes) easy as pie! Take my word for it—it's foolproof.
Can I swap maple syrup for the sugar?
Nope! Here's a tip from Baking 101: though they're about the same level of sweetness, replacing dry white or brown sugar with a liquid sugar (such as maple syrup) will throw off the balance and make your pandowdy soupy.
How do I know the apple pandowdy is finished baking?
You'll notice slow-bubbling juices around the edges and a golden-brown finish on the crust. Apple pandowdy (like pie) will continue to thicken as it cools, so don't be afraid to take it out of the oven if it's still a bit juicy. Pandowdy is naturally a little wetter than pie, anyway.
What does pandowdy (or pan dowdy) mean?
We think it got the name because the top crust is cut up or "dowdied".
What's the Origin of Apple Pandowdy?
Pandowdies were well known in Colonial America and into the 19th century. According to an 1849 cookbook the dish was known as a pandowdy in the north and a brown betty in the south.
It evolved, like so many dishes, from recipes that were handed down through the centuries and no one really knows where it began.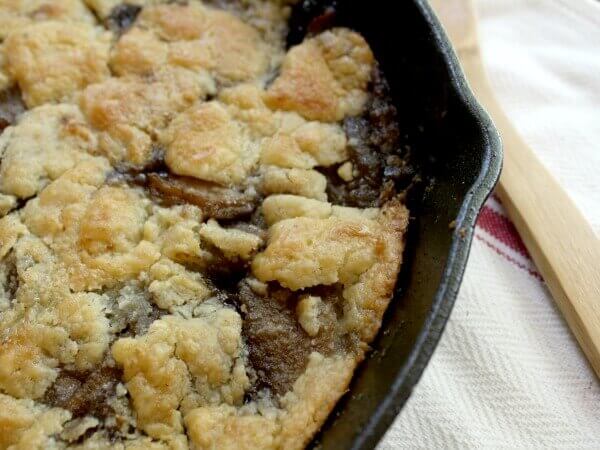 📚 Related recipes
Looking for a classic way to use up your autumn apples? Dutch Apple Pie has a crumbly streusel, buttery crust, and is done in about an hour.
Rustic, sweet, and juicy, Southern Bourbon Peach Cobbler is an easy recipe that the entire family will love to eat—it's so good.
Crockpot Caramel Apple Dump Cake uses just three ingredients for a warm, gooey, delicious fall treat you'll crave all year long!
🍽️ Serve with...
Keep the fall theme strong with delicious Ham, Cheese, and Apple Biscuit Sandwiches. They're great for parties, brunches, and tailgating.
The only thing that makes apple pandowdy better is a big scoop of Vanilla Ice Cream on top. (Okay, maybe two scoops!)
Bursting with warm fall flavors and a tongue-tingling sparkle, Apple Cider Sangria is an adults-only beverage that tastes like the best autumn memories.
📓 Meal plans in minutes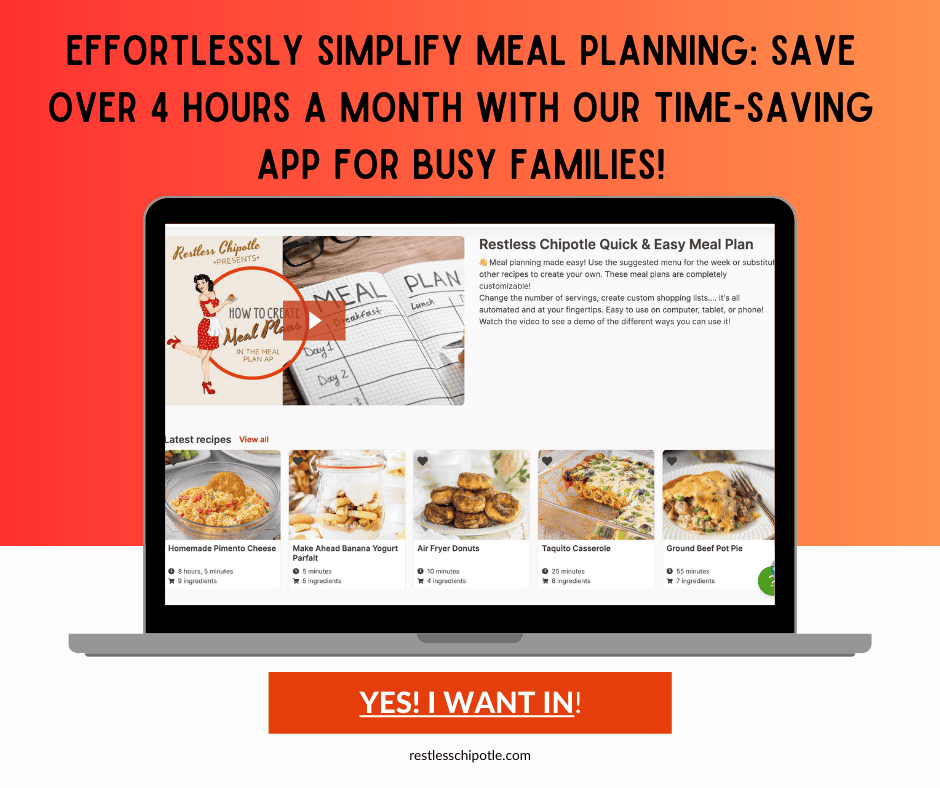 What is a pandowdy
What is apple pan dowdy you ask?
Well, some would say that it's a dessert born in Colonial America, made of apples and dough. I say it's a godsend for those who can't get a pie crust onto a pie without it falling apart.
It's made in an iron skillet. The apples are simmered in a rich, flavorful sauce.
There is no bottom crust and the top crust is cut-up pie dough or biscuit dough.
In this recipe, a thick layer of tender apples is simmered in a bourbon and cinnamon-spiked sugar syrup with a little chipotle to kick up the heat. I like to use an iron skillet for this.
Then large squares of buttery pastry are dropped on top and the whole thing is baked.
Part way through the baking time you push the pastry down into the apples so that it soaks up all of that sweet, spicy sauce.
Served warm with cinnamon ice cream or a big scoop of vanilla ice cream it is everything you want on a crisp fall day - or on a 90 degree Texas day when you wish it was a crisp fall day!
I like to drizzle a little maple syrup over the top, too. I mean, YOLO, right?
📞 The last word
I think this easy, all-American dessert must have been created by some frustrated cook that just couldn't get their pie crust right!
It's especially good if you have an orchard nearby where you can go apple picking.
There's something about the fresh, snappy flavors that give this apple dessert a little extra oomph.
Next time try this easy peach cobbler!
If you click on the number of servings in the recipe card you can adjust the measurements up or down for the exact number of servings you need.
If you love this recipe please give it 5 stars! ⭐️⭐️⭐️⭐️⭐️
📖 Recipe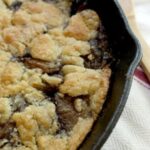 Bourbon Apple Pandowdy
Print
Save
Saved!
Apple pandowdy is something like a pie and something like a cobbler but uniquely delicious!! Tangy apple filling is simmered in a spicy sweet sauce and then baked with buttery squares of crust.
As an Amazon Associate I earn from qualifying purchases.
Ingredients
Crust
1

cup

flour,

plus more for dusting counter top

¾

cup

unsalted butter

,

cubed and chilled

1

tablespoon

sugar

1

teaspoon

baking powder

½

teaspoon

kosher salt

3

tablespoons

ice-cold water
For the Apples
6

pounds

Granny Smith apples

,

(about 6 large) or mixed varieties

½

cup

bourbon

½

cup

unsalted butter

,

(one stick)

½

cup

sugar

½

cup

dark brown sugar

1

teaspoon

cinnamon

½

teaspoon

cloves

⅛

to ¼ teaspoon chipotle powder

,

or to taste

¼

cup

heavy cream

Sugar for sprinkling
I earn a commission from Instacart from qualifying purchases.
Instructions
Crust
Add the flour, butter, sugar, baking powder, and salt to a food processor bowl.

Process until the mixture is crumbly.

Add the water and pulse until the dough forms a ball.

Pat the dough into a disk and wrap in waxed paper.
Apple Filling
Preheat the oven to 375°F.

Core, peel, and slice the apples into thick slices - between ¼ and ½ inch thickness.

Add the ½ cup butter, bourbon, sugar, dark brown sugar, cinnamon, cloves, apples, and chipotle to a 15-inch cast iron skillet.

Simmer, stirring occasionally, for 10 to 15 minutes, or until apples are tender. If you're using a regular skillet you'll want to pour the apples into a greased cake pan at this point.

Roll out the dough about ⅛-inch thick.

Cut into squares.

Drop the squares on the simmering apple mixture.

Brush with cream and sprinkle with sugar.

Push the dough gently into the apples mixture.

Bake for 20 minutes more, or until crust is crispy and golden.
Notes
Storage:
Pandowdy will last for up to four days in the fridge or three months in the freezer. Simply cover it with plastic wrap, or spoon the delicious apple dessert into a separate, airtight container.
Tips
Save time by using a purchased crust.
You can leave the bourbon out if you wish. Substitute with the same amount of apple cider or juice.
You can substitute pears or peaches for the apples. Delish!
When you push the pastry down partway through cooking you don't want to push it to the bottom. Just gently submerge until it's covered with the syrup then let it come back up to the top.
If you don't have an iron skillet you can use a 9-inch cake pan - round or square.
Bourbon apple pandowdy is best served warm.
You'll find more helpful tips and variations in the body of the post.
Nutrition Facts
Calories:
525
kcal
|
Carbohydrates:
70
g
|
Protein:
2
g
|
Fat:
26
g
|
Saturated Fat:
16
g
|
Cholesterol:
69
mg
|
Sodium:
128
mg
|
Potassium:
368
mg
|
Fiber:
7
g
|
Sugar:
50
g
|
Vitamin A:
944
IU
|
Vitamin C:
13
mg
|
Calcium:
57
mg
|
Iron:
1
mg
Nutrition information is estimated as a courtesy. If using for medical purposes, please verify information using your own nutritional calculator. Percent Daily Values are based on a 2000 calorie diet.
Sign up for the emails and never miss another recipe!!
We'll never share your email or send you spam. Pinkie swear.
First published May 28, 2015. Last updated July 24, 2023 for readability and updating code.
What's new? Check out my Restless Chipotle & Co. Store on Amazon where you'll find all kinds of nostalgic goodness! Thanks so much for being a part of Restless Chipotle!