Keep a batch of this in the freezer for a quick meal that everyone will love.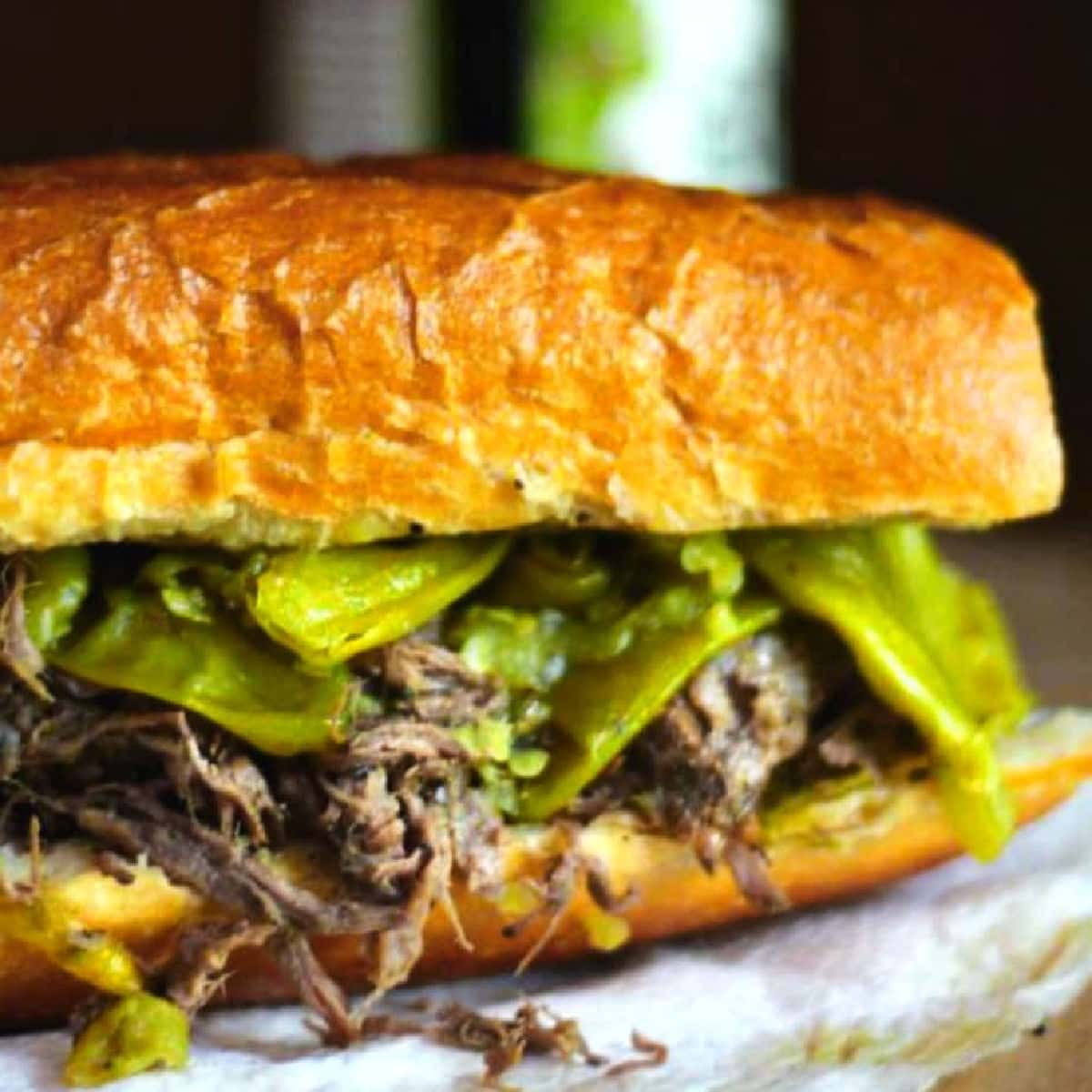 Jump to:
❤️ Why you'll love it
A real crowd-pleaser made with satisfying, simple ingredients
Easy dinners in the crockpot are a busy mom's best friend
The tender beef cooks in a vinegary au jus (a fancy way to say: the delicious meat juices!)
This Italian beef recipe is a family favorite on busy weeknights, but it's also great on game day, too! The shredded beef simmers all day, then is piled high on crispy, buttery baguettes—caramelized onions and peppers are optional but highly recommended. 1/10 difficulty, but 10/10 for flavor.
🧾 Ingredients
This is an overview of the ingredients. You'll find the full measurements and instructions in the green recipe card (printable) at the bottom of the page.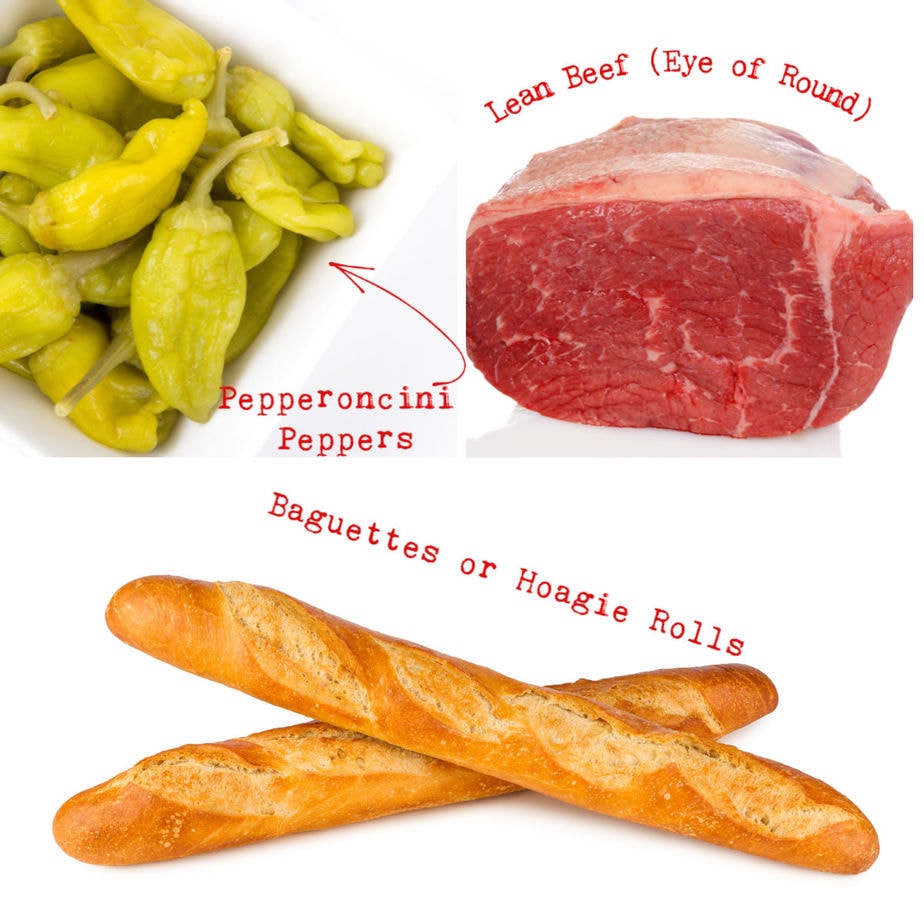 🥫 Storage
I don't know how, but these sandwiches taste even better the second time around! Here's how to store 'em for best results:
Refrigerator Storage:
Cooked Italian beef lasts up to 5 days in the refrigerator. Just put it in an airtight container (or cover with plastic wrap) and make sure it's fully cooled before storing.
You can also store extra cooked onions and peppers in the same way.
Only warm as many baguettes as you'll eat, and put the rest in a paper bag. Store at room temperature for a few days and whip up yummy crock pot Italian beef sandwiches again tomorrow!
Freezer Storage:
Alternatively, freeze leftover slow cooker beef for up to 3 months in thick, plastic freezer bags. Defrost overnight in the refrigerator and you're ready to go!
You can also use a vacuum sealer for more extended storage. I like to separate the beef into individual servings and thaw it when we need dinner but only have a few minutes to prep.
Wrap leftover fresh baguette tightly in plastic, first, then foil, and freeze for up to three months.
📖 Variations
A lean cut of beef works best, like an eye of round roast. However, if you want to use a fattier cut, like a boneless chuck roast, be sure to trim the fat before cooking it.
Some people like to use a packet of dry Italian dressing mix for extra flavor, or in place of some of the pepperoncini. I don't think this recipe needs it, but it's tasty either way.
You could also add a little bit of your favorite dried Italian seasoning to give the beef an herbal flavor.
If your grocery store is out of baguettes, you can use French bread or hoagie buns instead. They're softer than baguettes, so, if opting for hoagie rolls, make sure to toast them so they don't fall apart.
This easy crockpot Mississippi chicken makes some pretty amazing sandwiches.
There are so many toppings that you can use in this Italian beef sandwich recipe! Here are some of my favorite ways to serve them. Try a few and find your ideal combo!
Caramelized onions (or, try French fried onions)
Sauteed peppers
Chicago-style Giardiniera (or other pickled vegetables)
Pickles
Olives
Butter lettuce
Tomatoes
Slices of gouda or provolone cheese
Shredded Monterey jack or mozzarella cheese
Zesty Italian salad dressing
And serve with these bbq pasta salad! So good.
💭 Things to know
Expert Tip: Remember to use the whole jar of pepperoncini—no draining necessary! The juice in the jar makes up the delicious cooking liquid that helps tenderize your beef!
8 hours is the minimum cooking duration, but feel free to leave it in the Crockpot for a long time—even up to 12 hours! With slow cooker recipes like these, the meat just keeps getting more tender and flavorful!
Shred the large chunks of meat after 7 hours even if you are cooking it longer than 8 hours. This allows the flavors to soak deeper into the Italian beef.
For extra crunchy rolls, don't assemble the sandwiches until just before serving. The "mouth feel" (or, texture in your mouth) is unbeatable with juicy, tender meat against crisp, buttery bread! Yum.
To toast all the bread at once, brush baguettes with olive oil or butter and place them (cut-side down) in a large skillet over medium heat until golden brown. You can also heat them under the broiler on a baking sheet.
👩‍🍳 FAQs
Does the jar of pepperoncini make the beef spicy?
Not too much, no! There is a little kick to the beef, but it mostly adds a tangy vinegar-like flavor. Perfect for cutting through the richness of the meat.

If you're worried about the tanginess level, make sure to top your sandwich with some melted mozzarella cheese. It'll counteract any acidity and balance everything out perfectly.
I don't like pepperoncini; is there a substitute?
Crockpot Italian beef sandwiches aren't exactly the same without the tangy, pepperoncini flavor. However, if you absolutely must omit it, use about a cup of beef broth and a few tablespoons of Worcestershire sauce.
Can I use my instant pot to cook the Italian shredded beef?
If your instant pot has a slow cook option as some multi-cookers do, go ahead and use it. You'll want to slow cook the beef for 8 to 12 hours for the best, fork-tender results.
📚 Related recipes
🍽️ Serve with...
📞 The last word
If you click on the number of servings in the recipe card you can adjust the measurements up or down for the exact number of servings you need. Don't forget that you can click on "add to collection" to save it to your own, private recipe box!
If you love this recipe please give it 5 stars! ⭐️⭐️⭐️⭐️⭐️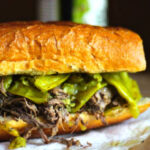 Slow Cooker Italian Beef Sandwiches
Print
Pin Recipe
Save
Go to Collections
Lean beef is slow cooked in the crockpot until it is melt in your mouth tender and juicy then piled high in crusty baguettes. Add your favorite toppings and you've got an easy Italian beef sandwich that will get rave reviews from your family!
As an Amazon Associate I earn from qualifying purchases.
Ingredients
3

lbs

beef roast

,

use a very lean cut like eye of round.

salt and pepper

,

to taste

1

teaspoon

Italian seasoning

,

optional

1

tablespoon

garlic

,

minced or 1 teaspoon garlic powder

16

oz

pepperoncini peppers,

with juice

2

baguettes

,

cut in 4 sandwich sized lengths each

Caramelized onions

,

optional

Sauteed peppers

,

optional

Provolone

,

optional

Giardiniera,

optional
I earn a commission from Instacart from qualifying purchases.
Instructions
Season the meat with salt and pepper.

Put it in a slow cooker and add the entire contents of the peperocini jar.

Add minced garlic.

Cover and cook on low for 8 - 10 hours.

After 7 hours shred the beef with 2 forks and then let it cook for at least another hour. This infuses the meat with even more flavor.
Assembly
Warm baguettes in the oven until crust is crispy.

Cut in half and pile meat onto the bottom part.

Add optional ingredients and add top of bread.

This is even better the next day if it lasts that long.
Notes
If you use chuck roast, or a cut of beef with a lot of fat, be sure to trim it before cooking.
The longer this cooks the more tender and flavorful it is. If you can give it 10-12 hours it's even better.
Shred the meat after 7 hours even if you are cooking it longer than the required 8 hours. During that time the flavor of the other ingredient, pepperoncini peppers, soaks into the meat giving it a vinegary bite and just a smidge of spicy heat.
Garlic butter is amazing on these - just spread it on the bread before you put the beef on. In fact, I like to slice into the bread, gently open it, spread it with garlic butter, and then toast it before I add the beef. The crust gets crunchy, the bread is chewy and garlicky, and the beef is juicy and tangy.
The cooked, shredded beef freezes well. I like to vacuum seal in serving size packets for quick meals when I need them.
Serve with...
I like to serve these with macaroni salad or cole slaw on the side. And you can't beat classic chocolate chip cookies for an easy dessert!
Store...
Cooked Italian beef will last up to 5 days in the refrigerator as long as you put it in an airtight container. Make sure it's completely cooled before you seal it. You can also use a vacuum sealer for longer storage.
Or, freeze it for up to 3 months. Defrost overnight in the refrigerator and you're ready to go!
Nutrition Facts
Calories:
492
kcal
|
Carbohydrates:
35
g
|
Protein:
39
g
|
Fat:
22
g
|
Saturated Fat:
9
g
|
Cholesterol:
117
mg
|
Sodium:
528
mg
|
Potassium:
779
mg
|
Fiber:
4
g
|
Sugar:
2
g
|
Vitamin A:
215
IU
|
Vitamin C:
47
mg
|
Calcium:
87
mg
|
Iron:
6
mg
Sign up for the emails and never miss another recipe!!
We'll never share your email or send you spam. Pinkie swear.
First published January 25, 2013. Last updated August 15, 2022 to improve readability.
What's new? Check out my Restless Chipotle & Co. Store on Amazon where you'll find all kinds of nostalgic goodness! Thanks so much for being a part of Restless Chipotle!