This French fried onions recipe is a copycat French's onions (or Durkee onions) and are so easy to make at home! These are crispy with plenty of onion flavor and a little spicy kick from the coating that's used. The trick is to slice the onions super thin and fry them until they are crispy but not burnt. They work great on the top of casseroles, ground to crumbs as an ingredient, or as snacks!
You'll need: white onions, buttermilk, flour, Tony Chachere's seasoning, oil for frying, electric deep fryer or deep pot for on top of the stove frying, paper towels for draining.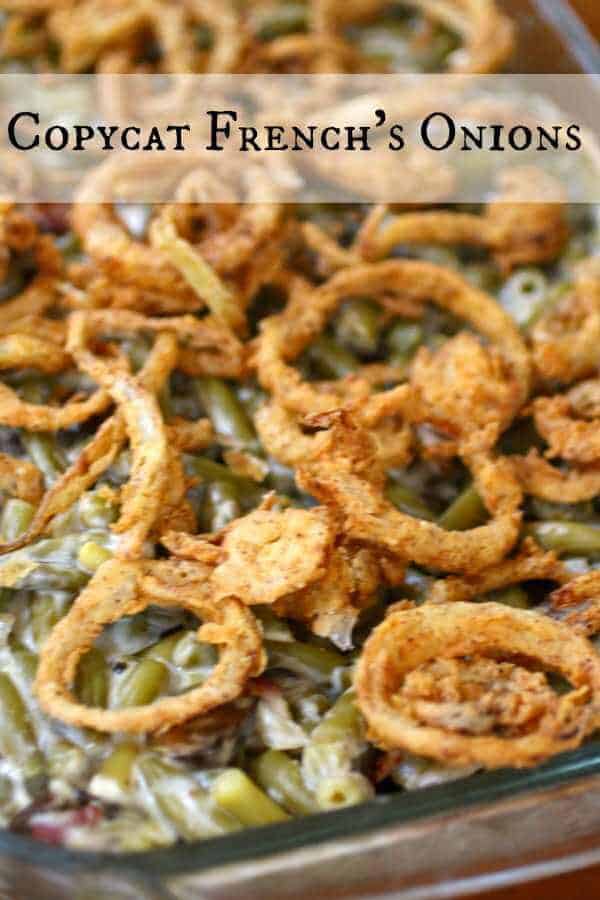 French Fried Onions Backstory
What's green bean casserole without French's onions? I mean, even when I ditched the cream of mushroom soup because homemade I still used the French fried onions from the can. I had no idea that you could make them yourself — and I realize how silly that sounds now but honestly it just never occurred to me!
Well, Thanksgiving came and I was madly throwing things together trying to get everything done. I realized at the very last minute that I did not have the onions for the top of the green bean casserole.
Quelle horreur!
I did what any red blooded American foodie would do… I had a meltdown. Once that was out of the way I hit up Google to see if there were any French fried onions recipes out there at all. And…. Jackpot! I found this Copycat Durkee recipe. It's relatively simple and straight-forward. I did make a few adjustments because I wanted a little more heat to the crunchy onions than a plain coating would give. I did learn that the thinner you can slice the onions the crispier they will get without burning. You don't want onion rings, you want them to be crispy all the way through.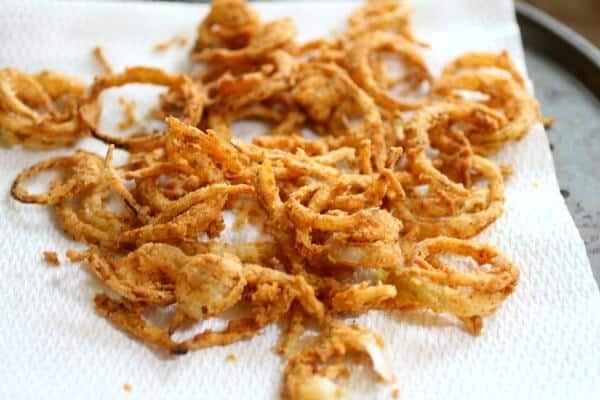 Buttermilk just makes that intense onion bite soften and become mellow – plus, I had some leftover buttermilk. Make these French fried onions and use them in any recipe that calls for the French's or Durkee Onions. You can store them in an airtight container in a cool pantry for at least a few days. Mine didn't last longer than that!
You May Need…
The following are affiliate links. We are a participant in the Amazon Services LLC Associates Program, an affiliate advertising program designed to provide a means for us to earn fees by linking to Amazon.com and affiliated sites.
What's new? A brand new store full of things to help you make the recipes, celebrate the days, and create the memories! Check out Restless Chipotle & Co. As always, thanks so much for being a part of Restless Chipotle!
If you are going to make French fried onions (or any fried food) then an electric deep fryer is just about a necessity. This is the one that I use and I just love it. It's got two small baskets for when you are frying two different things and it also comes with one big basket. It heats quickly and evenly and is easy to clean. I've been using mine for 4 years and it's still going strong — and I fry A LOT.


Hamilton Beach 35034 Professional-Style Deep Fryer, Silver
French Fried Onions Recipe
I love the flavor of this copycat French's Onions recipe. Crispy with a mild onion flavor, you can use these French fried onions in any recipe that calls for the store bought kind. If you love this recipe please give it 5 stars!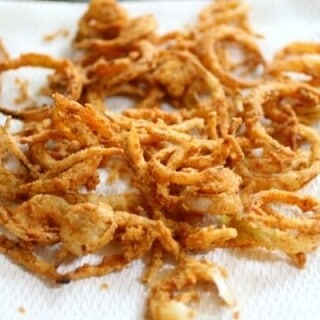 Copycat French's Onions
Print
Add to Collection
Go to Collections
Copycat French's Onions are crispy and full of flavor just like the original. These have a little seasoning added to make them even better.
As an Amazon Associate I earn from qualifying purchases.
Ingredients
1 1/2

pounds

of onions sliced in to paper-thin rings

2

cups

buttermilk

2

cups

flour

3

tablespoons

Tony Chachere's

Peanut oil for frying

,

(I like this best, if there is an allergy any other oil with a high smoke point can be used.)
Instructions
Heat the deep fryer up to 375F.

Mix the flour and the Tony Chachere's Creole Seasoning.

Add the onions to the buttermilk and let stand for 10 minutes.

Drain and then dredge in the flour .

Fry, a few at a time, until golden brown and crisp.

Drain on paper towels.

Store in an airtight container.
Nutrition
Calories:
127
kcal
|
Carbohydrates:
23
g
|
Protein:
4
g
|
Fat:
1
g
|
Saturated Fat:
0
g
|
Cholesterol:
4
mg
|
Sodium:
45
mg
|
Potassium:
184
mg
|
Fiber:
1
g
|
Sugar:
4
g
|
Vitamin A:
585
IU
|
Vitamin C:
5.1
mg
|
Calcium:
64
mg
|
Iron:
1.2
mg
Tried this recipe?
Tag me!! @Marye_RestlessChipotle
If you liked this Copycat French's Onions Recipe you may also like…
Copycat Popeye's Chicken Strips
Copycat A-1 Steak Sauce Thrifty DIY Diva
Copycat Cheez-Its Frugal Coupon Living