Copycat Popeye's Chicken Strips are tender, juicy strips of chicken covered in a spicy, crispy coating. They are unbelievably easy to make, too. You'll never go back to fast food again!
I have a child, who shall remained unnamed here, who does not appreciate having a food writer mom. If this child had its way I would work in a fast food restaurant and bring home chicken strips every night. Do you know how depressing it is to place a complex dish with a French name in front of someone only to have them ask to be taken to the local fast food place?
I am devastated.
And by devastated I mean determined to change the child's preferences… which may be a bit like getting Perez Hilton to…. ah.. never mind.
Anyway, I have decided to fight fire with fire so to speak and make copycats of those nasty foods. It took me a few times to get chicken strips I was pleased with but these fit the Happy Meal box nicely.
The trick is to marinate the chicken strips in seasoned buttermilk for 30 minutes or so before frying them. This allows the buttermilk to tenderize the meat at the same time the seasonings are absorbed. The chicken comes out juicy and tender with lots of flavor. In fact, the child who shall not be named said, Thanks for dinner mom! It was reallly good!
I thought I heard Twilight Zone music and I was tempted to check the back yard for pods.
Now, if you don't have a Popeye's in your neck of the woods then you don't understand the enormity of posting this recipe. Popeye's makes fried chicken like no other — spicy, smoky, crispy perfection. They have their own special sauce to dip it in but my kids like honey mustard sauce the best. Or Ranch. You can't go wrong with Ranch.
The secret to the flavor here is smoked paprika. I am relatively sure that Popeye's uses regular paprika but if they try it my way once they won't go back to their way. I promise you that.
Here's the thing. I fry everything in peanut oil. I like it, it fries hot, and it's my preference. If you have allergies to consider then fry in whatever deep frying oil you prefer. If you don't have allergies use the peanut oil. Just do it, 'k?
Keep them hot in a warm oven until it's all done. Serve with fries and cole slaw.
The following are affiliate links. We are a participant in the Amazon Services LLC Associates Program, an affiliate advertising program designed to provide a means for us to earn fees by linking to Amazon.com and affiliated sites.
Thanks so much for being a part of Restless Chipotle!
If you happen to need an electric deep fryer the Presto 05466 Stainless Steel Dual Basket Pro Fry Immersion Element Deep Fryer
is the one I have used for a couple of years. I love it!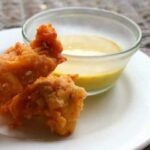 Copycat Popeye's Chicken Strips
Print
Add to Collection
Go to Collections
Crispy, spicy chicken strips better than the local fast food place. The meat is tender and juicy and the coating is crisp and spicy. Perfect!
As an Amazon Associate I earn from qualifying purchases.
Ingredients
4

chicken breasts sliced in strips

1/3

cup

Louisiana style hot sauce

1/2

cup

buttermilk

Peanut oil to fill a deep fryer

1/2

to 1 teaspoon Chipotle chile powder

2/3

cup

all purpose flour

2

teaspoons

smoked paprika

2

teaspoons

salt

3

eggs
Instructions
Cut each chicken breast into four or five strips.

Combine the hot sauce and buttermilk in a small bowl.

Put half of this mixture in with the chicken, reserving the other half.

Marinate the chicken for at least 30 minutes but not more than an hour or two.

Combine the flour, chipotle, smoked paprika, and salt.

Beat the eggs with the other half of the buttermilk mixture.

Heat the deep fryer to 360F

Drain the chicken.

Dip it in the flour mixture.

Dip it into the egg mixture.

Dip back into the flour mixture.

Repeat with all of the chicken.

Fry in the deep hot oil until the outside is golden and an instant read thermometer registers 165F when poked in the center of the chicken strip.

Don't overcrowd the fryer.

Drain and keep warm until serving.
Sign up for the emails and never miss another recipe!!
We'll never share your email or send you spam. Pinkie swear.
If you like Copycat Popeye's Chicken Strips you may also like…
Homemade Tater Tots Restless Chipotle
Onion Rings Restless Chipotle
Doritioes Crusted Chicken Strips Six Sister's Stuff
Coconut Crunch Chicken Strips The Cozy Apron