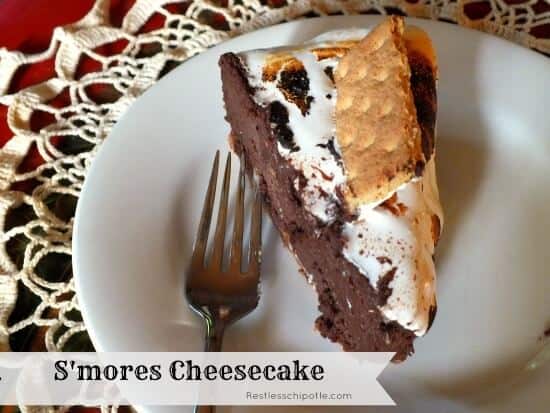 S'mores cheesecake. If there is any more perfect a dessert don't know what it might be. Graham crackers on the crust and on the top, deep chocolate cheesecake, slightly charred marshmallow topping...
Drooling yet?
I have always liked camping. I think that I am probably at the point now where I would rather camp in a luxury sweet or the quaint room of a romantic B &B but I used to love camping in the woods, setting up the campsite, sleeping in the tent... all of it. What I loved best was s'mores. Who ever was the first person to smear a golden, melty marshmallow across a graham cracker and slap chocolate on it was brilliant, and quite possibly should have a statue somewhere commemorating the deed.
I made the Bon Appetit S'mores pie in the past and I loved it but I kept thinking about cheesecake because, well, that's what I think about when I am not doing anything else. At one time I seriously considered doing just a cheesecake blog — and I may yet do just a cheesecake book. I have so many of these that I have developed over the years that you wouldn't believe it.
So, let's talk cheesecake, shall we? Cheesecake is quite simple and there aren't many ingredients so you'll want to get the best quality that you can. I think it makes a difference so take the time to figure out what brand of each ingredient you like best and stick with it. I like to use Hershey's Special Dark cocoa for my chocolate desserts. Cocoa imparts a much deeper chocolate flavor than other types of chocolate as far as I am concerned and the cheesecake has enough fat to make it work. This recipe uses both melted chocolate and cocoa for extra depth.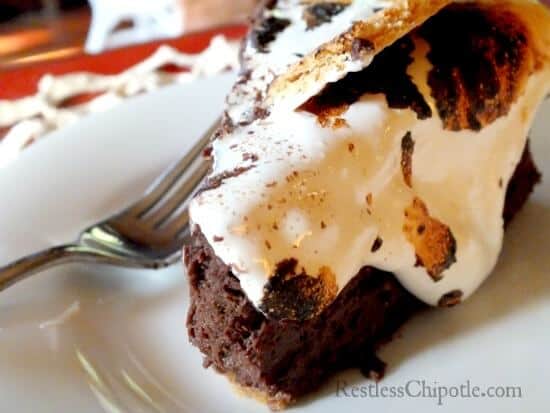 I used marshmallow cream but you could just as easily use marshmallows for the top. The most important thing is to torch them until they are melty and slightly charred. If it is hot and humid the marshmallow fluff will try to slide off the cake. No matter, it just makes it that much gooey-er and better.
Serve this at one of your cookouts and see what being worshiped is like.
This was made in an extra deep, 9-inch springform pan. You can use a 10-inch but it will be a bit thinner.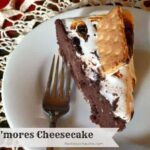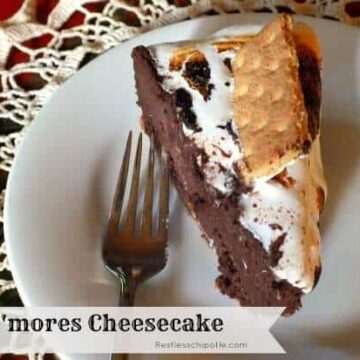 S'mores Cheesecake
Print
Save
Go to Collections
Deep chocolate cheesecake with a charred marshmallow topping and plenty of graham crackers for real s'mores flavor
As an Amazon Associate I earn from qualifying purchases.
Ingredients
2

cups

graham cracker crumbs

¼

cup

sugar

⅓

cup

unsalted butter

,

, melted

4

packages of Philly cream cheese

,

(36 ounces total), room temp

2

cups

sugar

6

eggs

,

, room temp

1

cup

bittersweet chocolate chips

⅓

cup

dark cocoa powder

⅓

cup

heavy cream

1

teaspoon

vanilla

1

cup

sour cream

,

, room temp

1 7-

oz

jar marshmallow cream

Graham crackers for garnish
I earn a commission from Instacart from qualifying purchases.
Instructions
Crust
Mix the crumbs with the sugar and butter.

Press into the bottom and part way up the sides of a 9 inch springform pan.

Cover the pan bottom and sides on the outside with aluminum foil to keep any water out.
Cheesecake
Preheat the oven to 375F.

Melt the 1 cup of chocolate chips in the ⅓ cup of cream. Whisk until smooth. Let cool to room temp.

Beat the cream cheese in low speed until smooth.

Add the sugar and continue to beat at low speed.

Add the eggs, one at a time, beating well after each.

Remove bowl from mixer and fold in the vanilla, sour cream, cocoa, and chocolate.

Pour into springform and place it in another, larger pan.

Add water until it comes halfway up the sides of the outside of the cheesecake pan. (this makes the bain marie)

Bake for 45 minutes.

Turn off the heat and leave the cake in the oven for 1 hour. DO NOT open the oven door.

Remove from the bain marie and to a rack to cool to room temperature.

Refrigerate for at least 4 hours or overnight.
Topping
Remove the cake from the refrigerator.

Carefully slide a knife between the cake and the pan sides to loosen the cake.

Remove the sides of the springform.

Spoon the marshmallow cream over the top

Use a propane torch to melt and char the marshmallow

Arrange graham crackers on the top for garnish.
Notes
Time includes resting time and minimum refrigeration time
Sign up for the emails and never miss another recipe!!
We'll never share your email or send you spam. Pinkie swear.