Chocolate chess pie is a Southern recipe that is undeniably the most chocolate of chocolate desserts. It's almost like eating brownie batter in a butter crust – talk about decadent! While there are many varieties of chess pie, and probably as many chess pie recipes as there are Southern cooks, this heirloom confection is a favorite at our house. Make it once and it will be a favorite at your house, too!
For this recipe you'll need: butter, all-purpose flour, sugar, brown sugar, salt, unsweetened cocoa powder (extra dark works best), eggs, vanilla, evaporated milk, and Confectioner's sugar or whipped cream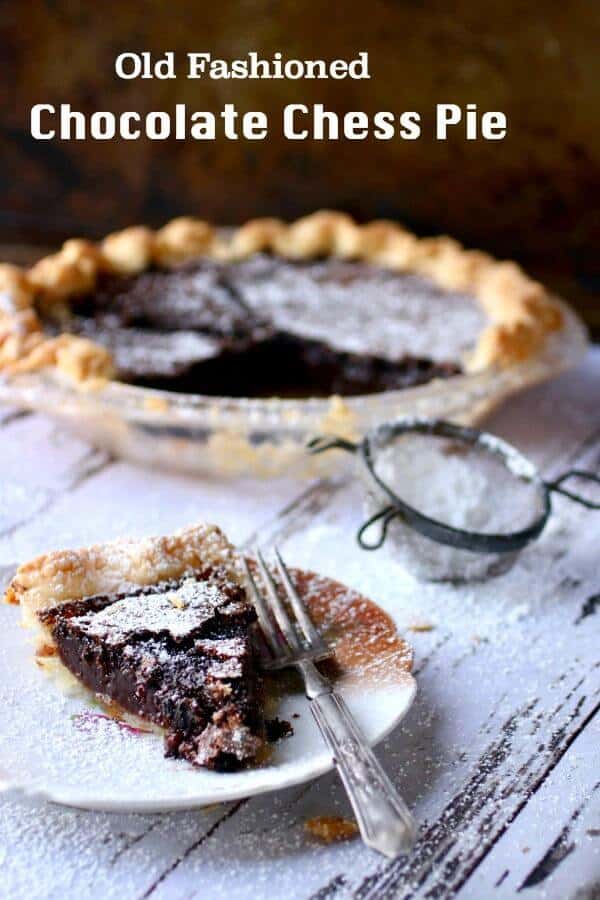 Sometimes I wish our society could be swept back into the days before tons of technology. Days when people walked, burned fat to keep warm in drafty houses, and constantly moved – you know – back to the days when eating a slice of pie like this wouldn't cause a 40 pound weight gain.
Sometimes? Make that most of the time.

The Restless Chipotle Channel
This chocolate pie, though. I think it got it's national renown when the movie, The Help, came out. This is the pie that Minnie served to her former employer. Well, not this pie. We definitely don't want her secret ingredient.
Ahem.
In any case, national renown aside, chocolate chess pie has been known in the South for a good number of years decades centuries. Almost everyone I know has had it at one time or another and I don't know anyone who doesn't like it. I think this particular pie recipe is as iconic in the South as Dutch Apple pie is in the Northeast.
Yes, it is tooth-achingly sweet and stomach churningly rich. After all, it's a Southern dessert – that's what we do.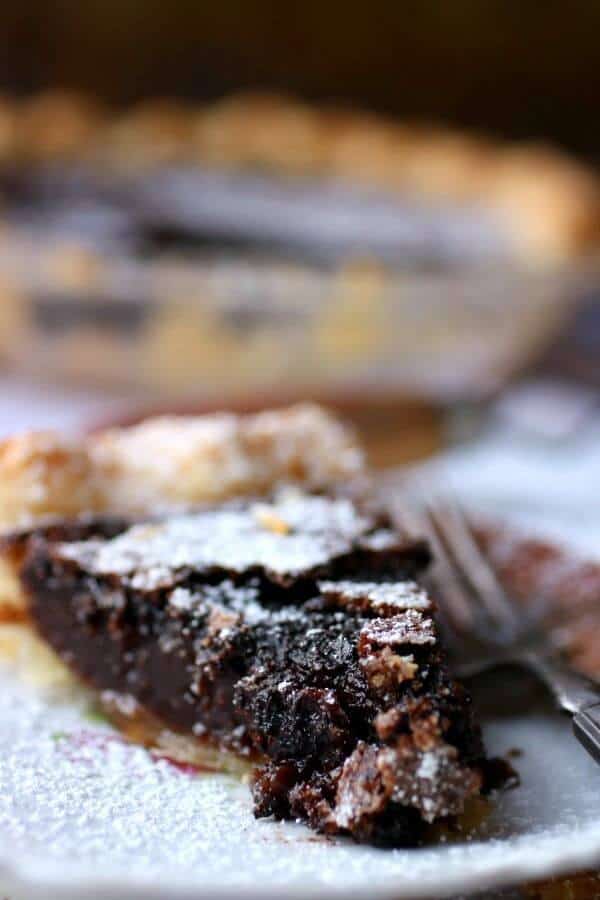 Clickable Table of Contents
hide
Some Chocolate Chess Pie Tips & Tricks
This is such an easy pie to make that I hope you'll try it. Here are some things I've learned along the way…
This is rich – a dusting of Confectioner's sugar is the perfect topping for this decadent chocolate dessert. Adding whipped cream or ice cream is too much for most people.
If you hate to make pie crust or don't have time don't sweat it. A purchased crust works fine.
I find that I prefer extra dark cocoa to the regular cocoa that most recipes call for. It makes it more fudgy and decadent.
This is not a creamy pie. It's not like a custard pie, either. It's really something in between – and hard to explain.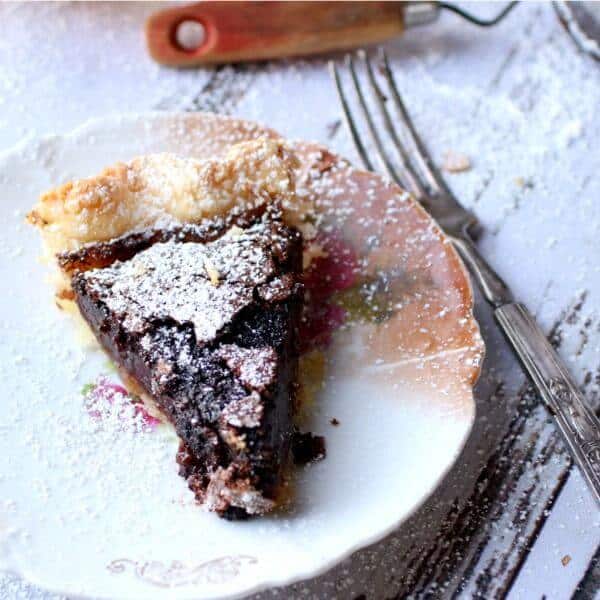 Some people like to add pecans to this sweet treat. I love pecans but not in this pie – I have texture issues. You can try adding some chopped pecans if you really think this chocolate pie needs something else to make it even better. Personally, I like it without anything extra.
This easy chocolate dessert will keep for several days tightly covered in the refrigerator.
I have heard that you can wrap the pie tightly and freeze it – I've never done it so I can't comment. If you do, could you please come back and leave a comment and tell me how it worked out?
If the pie is being served out of the fridge warm it up for maybe 10 to 15 seconds in the microwave. YUM.
I'd suggest cutting this chess pie in smaller pieces than normal. You can probably get 12 slices easily. Try this if you're looking for a more traditional chocolate cream pie.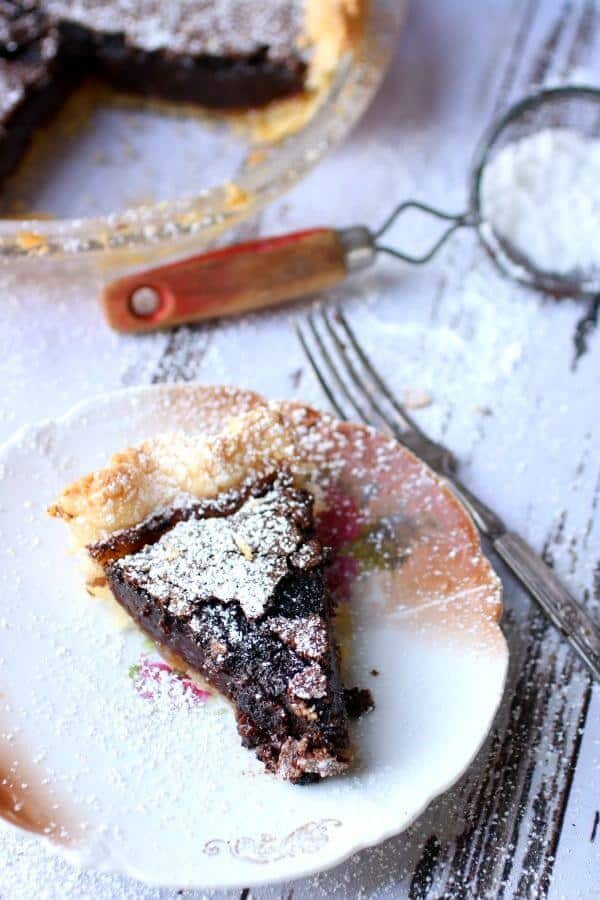 Chess Pie FAQs
Are you the type of person that just wants to know everything possible about a recipe? Yep – me too.
What constitutes a chess pie?
A basic chess pie has eggs, sugar, butter, and cornmeal. Over the years there have been numerous variations including lemon and chocolate. Basically it's a chess pie if the filling has a slightly firmer than cream filling consistency – almost like a batter. There should be a thin crispy layer on the top. This Southern specialty has so many variations I'm not sure there's an easy answer!
Do you need to refrigerate chess pie?
Yep. Since eggs and milk are included it needs to be refrigerated or eaten within 4 hours of pulling it out of the oven.
Can I substitute milk for the evaporated milk?
You can but I don't recommend it. It throws the texture off. If you must then simmer whole milk until it's reduced by half. If you can't do that use part milk and part cream. AND if you can't do that just use milk – because you have to try this pie!
Can I substitute margarine for the butter in this pie?
No.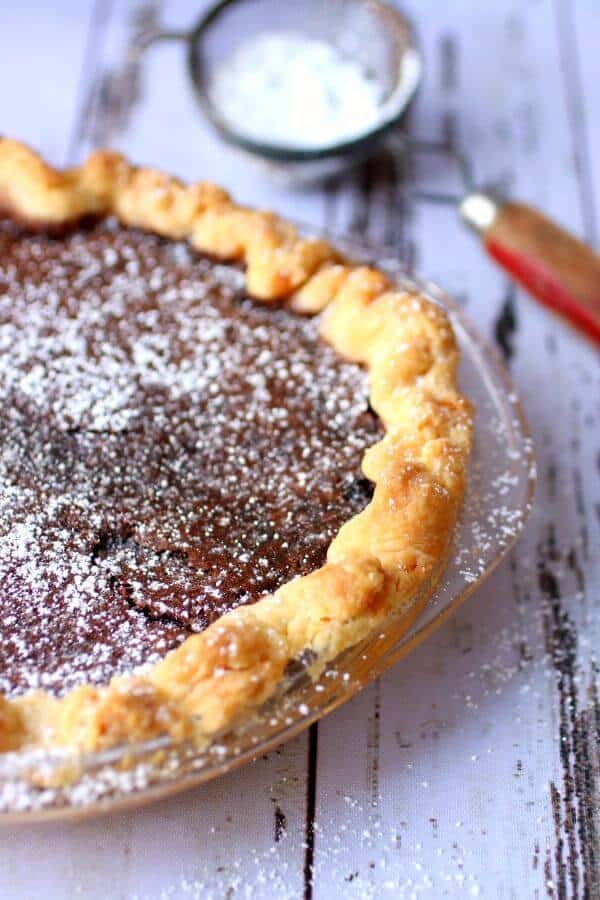 You May Also Need…
The following are affiliate links. We are a participant in the Amazon Services LLC Associates Program, an affiliate advertising program designed to provide a means for us to earn fees by linking to Amazon.com and affiliated sites.
Thanks so much for being a part of Restless Chipotle!
I use this glass pie pan – it's deep enough that the filling shouldn't overflow. There's been some issues for some people because they use an 8-inch pie pan. Don't because it will make a mess.

Southern Chocolate Chess Pie Recipe
This easy pie recipe is about to become a family favorite! If your family loves chocolate desserts as much as mine does you'll be making it often. Let me know what you think and be sure to give it a 5 star rating!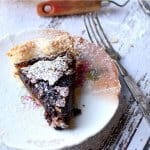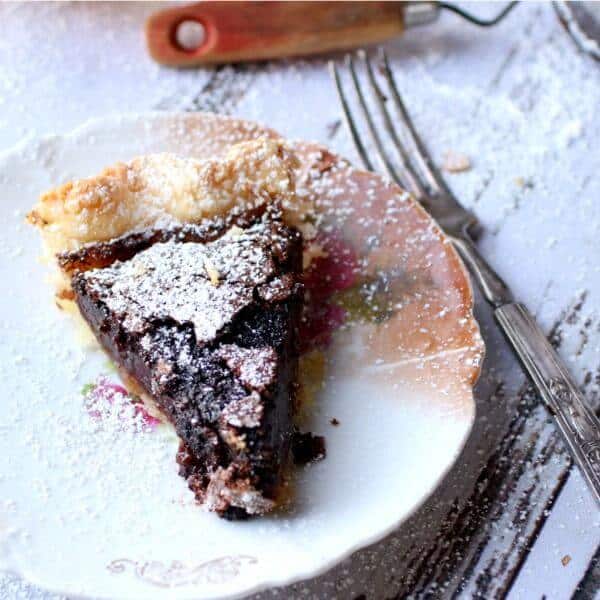 Print Recipe
Chocolate Chess Pie
This rich, dark chocolate chess pie is a Southern classic – and with good reason. The top develops a fragile crispy layer and underneath is pure fudge goodness. It's like eating brownie batter only better. It's so rich you may be able to get 10 to 12 servings.
Ingredients
Butter Pie Crust
1/2

cup

butter

ice cold

1 1/4

cups

flour

all purpose

1 1/2

teaspoons

sugar

1/2

teaspoon

salt

1/3

cup

ice water

approximately
Chocolate Chess Pie Filling
1-1/4

cups

sugar

1/4

cup

brown sugar

, dark

¼

cup

salted butter

,melted

1/4

unsweetened cocoa powder

,extra dark

2

eggs

1

teaspoon

vanilla

½

cup

evaporated milk

9

inch

butter pie crust above

,unbaked

Confectioner's sugar or whipped cream or vanilla ice cream to top the pie with
Instructions
Butter Pie Crust
Add the flour, sugar, and salt to a large bowl.

Mix well.

Grate the butter into the flour mixture using the coarsest size grater you have – or slice the butter in thin sheets into the flour with a vegetable peeler.

Mix the butter in until it is well coated with flour.

Stir in 1/4 cup of ice water, mixing with a fork until the water is absorbed and the dough comes together.

If it's still crumbly you may need a little more water – just a tablespoon or two.

Form the dough into a ball.

Flatten the dough ball, wrap it in waxed paper and chill for a couple of hours.

When you're ready to make the pie roll the dough out and fit it into a 9-inch deep dish pie pan.
Chocolate Chess Pie
Preheat the oven to 350F.

Add all of the ingredients, except the crust and optional toppings, into a mixer bowl.

Beat on medium speed for 2 to 3 minutes until very smooth.

Pour into the crust.

Bake for 40 to 45 minutes, or until the center of the pie is set.

Remove from the oven and cool completely – it's best if you cover and refrigerate overnight.

Just before serving dust with Confectioner's sugar or top with whipped cream or ice cream
Nutrition
Calories:
313
kcal
|
Carbohydrates:
29
g
|
Protein:
4
g
|
Fat:
19
g
|
Saturated Fat:
12
g
|
Cholesterol:
91
mg
|
Sodium:
330
mg
|
Potassium:
84
mg
|
Sugar:
15
g
|
Vitamin A:
12.6
%
|
Vitamin C:
0.4
%
|
Calcium:
5.6
%
|
Iron:
6.3
%
If you liked this Classic Southern recipe you may also like…
From left to right: pecan pie, French silk pie, coconut pie – Click on the image to see the recipe.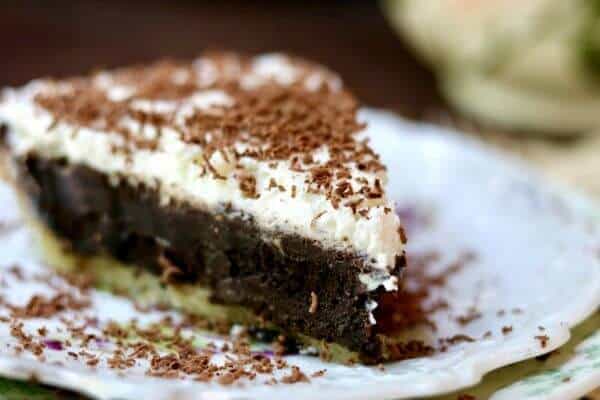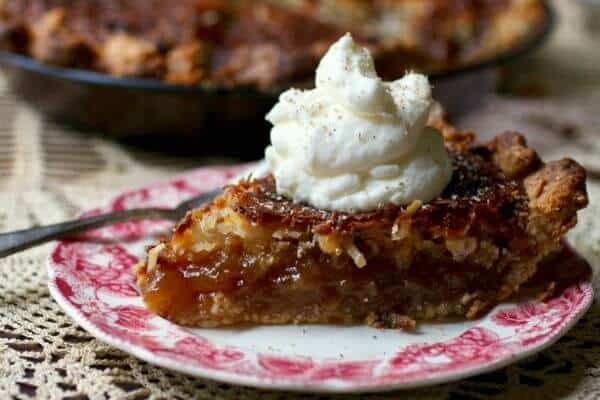 Still looking? Here are some more pie recipes from some of my favorite blogs:
Salted Caramel Pecan Chocolate Pie
This recipe is included in Meal Plan Monday – check it out!