A unique, gooey coconut pie that is reminiscent of pecan pie rather than a

cream

pie. This mouthwatering concoction is sweet enough to make any Texan happy!
This unique dessert is perfect for the coconut lovers in the family. It's similar to a chess pie or a pecan pie.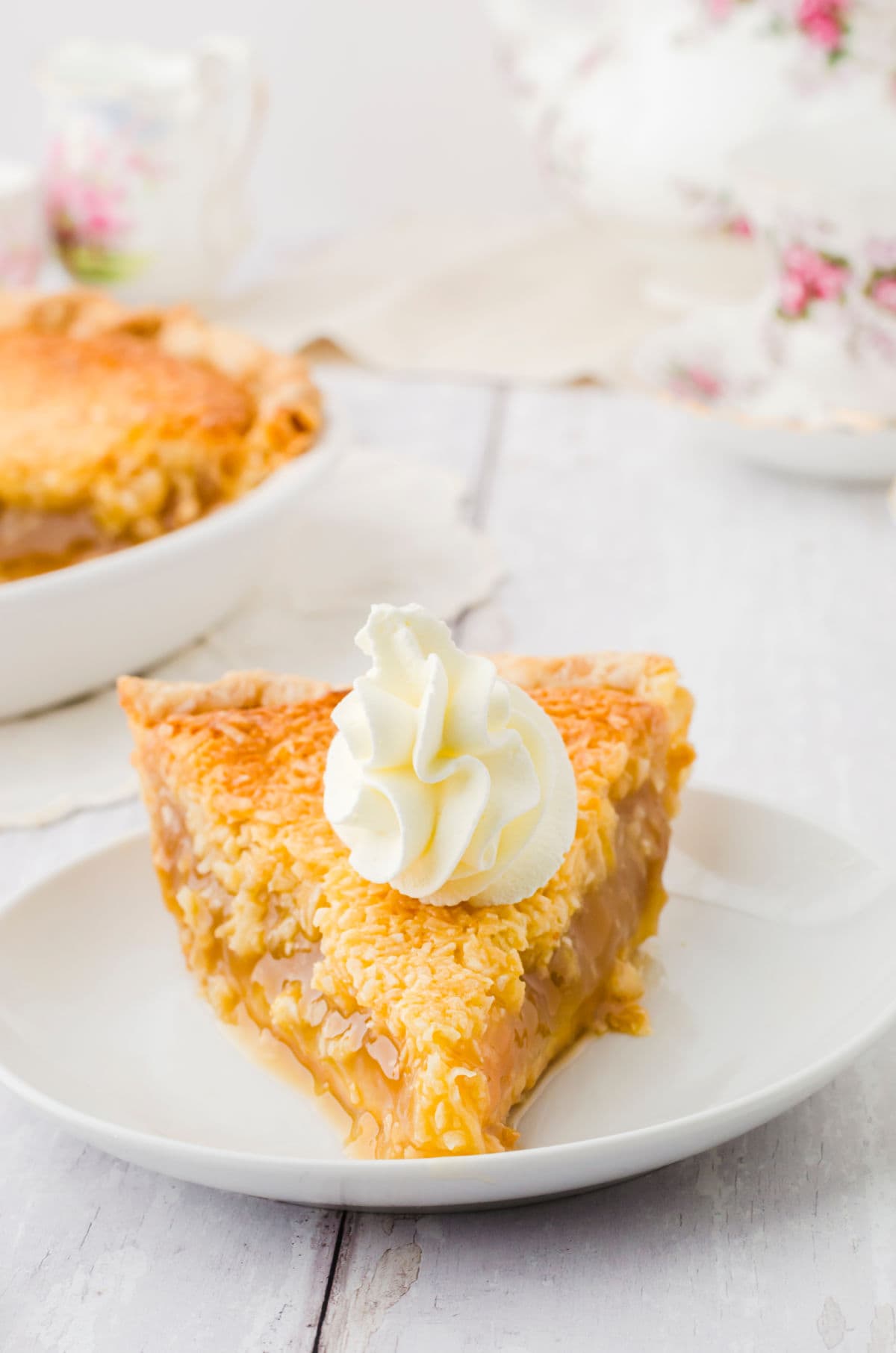 Table of Contents
🗝️ Key takeaways
This is a coconut lover's dream. It tastes similar to and has the texture of, pecan pie but with coconut!
Southern coconut pie is great all year long! It works as well at Thanksgiving as it does at Easter.
(techniques they'll learn or some other informative fact from the post)
From potlucks to cookouts and especially the holiday dessert table, Southern coconut pie is versatile and delicious all year-'round.
This particular recipe is quite vintage and has lasted the test of time because each bite's like a little bit of heaven in your mouth.
For best results, serve with a huge dollop of homemade whipped cream!
🧾 Ingredients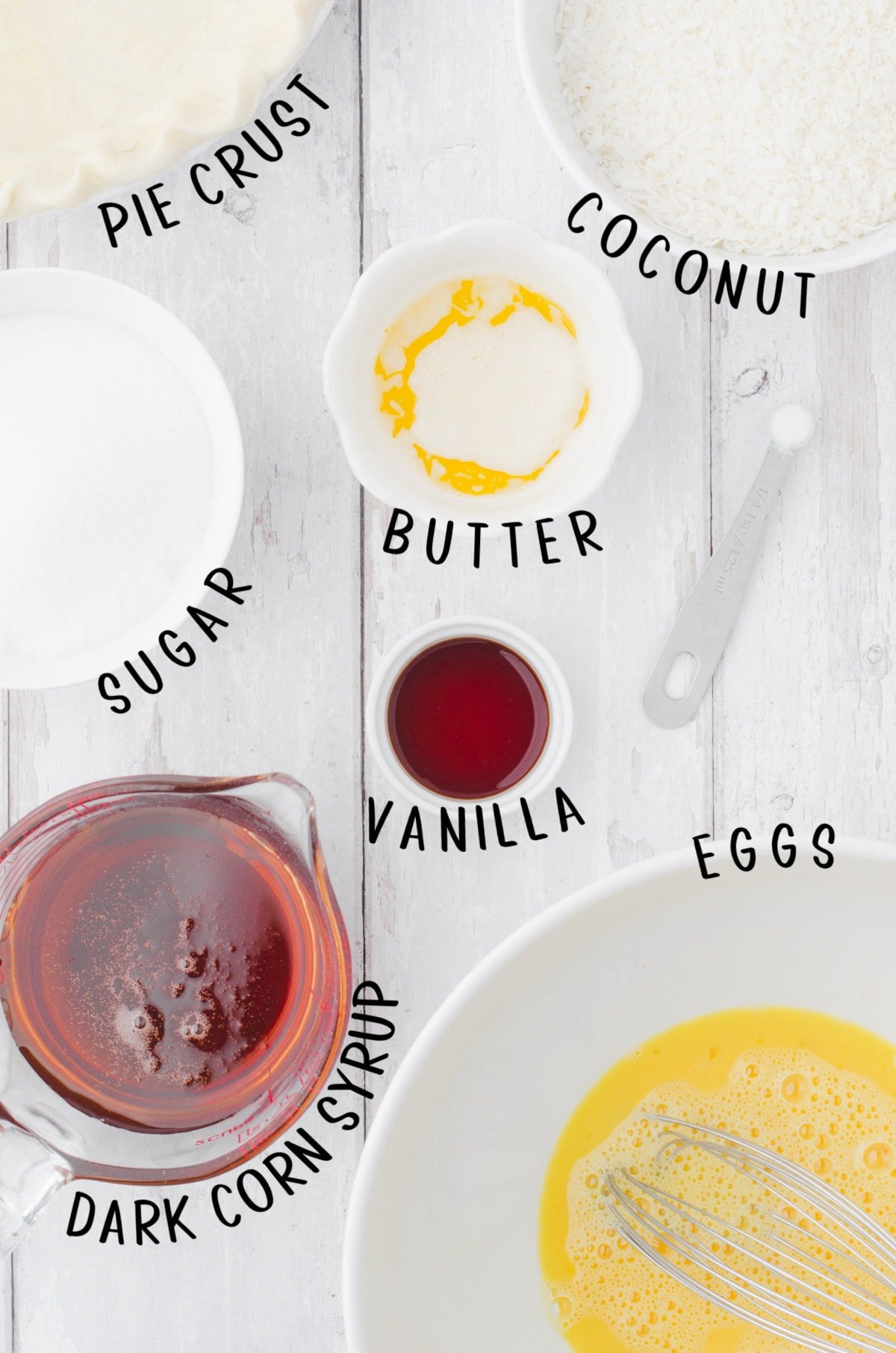 📖 Variations
I love how the simple ingredients shine through in this baked coconut pie, you really don't need to add much to it. However, here are a few possible variations:
Use your favorite unbaked pie crust. I think this dessert recipe tastes best with homemade pie crust, but it's so good you can get away with using a frozen pie crust, too.
I use a 10-inch pie crust and pie dish, but you could use a 9-inch pie plate, as long as it's a deep dish.
Instead of vanilla extract, use an equal amount of vanilla bean paste.
You can add some chopped pecans to the coconut mix if you'd like to create a unique hybrid pie. The two flavors go together like shrimp and grits!
Some people like to add a teaspoon or so of lemon juice to the pie filling. You can't really taste the juice, but rumor has it that the acidity helps balance out the sweetness and make an even fluffier pie.
Serve with whipped cream, Cool Whip, or a scoop of vanilla ice cream!
🔪 Instructions
This is an overview of the ingredients. You'll find the full measurements and instructions in the green recipe card (printable) at the bottom of the page.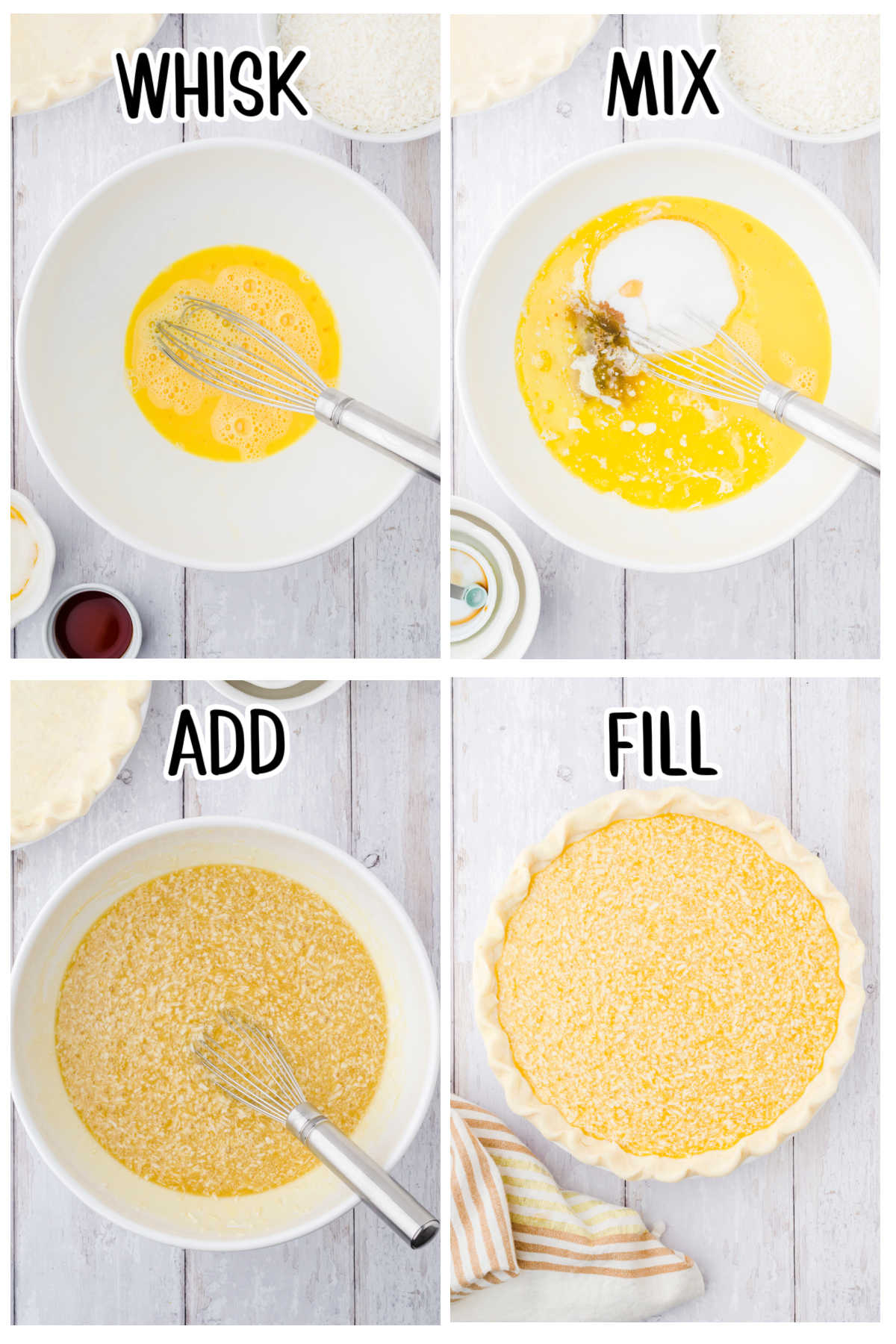 Whisk the eggs together.
Add the sugar, corn syrup, cooled butter, vanilla, and salt. Whisk until smooth. It *may* look a little curdled like in the images above. That's ok.
Stir in the coconut
Pour the coconut pie filling into the unbaked pie shell and bake as directed in the recipe card below.
🥫 Storage
This delicious pie can be made in advance and stored for up to three days in the refrigerator.
Just be sure to cover the room-temperature pie (or leftovers) with some plastic wrap before hiding it in the way back of the fridge so no one else can find it—our little secret!
I don't recommend freezing this pie.
Be sure to cool it all the way. Like my pecan pie it's best if it's refrigerated overnight, but the quality really takes a nose-dive if you try to freeze and thaw it.
Trust me on this one.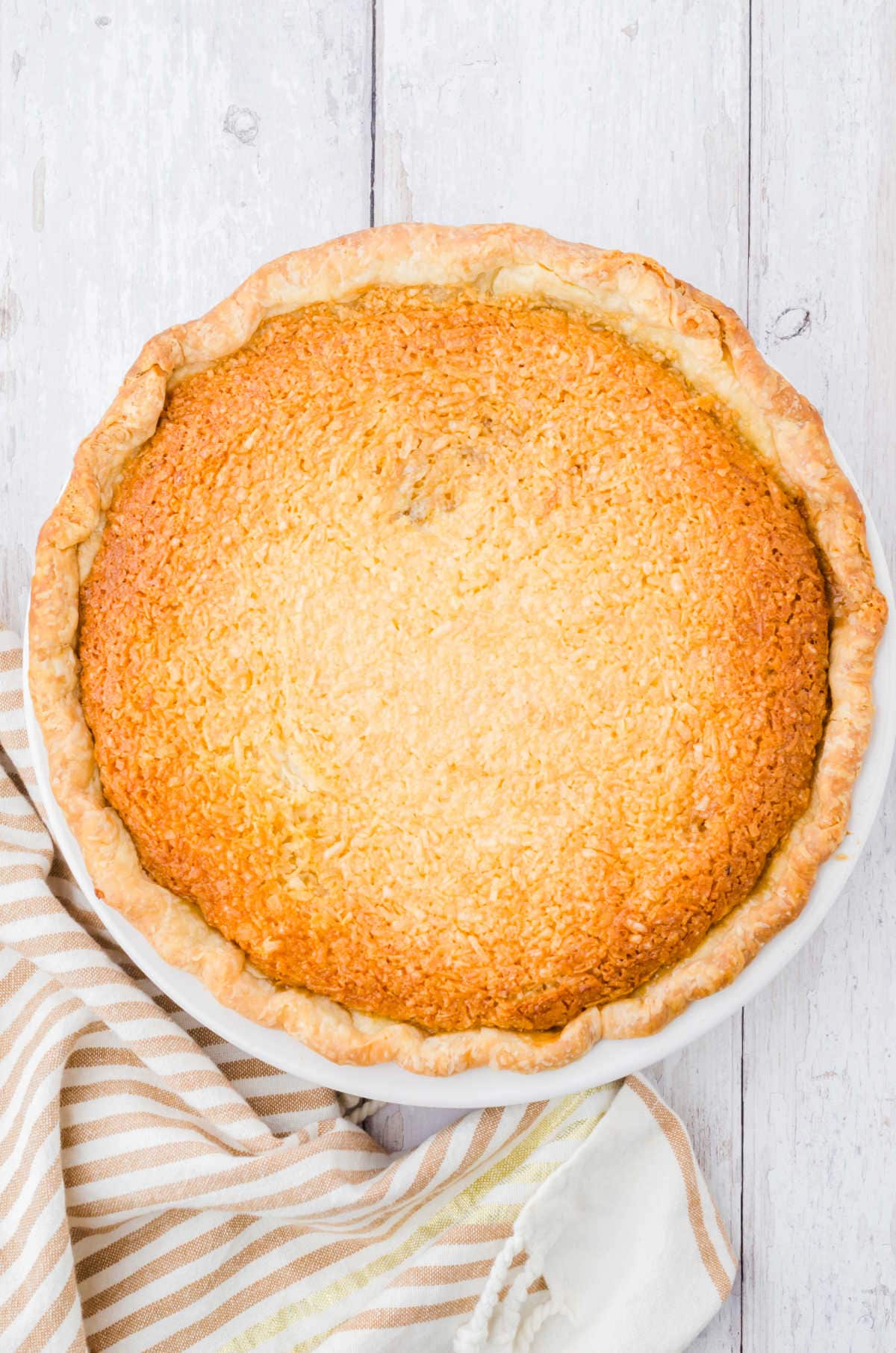 💭 Things to know
Expert Tip: Cool your Southern coconut pie for at least two hours before cutting it. However, for the absolute prettiest, award-winning slices, I'd recommend overnight refrigeration before serving the pie. This is typically the rule of thumb with most of everyone's favorite pie recipes. Patience is key!
You can buy flaked, sweetened coconut in many popular grocery stores. It's moist and sweet, which is perfect. Don't use just plain coconut flakes, or your pie will lack flavor.
Lay a sheet of aluminum foil loosely over the top of the pie about halfway through baking, or whenever you notice the crust starting to turn golden brown. Remove it during the last few minutes of baking if your pie hasn't toasted as much as you'd like.
The pie is finished baking when it's set, but still a little wobbly in the center. If you're unsure, pop an instant-read thermometer in and look for 185 degrees F.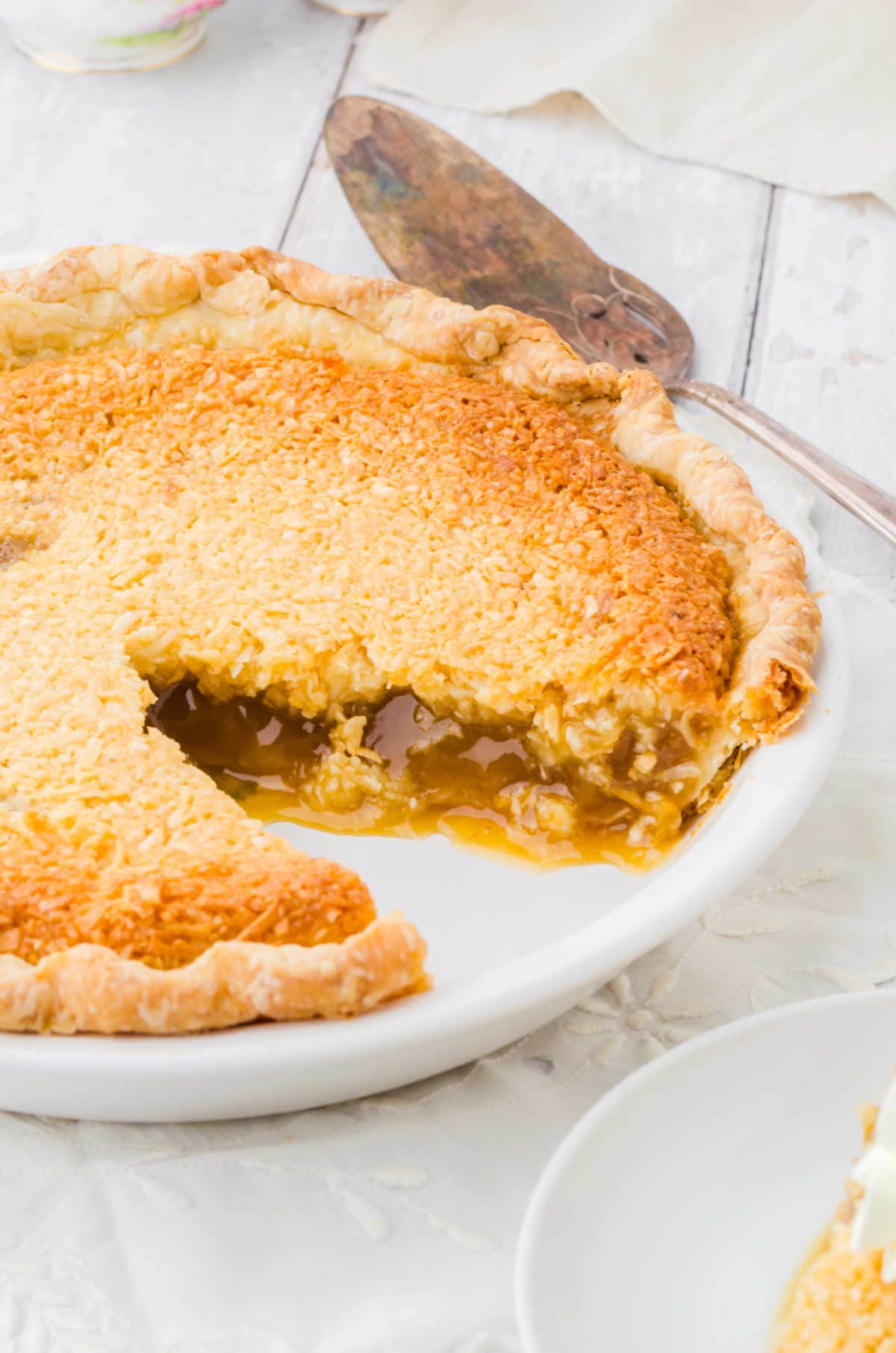 👩‍🍳 FAQs
How does the top crust form?
The inside of this sweet pie is a thick, sticky, caramel-like custard. During baking, the sweet coconut flakes float to the top and get all browned and toasty.
Do I have to use pie weights or prebake the crust?
Nope and nope! This is one of my favorite pies because it's quite easy. The crust bakes right along with the pie filling! You don't need to prick the crust before adding the filling, either.
Can I use light corn syrup instead of dark?
I don't recommend it in this specific coconut pie recipe. I tried both ways, and the dark corn syrup gave the pie a deeper, richer flavor. Light corn syrup seems to just add sweetness on top of sweetness. I have a sweet tooth as good as the next Southern gal, but it was a lot.
📚 Related recipes
📞 The last word
I've heard this called French coconut pie. I have no idea, y'all. It's just delicious.
Make no mistake - once you've served this to family and friends you'll be making it a lot! It's the best coconut pie I've ever had, hands down.
Next time try this old fashioned lemon meringue pie.
If you click on the number of servings in the recipe card you can adjust the measurements up or down for the exact number of servings you need. Don't forget that you can click on "add to collection" to save it to your own, private recipe box!
If you love this recipe please give it 5 stars! ⭐️⭐️⭐️⭐️⭐️
📖 Recipe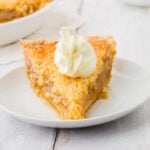 Southern Coconut Pie Recipe
Print
Pin Recipe
Save
Saved!
A unique, gooey coconut pie that is reminiscent of pecan pie rather than a

cream

pie. This mouthwatering concoction is sweet enough to make any Texan happy!
Ingredients
I earn a commission from Instacart from qualifying purchases.
Instructions
Preheat the oven to 350F.

Melt butter and let it cool a little while continuing with the recipe.

Whisk the eggs in a large mixing bowl until they are

well blended

.

Add the sugar, corn syrup, butter, vanilla, and salt.

Whisk until smooth.

Stir in the coconut.

Pour the filling into the unbaked pie shell.

Bake at 350F for 30 minutes.

Cover loosely with aluminum foil and bake 20 to 30 more minutes.

Pie will be a little jiggly in the center when done. An insta-read thermometer will read 185F when inserted in center.

Cool completely before serving.
Notes
Storage:
Cover with plastic wrap or place in an airtight container and refrigerate for up to 4 days. This pie does not freeze well.
Tips:
Lay a sheet of aluminum foil loosely over the top halfway through baking.
Cool the pie completely before cutting into it - about 2 hours at room temperature.
Chill overnight for prettiest slices.
You can make this up to 3 days ahead and keep it wrapped in the refrigerator.
You'll find more helpful tips and variations in the body of the post.
Nutrition Facts
Calories:
574
kcal
|
Carbohydrates:
103
g
|
Protein:
4
g
|
Fat:
19
g
|
Saturated Fat:
12
g
|
Cholesterol:
15
mg
|
Sodium:
354
mg
|
Potassium:
148
mg
|
Fiber:
2
g
|
Sugar:
88
g
|
Vitamin A:
177
IU
|
Vitamin C:
1
mg
|
Calcium:
21
mg
|
Iron:
1
mg
Nutrition information is estimated as a courtesy. If using for medical purposes, please verify information using your own nutritional calculator. Percent Daily Values are based on a 2000 calorie diet.
Sign up for the emails and never miss another recipe!!
We'll never share your email or send you spam. Pinkie swear.
First published - November 7, 2016. -- Last Updated -August 14, 2023 for editorial improvements.
What's new? Check out my Restless Chipotle & Co. Store on Amazon where you'll find all kinds of nostalgic goodness! Thanks so much for being a part of Restless Chipotle!