This coconut pie recipe is like nothing you've ever tried. Found in a very old cookbook it's something like pecan pie but with coconut instead of pecans. It's gooey, sweet, and rich with lots of coconut flavor in a buttery, crumbly crust. You may never have tasted a pie like this before but once you do? You'll never forget it!
For this recipe you'll need: eggs, sugar, dark corn syrup, butter, vanilla, salt, flaked coconut, 10″ unbaked pie shell (or a 9″ deep dish unbaked shell)

If you are in a hurry click here to go straight to this unusual coconut pie recipe.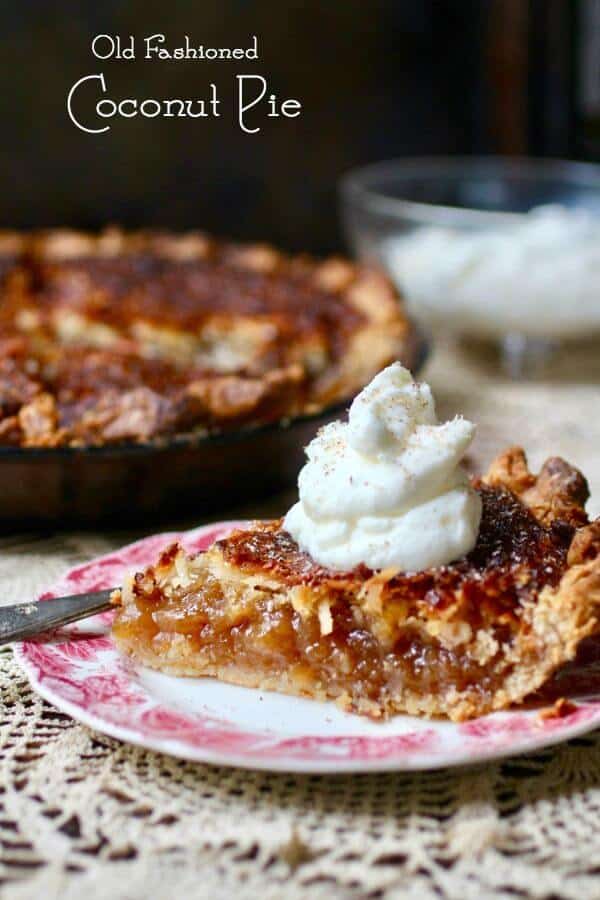 The Restless Chipotle Channel
This is an old Southern recipe. I have no idea when it was first served but I do know that whoever put this recipe together was brilliant. Simply brilliant.
I love a good coconut cream pie, there's no doubt about it. It's always been the first dessert I look for at an old fashioned diner or cafeteria and I'm  rarely disappointed. So, when I saw this "Rich Coconut Pie" recipe in one of my newest acquisitions I eagerly began to scan the ingredients to see if it was different from the recipes I already have.
Was it ever!
The ingredients sounded more like a pecan pie to me. I was intrigued enough to play around with it a little bit and came up with this. SO good.  The coconut floats up to the top and the rest of the ingredients make a sweet goo underneath, kind of like pecan pie.
Very much like pecan pie.
You'll need to let this cool completely before you go cutting in to it. That's the hardest part of making this coconut pie recipe! I'd also suggest laying a sheet of aluminum foil over it about halfway through baking.  There's so much sugar that it gets really brown if it's not covered. Yeah. Found that out the hard way.
If you want to make it ahead of time for something like Thanksgiving or Christmas you can keep it well wrapped in the fridge for 2 to 3 days. I wouldn't freeze it, though.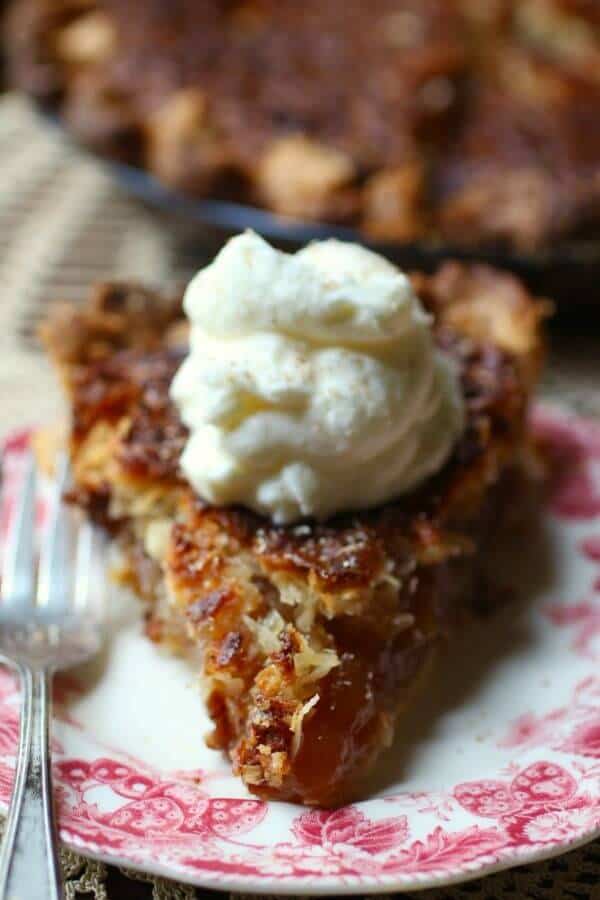 YOU MIGHT NEED…
The following are affiliate links. We are a participant in the Amazon Services LLC Associates Program, an affiliate advertising program designed to provide a means for us to earn fees by linking to Amazon.com and affiliated sites.
Cast iron heats evenly and there's nothing better when it comes to a crispy, flakey pie crust. I love this cast iron pie pan by Camp Chef.
Looking for Contributing Bloggers
I'm looking for a few people who'd like to write for Restless Chipotle and can commit to once a month for at least the next six months. If that's you email me at maryeaudet[at]gmail[dot]com with the subject "contributing blogger" and 3 links to your best posts. I'll give you the details as soon as I've had a chance to read your email. Thanks!
Rich Old Fashioned Coconut Pie
Here's that good ole Southern coconut pie recipe! Let me know what you think!
Coconut Pie Recipe: So Unique
A unique coconut pie that is more reminiscent of pecan pie rather than a cream pie. This mouthwatering concoction is sweet enough to make any Texan happy!
Print Recipe
Pin This Recipe
Ingredients
4

eggs

1 1/2

cups

sugar

1 1/2

cups

dark corn syrup

1/4

cup

melted butter

1 1/2

teaspoons

vanilla

1/4

teaspoon

salt

2

cups

flaked coconut

1 10-

inch

or 9-inch-deep-dish unbaked pie shell.
Instructions
Preheat the oven to 400F.

Whisk the eggs until they are well blended.

Add the sugar, corn syrup, butter, vanilla, and salt.

Whisk until smooth.

Stir in the coconut.

Pour the filling into the pie shell.

Bake at 400F for 30 minutes.

Cover loosely with aluminum foil and bake 20 more minutes.

Cool completely before serving.
If you liked this coconut pie recipe you may also like these Restless Chipotle favorites…
From left to right: Chipotle Pecan Pie, Coconut Praline Pie, Hubbard Squash Pie
This post included in Meal Plan Monday #78