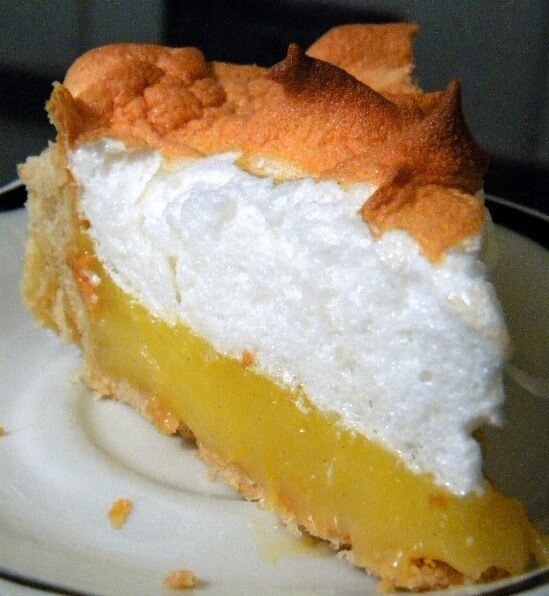 When I was in the military I was stationed in Monterey, California to learn Czecheslovakian - not a bad way to spend your military time, by the way. This was eons ago but there used to be a place down on Cannery Row that had a huge Merry-Go-Round in the center and they made these pies that had at least four feet of meringue on them. The sweet, fluffy meringue towered above the filling like a sunflowers in a clover patch. I mean, it was pure art.
I tend to prefer fruit pies with two crusts because I make a really rockin pie crust, if I do say so myself. - but once in awhile I like to try my hand at a billowy meringue. Lemon pie is sort of the perfect filling for meringue because it is tangy and offsets the sweet meringue perfectly. Sometimes with chocolate or other sweet fillings you can just get a mouth full of sweet followed by a mouth full of more sweet.
This is an old recipe. I think that the original came out of one of my 1940s cookbooks? It is not super-sweet but it isn't too tangy either. The filling has the perfect texture and the meringue is fluffy and delicate.
Working with meringue is like riding a bike - it's easy when you know how. Here are some tips to help you achieve perfect meringue every time.
Tips for Perfect Meringue
Use eggs that are not totally fresh. This is especially true f you buy eggs from a neighbor or have your own chickens. I find that five days is perfect.
Choose a dry day to make them. Humidity and rain can cause the meringues to be flat and gooey.
Rinse your beater bowl and beater or whisk with vinegar. Do not use plastic.
Separate cold eggs individually into a cup. Pour the egg whites into the beater bowl.
Make sure there is not one molecule of yolk or other fat in the egg whites.
Do not touch the egg whites or anything else used to whip them with your fingers. Oils in your skin can mess up the volume of the whites.
Allow egg whites to come to room temperature.
Beat egg whites at high until foamy and them lower to medium or medium high.
Blend 3 tablespoons to ¼ cup sugar per egg white in a blender until powdery.
When egg whites reach soft peaks begin adding sugar slowly.
Beat until the sugar dissolves (it won't feel grainy between your fingers) and stiff peaks form.
Put the meringue on the hot filling - this will help it cook.
Spread the meringue all the way to the edge, covering the crust. This will help it not shrink.
Bake at 325F for 20 minutes.
Do not refrigerate the pie. Sadly you will need to eat it the same day you make it. If you can't do that then make the pie into small tarts, and add meringues as you use them. Or use whipped cream.
Easy, right?
O.k. Get ready to make a slew of meringue pies so you can practice. I specify organic cornstarch because it doesn't have GMOs. If genetically modified foods don't bother you then by all means use what you usually do. Also, I prefer an enamel pan when working with citrus. Aluminum with react with the citrus and give a nasty flavor.. and enamel never will.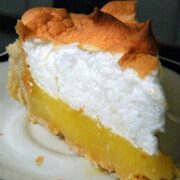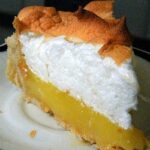 Old Fashioned Lemon Meringue Pie
Print
Save
Go to Collections
Old fashioned lemon pie with a tall cloud of perfect meringue on top. Tangy, sweet, lemony and perfect anytime you are craving an old fashioned treat.
As an Amazon Associate I earn from qualifying purchases.
Ingredients
1 ½

cups

sugar

½

cup

organic cornstarch

Pinch of salt

2 ½

cups

hot water

5

eggs

,

, separated

1

egg white

¼

cup

unsalted butter

½

cup

lemon juice

grated rind of one lemon

1

cup

plus 2 tablespoons sugar

,

, run through the blender until superfine.
Instructions
Bring the egg whites to room temperature.

Rinse the beaters and bowl with vinegar.

Beat the egg whites until they form soft peaks.

Add the 1 cup plus 2 tablespoons of sugar gradually, beating the whole time.

Beat until the sugar dissolves and the meringue holds stiff peaks.

Set aside.

In an enamel or stainless steel pan combine sugar, cornstarch, and salt.

Stir in water until smooth.

Cook, stirring constantly until thickened and smooth - be careful not to scorch the bottom.

Allow to cook about 2 more minutes over low heat, stirring constantly.

Whisk egg yolks until very smooth.

Add about ½ cup of the hot sugar mixture, whisking constantly.

Add the egg yolk mixture carefully into the rest of the hot sugar mixture, whisking constantly

Stir for one minute over low heat.

Remove from heat and whisk in the butter, then the lemon juice and lemon peel.

Pour through a wire strainer into the prepared crust.

Top the hot filling with meringue and bake at 325F for 30 minutes.

Let cool completely so that the filling thickens... about 3 hours.
Notes
If you really hate making pie crust you can use a crumb crust for this. Good choices are lemon cookie crumbs, vanilla wafer crumbs, gingersnap crumbs, or graham cracker crumbs.
Sign up for the emails and never miss another recipe!!
We'll never share your email or send you spam. Pinkie swear.