Updated for 2023! Do you have church picnics, office potlucks, and family get-togethers to attend this summer?
Don't worry, I've got you with these easy potluck desserts that will feed a crowd of people - plus they're so yummy they'll be the first to disappear.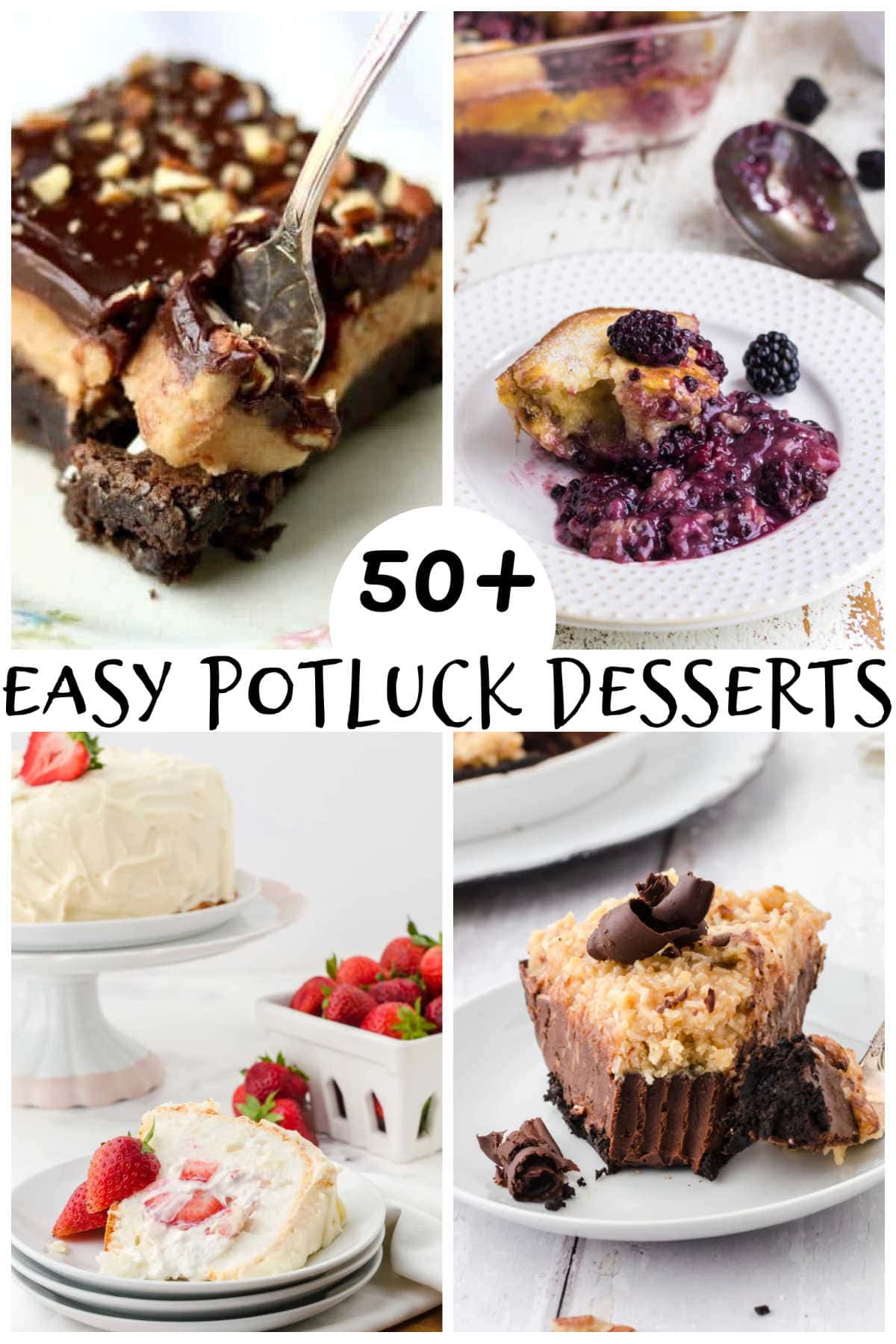 Table of Contents
Perfect Potluck Dessert Recipes
What do you look for in a potluck recipe?
I don't know about you but I want a something that's super easy, relatively inexpensive, and will feed a crowd of people.
Even more than that - I'm looking for a recipe that will allow me to maintain my unofficial "best cook status" where ever I go.
I like to pick a dessert recipe for a potluck because I don't have to worry about keeping it hot or keeping it cold - people aren't likely to get food poisoning (always a joy-killer), and desserts tend to be easy to transport.
I've put together my favorite potluck desserts from here on Restless Chipotle as well as from my favorite blogs around the Internet.
Each of these recipes was chosen on the basis of being easy and feeding a lot of people. Give one of them a try at your next potluck.
Enjoy!
No Bake Potluck Dessert Recipes
There's nothing easier than a no bake dessert! Most of these DO need to be refrigerated so keep that in mind if you're going to a church picnic in Texas in August.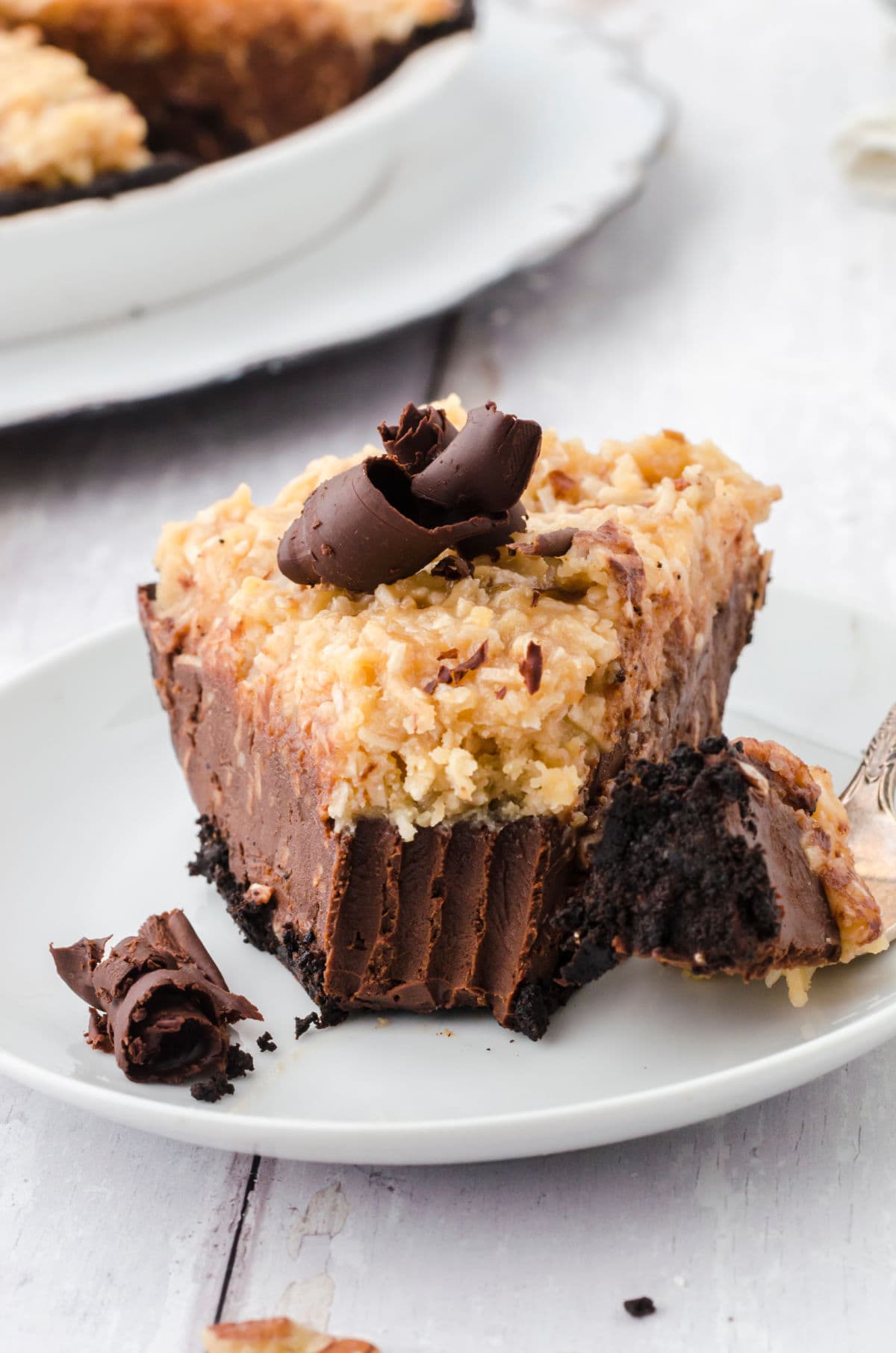 German Chocolate Pie - this pie doesn't melt easily because it's made with ganache AND it's so rich you can cut it in 12-16 thin slices without looking cheap. 🙂
No Bake Eclair Cake - will need refrigeration in very hot weather but it's SO easy. Made with graham crackers and instant pudding.
Coconut Praline Pie - A layer of pecan praline, a layer of creamy coconut filling, and a layer of whipped cream - addictive.
Caramel Crunch Bars - are full of sweet-salty caramelly goodness! No worries about melting in the hot sun - although they might get a little messy.
S'Mores Bars - have all the gooey s'mores flavors without the need for a campfire.
Scotch-a-roos - are an old fashioned, no bake bar that pretty much everyone raves over.
Strawberry Shortcake Kabobs - I love this idea! It's a little more labor intense than some recipes (you have to feed the ingredients onto a skewer) but who doesn't love food on a stick?
Oreo Krispies - Uh, who could resist this combination of Rice Krispie Treats and Oreos?
Millionaires Krispy Squares - Marshmallow, caramel, chocolate... all in a no-bake bar? Yes please!
Watermelon Basket - Come on, you can't go wrong with fruit!
No Bake Banana Split Dessert - Delicious, rich and creamy, with all the ingredients you love in a banana split and no bake, too!
Chocolate Covered Cashews - Quick, easy, and chocolate - no one is going to turn these down.
Lemon Ice Box Pie - Just like grandma used to make! A sweet tangy mouthful of creamy goodness.
Easy Cake Recipes that Feed a Crowd
Pretty much everyone likes cakes but layer cakes don't feed many people and can be hard to transport. Sheet cakes are easy and can be baked and "taked" right in the same pan!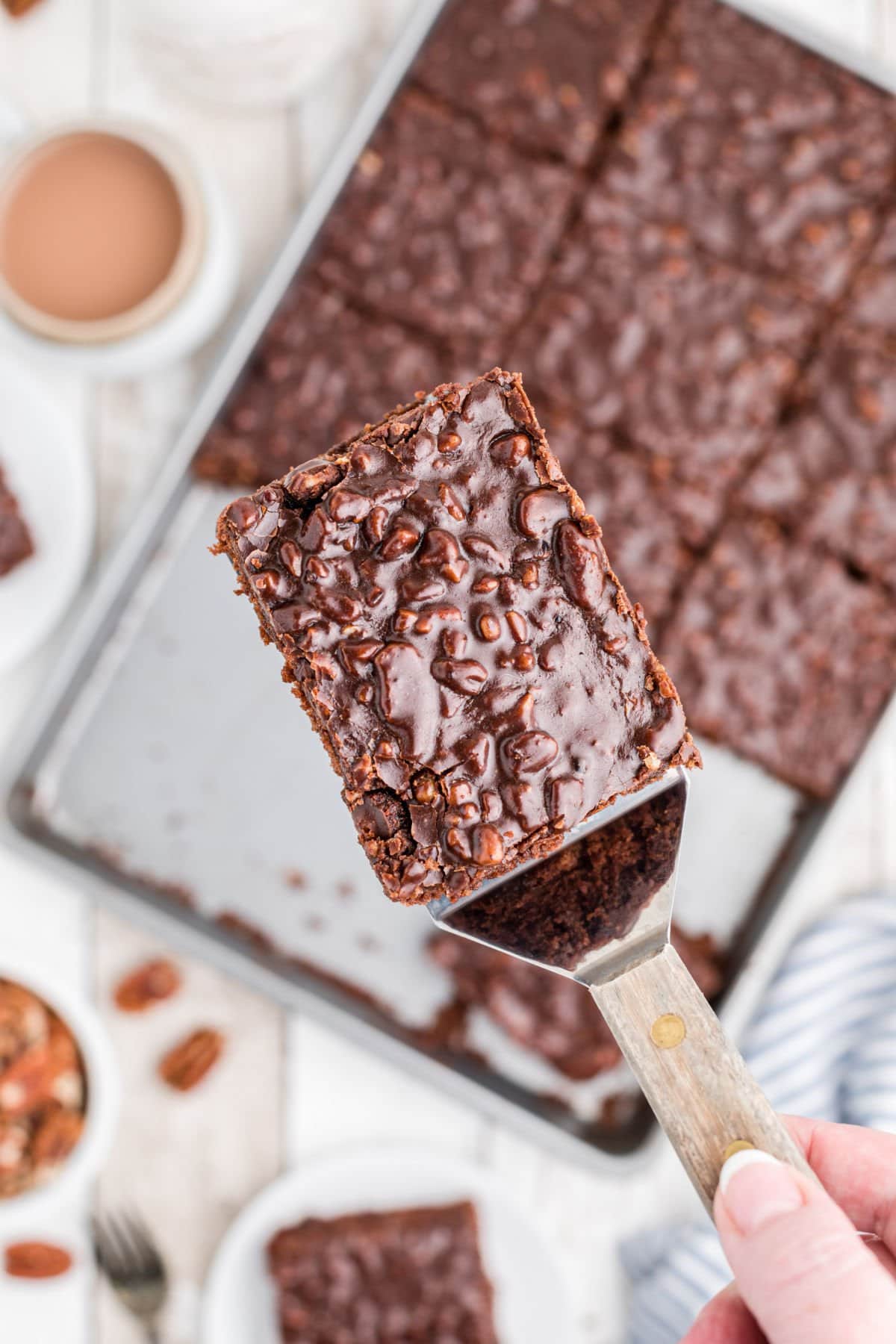 Cookies and Bar Cookies for Bake Sales and Potlucks
Cookies and bars are great potluck desserts AND for bake sales, too! You can make them ahead of time and freeze until needed. I tend to gravitate toward bars for potlucks because it's just less work to make a lot of them.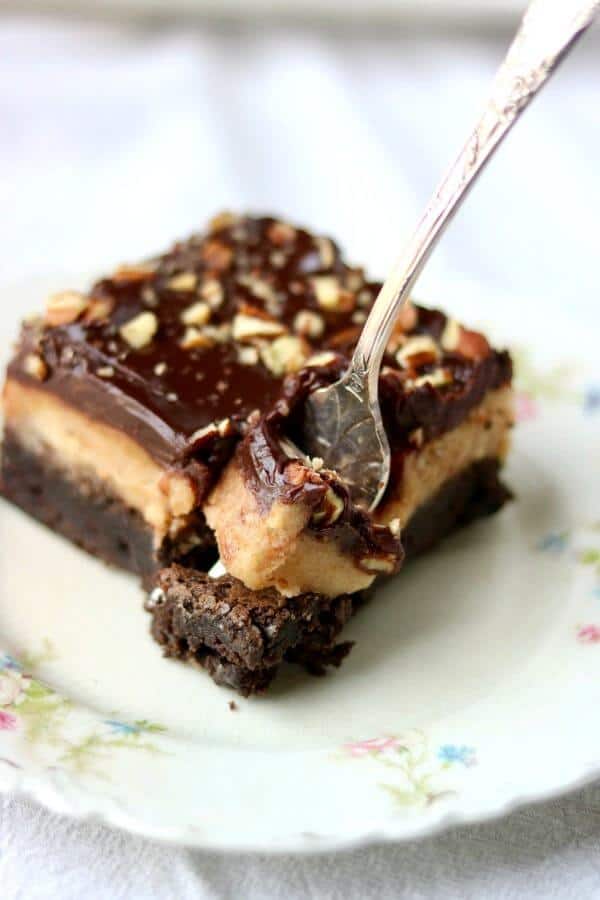 Potluck Desserts with Fruit
Easy potluck desserts with fruit come in the form of bars, pies, cobblers, and more. Fruit desserts are especially good in summer and fall when everything is ripe and at its best.
Here are some of the best dessert recipes for picnics, potlucks, and church suppers. Get ready - you're about to be very, very popular.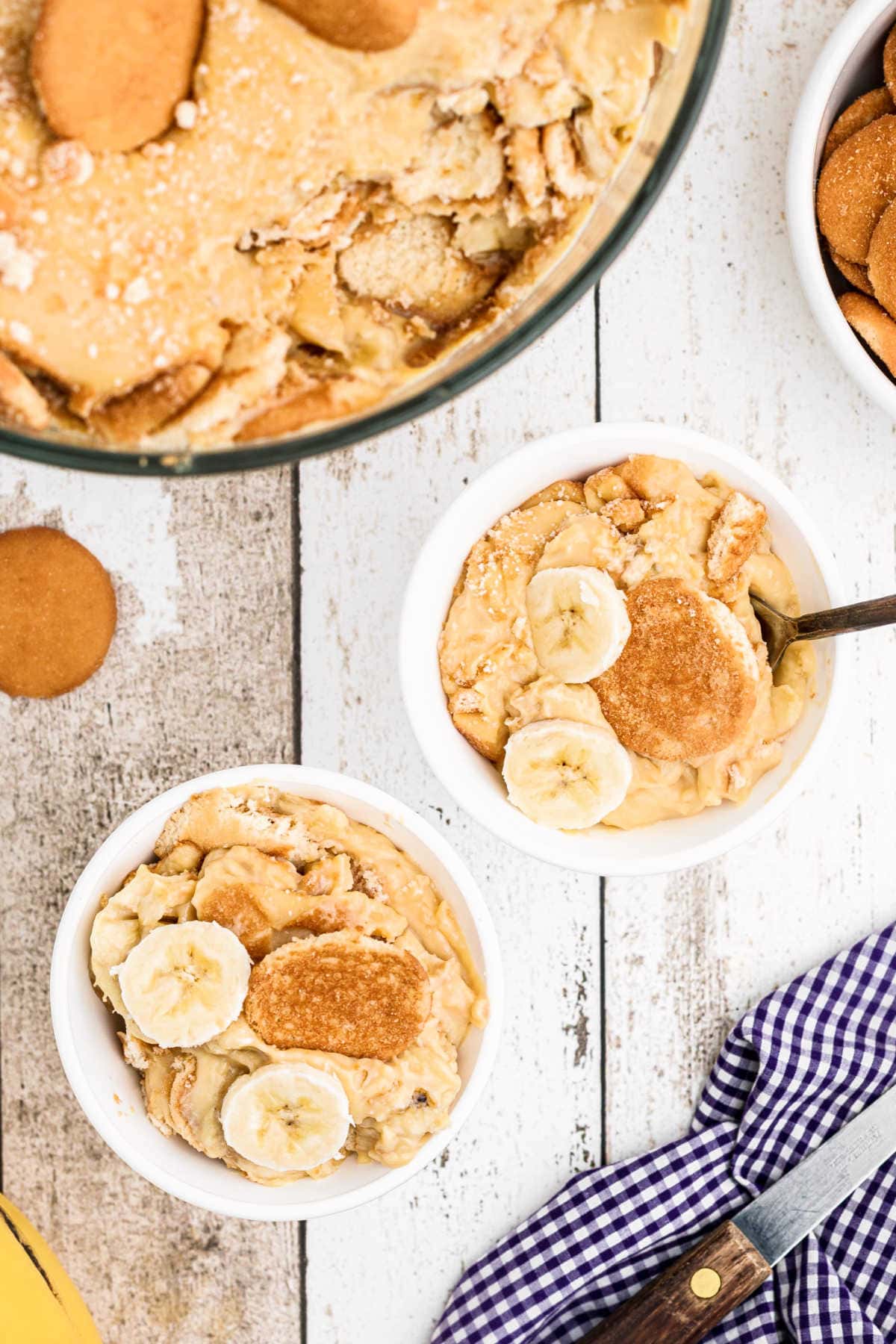 Bundt cakes
Bundt cakes are a favorite of mine because they stay moist and delicious for days. There's no reason not to make it a day or two ahead of time to keep things easy.
And... they're perfect summer potluck desserts! No worries about holding them at room temperature!
What's new? Check out my Restless Chipotle & Co. Store on Amazon where you'll find all kinds of nostalgic goodness! Thanks so much for being a part of Restless Chipotle!
What's Missing?
Is your favorite on the list? Am I missing something? Leave a comment below and let me know!