This moist, rich white Texas sheet cake has just a hint of coconut flavor. Made from scratch, it's topped with a fudgy, candy-like white glaze that's studded with toasted pecans -- it's even better the second day! This thin, white bite of scrumptious is so easy that it's the perfect dessert for potlucks, casual get-togethers, and bake sales.
Try this bourbon cake recipe next!
First Published: March 9, 2018... Last Updated: March 22, 2019
For this recipe you'll need: butter, sugar, flour, baking soda, salt, vanilla extract, coconut flavoring, buttermilk, eggs, Confectioner's sugar, pecans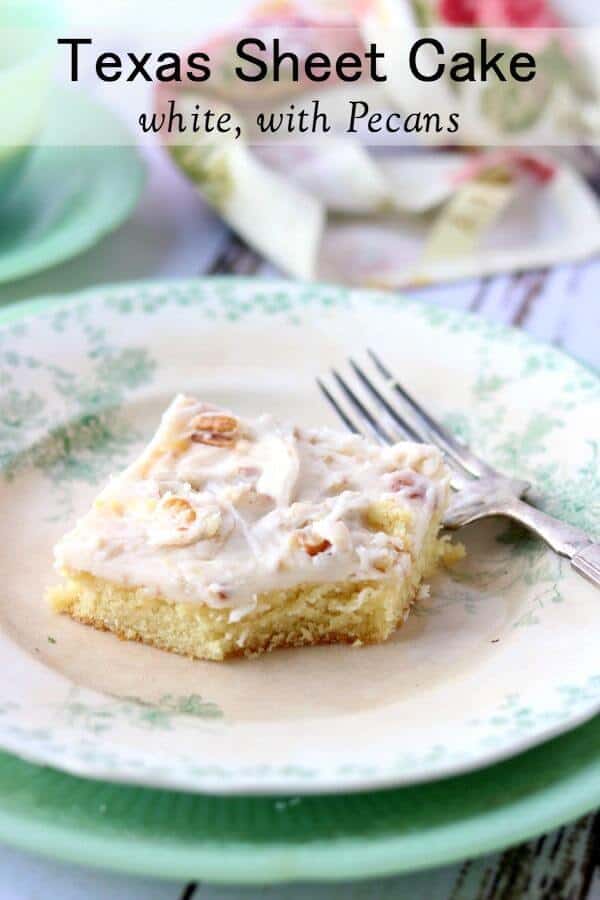 That Time I Was Wrong...
Oh y'all. I don't know who in the world decided that there was such a thing as a white Texas sheet cake - there sure wasn't when I was growing up. I really fought against the whole idea of the sacrilege of a white version of my childhood favorite - I did. Texas sheet cakes are supposed to be chocolate and, by all that is holy, I was determined I wouldn't be one to change things. We're pretty conservative down here - and of course - tradition.
Then I tasted one.
That was all she wrote for me. I was a goner - it was SO rich and SO sweet and had the perfect past cake-part brownie texture. So I caved.
If It Doesn't Have Pecans It's Not Texan
Most of the white Texas sheet cake recipes that I've seen call for almond flavoring. I'm sure that's just delicious but we have ONE nut in Texas (no, it's not me) and it's the pecan. Using anything else wouldn't be right. In fact, it'd be downright disrespectful - so I used coconut flavoring and pecans.
Oh yes. I may like this a smidge better than the chocolate version.
The cake part is moist tender, perfectly delicious with a delicate coconut flavor. The frosting is like biting into vanilla-coconut fudge with pecans. It's southern sweet - pairs perfectly with black coffee and neighborhood gossip.
Or... take it to a potluck and become instantly known as the "cake lady" (or "cake man" - we don't discriminate here).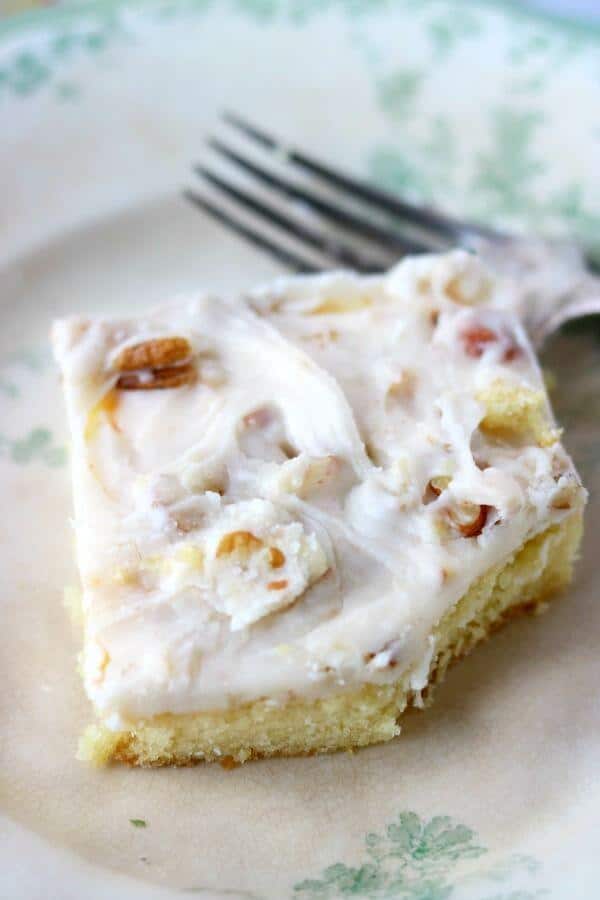 Tips for Making Homemade White Texas Sheet Cake
I'm telling y'all this is the best cake. I don't know that I'd use it for a birthday or a fancy party but for a church picnic or anything casual it's going to be either this or my original Texas Sheet Cake!
Still, there are always a few tricks that people use when making a recipe - and so often we forget to share those tips because they are such a habit for us.
So - here are my personal tips for making this cake.
Use everything at room temperature. If your eggs are cold put them in hot water for a minute or two - not hot enough to start them cooking just hot like hot dishwater.
Toast the pecans lightly. I like chop them and then toast them because that way all the sides get toasted. The flavor is out of this world and every time I make something with pecans people wonder what I've done differently than they did. It makes a huge difference.
Use a heavy cookie sheet with sides. Texas sheet cake should not be much more than an inch thick. If you've got a 3 inch thick Texas sheet cake it wasn't made by a Texan.
I use salted butter in this - although I use unsalted in almost everything else. I like the flavor it gives.
If you can stand to do it, cover the finished cake and let it hang out on the counter overnight. The flavors really develop.
I've seen people sprinkle the nuts on top of the Texas sheet cake frosting. Ummm - no. Stir them in so they are part of the frosting not an addition to it.
Texas sheet cake is never served with buttercream frosting. Just no.
The frosting should be almost pourable and goes directly on the warm cake. If you have to spread it too much the top of the cake is going to tear. Spoon it on and move it around gently.
Supplies You May Need
The following are affiliate links. We are a participant in the Amazon Services LLC Associates Program, an affiliate advertising program designed to provide a means for us to earn fees by linking to Amazon.com and affiliated sites.
Thanks so much for being a part of Restless Chipotle!
What's new? Check out my Restless Chipotle & Co. Store on Amazon where you'll find all kinds of nostalgic goodness! Thanks so much for being a part of Restless Chipotle!
This is a pretty straight forward cake and totally easy to make. Still, a great cookie sheet is essential. This is the one that I use - it's heavy aluminum, is the perfect size, and has sides.

You May Also Like...
If you love this recipe you may also like these other great sheet cakes!
This strawberry sheet cake from Southern Bite is on my radar at the moment.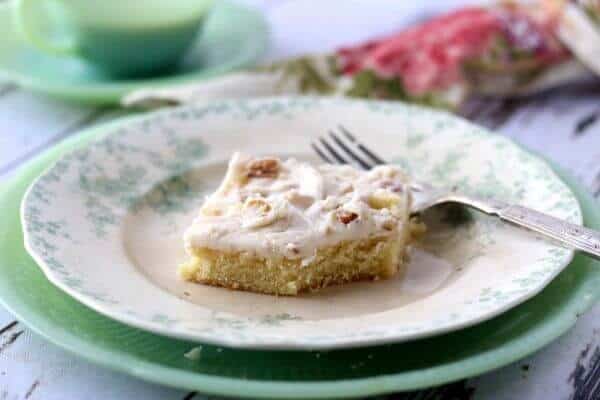 White Texas Sheet Cake Recipe
I'm absolutely positive that you are going to love this easy cake recipe for its flavor as well and how easy it is to make. Use the tips above for white Texas sheet cake perfection.
Still not what you're looking for? How about these white cupcakes with whipped cream cheese frosting?
If you love this cake as much as I do please give it 5 stars!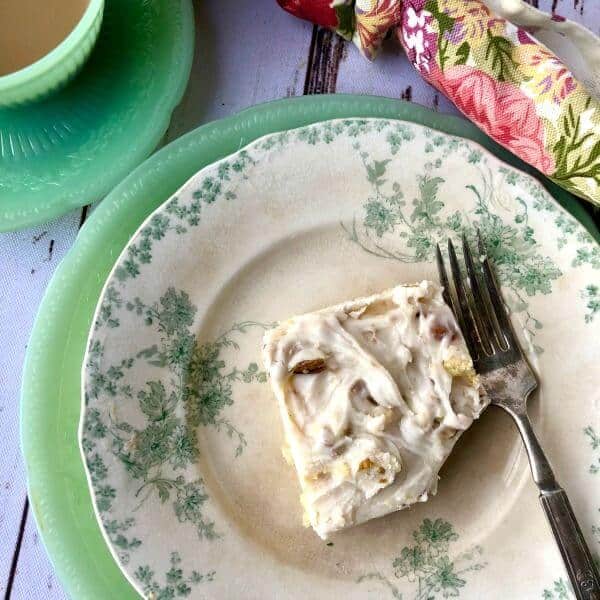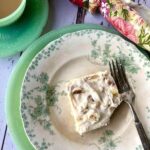 White Texas Sheet Cake
Print
Add to Collection
Go to Collections
Homemade and rich, this white Texas sheet cake has just a whiff of coconut flavor. This easy cake is topped with a candy-like white glaze generously studded with toasted pecans. A quick from scratch cake that's the perfect dessert for potlucks, casual get-togethers, and bake sales.
As an Amazon Associate I earn from qualifying purchases.
Ingredients
1

cup

butter

1

cup

water

2

cups

sugar

2

cups

flour

1

tsp.

baking soda

1

tsp.

salt

1

teaspoon

coconut flavoring

1 ½

teaspoons

vanilla

½

cup

buttermilk

2

eggs
Texas White Sheet Cake Frosting
1/3 

cup 

buttermilk

1/2 

cup 

butter

,

,browned until golden

3 3/4

cups 

confectioner's sugar

,

,sifted

1 

teaspoon 

vanilla extract

1

teaspoon

coconut flavoring

1 1/2 

cups 

pecans

,

,toasted and chopped
Instructions
Cake
Preheat oven to 350 degrees F.

Grease a high sided cookie sheet or jelly roll pan and line with parchment.

Grease the parchment.

Set aside.

Mix the flour, sugar, baking soda, and salt in the bowl of a mixer.

Set aside.

In a small bowl whisk the flavorings, eggs, and buttermilk together.

Set aside.

Melt the butter in a heavy saucepan.

Add the water and bring to a boil.

Pour hot butter mixture over flour mixture in the bowl beating on low.

Switch to medium and beat for 1 minute.

Add the buttermilk mixture.

Beat for one more minute then pour the batter into prepared pan.

Smooth the batter out evenly.

Bake at 350 degrees F for 20 minutes.
Frosting
Melt butter in saucepan.

Add the buttermilk.

Bring the mixture to a boil, stirring occasionally.

Remove from heat and add the Confectioner's sugar, pecans, coconut flavoring, and vanilla.

Mix quickly and spoon over warm cake.

Smooth to cover the whole top.

Cut in squares to serve.
Notes
You may use almond extract and almonds in place of the coconut extract and pecans.
Nutrition
Calories:
309
kcal
|
Carbohydrates:
42
g
|
Protein:
2
g
|
Fat:
15
g
|
Saturated Fat:
5
g
|
Cholesterol:
30
mg
|
Sodium:
169
mg
|
Potassium:
60
mg
|
Fiber:
1
g
|
Sugar:
35
g
|
Vitamin A:
265
IU
|
Vitamin C:
0.1
mg
|
Calcium:
18
mg
|
Iron:
0.6
mg
Sign up for the emails and never miss another recipe!!
We'll never share your email or send you spam. Pinkie swear.
Submit Your Own Images