This easy blackberry cobbler recipe is full of plump berries and sweet dumplings that simmer along with a red wine blend until they come together in a thick, sweet compote. The red wine blend enhances the flavor of the berries and brings out bright flavors that keeps this classic southern dessert from being too sweet. Just add a buttery lattice top and bake to sweet perfection! This unique recipe was created in partnership with one of our favorite Restless Chipotle sponsors, CK Mondavi and Family. All opinions are my own.
For this recipe you'll need: flour, sugar, salt, butter, vanilla, ice water, fresh blackberries, CK Mondavi and Family Red Blend wine (formerly called Scarlet 5)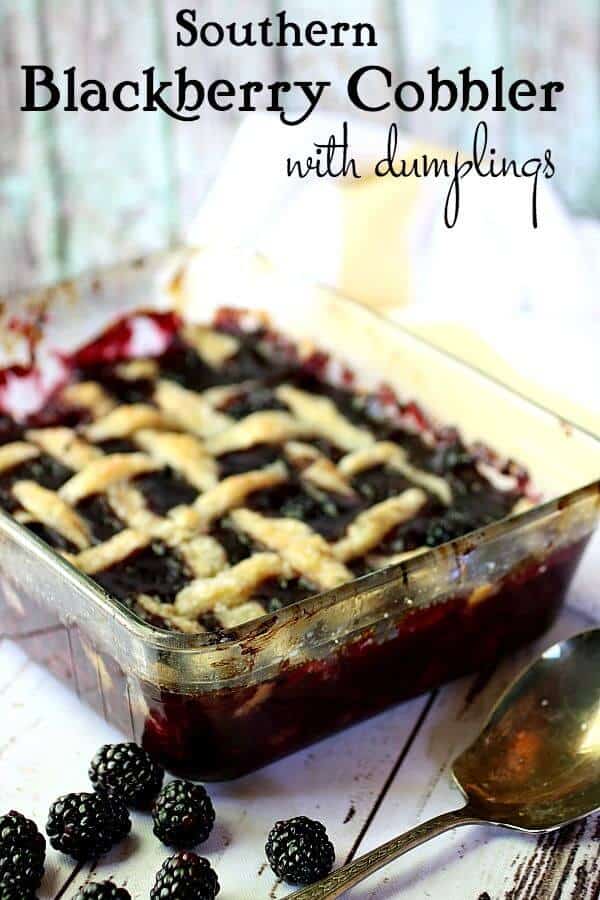 Southern Blackberry Cobbler Is a Bite of Summer
Say blackberry cobbler and you'll stir up some sweet summer memories for many of us. Actually, here in Texas blackberry season is more of a late spring thing but since it's usually 90 degrees in April I suppose you could call it summer, right?
Cobbler recipes are one of those things that families in the south will go to war over. I am almost positive the whole Hatfield and McCoy feud was ignited by a vicious cobbler disagreement.
One crust or two?
Pie crust or biscuit crust…or crumble crust?
Dumplings IN the filling or no?
Shortening or butter?
Oh honey, it gets intense!
To my mind a cobbler has one flaky pie crust made with butter AND a few squares of pie crust need to be tossed in the filling as it's simmering. The dumplings help thicken it AND they make that quintessential southern recipe stretch to feed a crowd.
While the dumplings are simmering they absorb some of the flavors of the blackberries and, in this case, wine. The texture gets a little doughy and a little chewy. It's so dang good.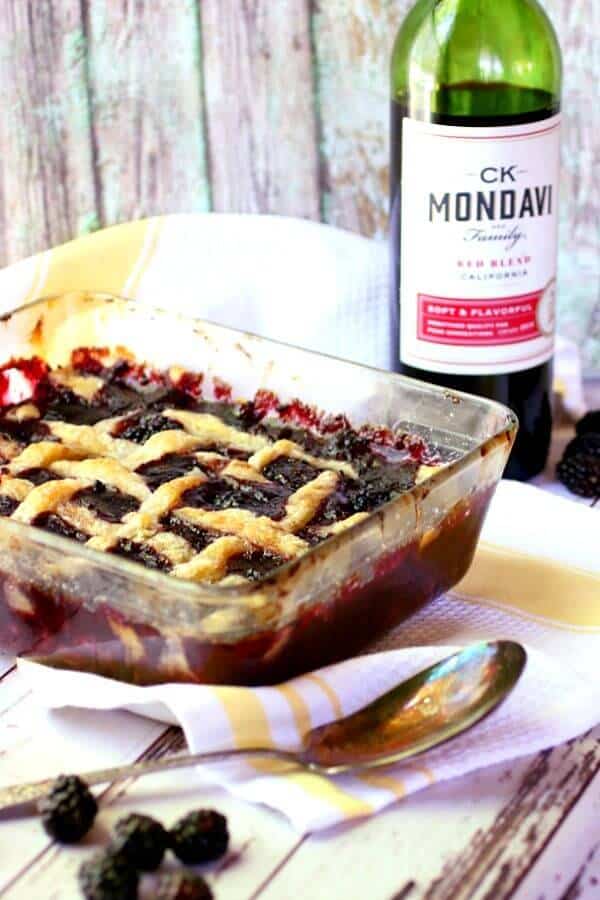 Why CK Mondavi and Family Are Part of MY Family
Being a brand ambassador for CK Mondavi and Family is one of my favorite things about my job. I mean, it's a match made in heaven, really. They make wine… I drink wine… perfection! The make wine… I cook with wine… see a pattern? In fact, although I am absolutely positive you'll love this blackberry cobbler, try pairing the chocolate chess pie with the Red Blend. So much perfection!
Recently I had the opportunity to be part of an online tasting with Riana Mondavi. She is part of The G4 – the fourth generation of Mondavis to be officially involved in the family business. Don't you love family owned companies with all of their realness and cute nicknames? I do.
Anyway, Riana is the key spokesperson of the Mondavi G4 and she kills it! As you would expect, she really knows her wines and wine pairings but she also brings fresh ideas about pairings that make you wonder why you hadn't thought of it yourself. We tasted three wines, Sauvignon Blanc, Chardonnay and Red Blend ( previously called Scarlet Five) and talked about fresh pairings for light and healthy spring flavors. If you want a copy of the wine pairing worksheet we used you'll find it on their website.
One of the many things I adore about this company is that they are absolutely committed to locally sourced ingredients and products.
They are running a monthly "#pairNpost" sweepstakes. Instagram and Twitter followers can post a photo of their idea of the perfect CK Mondavi and Family pairing. It's open to everyone so be sure to submit your own pairing pic! Be sure to tag your pic #pairNpost.
Click through to learn more about CK Mondavi and Family. You can also follow them on social media: Facebook, Twitter, Pinterest, Instagram and YouTube.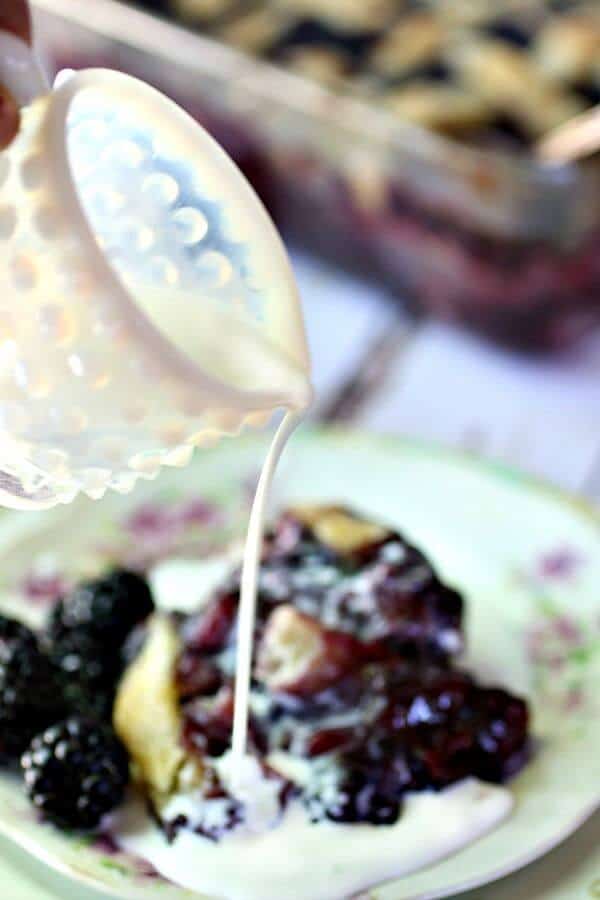 But Is THIS Cobbler Recipe Springtime Light and Healthy?
Well, define light and healthy.
In this part of the country, where we deep fry butter and chicken-fry bacon, I'd say that this extravagantly luscious blackberry cobbler is a light and healthy dessert. It certainly pairs beautifully with the CK Mondavi and Family Red Blend wine!
You see, normally I'll add a little citrus to my blackberry filling for pies and cobblers. It balances the sweet and brings out all of the flavor. This time I decided to use the wine instead of the citrus and I promise you I won't make it any other way ever again!
The dark fruit flavors in the wine enhance the blackberries and do all the work of the citrus I was using while adding an entirely new level of flavor. Next time I'm going to reduce the water and increase the wine a bit.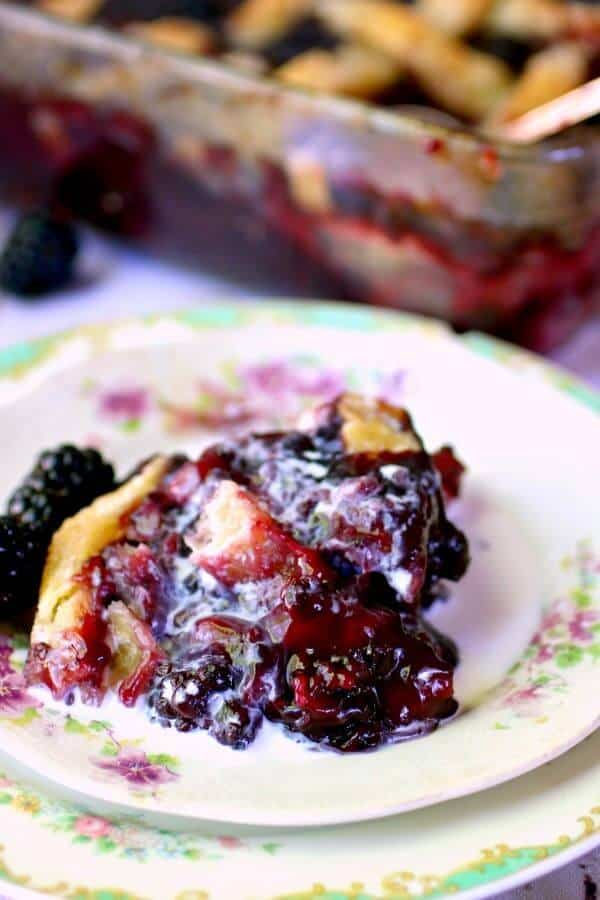 Blackberry Cobbler Hints, Tips, and Tricks
This is an easy recipe but there are a few little tricks to make it easier, better, or just different. Sometimes this section is called Cook's Notes.
Some people abhor pie crust on a cobbler. If you are one of them you can make this with your favorite biscuit crust and roll a bit of it real thin for the dumplings.
If you are in a hurry use bought pie dough from the grocery store. If you don't tell I won't.
You can use frozen blackberries as well – in a pinch you can use canned pie filling.
Make sure the pastry is icy cold before you try to use it. When I made this I was stopping every few minutes to take pictures and the pastry got warm so it was very hard to work with.
If you want a really pretty lattice you need to get one of the ruffly edged cutters.
You could make this same recipe with peaches and chardonnay.
This freezes well, baked or unbaked. Nice to have on hand for unexpected company!
Brush some melted butter over the top of the pastry and sprinkle with sugar before baking. It gives it a delicately crumbly sugar layer that's yum.
Some people like it warm with ice cream or whipped cream. I personally like it with plain cream poured over the top.
You May Need…
The following are affiliate links. We are a participant in the Amazon Services LLC Associates Program, an affiliate advertising program designed to provide a means for us to earn fees by linking to Amazon.com and affiliated sites.
Thanks so much for being a part of Restless Chipotle!
If you like classic (and updated!) southern desserts as much as I do then you'll likely love this Daisy Cakes Bakes cookbook where the writing is as good as the recipes. 🙂
Old Fashioned Blackberry Cobbler Recipe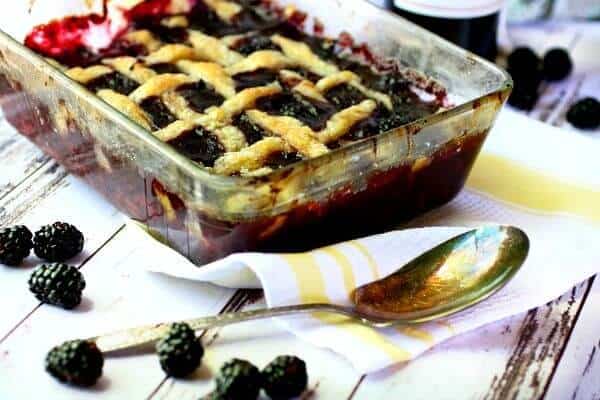 Y'all. This blackberry cobbler recipe is seriously good stuff. I had a friend that was driving down to College Station where #6 child is going to A & M and I had her take him a container of it. We all know there's nothing like a little bit of mom's homecooking now and then, right? 🙂 If you love this recipe please give it 5 stars… and… don't forget to post it on instagram with #PairNPost @marye_restlesschipotle, ok? I love to see what you've made! You may also like this bourbon peach cobbler!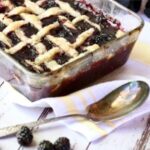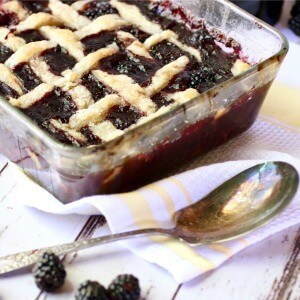 Blackberry Cobbler
Print
Add to Collection
Go to Collections
Easy blackberry cobbler recipe is southern style - full of plump berries and sweet dumplings that simmer along with red wine until they come together in a thick, sweet compote.
Chilling Dough
30
minutes
As an Amazon Associate I earn from qualifying purchases.
Ingredients
For the crust:
2

cups

flour

2

tablespoons

sugar

Pinch

salt

1/2

cup

butter

1/2

teaspoon

vanilla

½

cup

ice water
For the cobbler:
4

cups

blackberries

,

, rinsed and gently patted dry

1

cup

sugar

1/3

cup

butter

1

cup

water

1/2

cup

CK Mondavi and Family Red Blend wine
Instructions
For the cobbler crust:
Mix flour, sugar, and salt.

Shred 12 tablespoons butter into flour with the coarse side of a grater.

Add vanilla to ice water.

Slowly stir ice water into the flour mixture with a fork just until dough begins to form.

You'll see shreds of butter in the dough.

Divide dough into 2 disks and chill for 30 minutes.

Wrap tightly and place in freezer to chill prior to using.
For the Cobbler:
Preheat oven to 425 degrees.

Remove pastry for cobbler crust from the freezer and roll.

Cut ½" strips in both portions of the dough.

Combine berries, sugar, 6 tablespoons butter, wine, and water in heavy bottomed pan and bring to a boil.

In one half of the dough, cut strips again to form individual pieces for dumplings.

Drop into simmering blackberries and occasionally stir gently to make sure all dumplings are cooked.

Cook over medium heat until thick.

Remove cobbler pan from heat and place second half of the dough in a lattice pattern on top of the blackberries.

Place pieces of butter on top of lattice crust and sprinkle with sugar.

Place into oven and bake for about 20 minutes or until crust is lightly browned.

Remove from oven and allow to cool for at least 10 minutes before serving.
Notes
You may want to use less pastry for dumplings and more on the top.
Nutrition
Calories:
436
kcal
|
Carbohydrates:
59
g
|
Protein:
4
g
|
Fat:
19
g
|
Saturated Fat:
12
g
|
Cholesterol:
50
mg
|
Sodium:
173
mg
|
Potassium:
169
mg
|
Fiber:
4
g
|
Sugar:
31
g
|
Vitamin A:
745
IU
|
Vitamin C:
15.1
mg
|
Calcium:
31
mg
|
Iron:
2
mg
Sign up for the emails and never miss another recipe!!
We'll never share your email or send you spam. Pinkie swear.
If you liked this Southern Blackberry Cobbler you may also like…
From left to right: Southern Coconut Cake, Strawberry Punch Bowl Cake, Pig Pickin Cake
Still Looking? Here are some recipes from a few of my favorite blogs –
Two Two Easy Peach Cobbler from This Grandma Is Fun. Peach cobbler with a cakey top made in a cast iron skillet – what's not to love?
Blueberry Cobbler with a Cookie Dough Crust from The Melrose Family. Blueberries and sugar cookie dough? Kill me now – this is perfection!
Part of Southern Bite's Meal Plan Monday