Strawberry punch bowl cake is such a quick, easy dessert you won't want to wait for a special occasion to make it! The tequila adds a subtle flavor to the cake and the sour cream keeps it from being overly sweet. You might know this traditional Southern recipe as strawberry trifle. It's great for Valentine's Day, Easter, or any spring/summer party! If you're looking for a layer cake with berries try my Italian Cream Layer Cake.
For this recipe you'll need: angel food cake, tequila, sour cream, heavy whipping cream, Confectioner's sugar, granulated sugar, strawberries, vanilla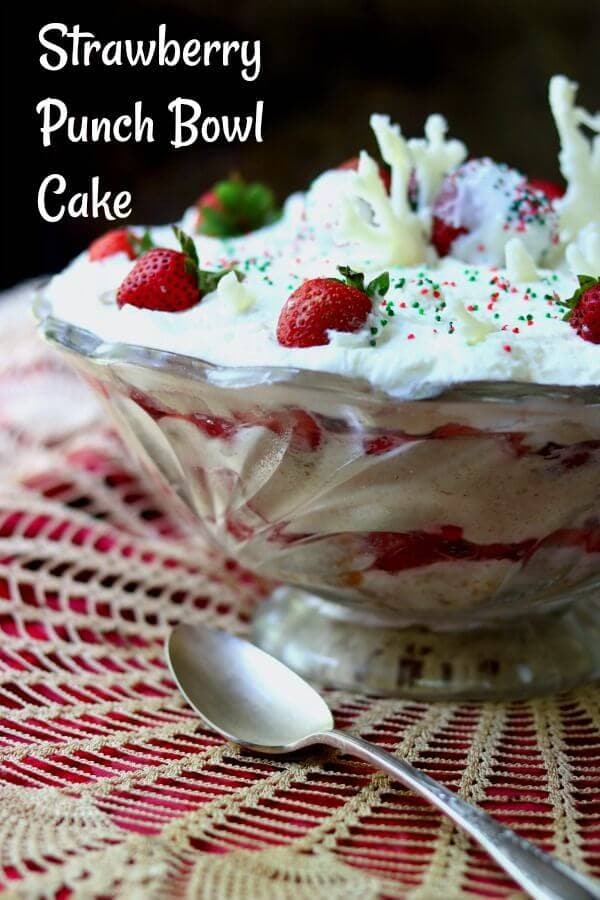 It's been a long time since I've thought about a strawberry punch bowl cake. I don't know if they are even in favor any more but I do know that for the longest time punch bowl cakes appeared on every celebratory table throughout the south. They were wildly popular for a couple of reasons -
They are SO dang easy to make.
Most every Southern woman has a punch bowl that's either been a wedding gift or handed down to her from her mother.
Of course, a punch bowl cake is basically the same thing as an English trifle but Southerners are aristocratically frugal -- and a trifle dish has one use. A punch bowl, on the other hand, can be used in many ways, plus if you're luck enough to have two of them you've got both the punch and the dessert covered.
My Mom's Punch Bowl
I have my mom's punch bowl - it's pressed glass from the late 1940s and it's got two pressed glass candle holders that go on either side of it.
My mom, like many women in the 1950s and 1960s, had all of these dishes that she used maybe once a year. .. if then. The punch bowl was one of those types of pieces an only brought out on the most special of special occasions -- usually Christmas. My parents had moved into a developing suburban neighborhood in 1963, and were one of four couples that had homes built first. They were all about the same age - in their 40s - and I was the only young child in the group. The other couples had college aged kids.
Every week these four couples would get together to play cards - one week at our house, one week at another house, and so on. It was the same for Christmas and New Year's Eve. I don't even remember what year it was but Mom had made some sort of punch for the Christmas party and displayed the punch bowl proudly on the sideboard, complete with greenery and candles - I remember thinking it was like a magazine. When Mom was upstairs dressing Dad tasted the punch, made a face, and added bourbon. A little while later Mom came downstairs in a swirly dress and high heeled shoes that clicked on the hardwood floors as she walked. She clicked over to the punch, took a taste, made a face, and added a little vodka.
I was allowed to attend the party for an hour before my bedtime. Back then children learned to sit quietly and mind their manners - I figured if I was very quiet no one would notice I was still up. So, I crept over to the stairs and sat where I was a little hidden by the garland but could see everything in the living room.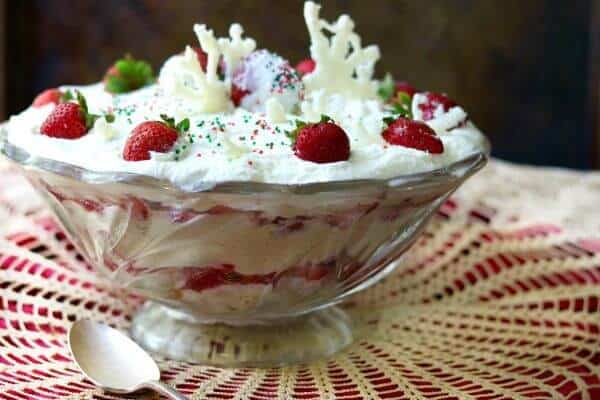 The doorbell rang and the guests were ushered in with lots of laughter and loud talking, air kisses, and a blast of icy air. The party had begun.
I noticed that my dad's best friend was hovering around the punch bowl. He tasted the punch, looked around furtively, and grabbed some rum from bar area. A splash of rum went into the punch.
I can't really remember how many of the guests contributed to the punch but I did notice that it was not disappearing very quickly despite the fact that the party-goers were slurping it up in single gulps. I do remember that the laughter got more raucous as the evening wore on and I finally fell asleep on the stairs.
There's some kind of magic that happens when you are little and you can fall asleep anywhere in the world and end up waking up in your own bed. I seem to remember that Dad stumbled out into the kitchen to give me permission to eat my cereal in the den, watch cartoons as long as I wanted, and stay in my pajamas all day -- as long as I let Mommy and Daddy sleep. They had both seemingly "come down with something" overnight.
I could hear my mother groaning in her room.
Moral of the story? There is none. It was just one of those crazy memories I wanted to share with y'all. 🙂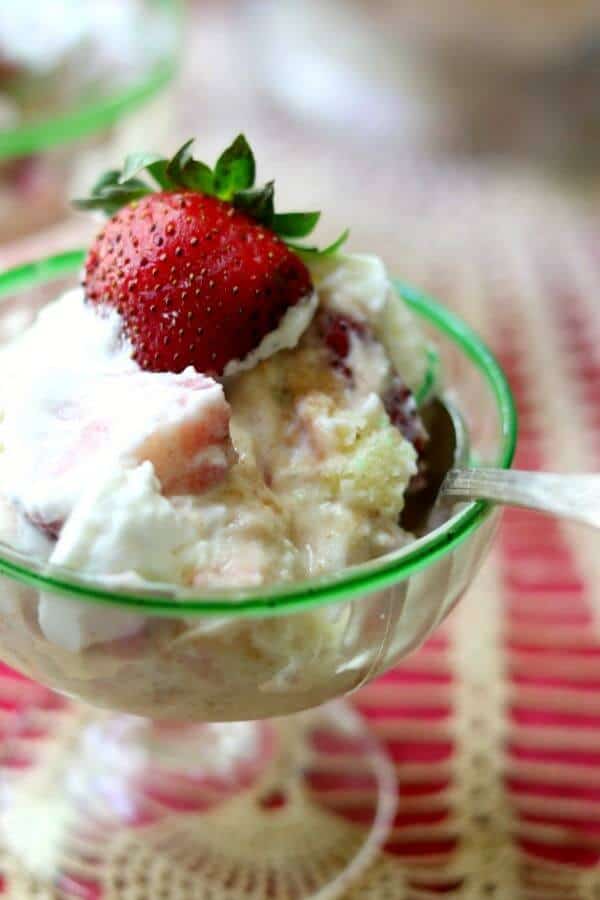 So Many Variations of Punch Bowl Cake Recipes!
There as many variations of  punch bowl cake recipes as there are good cooks in the South. You can vary the fruit, the creamy part, and even the cake!
Use pineapple instead of strawberries and adjust your sugar accordingly.
Use pound cake instead of angel food cake.
Use chocolate pound cake and cherries.
Add softened cream cheese in place of sour cream.
Use homemade custard (like the kind that's on my banana pudding) in place of the sour cream.
Leave out the sour cream and use all whipped cream.
Use instant pudding to make this strawberry punch bowl cake even quicker and easier.
Use bananas, raspberries, blueberries, dewberries, or peaches in place of the strawberries.
Use a mixture of fruit.
Use softened vanilla ice cream in place of the whipped cream - and keep it in the freezer until 20 minutes before serving.
I made white chocolate flowers to garnish this -- just melt white chocolate and pipe out a design on a piece of waxed paper. Chill until firm and use to decorate the punch bowl cake.
You get the idea. This strawberry punch bowl cake recipe can handle any season and any fruit that you can throw at it!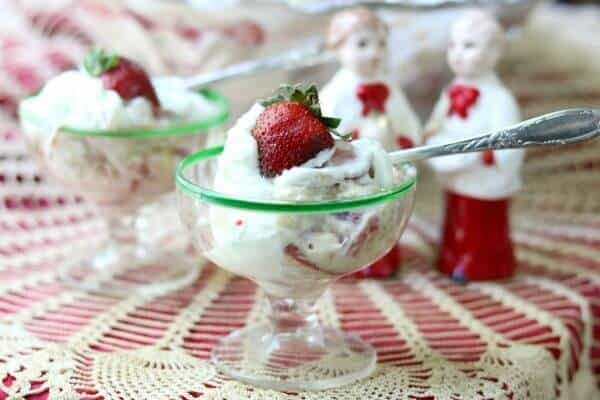 Some Tips for Perfect Punch Bowl Cake
Seriously, this trifle of a cake (see what I did there?) is so stupid easy that there's not much you can do to mess it up. Here are some things that will make it better, though--
Cut the angel food cake in consistently sized cubes. This will make it easier to spoon out of the punch bowl, easier to eat, and prettier to look at.
Choose the best berries for the top garnish.
If you're going to have to hold it overnight add 1 tablespoon instant vanilla pudding when you're whipping the cream. It will help stabilize it and keep it from getting too watery.
Saying that, this is not a make ahead dessert. Make it the day you plan to serve it if at all possible.
Keep it refrigerated.
If you happen to have more than your punch bowl can hold make individual sized servings in sherbet glasses with the leftovers.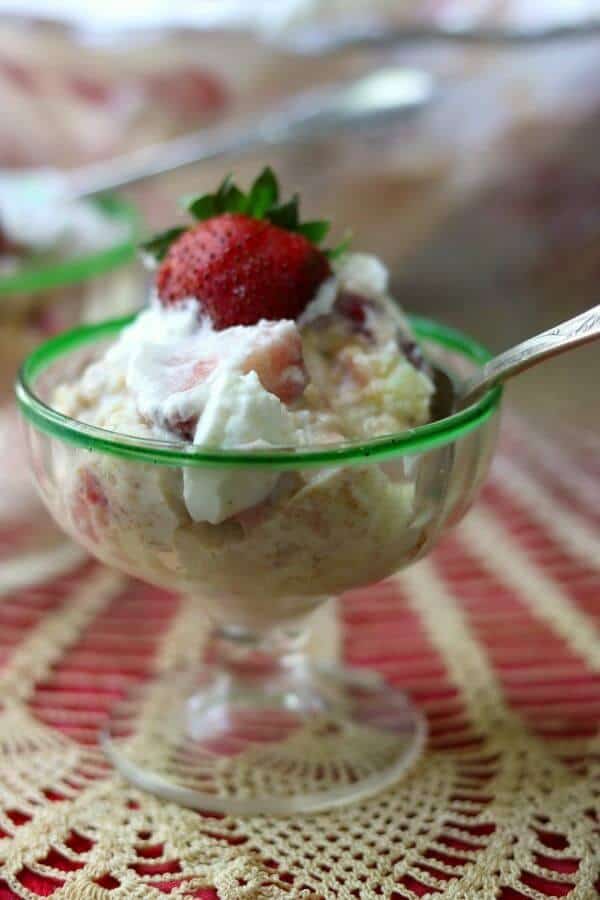 You May Need...
The following are affiliate links. We are a participant in the Amazon Services LLC Associates Program, an affiliate advertising program designed to provide a means for us to earn fees by linking to Amazon.com and affiliated sites.
Thanks so much for being a part of Restless Chipotle!
Well, you can't really have a punch bowl cake without a punch bowl, right? If your mama didn't pass one down (or hasn't yet) consider this gorgeous punch bowl! It's perfect!
Stupid Easy Strawberry Punch Bowl Cake Recipe
Think about this quick, easy strawberry punch bowl cake for Mother's Day or Bridal Showers. It would be beautiful at a Spring tea, as well. The list goes on and on. Once you make it you'll be as smitten with it as our mothers and grandmothers (and great grandmothers!) were. Here's a brownie punch bowl cake, too!
If you like this recipe please give it a 5 star rating in the recipe card below.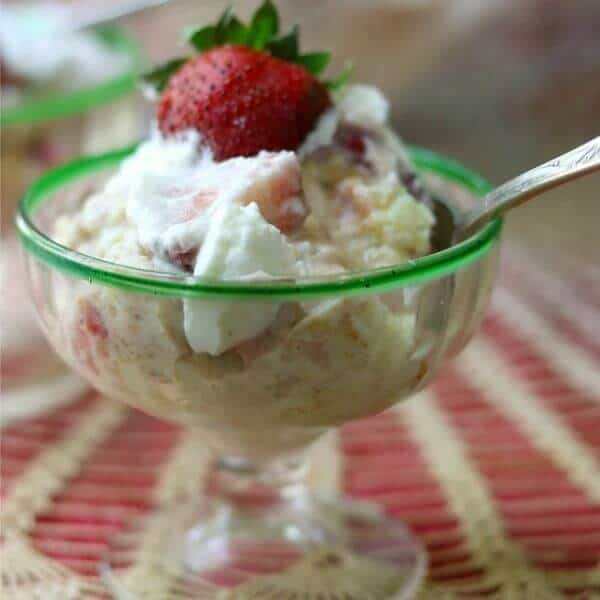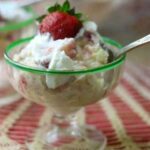 Strawberry Punch Bowl Cake
Print
Save
Go to Collections
A punch bowl cake is basically a trifle - and this one is delicious. A little tequila is sprinkled over angel food cake cubes then they're covered with a tangy-sweet cream and topped with sweet berries. The sour cream keeps it from being too sweet.
As an Amazon Associate I earn from qualifying purchases.
Ingredients
2

cups

strawberries

,

, chopped

¼

cup

granulated sugar

,

, use less if the berries are very ripe and sweet

1 ½

cups

heavy cream

⅓

cup

Confectioner's sugar

1 ½

teaspoons

vanilla

½

cup

sour cream

1

angel food cake

,

, cut into cubes

3

tablespoons

tequila

Whole strawberries for garnish
Instructions
Sprinkle the granulated sugar on the chopped berries and let them stand for 30 minutes.

In a medium bowl beat the heavy cream and Confectioner's sugar until soft peaks form.

Fold in the vanilla and sour cream until well blended.

Place ⅓ of the angel food cake cubes in the bottom of a punch bowl.

Sprinkle with a tablespoon (or so) of tequila.

Spoon on ⅓ of the whipped cream mixture, about ⅔ of a cup.

Spoon on half the chopped berry mixture.

Add ⅓ of the angel food cake to the top, sprinkle with tequila, spoon on ⅓ of the cream mixture, and top with the remaining strawberries.

Add the rest of the angel food cake, the remaining cream, and arrange whole berries around the top.

Refrigerate until serving time.
Nutrition Facts
Calories:
361
kcal
|
Carbohydrates:
40
g
|
Protein:
4
g
|
Fat:
19
g
|
Saturated Fat:
11
g
|
Cholesterol:
68
mg
|
Sodium:
246
mg
|
Potassium:
166
mg
|
Sugar:
26
g
|
Vitamin A:
745
IU
|
Vitamin C:
21.5
mg
|
Calcium:
86
mg
|
Iron:
0.3
mg
Sign up for the emails and never miss another recipe!!
We'll never share your email or send you spam. Pinkie swear.
If you liked this Strawberry Punch Bowl cake you might also like...
From left to right: Southern Coconut Cake, Burnt Sugar Layer Cake with Peanut Butter Mousse, Strawberry Rhubarb Pie
Here are a couple of similar recipes from some of my favorite blogs -
Strawberry Key Lime Cheesecake Trifle Inside Bru Crew Life
Lemon Lovers Trifle Melissa's Southern Style Kitchen
Part of Meal Plan Monday #99 - Check out all the great recipes!