These homemade white chocolate truffles are rich, creamy bites of white chocolate infused with delicate lavender and tangy lemon. With just 4 ingredients this recipe goes together quickly and the results are always spectacular! Perfect for special occasions!
First Published: January 11, 2016... Last Updated: April 23, 2019
For this recipe you'll need: white chocolate, sweetened condensed milk, culinary grade lavender buds, lemon zest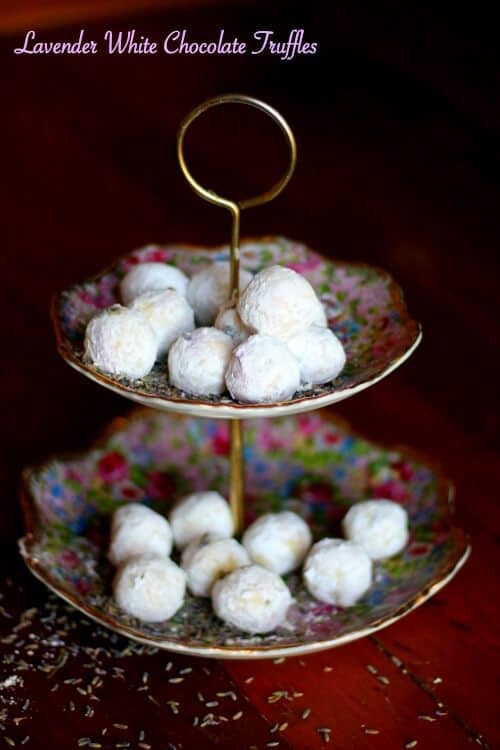 Homemade Truffles Are EASY!
I have loved the creamy, richness of a great truffle since I bit into the silky creaminess of my first one when I was around 20.
Since that point I've been kind of obsessed with them -- both making and eating. The one thing I really love about truffles is that they are deceptively easy to make.
Generally the ingredients are just cream, chocolate, and some flavoring. It's not hard to melt them in the microwave, either. Once chilled, shaped, and chilled a second time they can be dipped in chocolate or rolled in cocoa powder.
Anything beyond that is just embellishment.
Culinary Lavender Is Fabulous to Cook With
So remember I got all of that lavender when I got the ingredients for the lavender shortbread cookies? It's sitting on my counter in a glass apothecary jar waiting to be used. It's going to take awhile so you can probably expect to see a regular parade of lavender recipes over the next few months.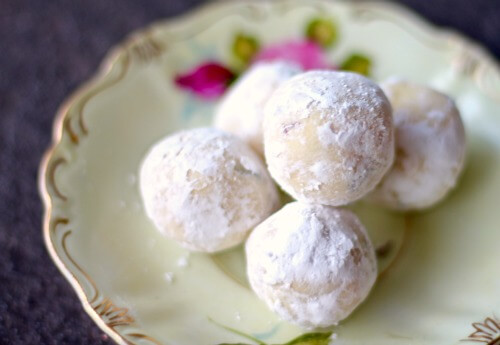 These melt-in-your-mouth little lavender white chocolate truffles were much better than I expected -- and I expected them to be awesome. I rarely use sweetened condensed milk for anything other than key lime pie but I had some and I'd seen it used in truffle recipes so I decided to try it to see how it worked. I was afraid that it would make the candy too sweet or chalky but it didn't. It was just right.
Part of that was, I think, due to the lemon and lavender being kind of tangy. These freeze well so you could make a big batch and keep them in the freezer until you needed them. I'd say wanted them but I am relatively sure that once you taste one you'll want them all the time. These would be great for any of the occasions coming up: Valentine's Day, Easter, Mother's Day, wedding showers, baby showers... you name it.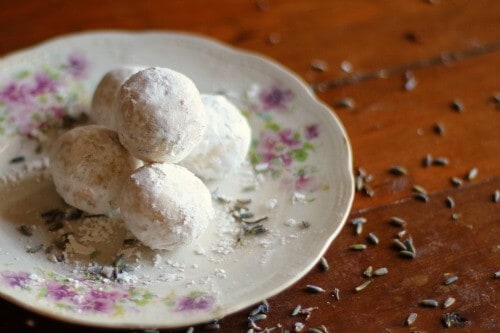 Tips for Making Homemade White Chocolate Truffles
Lemon and Lavender White Chocolate Truffles are so simple to make! I promise - you'll love these! Here are some tips to make it even easier the first time you make them.
Chill the mixture completely before trying to roll into balls or you'll have a huge mess. This is an EASY project but there's no hurrying it!
Use a tiny cookie scoop or melon baller to get evenly sized truffles.
Because these are made with sweetened condensed milk they are very sweet but they hold up a little better. The lemon helps to balance the sweetness.
If it's hot in your kitchen work in batches and keep the majority of the white chocolate ganache in the refrigerator.
The yield from this recipe will depend a lot on what size you make them AND how much you lick the spoon and/or sample your creations.
Candied violets are a GORGEOUS garnish for these.


More Recipes for Girly Celebrations
Sugar Cookie Truffles from House of Yum are so pretty! They'd work, too.
You May Need...
The following are affiliate links. We are a participant in the Amazon Services LLC Associates Program, an affiliate advertising program designed to provide a means for us to earn fees by linking to Amazon.com and affiliated sites.
What's new? Check out my Restless Chipotle & Co. Store on Amazon where you'll find all kinds of nostalgic goodness! Thanks so much for being a part of Restless Chipotle!
Not that many people use lavender in their recipes and that's a little sad. It's a florally-citrus kind of flavor as long as you use it delicately. If you use too much it just tastes like soap. Make sure you buy Culinary Grade Lavender.
I love these polka-dotted candy holder cups. They hold the truffles really well and look adorable.
Lemon Lavender White Chocolate Truffles Recipe
You seriously aren't going to find anything easier that's this fancy! Snuggle them in those cute paper liners and be prepared to be adored by all who partake!
If you love this recipe please give it 5 stars!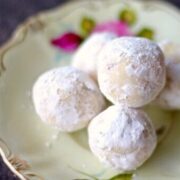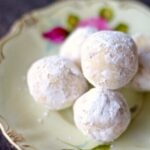 Lavender White Chocolate Truffles
Print
Add to Collection
Go to Collections
Rich white chocolate, delicately perfumed lavender, and tangy lemon zest blend together in these decadent truffles to create creamy rich candy. Remember it will only be as good as your ingredients. Get the best white chocolate available.
As an Amazon Associate I earn from qualifying purchases.
Ingredients
1

pound

white chocolate

,

, chopped

1

(14-ounce) can Eagle Brand sweetened condensed milk

1

tablespoon

lavender buds

1

teaspoon

lemon zest
Instructions
Add all of the ingredients to a microwave safe bowl.

Microwave, stirring every 30 seconds, until the mixture is smooth and well blended.

Chill until firm enough to form into balls.

Scoop out chilled white chocolate mixture and form into balls of desired size.

Roll in confectioner's sugar.

Store tightly covered, with waxed paper between the layers, in the refrigerator.
Nutrition
Calories:
103
kcal
|
Carbohydrates:
13
g
|
Protein:
1
g
|
Fat:
5
g
|
Saturated Fat:
3
g
|
Cholesterol:
6
mg
|
Sodium:
25
mg
|
Potassium:
76
mg
|
Fiber:
0
g
|
Sugar:
13
g
|
Vitamin A:
35
IU
|
Vitamin C:
0.5
mg
|
Calcium:
57
mg
|
Iron:
0.1
mg
Sign up for the emails and never miss another recipe!!
We'll never share your email or send you spam. Pinkie swear.