These fresh peach muffins with white chocolate chips are truly summer in a bite. Ripe, juicy peaches are tucked into a batter delicately flavored with vanilla and studded with white chocolate.
A streusel is sprinkled on top and then, after the muffins are baked, a bourbon flavored glaze is drizzled on top. Talk about a show stopper!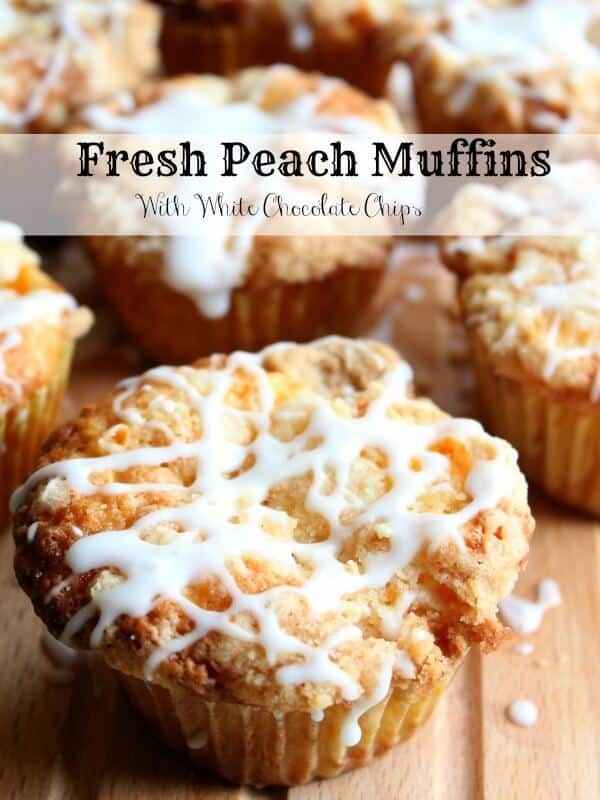 There aren't too many things that are more welcoming that muffins for breakfast -- at least not in my opinion. Muffins say welcome home, I went to a little trouble but not too much. Muffins are basic love food... like cookies.
I was writing an article for a magazine assignment I had about Parker County Peaches. Now, if you don't live in Texas you probably don't know about Parker County but it is the state center for amazing, giant, juicy, sweet peaches. The kind of peaches that when you take a bite the juice runs down your chin and then tickles its way down your arm to drip off your elbow -- and you don't even care. The kind of peaches that make you say, Georgia? Is that a thing?
Anyway, so I was writing the article and I added this recipe that I had developed a while ago. It's based off my blueberry white chocolate muffin recipe, as a matter of fact. Since the magazine is a statewide publication rather than a national one I decided to share a version of the recipe right here.
Because I am cool like that.
If you don't have fresh peaches available then use frozen and a little extra sugar if you need it... also if you accidentally spill a tablespoon or so of bourbon into the muffin batter I won't tell.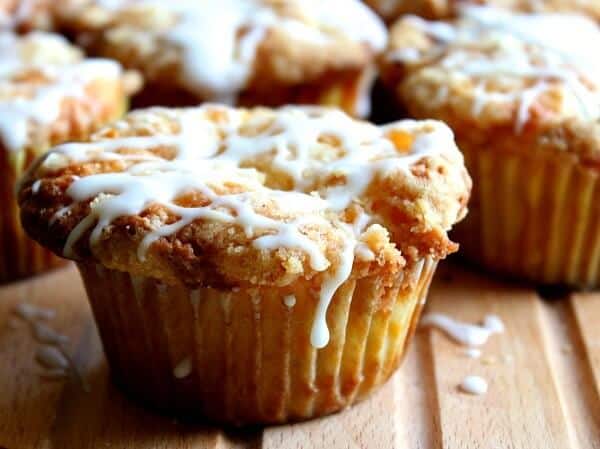 Now, if you are in Texas, or near-enough, this year's Parker County Peach Festival is July 11 in downtown Weatherford. I think I am going to try to get down there this year but time will tell... we are going to Port Aransas for vacation this year and that cuts it somewhat close. Not sure I can afford to go traipsing around the state that much. We'll see.
OMG. I am SO looking forward to vacation. I am so ready. We did the family cruise last year, if you'll remember, and it was great. In the past five years I've gotten spoiled enough that now I really NEED a vacation each year. This summer we've rented a condo in Padre right on the beach. It will be a little different in that I will need to cook but I love cooking and I can't wait to see what's available locally there. 🙂
In the meantime... peaches. Most definitely fresh peach muffins. With chocolate chips. And streusel. And bourbon glaze.
Welcome to Texas, y'all.
More Muffin Recipes...
Blueberry White Chocolate Muffins
Try this yummy peach bread recipe,too!
I used paper liners here because my silicon ones are scattered all over the house. My daughter makes sugar scrub in them and takes them to the shower. Another child puts crackers in one and hauls it to the media room... you get the idea. So, while they last forever I need to buy them often. I like them because they are firm, environmentally responsible, and I think the muffins hold their shapes better in them. If you don't have any, and you'd like to try them, here are some on Amazon. I like these because they are pretty AND they are BPA free.
Premium Reusable Silicone Cupcake Liners / Baking Cups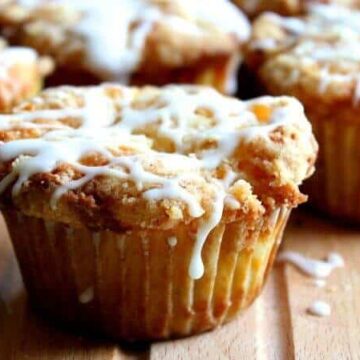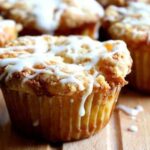 Fresh Peach Muffins with White Chocolate Chops
Print
Save
Go to Collections
As an Amazon Associate I earn from qualifying purchases.
Ingredients
Muffins
Topping
⅓

cup

granulated sugar

¼

cup

flour

¼

teaspoon

cinnamon

⅛

teaspoon

ginger

¼

cup

unsalted butter
Glaze
½

cup

confectioner's sugar

,

, more as needed to get consistency

1

tablespoon

cream

1

teaspoon

bourbon
Instructions
Before You Begin
Preheat oven to 375F.

Put paper liners in muffin cups or use the silicon liners that are available.
Muffins
Combine flour, sugars, baking powder, salt in a bowl.

Stir in milk, egg, butter, and vanilla.

Fold in the white chocolate and peaches.

Spoon into muffin cups.
Topping
Combine the dry topping ingredients in a bowl.

With cold fingers rub butter into dry ingredients until the mixture is crumbly and looks like coarse crumbs.
Glaze
Mix the confectioner's sugar, bourbon, and cream together to create a runny glaze.

Set aside.
To Bake
Sprinkle the topping on the muffins.

Bake for 20-25 minutes or until a wooden pick inserted in center comes out clean.

Cool in pans for 5 minutes.

Drizzle the glaze over the top.

Serve warm
Sign up for the emails and never miss another recipe!!
We'll never share your email or send you spam. Pinkie swear.