This easy, classic yellow cake recipe is moist and buttery with a thick bittersweet chocolate frosting - just like that droolworthy layer cake you remember. I've included tips and tricks to make sure that your homemade cake comes out perfectly every single time. There's not a better cake for birthdays and other celebrations. If you've been making it from a box get ready for this recipe to change your life!
First Published: September 21, 2007... Last Updated: June 3, 2019
Ingredients for this recipe: butter, sugar, eggs, buttermilk, almond extract, vanilla, all-purpose flour, baking soda, baking powder, salt, bittersweet chocolate, confectioner's sugar, heavy cream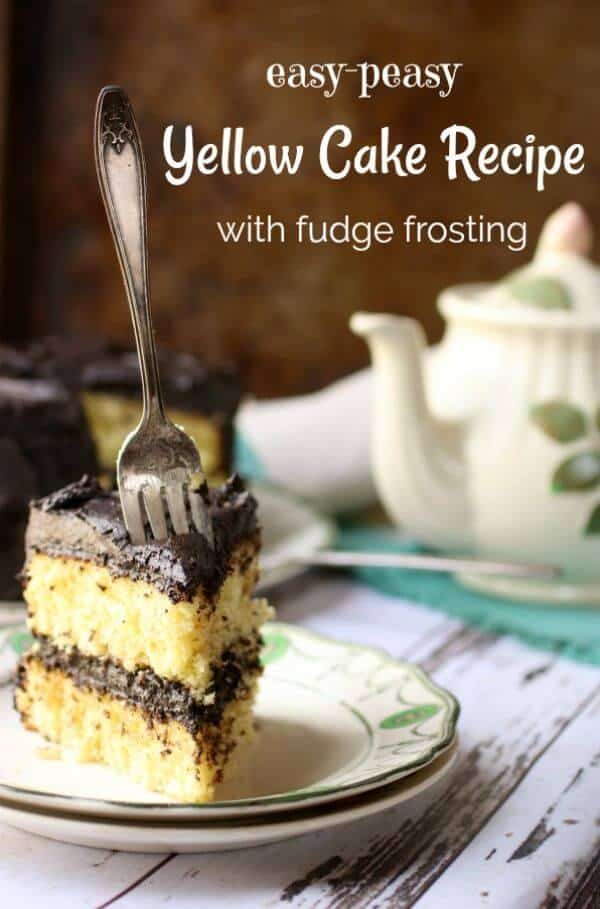 Classic Yellow Cake: Don't Have a Birthday without It
A good, classic yellow cake recipe is one of those things that everyone needs to have in their recipe file. It is as welcome at a fancy party as it is on a child's birthday table.
And it makes great cupcakes.
There is something comforting about yellow cake. I 'm not sure exactly what does it for me, the cheerful golden color, the delicate, buttery taste?
Something.
Yellow cake goes with everything, it's easy to make, and nearly everyone loves it. Add a deep, rich chocolate frosting and you have everything childhood memories are made of right on a plate.
The Irish Cream Whipped Frosting would be amazing with this yellow cake as well.
Layer Cakes Create Kitchen Magic
My mother was not much of a cook. She just didn't take any enjoyment in it. However my best friend lived across the street in the midst of a large, boisterous family.
I was enchanted by the activity in that house - the smells that wafted from the kitchen, the freedom they had to do crafts in the den, or to bake cookies or whatever. I was not allowed in the kitchen at my house for fear I would make a mess.
Amazing things appeared in that kitchen across the street, things that I had never imagined existed. Cream puffs, eclairs, marble cakes, and cookies to dip in large glasses of cold milk were displayed in all their glory on tables and countertops.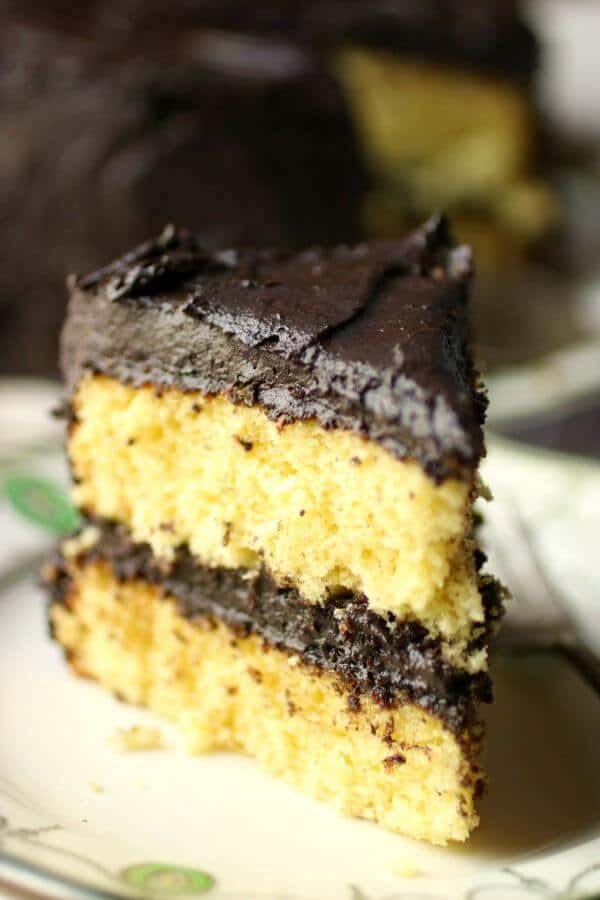 One day when I was about six I mentioned that I felt bad because it was my mother's birthday and I was not allowed to mess up the kitchen. She had not had a cake for her birthday that I could recall and I really wanted her to have one.
Mrs Willett, (that was the name of this wonderful woman, and yes, if you are a Willett from Warrington, Pa. I am talking about you) immediately offered the use of her kitchen, her supervision, and allowed my friend, Chris, and I to create a cake for my mom's birthday.
Cook with Your Kids
Now that I have 8 kids myself I understand the time sacrifice that loving act was. I learned that I loved cooking that day and I learned that some things were much more important than a clean kitchen. It's a lesson I brought into my adulthood and into my own house.
I've been woken up by the aroma of cake or cookies baking in the middle of the night numerous times and came downstairs to see a couple of my kids and their friends baking at 3 AM. As long as they clean up after themselves and don't burn the house down I'm good, you know?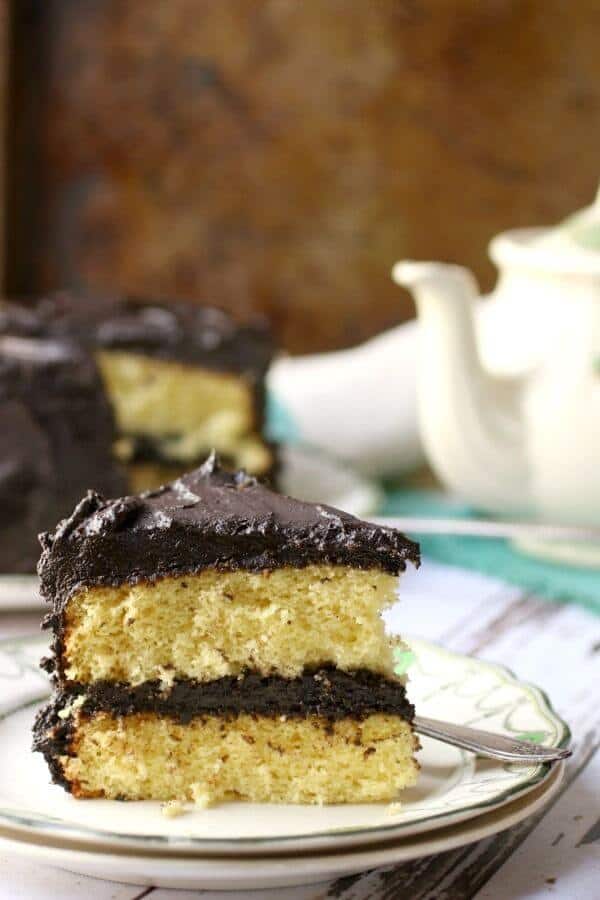 Tips and Tricks for Homemade Yellow Layer Cake
It really is an easy cake to make from scratch but here are some tips to ensure success!
My yellow cake recipe gets its bright color from egg yolks. Pasture raised chickens lay eggs that tend to have an almost orange yolk and when used in this cake the color is magnificent. If your yolks aren't a rich orangey yellow then a few drops of yellow food coloring will give you the color you want - just one or two though.
Make sure your eggs, buttermilk, and butter are at room temperature!
Cream the butter and sugar thoroughly - most people stop too soon. Cream it until it's light and fluffy - and that's going to take around 3 to 4 minutes. I've added an image to the recipe instructions to show you what the texture should be.
Use the vanilla-butternut flavoring - it adds a delicious flavor!
Don't over bake your cake. a toothpick stuck in the center will come out clean with just a few moist crumbs clinging to it
Grease and flour your cake pans, cut a piece of parchment to fit in the bottoms, and grease and flour the parchment. This will keep the cakes from sticking.
Smooth the cake batter in the pans making it a little higher on the edges than in the middle - this keeps the layers nice and flat.
You can freeze the cake layers unfrosted for up to 3 months.
This wedding cake frosting is great for decorating
Ingredients for Classic Yellow Cake
Much like any good, old fashioned recipe this from scratch cake doesn't require anything that you probably don't already have in your pantry. Here are the ingredients and a little about why they're important.
All- Purpose Flour - you could use cake flour, and many recipes do, but I like my yellow cakes to be a little more dense. Plus all-purpose flour is more stable and easier to work with.
Baking powder - is used to help the cake rise high and light.
Baking soda - adds a little energy to the rising but it also reacts with the acids in the buttermilk and helps the cake have a more tender crumb. You can find out more about baking powder vs. baking soda in this article.
Salt - gives depth to the other flavors in the cake.
Buttermilk - gives the cake a more tender crumb and a adds a slight tang.
Sugar - adds the sweetness needed as well as helps with the texture of the cake.
Eggs - help bind the ingredients and make them tender.
Butter - adds flavor and moistness.
Vanilla extract - adds flavor but using the vanilla butternut flavor adds a little extra flavor that's deliciously different.
Almond extract - is one of the things I add in a very small amount because it also adds to the flavor of the cake.
More Great Homemade Cakes
There's nothing like a cake baked from scratch. Here are some of my favorite recipes-
You May Need...
The following are affiliate links. We are a participant in the Amazon Services LLC Associates Program, an affiliate advertising program designed to provide a means for us to earn fees by linking to Amazon.com and affiliated sites.
What's new? Check out my Restless Chipotle & Co. Store on Amazon where you'll find all kinds of nostalgic goodness! Thanks so much for being a part of Restless Chipotle!
This vanilla butter nut flavoring is just so homemade tasting! I use it right along with my vanilla. Give it a try - I think you'll like it.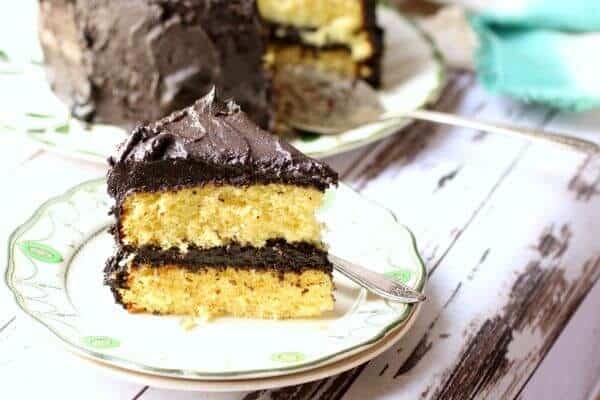 Classic Yellow Cake Recipe

You can make this classic yellow cake in a 13x9 inch pan if you like. The baking time should be about the same.
You can make cupcakes out of it, too.
One flavor variation that I really like is simply to add about a tablespoon of orange zest to the batter. It gives it a delicate, dreamy orange flavor. The Irish Cream Whipped Frosting would be amazing with this yellow cake as well.
I am telling you, try this once and you'll ever wan to use a boxed mix again!
If you click on the number of servings in the recipe card you can adjust the measurements up or down for the exact number of servings you need. Don't forget that you can click on "add to collection" to save it to your own, private recipe box!
If you love this recipe please give it 5 stars! ⭐️⭐️⭐️⭐️⭐️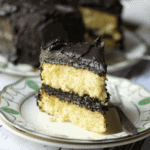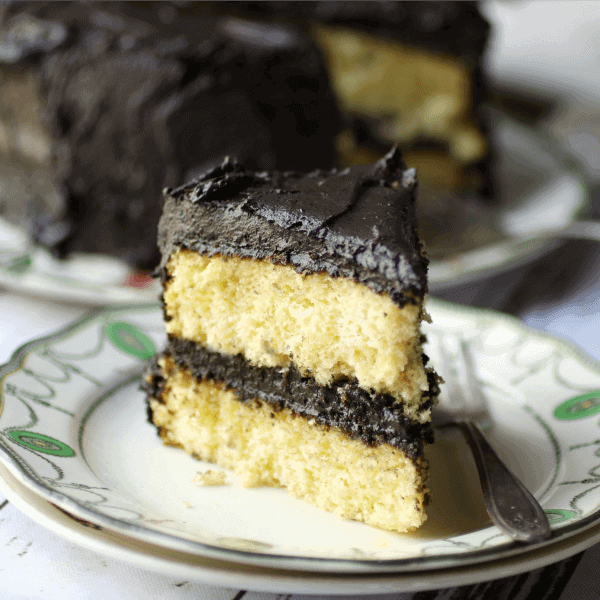 Classic Yellow Cake with Bittersweet Chocolate Frosting
Print
Save
Go to Collections
A classic yellow layer cake recipe with a bittersweet whipped chocolate ganache - this cake is perfect for any occasion from birthdays to family dinners.
As an Amazon Associate I earn from qualifying purchases.
Ingredients
Cake
½

cup

butter

1-¼

cups

white sugar

2

eggs

2

teaspoons

vanilla

½

teaspoon

almond extract

1-¼

cups

buttermilk

1-¾

cups

all-purpose flour

1

teaspoon

baking powder

1

teaspoons

baking soda

Pinch

salt
Frosting
½

cup

butter

4

(1 ounce) squares bittersweet chocolate

1

pound

confectioners' sugar

1

teaspoon

vanilla extract

¾

cup

cream
Instructions
Cake
Preheat oven to 350 degrees F.

Grease and flour two 9" round pans.

Sift together the flour, baking powder, baking soda, and salt.

Set aside.

In a large bowl, cream together the butter and sugar until light and fluffy.

Beat in the eggs one at a time and then stir in the vanilla and almond.

Beat in the flour mixture alternately with the buttermilk, mixing just until incorporated.

Pour batter into prepared pans, scraping out the mixing bowl with a rubber spatula.

Bake in the preheated oven for 25-30 minutes, or until a toothpick inserted into the center of the cake comes out clean.

Allow to cool completely before frosting.
Frosting
Melt chocolate and butter in the microwave, or in the top of a double boiler.

Let cool.

In a large bowl, combine confectioners' sugar, vanilla and ½ cup of the cream.

Blend in the melted chocolate mixture.

Add remaining cream, a little at a time, whipping until desired consistency is achieved.

Let stand until spreadable .

Frosting will thicken as it cools.
Nutrition Facts
Calories:
431
kcal
|
Carbohydrates:
49
g
|
Protein:
2
g
|
Fat:
25
g
|
Saturated Fat:
15
g
|
Cholesterol:
89
mg
|
Sodium:
249
mg
|
Potassium:
115
mg
|
Sugar:
45
g
|
Vitamin A:
745
IU
|
Vitamin C:
0.1
mg
|
Calcium:
44
mg
|
Iron:
0.9
mg
Sign up for the emails and never miss another recipe!!
We'll never share your email or send you spam. Pinkie swear.
Share Your Own Images