Triple layer cake recipe has just a whisper of almond flavor and thick, puffs of whipped, dark chocolate frosting snuggling between each layer and enveloping the top and sides of this scrumptious dessert. It is easy and looks elegant, making it your perfect go-to recipe for everything from birthdays to fancy dinners.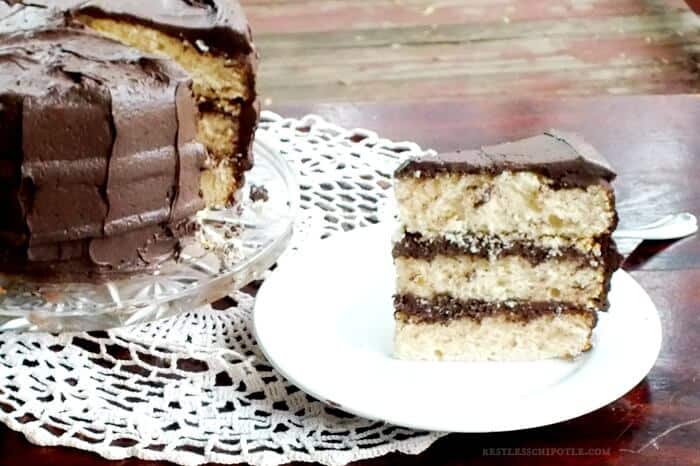 You know, cupcakes have been in the limelight for several years. Yes, they are cute and easy and delicious but they aren't cake. Oh, they have their place on the dessert table, for sure, yet there are times when I miss a nice slice of really good layer cake.
I think layer cakes are a dying art that should be revived. Cake mixes be damned, they can't compare to a homemade layer cake! This one is sky high. I doubled my normal recipe for frosting for two reasons.
This is my favorite frosting ever and I knew I would lick spoonfuls of it so I wanted to make sure that I had enough.
I wanted generous layers of frosting between the layers of cake to make it look gorgeous and to keep the flavors balanced.
This layer cake is so high that you may want to stick drinking straws down through the layers to steady them. Also, for the prettiest slices be sure to chill this for an hour or so before slicing. Other than that the cake is super easy to make and put together. The layers are sturdy yet tender so they do not break easily. I mean, you don't want to go play Frisbee with them or anything but if you let them cool they will not break apart when you try to put the cake together.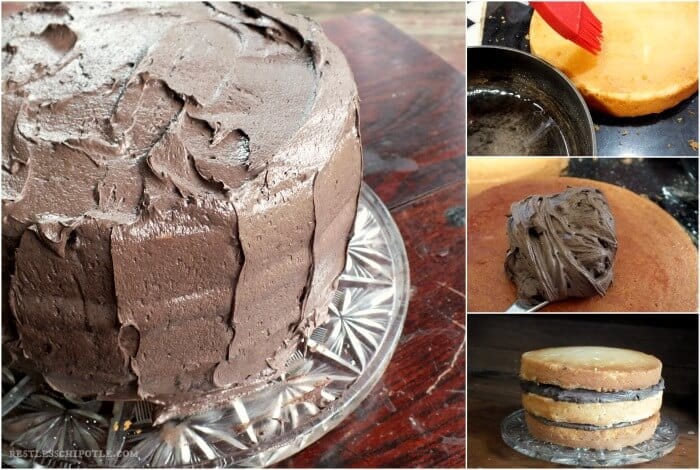 The buttermilk makes it tender and light. The cake isn't super sweet but it is very flavorful. You can make it one day, brush the sugar syrup on it and then frost it the next day to save time. You can use different flavorings, add citrus zest, or whatever you want to make it yours. This is a recipe that you will memorize for sure.
Cake flour is a must, y'all. Don't complain to me that it isn't tender if you use all purpose flour in this.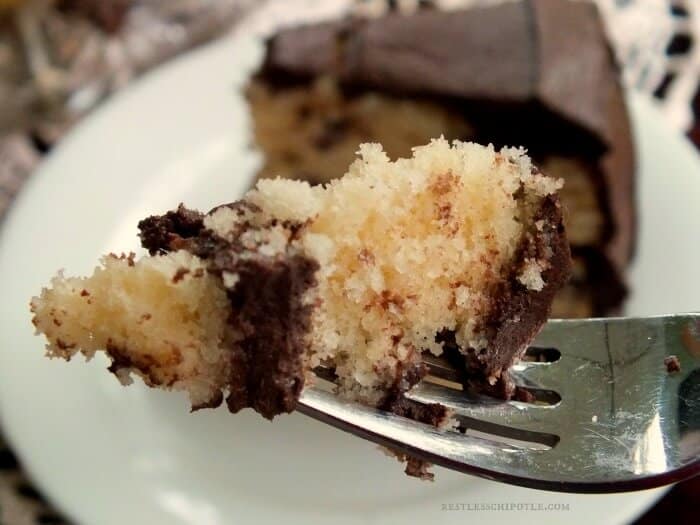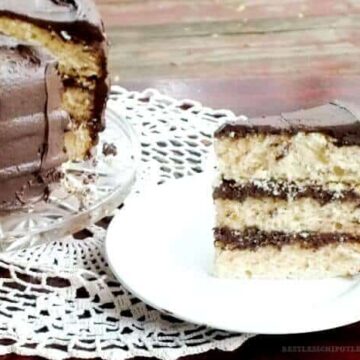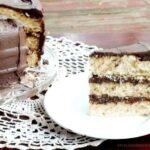 Triple Layer Vanilla Cake with Whipped Dark Chocolate Frosting
Print
Save
Go to Collections
A towering, tender vanilla cake lightly flavored with almond is generously filled and frosted with a deep, dark, whipped chocolate frosting.
As an Amazon Associate I earn from qualifying purchases.
Ingredients
Cake
4

cups

cake flour

1

teaspoon

baking soda

½

teaspoon

baking powder

½

teaspoon

salt

1

cup

unsalted butter at room temperature

3

cup

sugar

2

tablespoons

vanilla

½

teaspoon

almond flavoring

2

cup

buttermilk

6

unbeaten egg whites
Vanilla Sugar Syrup
1

cup

water

1

cup

sugar

1

teaspoon

vanilla
Frosting
1

cup

unsalted butter

1 ⅓

cups

dark cocoa powder,

(King Arthur has a black cocoa, or your favorite)

6

cups

Confectioner's sugar

Pinch of salt

⅔

cup

heavy cream

,

, as needed

2

teaspoons

of vanilla
Instructions
Cake
Sift together the flour, salt, baking powder and baking soda.

Cream butter and sugar together just until light and fluffy.

Beat in the vanilla and the almond flavorings.

Add dry ingredients alternately with the buttermilk.

Beat well after each addition.

Add the unbeaten egg whites and beat at medium speed for two minutes.

Divide equally between 3 greased and wax paper lined 8" round pans.

Bake at 350 for 20 minutes, reduce heat to 325 and bake for 25 minutes more, or until the cake tests done.

Cool in pans 10 minutes, then turn out and finish cooling on racks.
Sugar Syrup
Mix water and sugar in a heavy saucepan.

Heat until the sugar crystals are completely dissolved

Remove from heat and allow to cool.

Stir in vanilla.
Frosting
Beat the butter and vanilla until it is fluffy.

Mix the Confectioners, cocoa, and salt with a whisk until well blended.

Slowly beat the confectioner's mixture into the butter.

Continue to beat until well blended.

Turn the mixer to highest speed and add ½ cup of the cream.

Beat until light and fluffy, with a whipped consistency, adding more cream as needed to achieve the right texture.
Assembly
Brush the cake layers lightly with the sugar syrup. You won't use all of it so put the rest in a tightly covered jar in the refrigerator. It will keep for months.

Fill and frost the layers with a thick layer of frosting.

Chill before serving to allow it to firm up.
Notes
Cake freezes well when unfrosted. If you freeze the frosting it can get a little grainy but is other wise good.
Sign up for the emails and never miss another recipe!!
We'll never share your email or send you spam. Pinkie swear.
Used in this Layer Cake Recipe
Hershey's Special Dark Cocoa (I use either, depending on whether I have run out of the King Arthur or not!)
Wilton Round Cake Pan, 8 by 3-Inch
Layer Cakes from Restless Chipotle
Layer Cakes from Around the Web