I wanted Italian Cream Cake… but I wanted strawberries, too.
I don't know why it is but I associate strawberry desserts with Mother's Day. Maybe it is the white-pink-red theme that just looks feminine? Maybe it is the fact that the berries come into season about the same time as Mother's Day hits? I don't know. It is one of those things that I think about in the middle of the night when I can't sleep.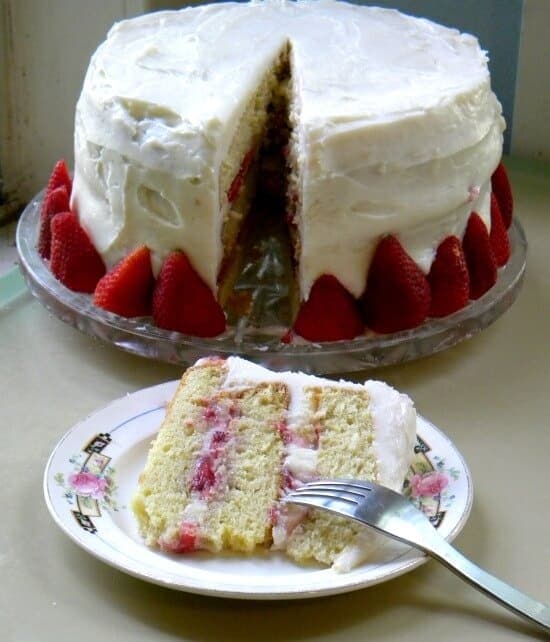 This cake is… FABULOUS. Perfect for Mother's Day or any other celebration, including the fact that you got through the day without harming your teenager. If you don't have a teenager that might sound appalling but if you do – well you certainly understand. I have 3 teens right now and a 12 and a half year old, so I know what I am talking about. The fact that I can put two words together in a clearly written sentence is nothing short of miraculous.

The Restless Chipotle Channel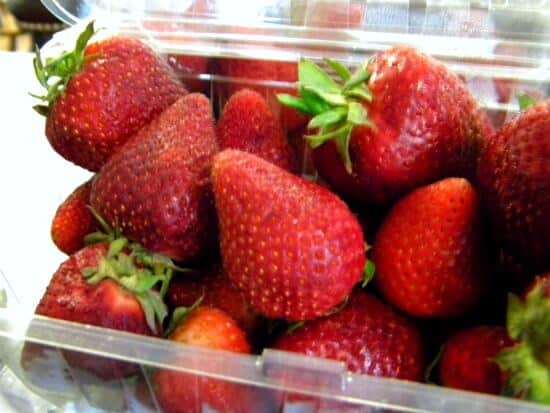 This Italian cream cake has an intense vanilla flavor with a touch of tangy cream cheese frosting. I added sliced strawberries between the layers and then chilled it for several hours.
During that time the berries get a little juicy and the filling soaks it up a little. Let it warm up to room temperature before serving and the flavor is just incredible. Bright and fresh from the berries, tangy from the frosting, and rich and sweet from the cake. I really want to try a version of this with blackberries but the strawberries were on sale and absolutely perfect, as you can see.
There are sort of a lot of steps to make this particular Italian cream cake but it is easier than it looks. Trust me. Set everything out about an hour ahead of time to bring it to room temperature. It will make the cake lighter and fluffier – don't skip this step.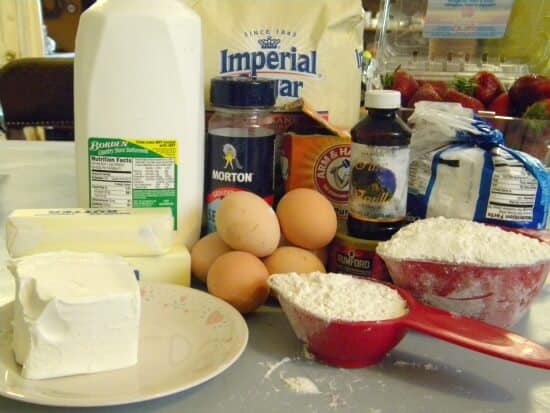 You will separate the eggs when they are cold but let them come to room temperature for the best results. See the yolks? That's the benefit of having chickens right here… deep orangey yellow and it produces a rich crumb in the cake. Lucky me!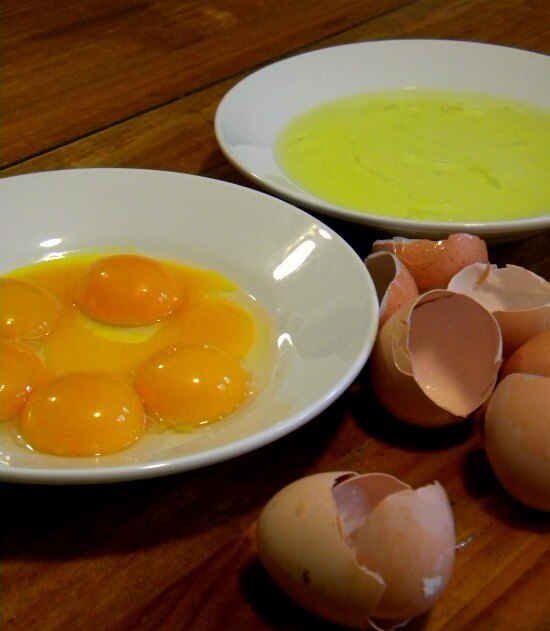 Another little trick I have is to rinse the clean mixer bowl and whips with vinegar. The acidity left in the bowl and on the whip helps the whites beat up much higher – and if there was any fat clinging to the whip it will be rinsed off by the acids.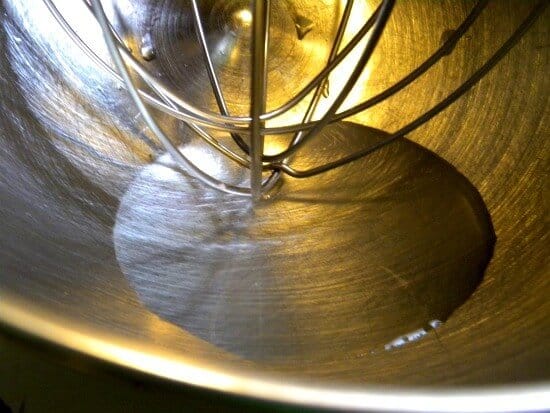 Don't start adding the sugar into the egg whites until they have come to soft peaks. You risk deflating them if you do. Deflating egg whites is not a good thing in this cake.
Trust me.
Perfectly beaten egg whites will cling to the beater and the bowl. You can literally turn it upside down over someone's head without the egg whites splattering all over them. I really did this to one of my kids but the image didn't come out. :/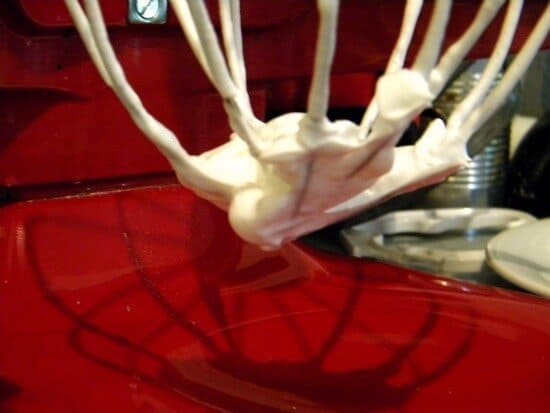 Set the egg whites aside (put them in another bowl gently if you need to) and begin the butter mixture part. You are going to cream the butter, vanilla, sugar, and salt. Once they are well mixed you will be adding hte egg yolks one at a time and beating until the mixture is the consistency of a good whipped cream.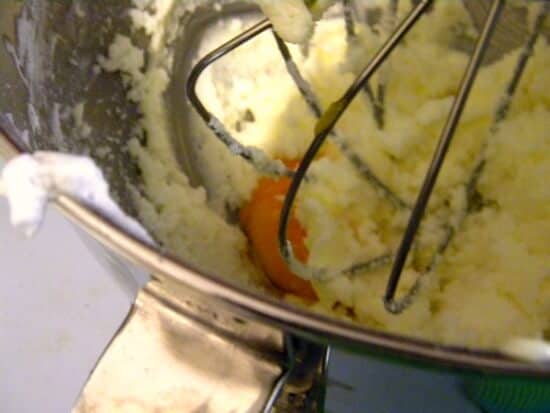 It isn't difficult to fold egg whites into a batter but you  have to be gentle. Put about a third of the egg whites on the batter and then gently pull the batter over the egg white. continue to do this until the first third is mixed in. Now, do the same thing with the rest of the egg whites. This will help keep them from deflating and it will keep your cake lighter and higher. Just remember to be gentle!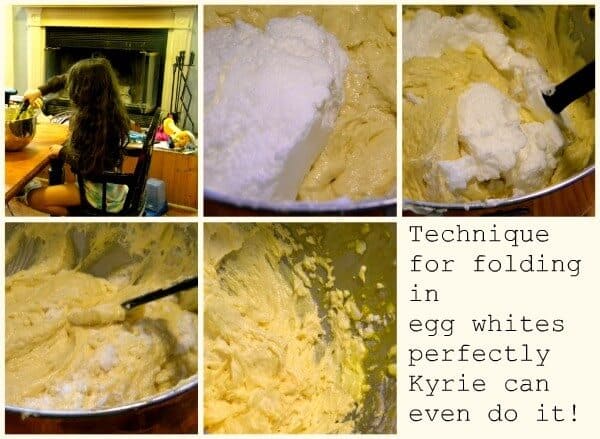 Have your pans buttered and floured and spoon the batter in lightly.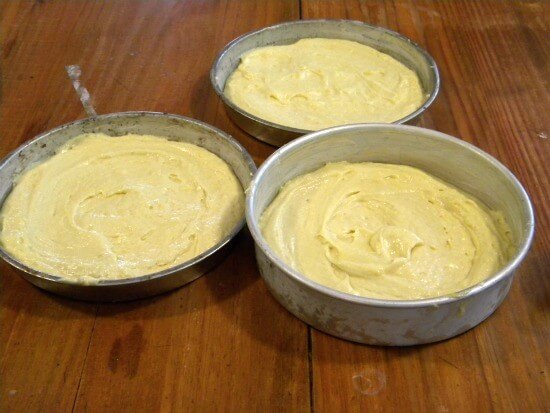 Bake at 325 F for 40 minutes or until done. Baking at this low temperature ensures that your cakes are moist. Let them stand for 5 minutes before turning out of the pan.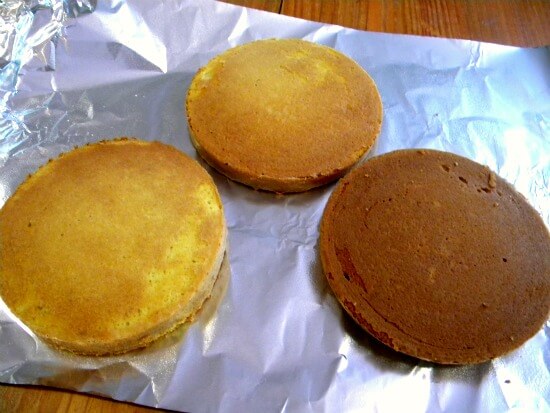 Let the cake cool completely before filling and frosting with the cream cheese and berries.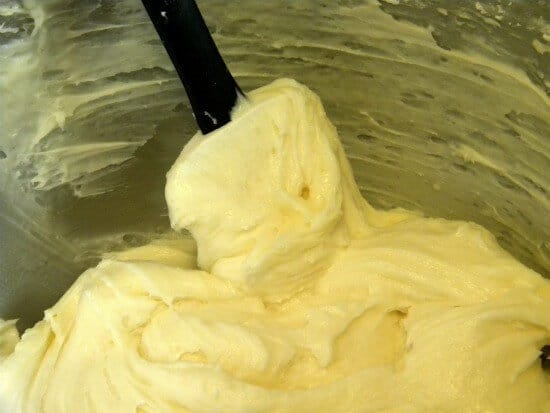 Be sure to reward any helpers that you may have had….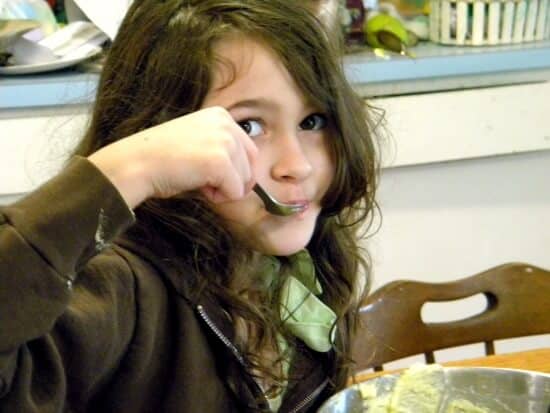 You will need to slice the berries so that they lie flat on the filling.  Spread the bottom layer with frosting. Lay the berries on evenly and then add the next layer. Repeat.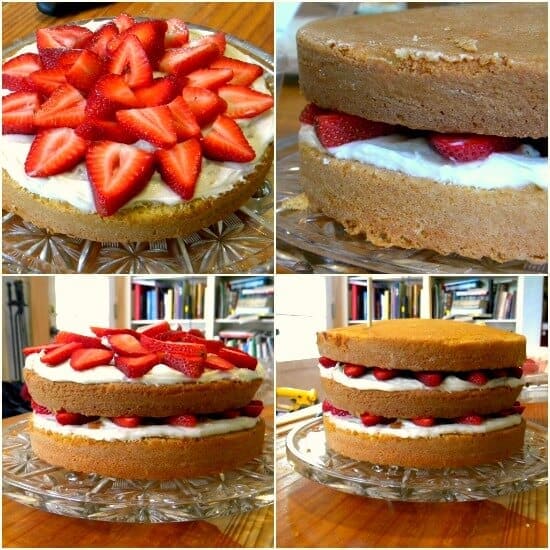 Once you have the Italian cream cake layers put together poke a few straws or wooden skewers down through the layers to stabilize the cake while you frost it.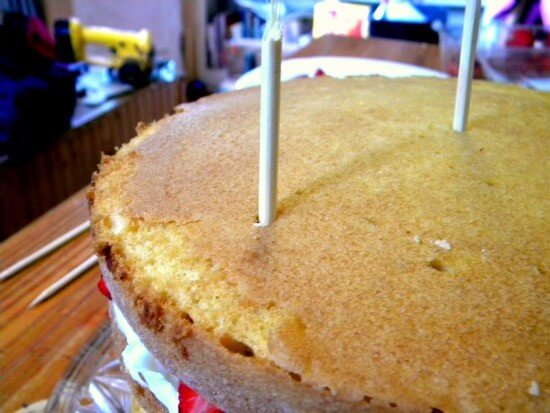 You will be taking these out before you serve the cake but it is a real help when you want to keep your cake from sliding around.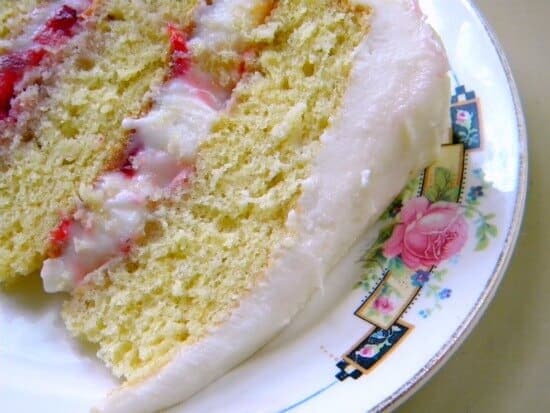 This Italian Cream Cake is so good, you just have to make it!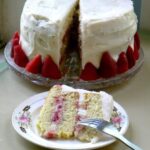 Print Recipe
Clickable Table of Contents
hide
Italian Cream Cake with Strawberries
An easy Italian Cream Cake recipe with Cream Cheese Frosting and strawberries is the perfect dessert for Mother's Day or any Spring celebration.
Ingredients
Cake
6

eggs

, room temp

2

cups

of sugar

, divided

1

cup

(2 sticks) of unsalted butter, room temperature

1/2

teaspoon

salt

1

Tablespoon

vanilla

1

teaspoon

baking soda

1/4

teaspoon

baking powder

1

cup

buttermilk

(not low fat)

2

cups

flour
Cream Cheese Frosting
3/4

cup

unsalted butter

, softened

16

ounces

cream cheese

, softened

1 1/2

teaspoons

vanilla

1 1/2

to 2 pounds of powdered sugar

A little buttermilk to thin if needed
Instructions
Cake
Preheat oven to 325F

Grease and flour 3 9-inch round cake pans

Separate eggs

Beat egg whites until soft peaks form

Add 1/2 c sugar gradually, beating until egg whites form stiff peaks

Set egg whites aside

Cream butter, remaining sugar (1 1/2 c), vanilla, and salt together

Add egg yolks one at a time beating well after each

Beat until the mixture resembles whipped cream

Stir baking soda into buttermilk

Stir flour and baking powder together

Add to the butter mixture alternately with the buttermilk mixture, beginning and ending with flour mixture

Fold in the egg whites carefully

Spoon the batter into the baking pans evenly

Bake for 40 minutes

Remove from oven and cool in pans for 5-10 minutes

Turn out and cool completely
Cream Cheese Frosting
Beat the cream cheese and the butter

Add the vanilla

Add the powdered sugar until you have a creamy consistency

Add a tablespoon of buttermilk if necessary to thin it down
Assembly
Place one cooled layer on a cake plate

Spread with cream cheese frosting

Place a layer of sliced strawberries on the cream cheese and top with another cake layer.

Repeat

Stabilize layers with straws or wood skewers and frost with remaining cream cheese frosting

Place halved berries around the edge of cake and chill for three hours

Bring to room temperature before serving