Old fashioned spice cake has a decadently rich cream cheese frosting and is full of warm fall flavors like cinnamon and cloves. Each bite melts in your mouth - it's so moist and delicious that no one can resist a bite! (Although this is a layer cake you can easily make as a single layer)
First Published: December 12, 2010... Last Updated: September 4, 2019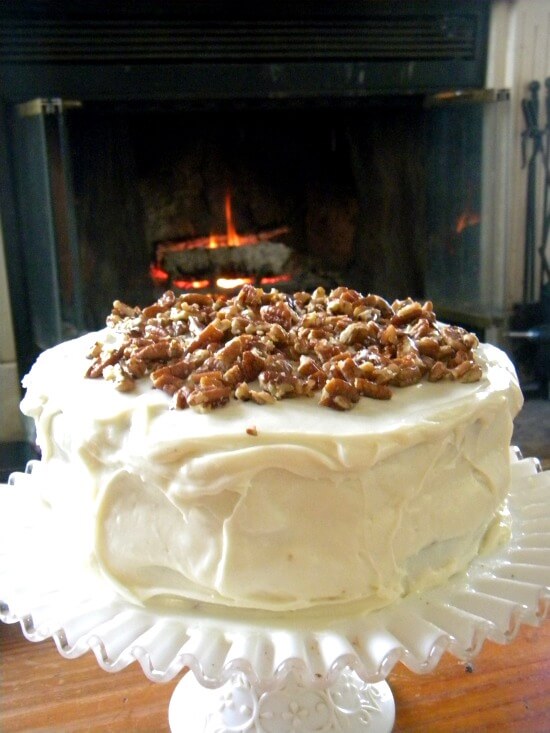 Ingredients for This Spice Cake Recipe
For this recipe you'll need:
Cake flour is used to give the cake a softer, more delicate texture. You can substitute all-purpose flour if you wish.
Baking powder and baking soda are both used to leaven the cake and make it light and fluffy.
Cinnamon, cloves, and nutmeg are classic autumn spices and work beautifully in this cake. You could also use pumpkin pie spice, apple pie spice, or add a little ground ginger and/or allspice
Chipotle powder (ground chipotle) is optional but I always add it to my spice cakes because it has a smoky heat that works well with the cinnamon.
Butter is needed for the fat and flavor.
Brown sugar and granulated sugar are both used. The brown sugar gives flavor but also helps the cake stay moist.
Eggs are pasture raised, large eggs.
Vanilla helps to sweeten the cake - sometimes I use a splash of bourbon instead.
Buttermilk works with the baking soda to help the cake rise - plus baked goods made with buttermilk have a softer texture.
Confectioner's sugar is an important ingredient in the buttercream frosting.
Cream cheese gives the frosting a creaminess and adds flavor.
Heavy cream is used to lighten the frosting and make it even richer.
The remaining ingredients are optional and used for the smoked pecan garnish.
Pecans are roasted with other ingredients until they have a smoky flavor and then used to garnish the cake. They bring a nice salty-smoky flavor and crunchy texture.
Smoked sesame oil adds some of the smoky flavor.
Bacon grease also adds flavor to the pecans.
Coarse sea salt is used to make the pecans salty.
Made from Scratch
Spice cake.
You know, there are fabulous spice cake recipes out there and terrible ones. Spice cake is admittedly not my favorite...it makes me think of the school lunch cafeteria in Jr. High school. Squares of stale boxed mix spice cake, with a decidedly artificial flavor and too sweet frosting....ick.
This cake is not that. It's nowhere near that! It is to a boxed mix what Pavarotti is to singing in the shower.
Tips for Spice Cake Success
This is a simple cake to make but here are some tips I've learned over the years.
Make sure all ingredients are at room temperature
This cake will likely have a rounded top. Just carefully slice off the top to make it even.
Don't overmix or the cake will be tough.
This cake freezes well unfrosted.
You can make one layer by using a 13x9-inch pan. Fill it ¾ of the way up and if there is left over batter use it for cupcakes.
Recipe FAQs
Here are the questions I am most frequently asked about this recipe.
What is spice cake made of?
Spice cakes are usually flavored some combination of cinnamon, cloves, nutmeg, allspice, and ginger. Sometimes cardamom is added as well.
What can I substitute for the buttermilk in this cake recipe?
For each cup of buttermilk called for in the recipe you can use 1 tablespoon vinegar or lemon juice plus enough whole milk to equal one cup. Stir gently and let stand for 5 minutes.
You can also substitute plain yogurt in an equal amount.
How can I make brown sugar if I don't have any?
You actually can make your own brown sugar if you're out. Just add 3 tablespoons of unsulfured molasses to a cup of sugar and stir well. Let it sit for 5 minutes or so and stir again before using.
What is allspice?
Allspice is made from dried berries of a particular plant. The flavor is similar to a mixture of cinnamon, cloves, nutmeg, and black pepper all mixed up.
How to Make a Homemade Spice Cake Mix
Here's another thing. You DO know that you can create your own cake mixes right? I mean if you need that time saving factor (raises hand...) you can mix the dry ingredients and keep them in a tightly covered mason jar in your pantry for a couple of months.
Some rainy weekend afternoon just call the kids in and make a bunch of cake mixes!
You can use dry milk if you like to make it where you only need to add water but I prefer just to leave the dry milk out and use real milk. When you are ready to bake just cream the butter and eggs, add the dry ingredients alternately with the milk and vanilla (or other flavoring) and ...Voila!
More Old Fashioned Cake Recipes
Apparently my relatives liked cake because besides Grandma's spice cake recipe I have more than enough others to make a different cake every day of the year for a very long time.
Here are some of my favorites.
Old Fashioned Spice Cake Recipe
Spice cake is a sweet, tender cake redolent with warm spices like cinnamon, nutmeg, and cloves then swathed in a whip of tangy cream cheese frosting that's rich and sensuously creamy.
Sumptuous, smoky pecans add a salty contrast and crunch. One bite and you'll know what this spice cake recipe is a favorite - it's simply the best.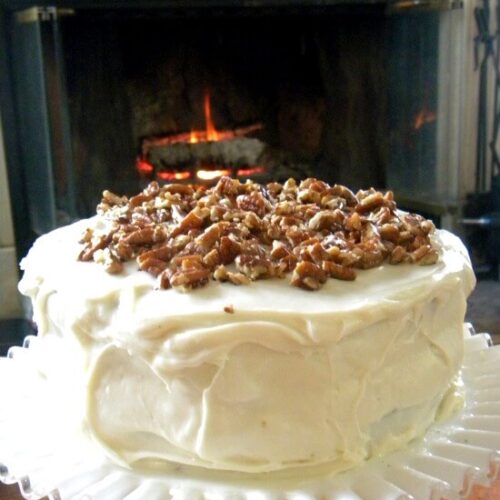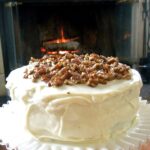 Spice Cake with Cream Cheese Frosting and Smoked Pecans
Print
Add to Collection
Go to Collections
Moist spice cake with a tangy cloud of cream cheese frosting and salty smoked pecans update this autumn favorite dessert.
As an Amazon Associate I earn from qualifying purchases.
Ingredients
2 ½

cups

sifted cake flour

11/2

teaspoon

baking powder

1

teaspoon

baking soda

1

teaspoon

salt

2

teaspoons

ground cinnamon

1

teaspoon

ground cloves

½

teaspoon

freshly ground nutmeg

⅛

teaspoon

ground chipotle pepper

½

cup

unsalted butter

½

cup

light brown sugar

,

firmly packed

1

cup

granulated sugar

2

eggs

1

teaspoon

vanilla

1 -¼

cups

buttermilk
Whipped Cream Cheese Frosting
8

oz

cream cheese

,

room temperature

½

cup

unsalted butter

,

room temperature

1

teaspoon

vanilla

2 -3

cups

confectioners' sugar

2

tablespoons

heavy cream
Smoked Pecans
1

cup

chopped pecans

1

tablespoon

smoked sesame seed oil

1

tablespoon

bacon fat

Coarse Sea salt
Instructions
Prehea the oven to 350F.

Whisk the flour, baking powder, soda, salt, cinnamon, ginger, cloves, nutmeg, and cayenne.

Cream butter in the bowl.

Add the brown sugar and sugar and whip until creamy.

Add the eggs one at a time, beating well after each.

Beat in the vanilla.

Whip on high speed until light and fluffy, 3 minutes or so.

Scrape sides a few times during beating.

While mixing on lowest speed, add the dry ingredients to the butter mixture alternately with the milk mixture.

Pour batter into two greased and floured 8-inch cake pans.

Bake at 350F for 30 minutes or until a wooden pick comes out clean.

Let cool in pans for 10 minutes.

Turn out to finish cooling.
Whipped Cream Cheese Frosting
Beat the cream cheese and butter together.

Add the flavoring.

Whip until fluffy.

Add the confectioners' sugar slowly until you reach the consistency that you like.

Whip until very fluffy.

Add cream as needed for consistency.
Smoked Pecans
Saute the pecans in the combined oil and fat until toasted but not scorched.

Sprinkle with about ½ to 1 teaspoon of sea salt.

Saute another minute or so to bind the salt to the pecans

Let cool before sprinkling on the cake.
Assembly
Place one cooled cake layer on the cake plate.

Cover with a thick layer of frosting.

Top with the second layer and cover the top and sides with the remaining frosting.

Sprinkle the pecans on top if desired.
Notes
Make sure all ingredients are at room temperature
This cake will likely have a rounded top. Just carefully slice off the top to make it even.
Don't overmix or the cake will be tough.
This cake freezes well unfrosted.
You can make one layer by using a 13x9-inch pan. Fill it ¾ of the way up and if there is left over batter use it for cupcakes.
Nutrition Facts
Calories:
503
kcal
|
Carbohydrates:
49
g
|
Protein:
6
g
|
Fat:
33
g
|
Saturated Fat:
16
g
|
Cholesterol:
68
mg
|
Sodium:
380
mg
|
Potassium:
315
mg
|
Fiber:
2
g
|
Sugar:
27
g
|
Vitamin A:
799
IU
|
Vitamin C:
1
mg
|
Calcium:
144
mg
|
Iron:
1
mg
Sign up for the emails and never miss another recipe!!
We'll never share your email or send you spam. Pinkie swear.