Copycat Starbucks pumpkin scones are even better than the original! Lush and tender with big pumpkin flavor, this pumpkin scone recipe just might become your favorite. A bourbon glaze covers the top of the scones and a maple spice drizzle decorates the tops. These scones are as beautiful as they are delicious.
For this recipe you'll need: flour, brown sugar, baking powder, cinnamon, cloves, ginger, baking soda, salt, nutmeg, butter, pumpkin puree, unsulfured molasses, heavy cream, eggs, Confectioner's sugar, bourbon, maple syrup
If you are in a hurry click here to go straight to the copycat Starbucks pumpkin scones recipe.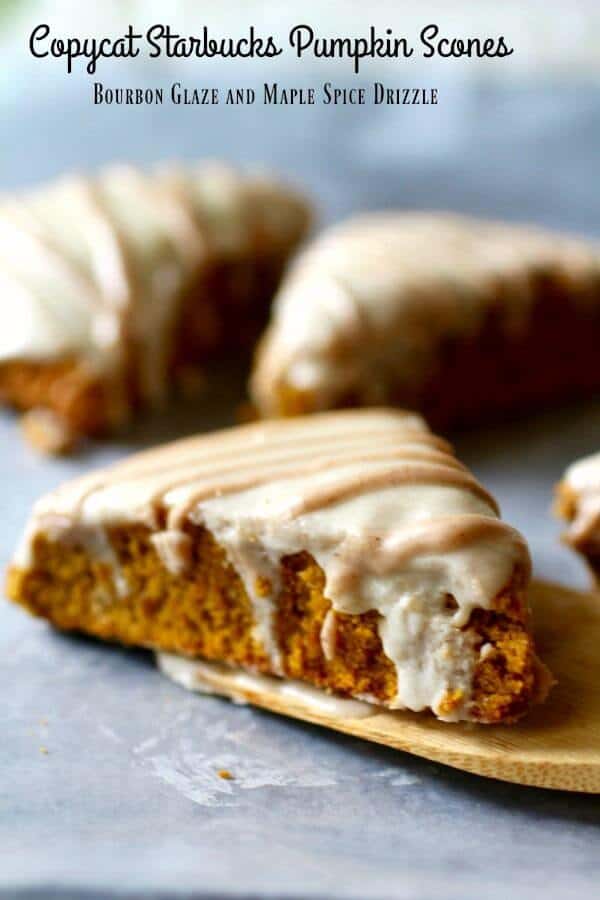 I think autumn has always been one of my favorite seasons.
With cooler temperatures people are enjoying their drinks on cafe patios and rooftop bars. Sunsets are more vivid. Autumn brings life back to Texans in a very real way. Here in Dallas we don't see the leaves change until mid November but October usually ushers in cooler weather. For us 75 degrees is a welcome change for 100 degrees! The driest part of the year is over and we begin to get some rain. Best of all, it's time for the State Fair, Octoberfest, FrightFest at Six Flags, and numerous other fun activities made possible by cooler temperatures.
In Texas boys get their homecoming dates huge mums to wear to the homecoming game and the dance afterwards. These mums get bigger every year – you've got to Google it to understand what I am talking about. The mum is usually a cluster of mums and about 12-inches or more in diameter. Sometimes teddy bears or other things are attached. Then there are long ribbons that cascade off of the mum and almost touch the floor. It's a weird tradition that goes along with the football addiction here. I have no idea how it got started.
Then there's Farmer's Market. It's always open here but in the fall it fairly overflows with every kind of produce, meat, and craft known to man. It's full of color, and noise, and people bartering to get the best deal possible on the last few tomatoes of the season. East Texas sweet potatoes are stacked in towering mounds, the new crop of pecans is described as "the best crop in years!". It's described that way every, single year.
And pumpkin everything, everywhere.
I love pumpkin and I don't know why I don't make pumpkin things all year. I mean, there's no law against pumpkin bread in February, right? It's not like pumpkin isn't available until October. Still, I follow the tradition and rarely, if ever, make pumpkin recipes before September or after December.
That just needs to be changed. Pumpkin addicts should be free to indulge without shame all year long.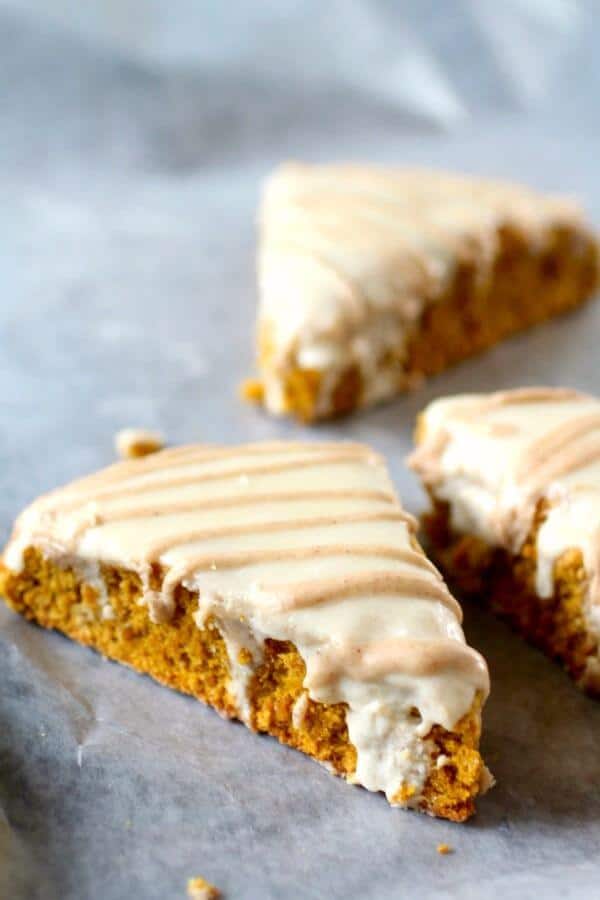 These copycat Starbucks pumpkin scones just taste like autumn. They're a rich golden color and the flavor is buttery-pumpkiny-spicy. The glaze is sweet with a touch of bourbon flavor then there's a maple spice drizzle over the top of that. Gilding the lily, so to speak. If you don't want to use bourbon then substitute heavy cream and it will still be amazing.
YOU MAY NEED…
The following are affiliate links. When you click through and buy something I get a small commission. It's used for keeping the blog up and running smoothly. Thank you for being a part of Restless Chipotle
I love this red hybrid ceramic cookie sheet! It's the perfect color and…it doesn't warp! I don't know about you but my cookie sheets don't usually last very long. I have high hopes for this one!

Pumpkin Scones with Maple Glaze Nutrition Info
Copycat Starbucks Pumpkin Scones Recipe
Here's the pumpkin scones recipe. Give it a try because you know what this means, right? Yep… Pumpkin scones in April!
Pumpkin Scones with Maple Glaze
Spicy pumpkin scones are full of autumn flavor. Tender, rich scones are covered with a bourbon glaze then a maple spice glaze is drizzled over the top. If you like soft sides leave the cut scones close together when baking. If you like crusty sides slide them a couple of inches apart on the baking sheet. They freeze very well unglazed.
Ingredients
2

cups

all-purpose flour

1/2

cup

brown sugar

2

teaspoons

baking powder

1

teaspoon

cinnamon

1

teaspoon

cloves

1/2

teaspoon

ginger

1/2

teaspoon

baking soda

1/2

teaspoon

salt

1/4

teaspoon

nutmeg

1/2

cup

tablespoons cold butter cut in pieces

3/4

cup

pumpkin puree

,

not pumpkin pie filling

1

tablespoon

unsulfured molasses

1

tablespoon

heavy cream

1

large egg yolk
Glaze 1
1

cup

Confectioner's sugar

1

tablespoon

bourbon

1

tablespoons

heavy cream

,

or enough to make a glaze
Glaze 2
1

cup

Confectioner's sugar

1/2

teaspoon

cinnamon

1/4

teaspoon

ginger

1/4

teaspoon

cloves

1/4

teaspoon

nutmeg

2

tablespoons

real maple syrup.

Cream as needed to make the glaze the right consistency.
Instructions
Preheat the oven to 400F.

Place a double thickness of paper towel on a plate.

Spoon the pumpkin over the paper towel.

Add a another double layer of paper towel on the top and press gently to extract as much moisture as possible.

In a mixing bowl whisk together the pumpkin, molasses, heavy cream, and egg yolk until well blended.

Set aside.

In the bowl of a stand mixer blend the flour, brown sugar, baking powder, cinnamon, cloves, ginger, baking soda, salt, and nutmeg.

With the mixer running add the butter a little at a time and continue to blend until the mixture looks like coarse crumbs with pebbles in it.

Stir in the pumpkin mixture into the flour mixture until it forms a dough.

Knead lightly on a floured surface for just a minute.

Pat into a 1-inch thick circle.

Cut into 12 wedges.

Separate the wedges slightly.

Bake for 10 minutes or until a toothpick inserted in the center comes out clean.

Remove from the oven and let cool completely.
Glaze 1
Mix the Confectioners, bourbon, and the cream until it is smooth and slightly runny.

Spoon over the cooled scones and let dry.
Glaze 2
Mix the Confectioner's sugar with the spices.

Add the maple syrup and enough cream to make the glaze smooth.

Drizzle over the glazed scones.
If you liked these pumpkin scones with maple glaze you may also like these Restless Chipotle favorites…
From left to right: Homemade Fruit Kolaches, Apple Butter Cinnamon Rolls, Peanut Butter Sweet Rolls
Here are some similar recipes from a couple of my favorite bloggers.
Cranberry Orange Scones Natasha's Kitchen
Maple Glazed Gingerbread Scones Pinch of Yum
Let's Keep in Touch!