These lemon blueberry scones are oh! so flakey and buttery with pump, juicy blueberries in each crumbly bite. A whisper of bright lemon zest and a tangy lemon glaze make this the best lemon blueberry scone recipe ever AND one of my favorites! I like to use fresh blueberries in season but you can use frozen blueberries, too. This recipe has been updated from the original August 2013 version.
For this recipe you'll need: flour, baking powder, butter, sugar, lemon, blueberries, milk, egg, water, Confectioner's sugar, vanilla, salt, cardamom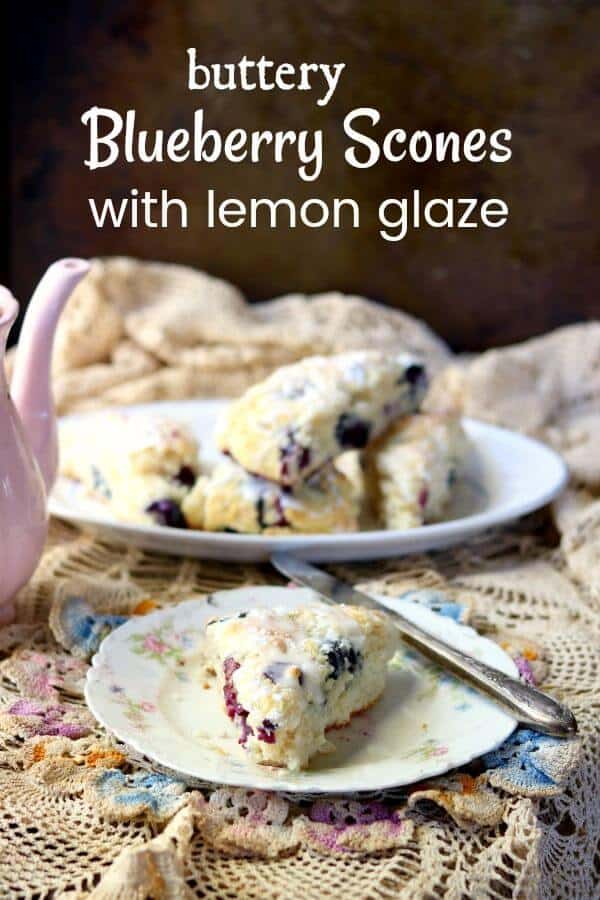 Lemon blueberry scones. Doesn't that seem like the perfect beginning of a summer adventure in a book? I always imagine lemon blueberry scones sitting on a farm table made of warm wood in a yellow and white kitchen. Nothing modern in sight. No matter when I make them it's always summer in my head while I'm nibbling on them!
I know I have said it before — I love blueberries. I don't care for them canned or frozen but when they are fresh I could eat a mountain of them. They happen to be pretty darn good for you, too. Blueberries do actually grow in Texas (surprise!) but they are a different variety than what you get up north. We've gotten up at sunrise and headed out to East Texas to pick them more than once and created some great family memories.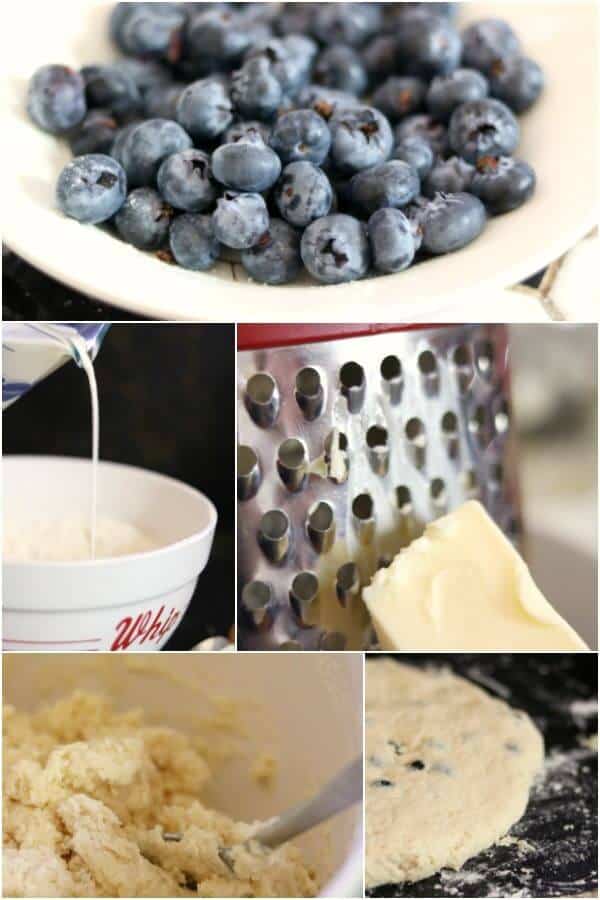 Of course, being a homeschool mom meant that we always read Blueberries for Sal the night before our sojourn to the blueberry farm. As the kids got older there were more complaints about the heat so we stopped going. I keep saying I'm going to go back myself and pick them but I just never do. Life changes and you've got to change with it, right?
I was always kind of cautious of scones. I mean they sound so elegant, don't they?
Well, they're not. Scones are merely a dressed up version of good, ole southern biscuits! The trick to making them perfectly tender and crumbly is to let them rest for about 15 -20 minutes before baking. This allows the dough time to relax, chill out, and combine the flavors.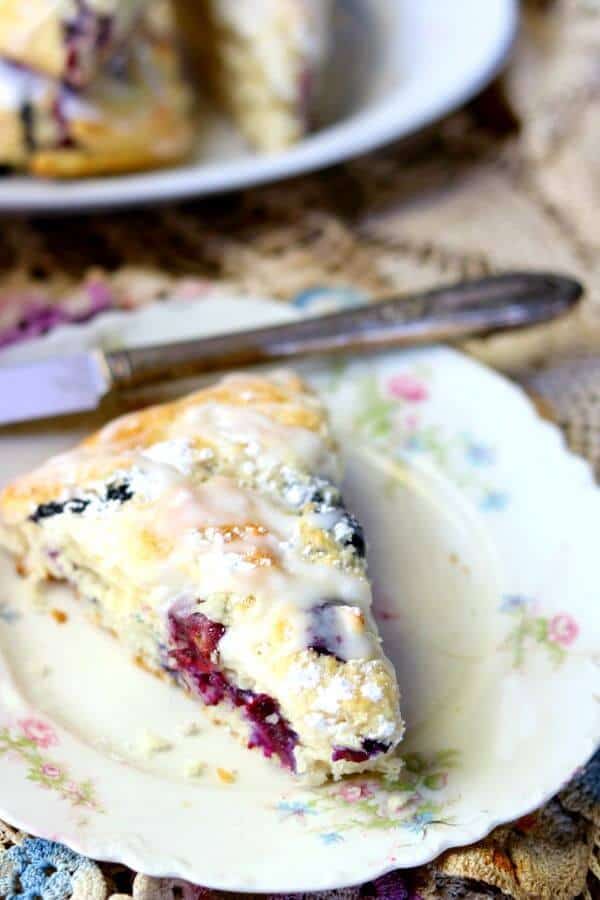 I like to brush the tops of these blueberry scones with a little egg wash and sprinkle them with sugar crystals. It makes them look pretty and gives a little extra flavor and texture. You don't need to do it if you don't want to.
Once the blueberry scones are out of the oven let them cool for a few minutes before you glaze them. If I want them to be especially pretty I'll dust them with some Confectioner's sugar, too! Then just split them with a fork and fill them with lemon or lime curd and a generous dollop of Devonshire cream. If you can't get the real thing try my copycat Devonshire cream recipe. It's SO good!.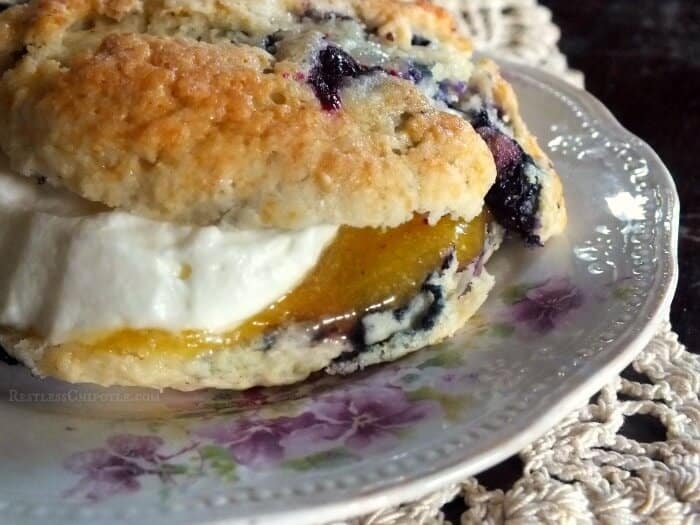 You don't need anything special to make these. I like to make the scones bigger than I would biscuits. I have very fancy cutters. I cut the tops and bottoms out of various size cans! A tomato paste can is perfect for biscuits and a tomato sauce can is the size I use for scones. You can also pat the dough into a circle and cut it in wedges if you like.
Try these soon, who knows? You might find that they really are the springboard to an adventure!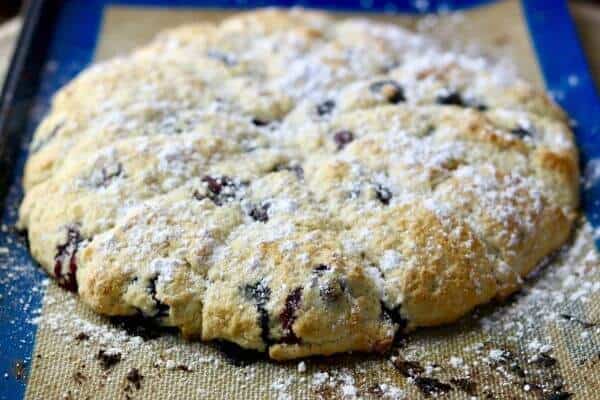 Tips for Perfect Scones
Use good quality ingredients.
I like White Lily Self Rising Flour – it's got less protein in it and is more delicate than all-purpose flour. If you use self-rising then don't add salt and use unsalted butter
Freeze the butter before grating
Dust blueberries with flour before adding them to your dough
Let the scones rest after cutting – about 30 minutes is right. It's best to let them rest in the refrigerator
Don't try to cut the butter in but leave it in long shreds
Add a little of the milk at a time and mix gently with a fork
Pat into shape – don't roll or knead
Brushing on a little egg wash helps them have a pretty color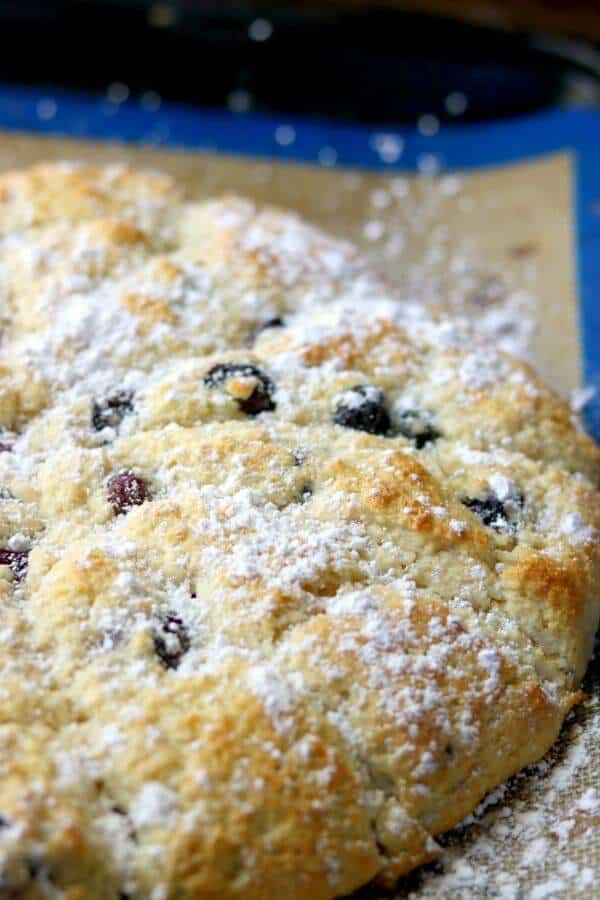 YOU MAY NEED…
The following are affiliate links. We are a participant in the Amazon Services LLC Associates Program, an affiliate advertising program designed to provide a means for us to earn fees by linking to Amazon.com and affiliated sites.
Thanks so much for being a part of Restless Chipotle!
This Mini-Scone Pan
will give you scones that have a crisp outer crust all the way around. It's pretty cool! (affiliate link)

Lemon Blueberry Scones Recipe with Lemon Glaze
Buttery, crumbly lemon blueberry scones recipe has a tangy lemon glaze that makes it just right for a spring tea or brunch! If you like this recipe please consider giving it five stars.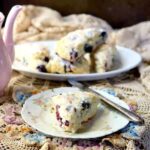 Blueberry Scones
Print
Add to Collection
Go to Collections
Crumbly and buttery, scones are made even better with the addition of plump, ripe blueberries. It's just like taking a bite of summer!
As an Amazon Associate I earn from qualifying purchases.
Ingredients
3 1/2

cups

flour

,

, White Lily preferred

2

tablespoons

baking powder

,

, omit if using self rising flour

1/2

cup

+ 2 tablespoons unsalted butter

,

, frozen

1/2

cup

sugar

Pinch salt

,

, omit if using self rising flour

1

tablespoon

lemon zest

1 1/3

cup

whole milk

1

cup

blueberries

,

, fresh preferred

1

egg yolk

1

teaspoon

water
Glaze
1 3/4

cups

Confectioner's sugar

1 1/2

tablespoons

lemon juice

1

tablespoon

butter

,

, melted
Instructions
Preheat your oven to 400F

Grease a baking sheet.

Mix the flour, salt, baking powder, lemon zest, and sugar in a large bowl.

Grate the frozen butter into the dry ingredients.

Add the milk and berries and gently mix to make a soft dough.

Turn out onto a floured surface.

Pat dough (gently!) out to 3/4 inch thickness.

Cut into rounds with a cutter or into wedges with a knife.

Place the scones on the greased baking sheet.

Mix the egg yolk and water and brush on the tops of the scones.

Sprinkle with some sugar crystals, if desired.

Let stand for 15- 20 minutes. If the kitchen is hot put them in the fridge during this time.

Bake for 12 - 15 minutes or until the tops are golden brown.
Glaze
Mix all glaze ingredients together until smooth. You may need a little more Confectioner's sugar or a little more lemon juice to get the right consistency.
Notes
These freeze well for up to 3 months.
Nutrition
Calories:
340
kcal
|
Carbohydrates:
57
g
|
Protein:
5
g
|
Fat:
10
g
|
Saturated Fat:
6
g
|
Cholesterol:
41
mg
|
Sodium:
91
mg
|
Potassium:
286
mg
|
Fiber:
1
g
|
Sugar:
28
g
|
Vitamin A:
340
IU
|
Vitamin C:
2.6
mg
|
Calcium:
127
mg
|
Iron:
1.9
mg
Sign up for the emails and never miss another recipe!!
We'll never share your email or send you spam. Pinkie swear.
If you liked this lemon blueberry scones recipe you may also like…
From left to right: Fruit Kolache, Blueberry Cream Cheese Coffee Cake, Cream Cheese Crowns
Here are some other blueberry recipes from some of my favorite bloggers
Blueberry Buckle Laura's Sweet Spot
Blueberry Sweet Rolls with Lemon Glaze Sally's Baking Addiction
\