What's a 4th of July celebration without a gorgeous red, white, and blue dessert? This patriotic Jello Poke Cake is quick and easy to make, as well as make-ahead, so you can spend your time enjoying the day right along with family and friends. White cake is infused with strawberry and blue raspberry gelatin then covered with a creamy whipped white chocolate frosting and garnished with fresh berries.
For this recipe you'll need: Baked 13x9-inch cake, strawberry Jello, blue raspberry Jello, heavy cream, Confectioner's sugar, white chocolate instant pudding, white chocolate, strawberries, blueberries, blackberries, raspberries or any combination of red and blue fruit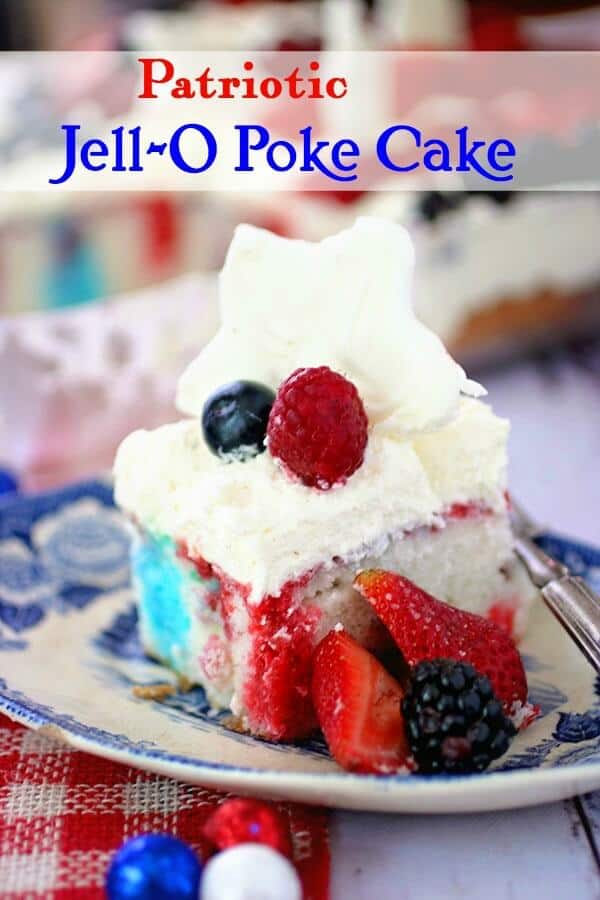 My parents always celebrated big on 4th of July with themed pool parties that ended with watching fireworks explode and spew color across the nighttime sky. I have so many great memories!
We have never entertained on that grand of a scale, however I still like to celebrate with all of the traditional foods! Macaroni salad, potato salad, burgers, and easy desserts like this patriotic Jello Poke Cake.
Jello Poke Cake FAQs
Experience Level - beginner cook (an 8 year old could make this with oven help)
You can make this even quicker and easier by buying an unfrosted white cake at the bakery or bakery section of your store.
What is a poke cake?
A poke cake is any cake that you poke holes into to allow pudding, fruit puree, or gelatin to seep into the cake. This isn't the same as poking a cake with a thin toothpick so that it will soak up condensed milk or other liquid. The holes in a poke cake tend to retain some of what you've put in it making pockets of filling throughout the cake.
It's a great recipe for beginners because the cake is never dry since you pour gelatin or other liquid into it!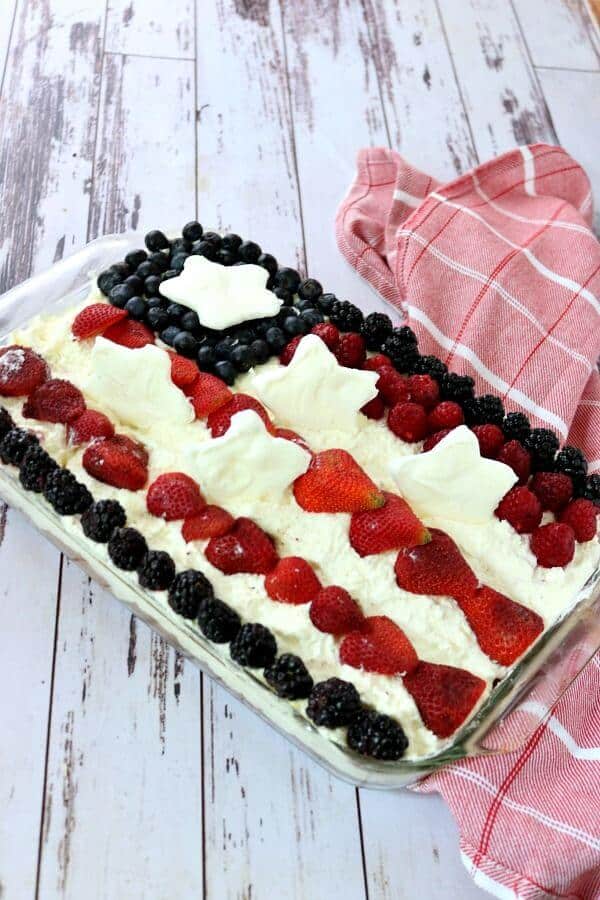 What do you use to poke holes in cake?
For this poke cake a small dowel or handle of a wooden spoon works well - anything that's about the diameter of a pencil. Be sure not to go all the way through the cake but vary the depth of the holes from about half way to about ¾ths of the way down.Twisting the dowel a little will help the cake hold more of the filling.
Do you have to refrigerate a poke cake?
Most poke cakes need to be refrigerated whether they are covered in pudding, Jello, or something else.
Can you make it ahead of time?
You can make it 2 days ahead of time if you don't frost it until the day you want to serve it OR you can make it a day ahead of time and go ahead and frost it. Be sure to cover it tightly because the whipped frosting will take on refrigerator odors and weird flavors.
How do you store a poke cake?
Store your poke cake, tightly covered, in the refrigerator for up to 2 days. After that it will tend to get soggy and have a weird texture.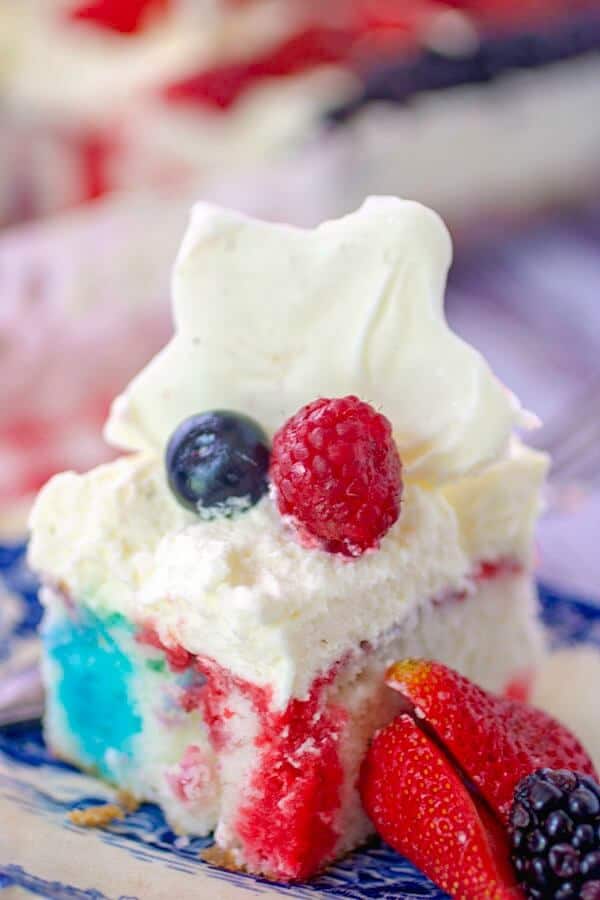 Variations of this Recipe
You can use other flavor combinations of gelatin to create Jello poke cakes for almost any occasion!
Cherry and Lime with vanilla whipped topping
Black cherry for valentine's day with white chocolate or chocolate whipped topping
Lime for St Patrick's Day
Lemon sheet cake with lemon or lime gelatin and lemon whipped topping
Strawberry sheet cake with strawberry gelatin
As you can see, there are ALL kinds of possibilities!
You May Need...
The following are affiliate links. We are a participant in the Amazon Services LLC Associates Program, an affiliate advertising program designed to provide a means for us to earn fees by linking to Amazon.com and affiliated sites.
Thanks so much for being a part of Restless Chipotle!
Making this cake is so very easy! One nice thing to have is a sheet pan with a plastic cover. That way the cover stays up off the top of the cake and you don't run the risk of the plastic sticking to the fruit and moving it around. I like this sheet cake pan from Wilton.

More Red White and Blue Recipes
Here are some other great patriotic recipes!
Patriotic Jello Poke Cake
This easy cake is extra yummy because of the whipped white chocolate topping. You can make white chocolate stars freehand or in star shaped chocolate molds. If you love this recipe please give it 5 stars!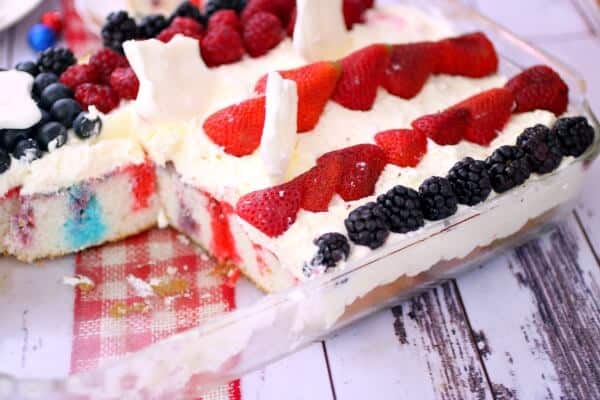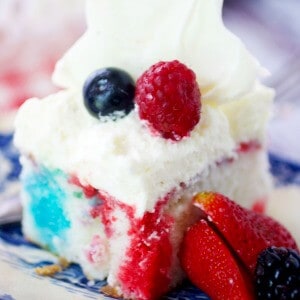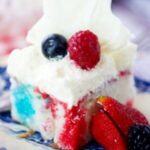 Patriotic Jello Poke Cake
Print
Save
Go to Collections
So Pretty! Patriotic, red-white-blue Jello Poke Cake is quick and easy to make with fun red and blue gelatin streaks and whipped white chocolate topping. Great for beginning cooks
As an Amazon Associate I earn from qualifying purchases.
Ingredients
Cake
4

ounces

red Jell-O

,

4 serving size

4

ounces

blue Jell-O
Frosting
1

quart

heavy cream

¼

cup

Confectioner's sugar

3.9

ounces

white chocolate instant pudding

1

pint

ripe strawberries

,

hulled and halfed

1

pint

blueberries

½

pint

raspberries

½

pint

blackberries
Instructions
Cake
Poke holes in cooled cake at ½-inch intervals, poking about halfway through the cake and twisting gently with a small dowel.

Put the red Jell-O in one bowl and the blue in another.

Pour ½ cup of boiling water in each and stir until gelatin dissolves.

Pour the red Jell-O in some of the holes in the cake randomly and finish filling the other holes with the blue Jell-O.

Chill overnight.
Frosting
Add the heavy cream, pudding mix, and Confectioner's sugar to the bowl of a mixer.

Using the whisk attachment beat until light and fluffy - with the texture of thick whipped cream.

Cover the chilled cake thickly with the topping.

Add the fruit in any design you prefer.
White Chocolate Stars
Melt white chocolate and either fill star shaped candy molds or create stars freehand on waxed paper.

Chill until firm.

Use to decorate cake.

Store in the refrigerator
Nutrition Facts
Calories:
509
kcal
|
Carbohydrates:
65
g
|
Protein:
5
g
|
Fat:
26
g
|
Saturated Fat:
16
g
|
Cholesterol:
83
mg
|
Sodium:
366
mg
|
Potassium:
209
mg
|
Fiber:
3
g
|
Sugar:
45
g
|
Vitamin A:
930
IU
|
Vitamin C:
27.6
mg
|
Calcium:
145
mg
|
Iron:
1.1
mg
Sign up for the emails and never miss another recipe!!
We'll never share your email or send you spam. Pinkie swear.
Included in Meal Plan Monday!