Learn how to make a graham cracker gingerbread house! Making gingerbread house with graham crackers is easy once you know these tips. I've hosted a gingerbread house party for over 25 years and have plenty of tips! Learn how to cut the crackers more easily, put them together so they stay together, and more! This post has been updated from the December 2012 version.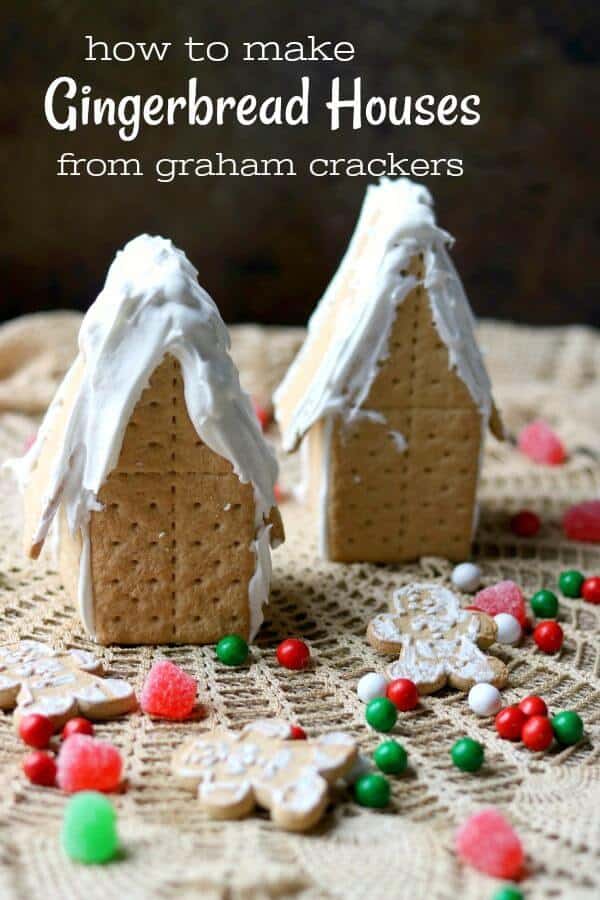 Our Family Tradition
About 24 years ago, on the first Friday of December I unknowingly created a tradition that was to haunt me for the rest of my life. I made houses out of graham crackers, bought candy, and invited the kids' friends over to decorate the "gingerbread" houses.
I served gingerbread, hot chocolate, and wine to the moms.
Since then I have only missed one party - and that was because of tremendous upheaval in my life.
I hosted the 1998 party while in active labor with Sean - giving birth to him at home about 4 hours later. I have hosted parties with 30 children and I have hosted parties where the only ones in attendance were my own kids. Each one has been amazingly fun, but most of all, each has created a special memory for the kids that attended.
A lot of those kids are parents now.
And it isn't just little kids either. My 35 year old still decorates a graham cracker gingerbread house with as much candy as she can get on it. I won't say that my other kids and grandkids have to fight her for the last of the red and green Dots... but I may have witnessed a few arm wrestling championships and food fights that rival the scene in Animal House.
Graham cracker gingerbread houses aren't really difficult but they do take some finesse and some practice.
It takes a little time to get the technique down and you will end up with a lot of cracker scraps and broken crackers that you can use for crumb crusts and other things. You might also want to save up.
This year my candy bill for 20 houses was close to $200.00. Now every time I go to the grocery store, the bag boy we voted most likely to smoke weed gives me a thumbs up and a knowing smile.
Because really, unless you had a severe case of the munchies why else would you buy an entire cartload of candy?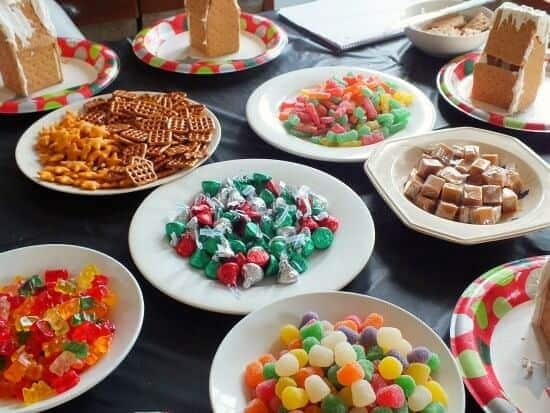 What You'll Need
Honey Maid Graham crackers - this is the only brand that I have found that still makes the rectangular crackers. Squares won't work.
Confectioner's sugar
Egg whites
Paper plates
Candy
Children of all ages
How to Cut the Graham Crackers to Shape
You will need five rectangular graham crackers for each house. One rectangle for each of the ends, one rectangle cut into two squares for the sides, and two rectangles with the about 1 inch cut from the bottoms for the roof. Cutting the graham crackers can be a bit stressful and the break pretty easily.
If you leave the graham crackers out for a few hours and it's humid they will soften up and are easier to cut. You can also put them in a single layer on a cookie sheet in a cold oven and put a bowl of steaming water in with them so the steam softens them - check often! You don't want them to get too soft.
Be sure you get a couple of extra boxes just in case. And now is a great time for a cranberry Moscow Mule or three - especially if you're a perfectionist.
A wood cutting board is the best surface for cutting.
Use a sharp knife and cut the top end of each rectangle into a point. It doesn't need to be perfect.
Cut straight down. If you use a sawing motion the graham crackers are more likely to break.
Once you have two pointed rectangles, set them aside with two rectangles cut in half to make squares.Continue on until you have all of the pieces cut and stacked together.

Make the Royal Icing
Keep the royal icing covered with a damp paper towel once it's made to keep it from drying out. Recipe is at the bottom of this page.

How to Assemble
Smear a thick bead of icing down one side of the pointed piece. Don't worry about being messy! This will be on the inside. The royal icing sets up fast so don't wait too long before going on to the next step. Gently press a square into it and hold it for a couple of seconds. Smear another bead of icing down the other side. Press a square into place. Spread beads of icing on either side of the other pointed graham cracker. Gently push it on to the open end of the house.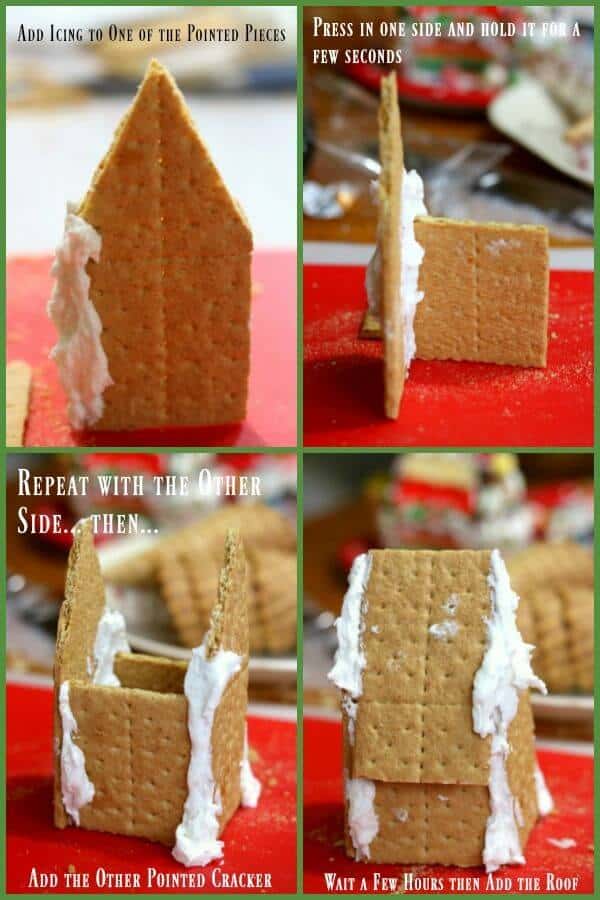 Set aside to let dry while you make the other houses. It works best for them to be stable before adding the roof.
Adding the Roof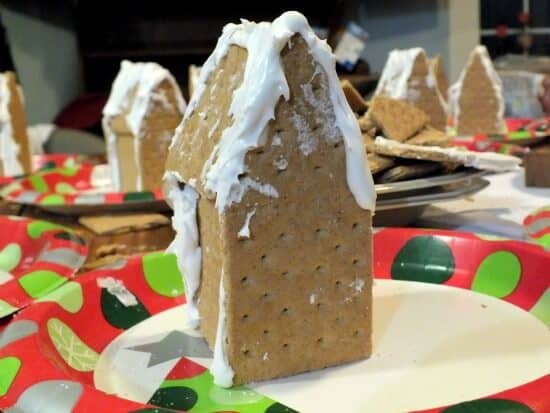 Smear icing on 3 sides of the square.
Press it on the angles side of the tall graham cracker. Hold for a few seconds.
Repeat with the last square.
Using icing fill in any cracks or weak areas.
Let stand at room temperature overnight.

Decorate !
Now comes the fun part! Decorating those cute graham cracker houses! You'll need to handle them gently and remind the younger kids to be careful - they collapse easily.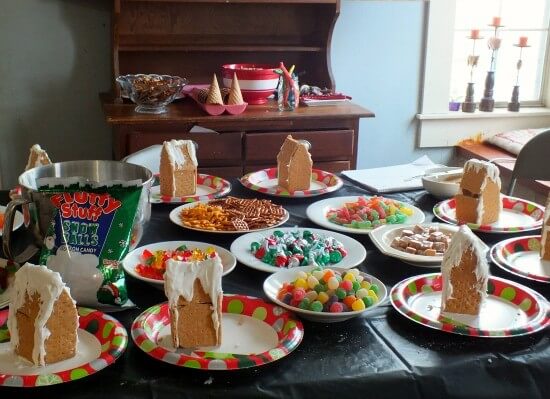 Set out the candy in pretty dishes, muffin pans, or whatever holds it and makes it easily accessible. Someday, I'm going to set everything out in vintage teacups and do a gingerbread house party tea!
You'll probably need to make more Royal Icing. Keep it covered with a damp paper towel when not in use so it doesn't dry out.
Put a glob of royal icing "glue " on each plate.
Show the kids how to add candy to their graham cracker houses using the icing as glue. Caution them to be gentle!
That's it. Let them decorate to their hearts' content and be sure to "ooooh" and "ahhhhh" over the results. Try not to coach them but be there to help if needed. If you happen to have red hots left over (I always do) consider making the red hots candy apple pie or spiced apple rings.!
Most of all - take lots of pictures! This is such a wonderful way to make special memories.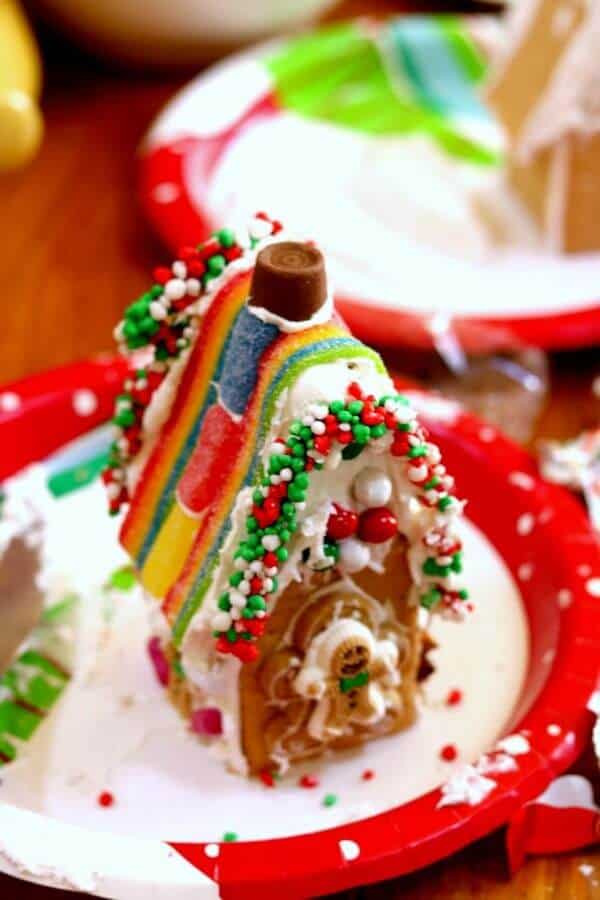 📖 Recipe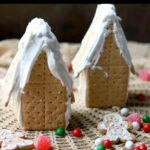 Royal Icing for Graham Cracker Gingerbread Houses
Print
Pin Recipe
Save
Saved!
Learn how to make a graham cracker gingerbread house step by step and use this bright white, easy to make royal icing. It's the perfect glue to hold the houses together.
As an Amazon Associate I earn from qualifying purchases.
Ingredients
2

cups

confectioners sugar

2

egg whites

,

, room temperature

1

teaspoon

lemon juice

pinch of cream of tartar
I earn a commission from Instacart from qualifying purchases.
Instructions
Rinse your mixing bowl with lemon juice or white vinegar.

Beat the egg whites and cream of tartar at high speed until they are foamy.

Add the sugar and lemon juice.

Beat at high speed until thick and fluffy.

You may need to add a little water if it is too stiff or a little sugar if it is too thin. It should have the texture of old fashioned paste.
You'll find more helpful tips and variations in the body of the post.
Nutrition Facts
Calories:
96
kcal
|
Carbohydrates:
24
g
|
Protein:
0
g
|
Fat:
0
g
|
Saturated Fat:
0
g
|
Cholesterol:
0
mg
|
Sodium:
10
mg
|
Potassium:
9
mg
|
Sugar:
23
g
|
Vitamin C:
0.2
mg
Nutrition information is estimated as a courtesy. If using for medical purposes, please verify information using your own nutritional calculator. Percent Daily Values are based on a 2000 calorie diet.
Sign up for the emails and never miss another recipe!!
We'll never share your email or send you spam. Pinkie swear.