Buttermilk cinnamon bread has a sweet, tender crumb and a thick swirl of cinnamon in each slice. It's topped with more cinnamon and a thick blanket of buttery vanilla glaze. It's definitely a welcome breakfast treat!
For this recipe you'll need: active dry yeast, powdered ginger, sugar, buttermilk, vanilla, salt, baking soda, bread flour, butter, cinnamon, (2) 8.3 x5 x4 – inch loaf pans
If you are in a hurry click here to go straight to the recipe.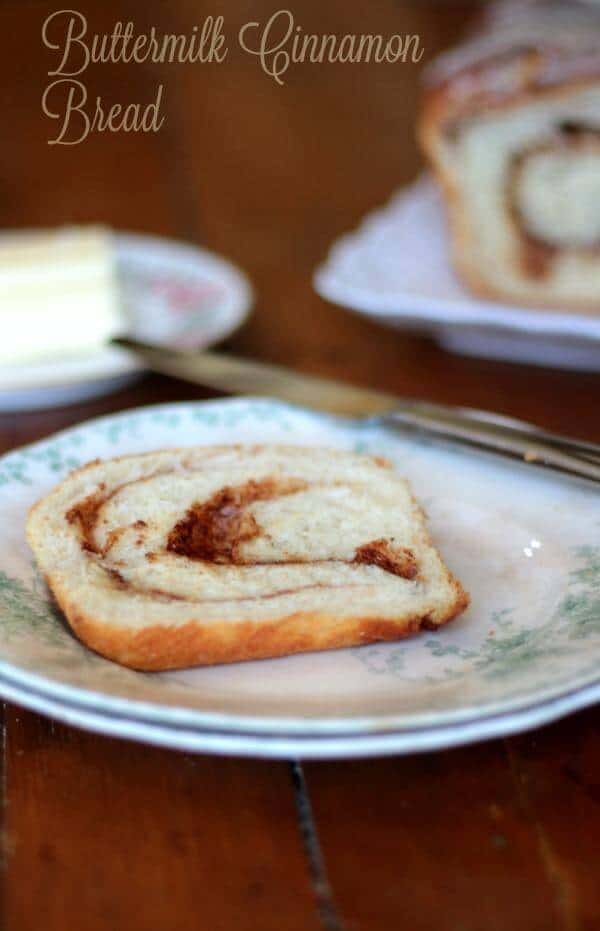 I love a good cinnamon roll (especially buttermilk cinnamon rolls!) as much as anyone but I have to say that a really yummy piece of cinnamon bread, toasted until it's hot with just a little crunch, and then slathered with a copious amount of drippy yellow butter makes me go weak in the knees. The sweet spiciness, the crunch, the buttery ooze? I don't know — I just know that I am an addict. Totally can't resist the stuff.
A lot of cinnamon bread recipes call of raisins, and you can certainly add them to this recipe, either in the dough or on top of the cinnamon and sugar before you roll it up, but my family prefers the no raisins version although they will sometimes tolerate a pecan or two in the recipe.
I've been making this buttermilk cinnamon bread for years. It's a twist on my favorite buttermilk bread recipe and I think that I have perfected it at this point. The crumb is tender and buttery with a hint of vanilla flavor and the swirl is spicy and sweet. Now, sometimes the bread sort of separates from the swirl of cinnamon. It happens to everyone at one time or another so don't worry if you slice into it and find that the swirl is somewhat loose or that your top sinks a little in the middle. It will be just as delicious, I promise! Next time try brushing the dough with an egg wash before adding the cinnamon and sugar. I've heard that works but I've not tried it yet.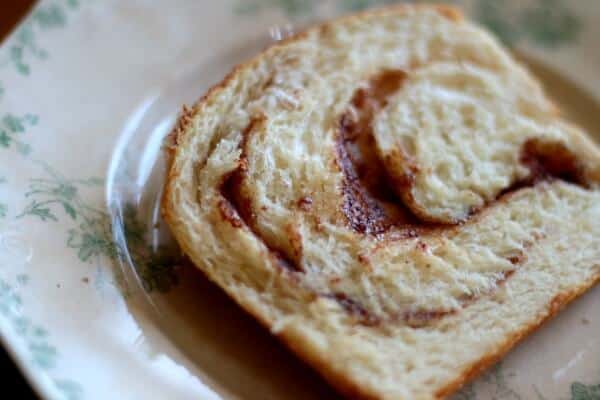 You can also make cinnamon rolls out of this recipe, just follow the instructions until you've rolled the dough and cinnamon up. Then cut the loaf into about 8 slices, let rise, and bake them cut side down for about 15 minutes.
Now, why use a cinnamon bread with buttermilk recipe instead of just a plain milk recipe?
It's not hard to find a cinnamon yeast bread recipe on the Internet. There are plenty of them and they are good but when you add buttermilk the texture of the crumb becomes pillowy soft and it just takes the cinnamon swirl bread right over the top. Really, you have to try this!
The following links are affiliate links. I've added them because I think you may find the products helpful in your bread baking. If you click through and buy I will get a small commission that I use to keep the blog up and running. Thank you so much for being a part of Restless Chipotle!
I like to buy a large quantity of yeast at one time. It's much cheaper that way and it will last in a tightly sealed jar in the refrigerator for a long time. You may not think you'll go through that much but trust me… you will!
If you want to make your own buttermilk from scratch without using commercial buttermilk as a starter you'll need this product to do it. Buttermilk C21 – 5 Packets. Finally, you'll need some good loaf pans. These are what I use. Pyrex 1.5-Quart Clear Basics Glass Loaf Pan (Set of 2)
Just a quick note… If you've wanted to learn to bake bread but it never comes out quite the way you think it should… you might like my new book, Bread BootCamp. It's gotten great reviews!
Learning to bake bread can seem very intimidating and many would-be bakers quit in frustration. My eBook, Bread Boot Camp teaches you to create tall, fluffy loaves of bread using an incremental approach – learning the techniques step by step so that by the end of the book you've mastered it. More importantly, you've had fun doing it! Plus, get 10% off the eBook with coupon code YR83Y You can also get the paperback version on Amazon –Bread Bootcamp: It's Not a Cookbook…It's an Adventure

Here's the buttermilk cinnamon bread recipe. I think you'll love it! Be sure to post your images on Instagram and tag #restlesschipotle in it! I love to see your creations! Also, be sure to connect on Facebook, Twitter, and Pinterest! The links are in the upper right hand sidebar.
Looking for a less sweet breakfast bread? Try this easy English muffin loaf!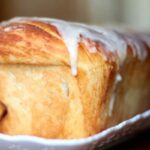 Buttermilk Cinnamon Bread
Print
Add to Collection
Go to Collections
Sweet, tender cinnamon bread with a buttery vanilla glaze is just right for breakfast or as a snack anytime. Full of old fashioned goodness.
Prep Time
2
hours
30
minutes
As an Amazon Associate I earn from qualifying purchases.
Ingredients
1

active dry yeast,

(I usually use 1 tablespoon because I buy in bulk.)

Pinch of powdered ginger

1

teaspoon

sugar

1/4

cup

warm water

,

(105F)

2

cups

warm buttermilk

,

(105F)

1

teaspoon

vanilla

1/2

cup

sugar

1

teaspoon

salt

3/4

teaspoon

baking soda

6

cups

white bread flour

,

, divided use

1/4

cup

unsalted butter

,

, melted and cooled so that it is warm to the touch but not hot.
Filling
1/4

cup

butter

,

, melted

1/2

cup

sugar

2

to 3 tablespoons cinnamon
Glaze
1

cup

confectioners sugar

1/4

cup

melted butter

1

teaspoon

vanilla

Cream as needed to achieve correct consistency.
Instructions
In a medium sized bowl mix the yeast, ginger, sugar, and warm water.

Set aside for 5 minutes or until foamy.

Whisk the buttermilk, vanilla, 1/2 cup sugar, salt, and baking soda together and add it to the yeast mixture.

Add three cups of flour and mix until smooth, about 3 to 5 minutes on low of a stand mixer.

Pour in the lukewarm butter until it is totally mixed into the batter.

Add the rest of the flour, one cup at a time, keeping mixer on low speed.

When dough pulls from the sides of the bowl remove it from the mixer to a lightly floured surface. Knead until elastic and smooth.

You can also knead in your mixer according to manufacturer's directions.

Place in greased bowl, turn to grease the top, and cover with a clean tea towel.

Allow the dough to rise for 1 1/2 hours, or until double.

Punch down.

Divide into two equal sized balls.

Roll each out into a 8-inch wide rectangle about 10 inches long.

Brush each with the 1/4 cup melted butter.

Mix the 1/2 cup sugar and the cinnamon together until evenly colored.

Spread over the dough rectangles, reserving about 2 tablespoons of the mixture.

Roll each loaf tightly and place into greased loaf pans.

Brush the tops with melted butter and sprinkle with the reserved cinnamon mixture.

Cover loosely with a clean tea towel and allow to rise for 45 minutes, or until it is just about the tops of the bread pans.

Preheat oven to 400F.

Bake for 30 minutes. You can cover the tops with foil if they brown too fast.

Remove loaves from oven.

Allow to cool in pans for 10 minutes.

Gently run a knife around the edge between the bread and the pan to loosen it.

Turn out and top with the glaze.

Cool completely on a rack.

Cover the loaves as they cool if you want soft crusts.
Glaze
Mix the confectioners sugar, melted butter and vanilla until smooth.

Add a little cream or milk to thin it if needed.
Tried this recipe?
Tag me!! @Marye_RestlessChipotle
If you liked Buttermilk Cinnamon Bread you may also like…
Amish Cinnamon Bread (quick) Semi-Sweet Sisters
Pull Apart Brioche Cinnamon Bread Half Baked Harvest
Let's Keep in Touch!